Where to Stay in Aberdeen – A Guide to "Granite City"
Aberdeen is a port city in northeast Scotland. Located near the mouth of the Rivers Don and Dee, Aberdeen is the third most-populated Scottish city after Glasgow and Edinburgh and is famous for its historic architecture, industrial heritage, nearby natural areas and importance as one of Scotland's main economic hubs. In this article, we will explore the best areas to stay in Aberdeen, Scotland.
Why you should visit Aberdeen
Nicknamed the "Silver City" and the "Granite City" due to the colour and material of its historical buildings, Aberdeen is known for its grand structures built in locally-quarried grey granite. Some of the most important tourist attractions in Aberdeen City Centre include the Aberdeen Art Gallery, the Aberdeen Maritime Museum, Provost Skene's House, St. Andrew's Cathedral, the Kirk of St Nicholas Uniting and the Mercat Cross. Find accommodation in Aberdeen City Centre.
Contrary to what you might expect from a historically rich place like Aberdeen, the City Centre and the Old Town are two different areas of the city. Old Aberdeen is located some 3 kilometres north of the centre and was originally a separate burgh founded in the late Middle Ages. Some of the landmarks in this area include St. Machar Cathedral, King's College Chapel, Wallace Tower, Brig o' Balgownie and the Cruickshank Botanic Garden. Find accommodation in Old Aberdeen.
Aberdeen is also a beach city. Aberdeen Beach, located a stone's throw away from the City Centre, is known for its many leisure areas and tourist attractions and draws many visitors throughout the year. Some of the sights to be found in and around Aberdeen Beach include Codona's Amusement Park, the Linx Ice Arena, Beach Leisure Centre and the Aberdeen Sports Village.
If you like nature and the outdoors, you'll be happy to know that Aberdeen is one of the main gateways to explore some of Scotland's most breathtaking natural spaces and parks. Cairngorms National Park, which, at 4,528 km2, is the largest in the UK, covers the Cairngorms range of mountains, and surrounding hills and offers excellent opportunities for walking, cycling, mountain biking, climbing and canoeing. Other unmissable natural attractions in and around Aberdeen include the Donmouth Local Nature Reserve, Walkers Park, Kirkhill Forest and Kincorth Hill.
Last but not least, Aberdeen is considered one of the top golfing destinations in Scotland. The city is home to several world-class golf courses and country clubs such as the Royal Aberdeen Golf Club, the Kings Links Golf Course, Hazlehead Pines Golf Course, Balnagask Golf Course and the Peterculter Golf Club.
When to visit Aberdeen
Not unlike the rest of Scotland, Aberdeen has an oceanic climate. Due to its geographic location in the north of Britain, the city experiences much colder conditions than other places in the south and is considered the coldest city in the UK. Aberdeen faces very cold, snowy winters and warm summers. Average temperatures in January are usually between -1 and 6 ºC. Meanwhile August can see temperatures hover between 10 and 18 ºC. Precipitations are common throughout the year. The best time to visit Aberdeen is during the summer (June through September), when the pleasant temperatures are perfect for outdoor activities and sightseeing.
Aberdeen: Getting there and around
To fly to Aberdeen, the city is served by Aberdeen International Airport (ABZ). Located around 10 kilometres north of the city centre, this important Scottish airport offers frequent connections to cities in the UK (London, Newcastle, Belfast, Bristol, Manchester and Southampton), as well as a few European routes, particularly to cities on the North and Baltic seas (Dublin, Copenhagen, Oslo, Bergen, Gdańsk) and holiday destinations in Spain and Portugal.
Aberdeen is also well-connected to the rest of Scotland and England by train. Aberdeen railway station is a terminus station located in the city centre, on Union Square. It offers frequent passenger connections to Edinburgh, Glasgow, Perth, Stirling and Inverness, as well as longer-distance services to London, Leeds, York and Birmingham. Check train schedules, routes and fares. Additionally, the city of Aberdeen is connected by ferry services. Operated by NorthLink Ferries, ferry services from Aberdeen include direct sailings to Lerwick and Kirkwall on Orkney. Check ferry schedules, routes and fares.
To move around the city, Aberdeen has a bus network providing service in Aberdeen, as well as taxis and mobile apps. To explore the city's outlying suburbs and the natural wonders around Aberdeen, you may also choose to rent a car for your stay.
Where to stay in Aberdeen
The best area to stay in Aberdeen is the City Centre. Aberdeen's central district is home to most of the cultural and historical attractions, business centres, shopping and nightlife areas. Aberdeen City Centre is also where some of the top-rated hotels are located and it offers the best transport connections. Find accommodation in Aberdeen City Centre.
Other excellent districts to keep in mind when choosing the best areas to stay in Aberdeen for sightseeing include Old Aberdeen, Rubislaw, Duthie Park and around TECA (The Event Complex Aberdeen).
Continue reading to learn more about the best areas to stay in Aberdeen, Scotland.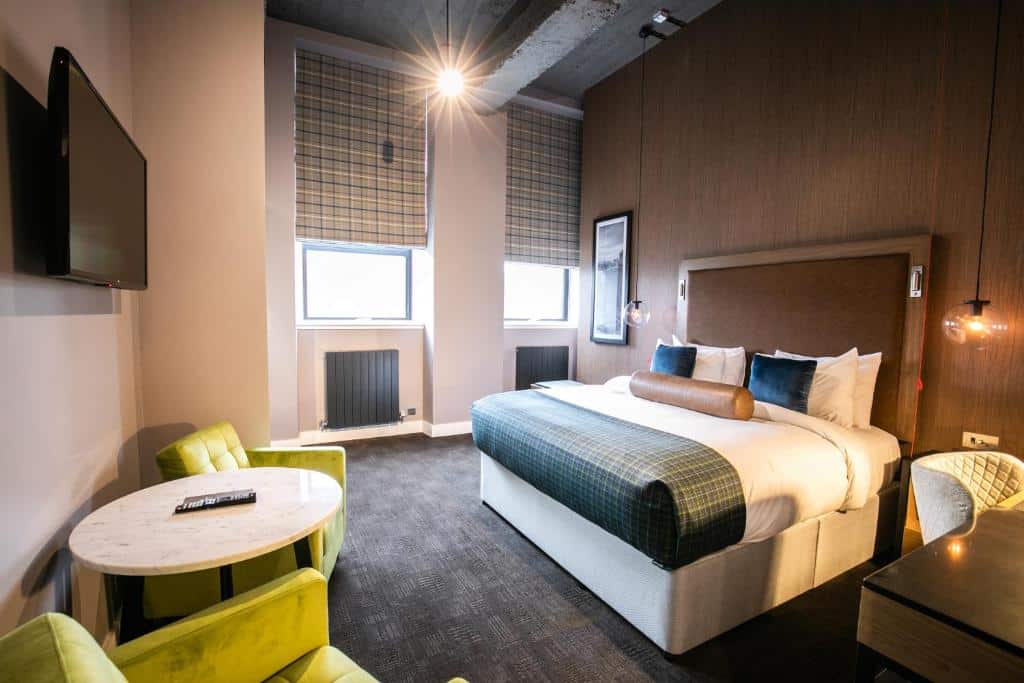 ---
The Best Areas to Stay in Aberdeen, Scotland
1. Recommended area: Aberdeen City Centre
Aberdeen City Centre is the city's main administrative, business and shopping district.
This bustling area located north of the River Dee and close to the city's docks is home to the main historic and cultural attractions in Aberdeen.
The Aberdeen Art Gallery is the main art exhibition space in the city. Founded in 1884, this large museum is noted for its fine collection of modern Scottish and international art, including works by Ken Currie, Gilbert & George, Ivor Abrahams, Bridget Riley and Bruce McLean.
A few blocks southeast, next to the harbour, lies the Aberdeen Maritime Museum. Set in a number of historical buildings, including the former Trinity Congregational Church, the Aberdeen Maritime Museum focuses on the story of the city's long relationship with the sea. Meanwhile, the Tolbooth Museum, situated in a former jail, contains exhibits of prison cells and police-related artefacts.
St. Andrew's Cathedral was opened in 1817 and is built using local granite in a neo-gothic style. Meanwhile, the Kirk of St Nicholas dates from medieval times and is one of Aberdeen's most recognisable landmarks.
Aberdeen City Centre is crossed from east to west by Union Street, a major shopping thoroughfare. Union Square Shopping Centre, located right next to the city's main railway station, is home to several high-street retailers, department stores, a food court, and a 10-screen cinema. For a more upscale experience, Bon Accord Aberdeen, located on George Street, offers upmarket fashion boutiques, cafes and restaurants.
Aberdeen railway station, the city's main transit hub, provides frequent connections to other Scottish cities like Inverness, Edinburgh and Glasgow, plus services to London and Birmingham.
As is to be expected, the City Centre also offers the widest selection of accommodation options in Aberdeen. From plush five-stars to family-run guesthouses, you'll find it here.
We have chosen the City Centre as the best area to stay in Aberdeen thanks to its perfect mix of attractions, shopping and nightlife options, and transport connections.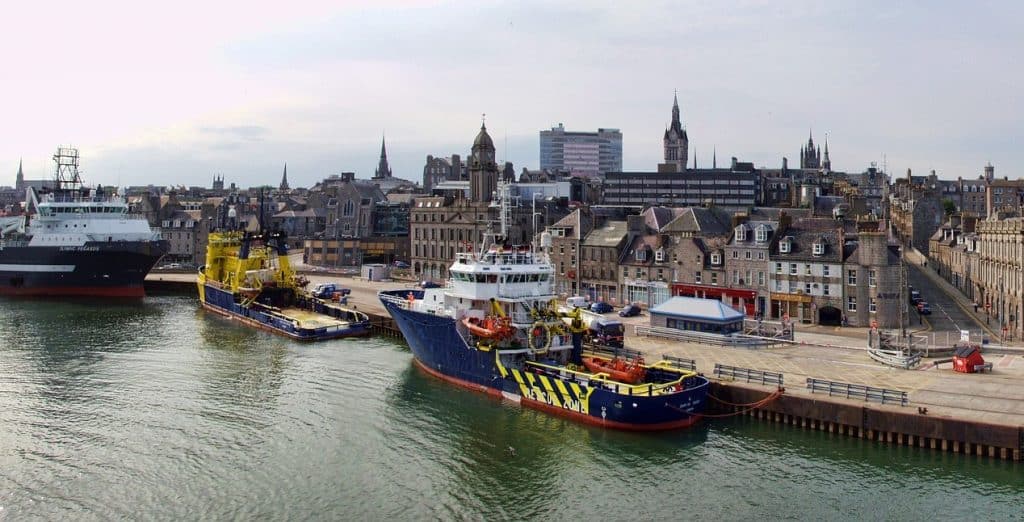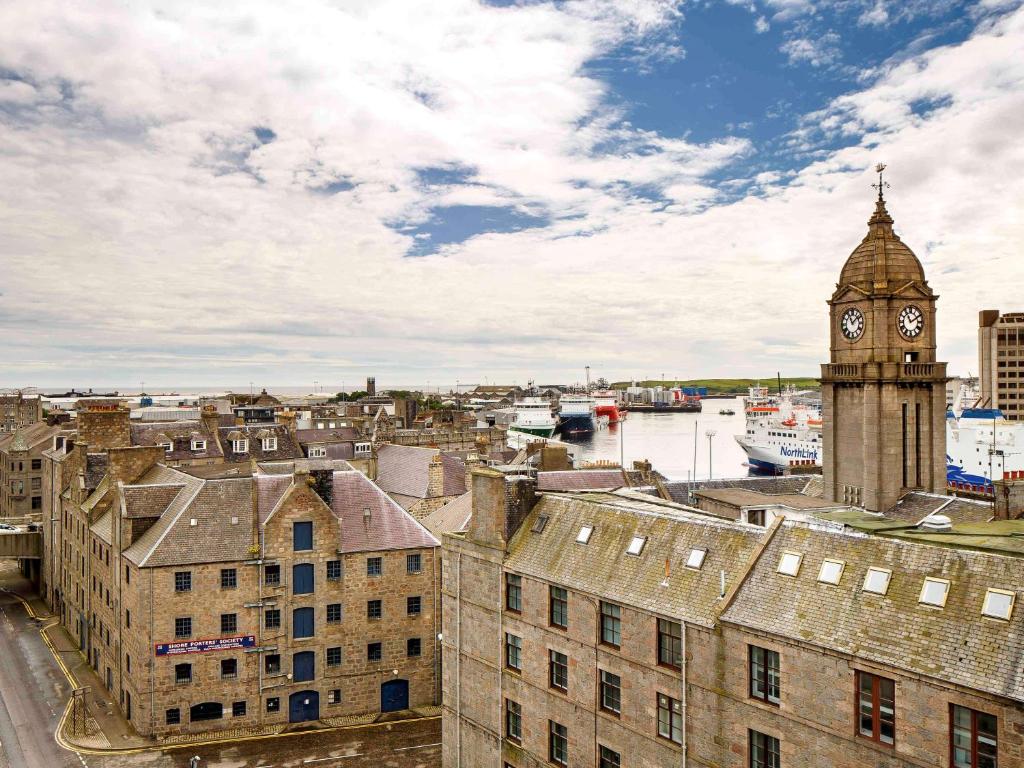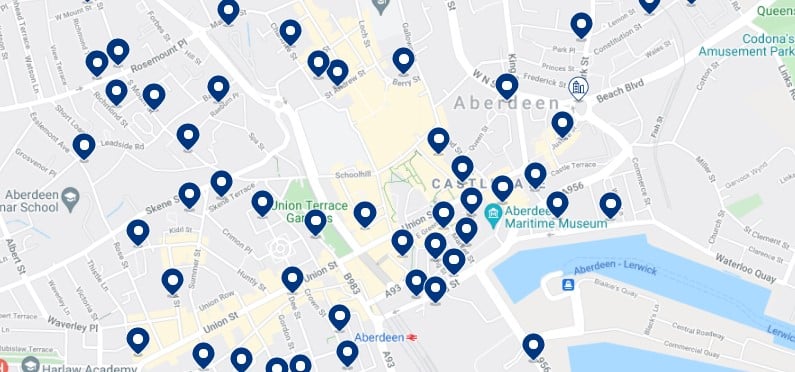 Why is this a recommended area to stay in Aberdeen, Scotland:
Museums and art galleries
Shopping centres
Main train station
Very well-connected by public transport
Wide variety of accommodation
---
2. Old Aberdeen
Located a couple of miles north of the City Centre, Old Aberdeen was established in the 14th century as a separate burgh (township).
As its name implies, Old Aberdeen is home to some of the oldest buildings in the city, including St Machar's Cathedral and Kings College, which was to become Aberdeen University.
This quaint area is full of tourist attractions and medieval charm. Some other sights in Old Town Aberdeen include the Cruickshank Botanic Garden, the University of Aberdeen Zoology Museum, Seaton Park and Brig o' Balgownie, believed to date back to the late 13th century.
This area is also home to the Chris Anderson Stadium and Kings Links Golf Course. Established in 1872, this 18-hole golf course offers a traditional layout and sea views.
The accommodation offer in this Aberdeen district is comprised mostly of independently-owned guesthouses and student accommodation, many of which double as hotels during the summer or holiday periods.
Old Aberdeen is connected to Aberdeen City Centre by several bus lines.
---
3. Rubislaw
Rubislaw is an area located around Queen's Road and Rubislaw Den North and South, directly west of Aberdeen City Centre.
This upper-class Aberdeen District is noted by its many Victorian-style mansions and gardens.
Probably the most popular attraction in this area is the Gordon Highlanders Museum, a military museum offering interactive maps, uniforms, artefacts and weaponry displays showcasing the 200-year history of the Gordon Highlanders army regiment.
Not far, you'll find Johnston Gardens, a beautiful public green space full of local and exotic plants. The park comes alive in the spring and summer, when the rhododendrons, spring bulbs, heathers and alpines blossom.
Rubislaw is connected to Aberdeen City Centre by bus. The journey takes about 10 minutes.
The accommodation offer in Rubislaw is characterised by a mix of guesthouses, B&Bs and small hotels, many of which are set in historical Victorian mansions.
---
4. Duthie Park
Duthie Park is located south of Aberdeen City Centre.
This expansive public park opened in 1883 and was gifted to the city by Miss Elizabeth Crombie Duthie.
Duthie Park is one of Aberdeen's most visited tourist attractions thanks to its wonderfully restored Victorian features. The park includes a Band Stand, several fountains and ponds, play areas and a café.
The David Welch Winter Gardens were added to the park in the 1900s and are home to one of the most visited public indoor plant collections in Scotland.
Some 800 metres north, hidden within a historic railway arch, lies the City of Aberdeen Distillery, the first legal distillery in Aberdeen.
Most of the accommodation in this area can be found around the lovely Bon-Accord Street and further south around the park.
As with the rest of Aberdeen, this area is well-connected by the city's bus system.
---
5. TECA & Airport Area
The Event Complex Aberdeen (TECA) was opened in August 2019 and is a world-class concert, exhibition and congress complex.
Located 8 kilometres northwest of Aberdeen City Centre, this large complex, Europe's largest new events centre, is home to P&J Live, a multi-purpose indoor arena, plus two onsite hotels and development land.
Around 2 kilometres north lies Aberdeen International Airport. Aberdeen's main gateway and Scottland's third-busiest airport offers several connections mainly to destinations in Scotland, England Ireland, Scandinavia and Southern Europe.
The areas around TECA and the airport are some of the best areas to stay in Aberdeen for business travellers, event-goers and visitors on a stopover.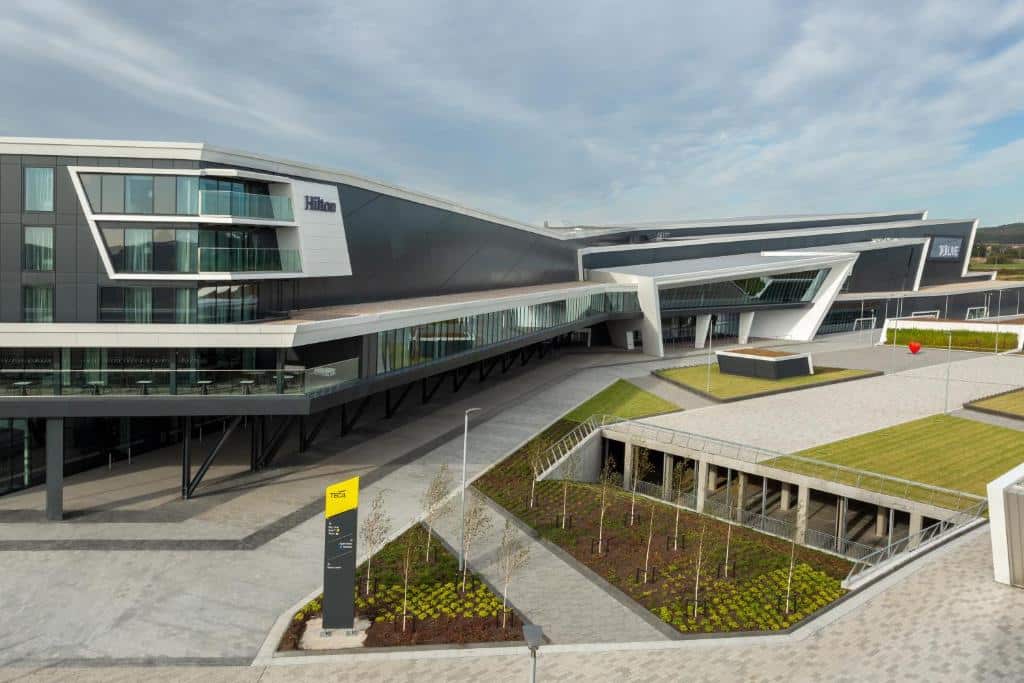 Why is this a recommended area to stay in Aberdeen, Scotland:
Great area for business travellers
Aberdeen International Airport
---
Read in other languages: