Where to Stay in Dundee – A Guide to Scotland's "City of Many Discoveries"
Dundee is a city in Scotland's eastern central Lowlands. Located on the north bank of the Firth of Tay, Dundee is the fourth most populated city in the country and is famous for its history of scientific activities, high-tech and entertainment industries and cultural centres. In this article, we will explore the best areas to stay in Dundee, Scotland.
Dundee is one of the most exciting places in Scotland. If you don't take our word for it, you may believe GQ magazine or the Wall Street Journal, which deemed Dundee the 'Coolest Little City in Britain' and one of the 'Worldwide Hot Destinations' respectively.
Dundee's City Centre is packed with attractions and things to see and do. From art galleries to science museums, grand mansions and gardens, Dundee packs the punch of a city many times its size. Some of the most popular tourist attractions in Dundee City Centre include the striking V&A Dundee, Scotland's first design museum, The McManus Art Gallery & Museum, Dundee Contemporary Arts, HMS Unicorn and Scotland's Jute Museum, Dundee Science Centre and the D'Arcy Thompson Zoology Museum. Find accommodation in Dundee City Centre.
A few miles east of Dundee City Centre lies Broughty Ferry, a riverside residential suburb home to a few tourist attractions, including Broughty Castle, Claypotts Castle, Broughty Ferry Beach, Dawson Park and Barnhill Rock Garden. Find accommodation in Broughty Ferry.
If you like city parks, nature and the outdoors, Dundee is home to beautiful green areas and parks. Some of the best parks in Dundee include Camperdown Park, Balgay Park, Dundee Law, Baxter Park and Magdalen Green.
Like the rest of the country, Dundee has an oceanic climate. Due to its geographic location in the Scottish Lowlands, the city experiences colder conditions than other places further south and is considered one of the coldest cities in the UK. Dundee usually has cold, snowy winters and warm summers. Average temperatures in January are usually between -1 and 7 ºC. Meanwhile, August can see temperatures hover between 10 and 20 ºC. Rain is common throughout the year. The best time to visit Dundee is during the summer (June through September) when the temperatures are perfect for sightseeing.
To fly to Dundee, the city is served by Dundee Airport (DND). Located only 3 kilometres from the city centre, this small airport offers scheduled flights to London and Belfast. For a much wider flight offer, including domestic, European and long-haul destinations, Edinburgh Airport (EDI) and Glasgow Airport (GLA) are located 110 and 145 kilometres away respectively.
Dundee is also well-connected to the rest of Scotland and England by train. Dundee railway station offers frequent passenger connections to Edinburgh, Glasgow, and Aberdeen, as well as longer-distance services to London, Newcastle and York. Check train schedules, routes and fares.
To move around the city, Dundee has a bus network, as well as taxis and mobile apps. To explore the city's outlying suburbs and the natural wonders around Dundee, you may also choose to rent a car for your stay.
The best area to stay in Dundee is hands down the City Centre. Dundee's central district is home to many museums, historic attractions, business centres, shopping and nightlife areas. Dundee City Centre is also where some of the best hotels are located and it offers great transport connections to other areas. Find accommodation in Dundee City Centre.
Other excellent districts to keep in mind when choosing the best areas to stay in Dundee for sightseeing include West Dundee and Broughty Ferry.
Keep on reading to find more information about the best areas to stay in Dundee, Scotland.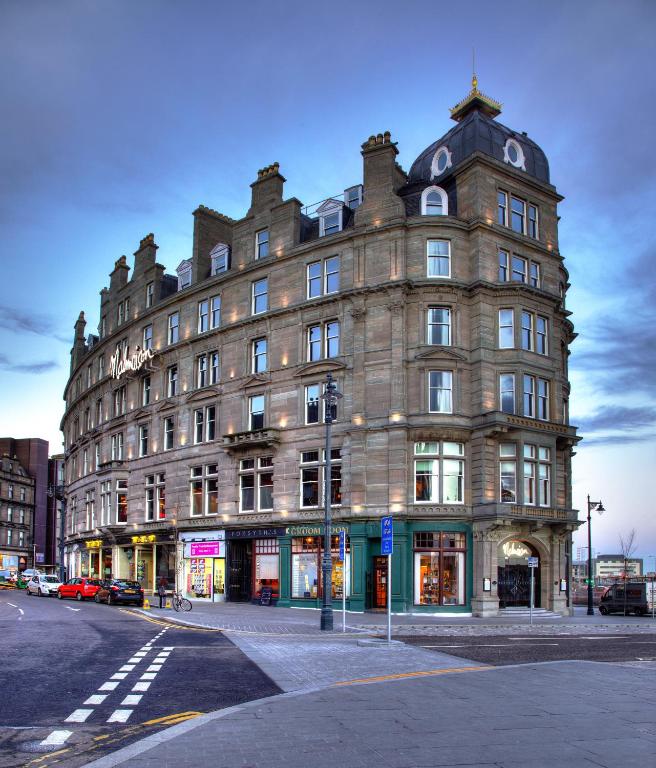 ---
The Best Areas to Stay in Dundee, Scotland
1. Recommended area: Dundee City Centre & Dundee Harbour
Dundee City Centre is the Scottish city's main administrative, business and shopping district.
This vibrant area located north of the River Tay and next to the city's harbour is home to the main historic and cultural attractions in Dundee.
Perhaps the most exciting attraction in Dundee City Centre is the V&A Dundee, the first design museum in Scotland and the first Victoria and Albert museum outside London. Designed by award-winning Japanese architect Kengo Kuma to resemble a Scottish cliff face, the new museum is located on the city's historic riverside.
Next to it lies Discovery Point. Now a fascinating museum and visitor centre, this was the spot from which Captain Scott's RRS Discovery sailed to Antarctica in 1901. RSS Discovery was the last traditional wooden three-masted ship built in the United Kingdom.
A few blocks north, The McManus Art Gallery & Museum houses offers collections focusing on fine arts and natural history.
Meanwhile, Dundee Contemporary Arts is a performing arts centre and modern art space.
Dundee City Centre is crossed by High Street, the city's main shopping thoroughfare and location of Dundee's most popular shopping mall, Overgate Shopping Centre.
Dundee railway station, the city's main transit hub, provides frequent connections to other Scottish cities like Edinburgh, Glasgow and Inverness, plus services to London, Newcastle and York.
As is to be expected, the City Centre also offers the widest selection of accommodation options in Dundee. From plush five-stars to family-run B&Bs, you'll find it here.
We have chosen the City Centre as the best area to stay in Dundee thanks to its perfect mix of attractions, shopping and nightlife options, and transport connections.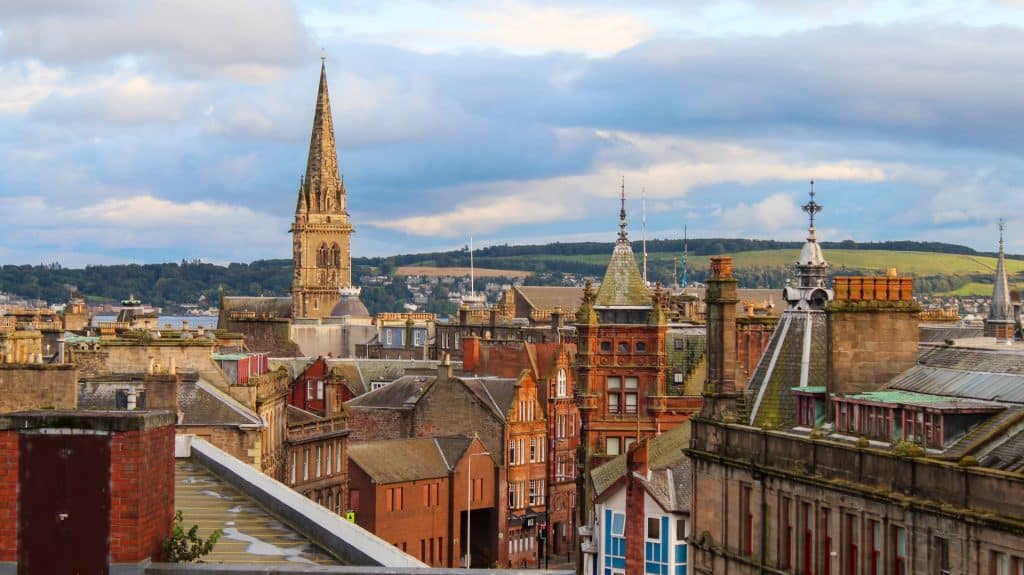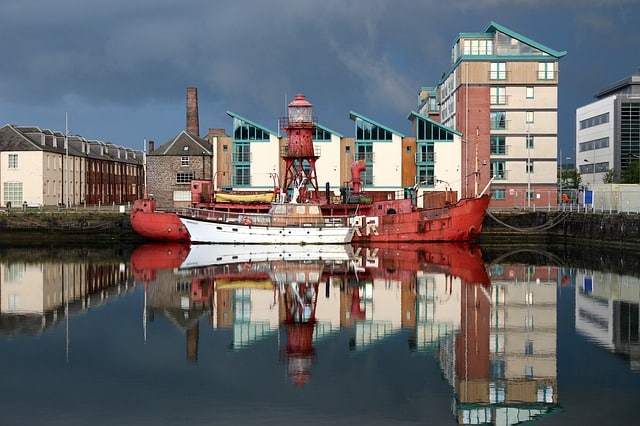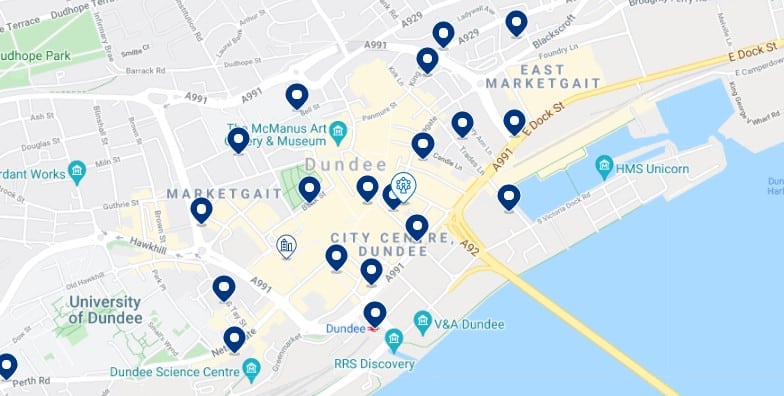 Why is this a recommended area to stay in Dundee, Scotland:
V&A Dundee
Museums and art galleries
Shopping centres
Dundee train station
Very well-connected by public transport
Wide variety of accommodation
---
2. West Dundee
The neighbourhoods west of the city centre are home to some of Dundee's most popular urban parks and a few tourist attractions.
Some of the attractions in this area of Dundee include Magdalen Green, Balgay Park and the Riverside Nature Park.
The west of Dundee is also home to Dundee Airport, a small, regional airport with a few domestic connections (London and Belfast), as well as Ninewells Hospital, one of the largest and most internationally renowned health research centres in Scotland.
West Dundee is connected to the city centre by bus.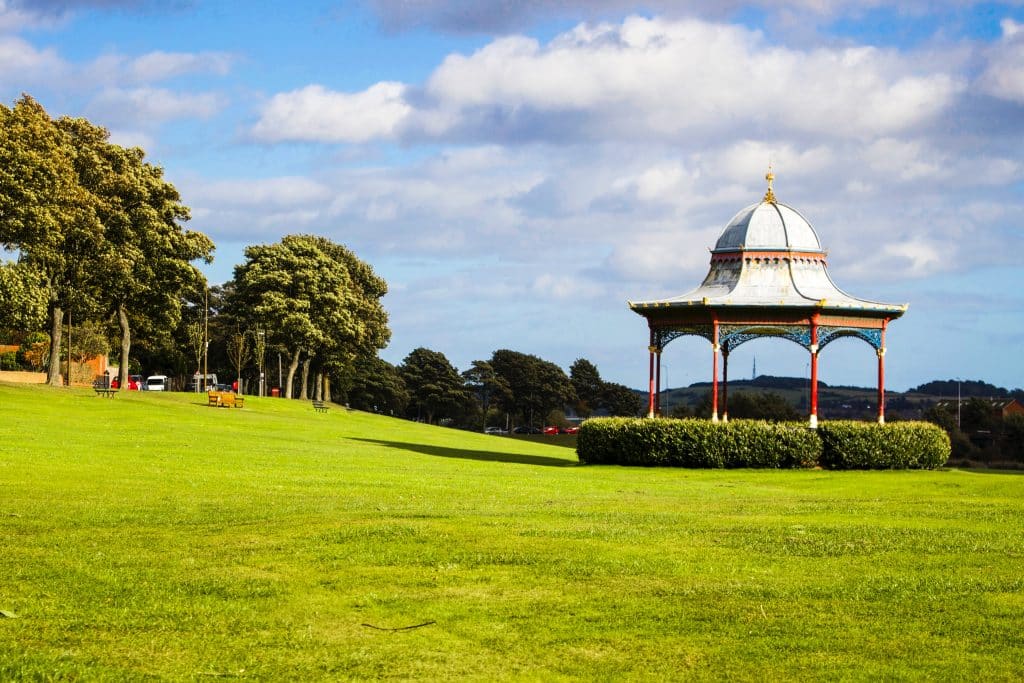 ---
3. Broughty Ferry
Broughty Ferry is a suburb situated 6 kilometres east of Dundee City Centre, on the north bank of the Firth of Tay.
Formerly an independent fishing village, Broughty Ferry was known in the 19th century as the "richest square mile in Europe" thanks to its luxury villas and very affluent residents.
Today, Broughty Ferry is known for its lovely beach and Broughty Castle, a historic fortification dating back to the late 15th century, now a museum open to the public.
Broughty Ferry's harbour, which is sheltered by Broughty Castle, is home to Scotland's oldest and most popular "New Year's Dook" (a yearly tradition involving swimming between the piers on New Year's Day).
Broughty Ferry railway station is situated in the centre of the suburb and offers frequent connections to the city centre, as well as Edinburgh and Arbroath.
---
Read in other languages: