Where to Stay in Acapulco – a Guide to the Great Port of Guerrero
Acapulco de Juárez, better known simply as Acapulco, is the largest city in Guerrero and one of Mexico's most important ports. It is part of the famous Guerrero Sun Triangle, a tourist route through the best beaches on the Mexican south coast. In this post, we will take a tour of the best areas to stay in Acapulco.
Acapulco is also one of the favorite destinations for tourists from around the world. Guerrero's popular beaches, along with other places like Cancun, Cabo San Lucas, and Puerto Vallarta, are the most famous coastal destinations in Mexico.
Acapulco is divided into three tourist areas: Acapulco Tradicional, Acapulco Dorado, and Acapulco Diamante.
Traditional Acapulco is home to the historical sites and essence of Colonial Acapulco, its attractions include La Quebrada, Plaza Álvarez, the Cathedral of Nuestra Señora de la Soledad and the House of the Mask. On the other hand, Acapulco Dorado and Acapulco Diamante have Puerto Marqués, Parque Papagayo and a number of beautiful beaches such as Marques beach, Revolcadero Beach, Icacos and La Condesa, among others.
Several domestic and international airlines operate out of General Juan N. Álvarez International Airport. This important hub offers connections to other destinations in Mexico and the United States. Acapulco also has major highways connecting it to Morelos, Oaxaca, Michoacán, and Mexico. See long-distance bus schedules.
Interurban transportation in Acapulco consists of a rapid transit bus system called Acabús. There is also a taxi service; colors distinguish each line according to the destination.
The best area to stay in Acapulco is Acapulco Diamante, thanks to its options in restaurants, nightlife and hotels. See accommodation in Acapulco Diamante.
Keep reading to find out more about the best location in Acapulco for tourists.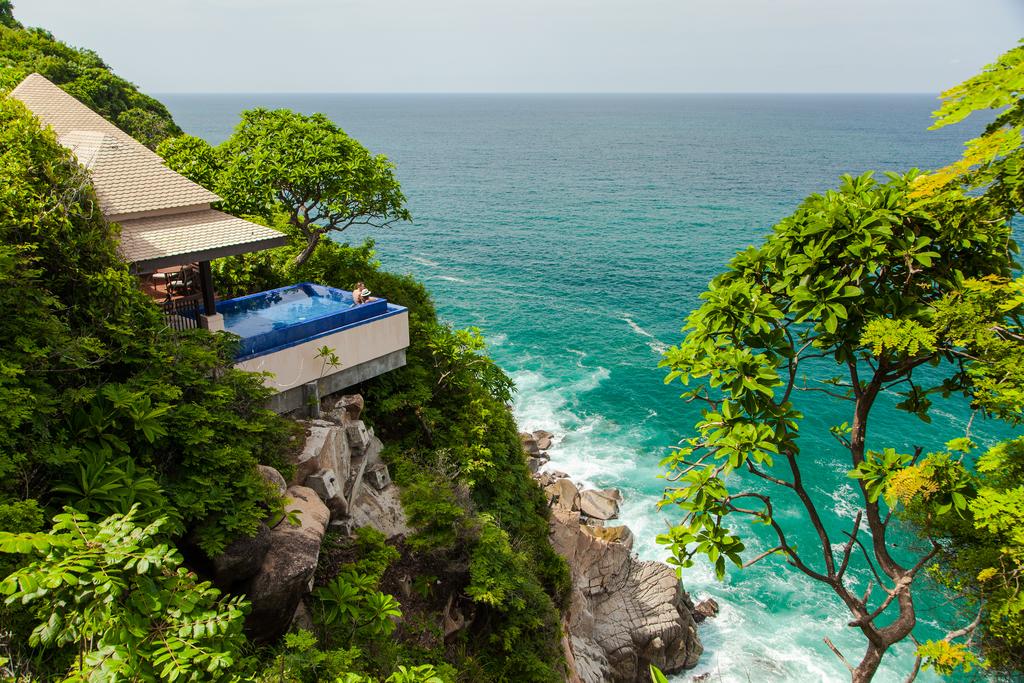 The Best Areas to Stay in Acapulco, Mexico
1. Recommended area: Acapulco Diamante
Acapulco Diamante, also called Punta Diamante, is located south of the city and is considered the most exclusive area of Acapulco.
Its famous beach is one of the closest to Mexico City. Therefore it is one of the most visited in the country.
Diamante lives up to its name by being the most modern Acapulco area, home to exclusive hotels, residential complexes, luxury condominiums, and private villas.
This Acapulco area offers spas, golf courses, restaurants with international cuisine, and typical Mexican food.
Among its many advantages is also the proximity to the Acapulco International Airport.
In short, Acapulco Diamante is the best area to stay in Acapulco to spend a long and relaxing summer vacation.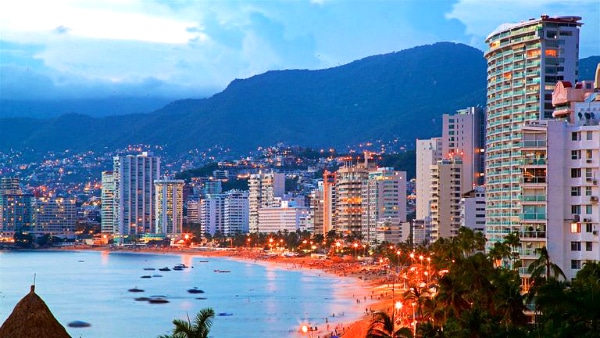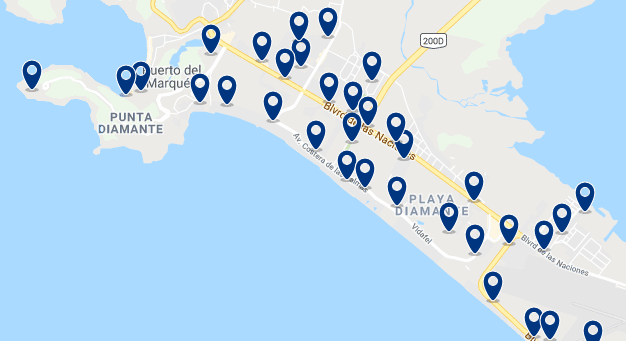 Why we love this area:
Close to the airport
Beach access
Best area for nightlife
Luxury hotels
Great restaurants
Good area for shopping
---
2. Acapulco Tradicional
Acapulco Tradicional (Traditional Acapulco) is another of the three tourist areas into which the city of Acapulco is divided.
As its name implies, it is the oldest part of Acapulco. It encompasses the entire city center, the Old Town, the historic neighborhoods, and the busy Port.
Traditional Acapulco stretches from the beaches of Caleta and Caletilla to Papagayo Park.
Acapulco Tradicional is the best area to stay in Acapulco for tourists and those interested in Mexico's history.
Some of its attractions include La Quebrada, mosaic murals by famous Mexican artist Diego Rivera, Plaza Álvarez, the Cathedral of Our Lady of Solitude, the Malecón, and the busy Transatlantic Port of the city.
This central area is also well-connected by public transport. Despite being far from the airport, it has nearby bus stations and multiple taxi stands.
The hotels in Traditional Acapulco are cheap compared to Acapulco Diamante. Its accommodation is mixed and close to the historical attractions.
---
3. Barra Vieja Boulevard
Acapulco's popular Boulevard Barra Vieja is located three minutes from the international airport and ten minutes from Acapulco Diamante.
Along with Avenida Revolución, they form the busiest walkway in Acapulco, with the largest number of seafood restaurants, many resort hotels, and numerous surfboard shops.
Some beaches near the boulevard are Playamar Tres Cantos, Playa la Gloria, Playa la Bonfil, Ikaroa Beach, and Playa Hermosa, with its well-known Tortuguero camp.
Boulevard Barra Vieja is an ideal place in Acapulco for walking, horseback riding, cycling, or ATV driving.
Boulevard Barra Vieja is a great alternative to stay in Acapulco to enjoy the nearby beaches and enjoy the sea's best panoramic views.
---
4. Puerto del Marqués
Puerto del Marqués is an area of the port of Acapulco located southeast of the city.
After the center and Punta Diamante, it is one of the favorite places for tourists, thanks to its beautiful bays, beaches, and historical monuments such as the Capilla del Atardecer and the Mirador de Puerto Marqués.
Although it is part of Acapulco Diamante, Puerto del Marqués boasts a unique and particular atmosphere.
Som of the beaches here include Puerto Marqués, Majahua and Pichilingue.
Puerto del Marqués is located 40 minutes from the city center, so you can take a taxi to get to Acapulco's other attractions and districts.
The hotels around the port offer proximity to the beaches in the area and are some of Punta Diamante's cheapest accommodations.
---
Read this in other languages