Where to stay in Tulum – A Guide to the Jewel of the Mayan Riviera
Tulum is a town in the state of Quintana Roo, in Mexico. Located on the Yucatán Peninsula, within the Riviera Maya, Tulum is famous for its paradisiac white-sand beaches, cenotes, and well-preserved Mayan ruins. In this post, we will discover the best areas to stay in Tulum, Mexico.
From a tourist standpoint, Tulum is loosely divided into three main areas; Zona Hotelera, located on the coast and home to the best hotels and resorts; Tulum City Center, an inland area home to some cultural sights and budget accommodation; and the Playa Paraíso area, the most well-developed of the beaches in Parque Nacional Tulum.
The main attraction in Tulum is hands down Parque Nacional Tulum, an expansive coastal protected area with lush landscapes, white-sand beaches, and Mayan ruins. The Tulum Archaeological Zone, located within the park is home to a series of temples, pyramids, and defensive fortresses. See accommodation around the Tulum Archaeological Zone.
Some of Tulum's most popular beaches are also located within the National Park and include Playa Ruinas, Playa Santa Fe, Playa Pescadores, Playa Paraíso, and Playa Las Palmas. These semi-wild beaches are great for watersports like snorkeling, diving, and kayaking.
The Tulum area is also famous for its cenotes, naturally occurring underground reservoirs of water typical to the Yucatán Peninsula. Some of the most popular cenotes around Tulum are Gran Cenote, Cenote Calavera, Cenote Naharon, Cenote Zacil-Ha, and Cenote Escondido. You can choose to visit these natural attractions independently or book an organized tour including transportation and tickets.
Due to its coastal location on the Yucatán Peninsula, Tulum has a tropical savannah climate. Average temperatures are relatively constant throughout the year and typically hover around 19 and 32 ºC. The wettest season goes from May to November. Because of its constantly warm temperature, Tulum is an ideal tourist destination year-round. However, since the summer is the rainiest season, the best time to visit Tulum is during the winter and spring months (December through April) when it's warm enough to enjoy the beach and Mayan ruins without having to worry about it raining.
To get to Tulum by air, the city is best reached through Cancún International Airport. This major airport, the second busiest in Mexico, is located 115 km away from Tulum City Center and offers dozens of non-stop connections to destinations in Mexico, the United States, Canada, and Europe.
Tulum is also well-connected by long-distance buses to the rest of Mexico. See long-distance bus routes, schedules & fares.
Local transportation in Tulum consists of bus lines. Both the city center and the beach areas very pedestrian-friendly, but you will likely need to use a taxi or book a tour to get to the ruins and xenotes. Another option would be to rent a car during your stay.
The best area to stay in Tulum is the Zona Hotelera. This seaside tourist development is home to some of Tulum's top resorts and hotels, the best nightlife, restaurants, and shops. Zona Hotelera also offers direct access to the beach. See accommodation in Zona Hotelera de Tulum.
Other great options to consider when choosing the best location in Tulum include the City Center, Playa Paraíso, La Veleta, and Zama.
Keep reading to find out more about the best location in Tulum for tourists.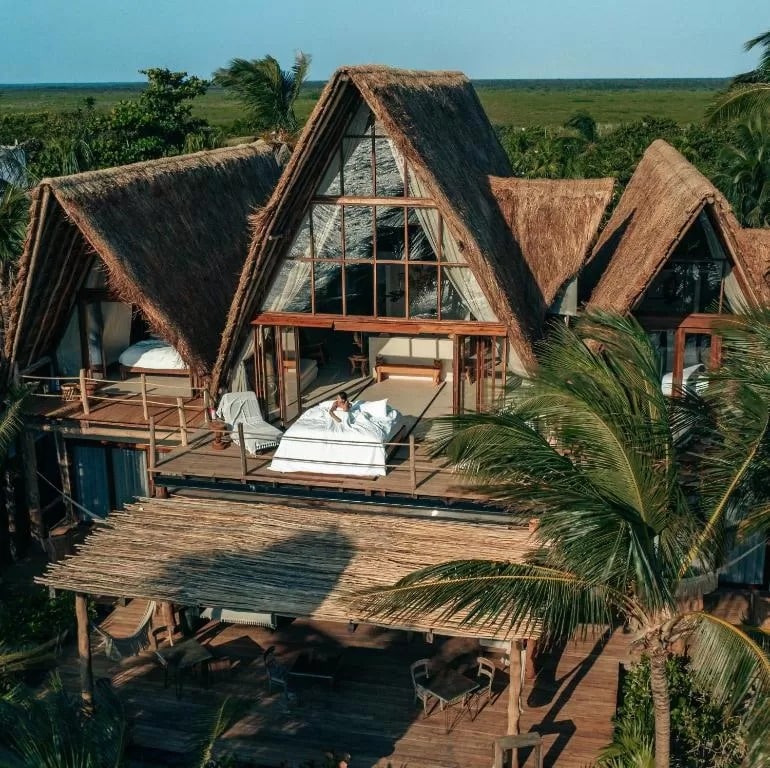 ---
Best Location in Tulum, Mexico: A Quick Guide
Below, you'll find a list of the best areas to stay in Tulum depending on your travel style and what you may be planning to do during your trip. Keep reading below to find all the specific information you need about each particular area mentioned here.
---
Best Hotels in Tulum, Mexico by Theme
Something more specific in mind? Here's a list of some of the best hotels in Tulum. No matter your reason for visiting the city or style, you'll find it here!
---
Best Resorts in Tulum, Mexico by Theme
If you're traveling to Tulum, chances are you want to enjoy the paradisiac Caribbean beaches by the pool and with a relaxing cocktail in your hand. With that in mind, we have gathered a list of the best all-inclusive resorts in Tulum.
---
The Best Areas to Stay in Tulum, Mexico
1. Recommended area: Zona Hotelera (Hotel Area)
The Zona Hotelera de Tulum (Tulum Hotel Zone) is located on the coast, about 4 kilometers south of the city center and connected through Avenida Cova.
This 12-km beach stretch was specifically planned for this Mexican town's tourist development and is home to a significant part of the city's accommodation offer.
Zona Hotelera stands out mainly for its upscale four and five-star resorts, many of which are equipped with spas, multiple restaurants, nightclubs, shops, and private beaches.
Most of the Hotel Zone resorts offer the possibility of hiring tours with transportation to the pyramids and cenotes, making it an excellent area to stay in Tulum without a car.
To the north, Zona Hotelera includes the popular Playa Paraíso and reaches the Archaeological Park of Tulum. To the south, this area continues along the Tulum – Boca Paila highway through Tulum Beach.
---
2. Tulum City Center
Tulum City Center is located only four kilometers north of the beach.
This lively area offers the most traditional and authentic face of Tulum.
Tulu'm City Center has a wide selection of cafes, traditional clothing stores, fashion boutiques, souvenir and handicraft stands and markets.
One of the main advantages of staying in this area is that local travel agencies offer organized tours to the cenotes and the archaeological zone at significantly lower prices than those found in the resorts and beach areas.
The center of Tulum is known for its low-key nightlife. In this area you can find nightclubs, bars and restaurants popular with locals, ex-pats and tourists alike.
The hotel offer in Tulum Centro is less pretentious and more varied than the one in the beach areas. Here, you can find everything from small inexpensive inns to the most luxurious boutique hotels.
---
3. La Veleta
La Veleta is an area located directly south of Tulum's City Center.
This upscale neighborhood is very popular among American ex-pats and is characterized by its luxurious houses, private compounds, and condos.
With a very laid-back atmosphere, La Veleta is a great area to stay in Tulum, particularly for families.
Since La Veleta is located right next to the city center, you only need to walk a few blocks to find restaurants, bars, or shops.
Likewise, Tulum's many travel agencies are located a stone's throw away.
The accommodation offer in this quiet Tulum neighborhood includes some upmarket boutique hotels and several privately-owned apartments and villas, ideal for those looking for independence during their vacation.
La Veleta is the best area to stay in Tulum for a peaceful holiday.
---
4. Playa Paraíso
Playa Paraíso is the most visited public beach in Tulum.
Playa Paraíso is located a few hundred meters from the ruins of the Tulum Archaeological Site, which is easily accessible on foot.
This paradisiacal beach offers different services such as sun loungers, restaurants, beach bars, and places where you can rent water sports and snorkeling equipment.
The seafood restaurants and fish restaurants, as well as the beach bars, are especially popular in Playa Paraíso.
Although Playa Paraíso is officially included in the Tulum Hotel Zone, its accommodation offer is more varied and includes, in addition to all-inclusive resorts, small beach hotels, camping sites, hostels, and posadas.
Playa Paraíso is the best area to stay in Tulum for those seeking sun, white sand, and excellent food.
---
5. Zama
Zama, or the "City of Dawn" is an area located halfway between Tulum Centro and the Hotel Zone.
This charming area, not unlike La Veleta, stands out for its elegant condominium buildings, luxurious houses and private developments.
Connected to the Hotel Zone by Avenida Cova, moving between Zama and the beach is easy.
The accommodation offer in Zama consists mainly of tourist rental apartments and the area also has some boutique hotels.
Zama is one of the best areas to stay in Tulum thanks to its equidistant location between the City Center, the beach, and the ruins of the Tulum National Park.
---
Read this in other languages
|ES| Dónde alojarse en Tulum, México.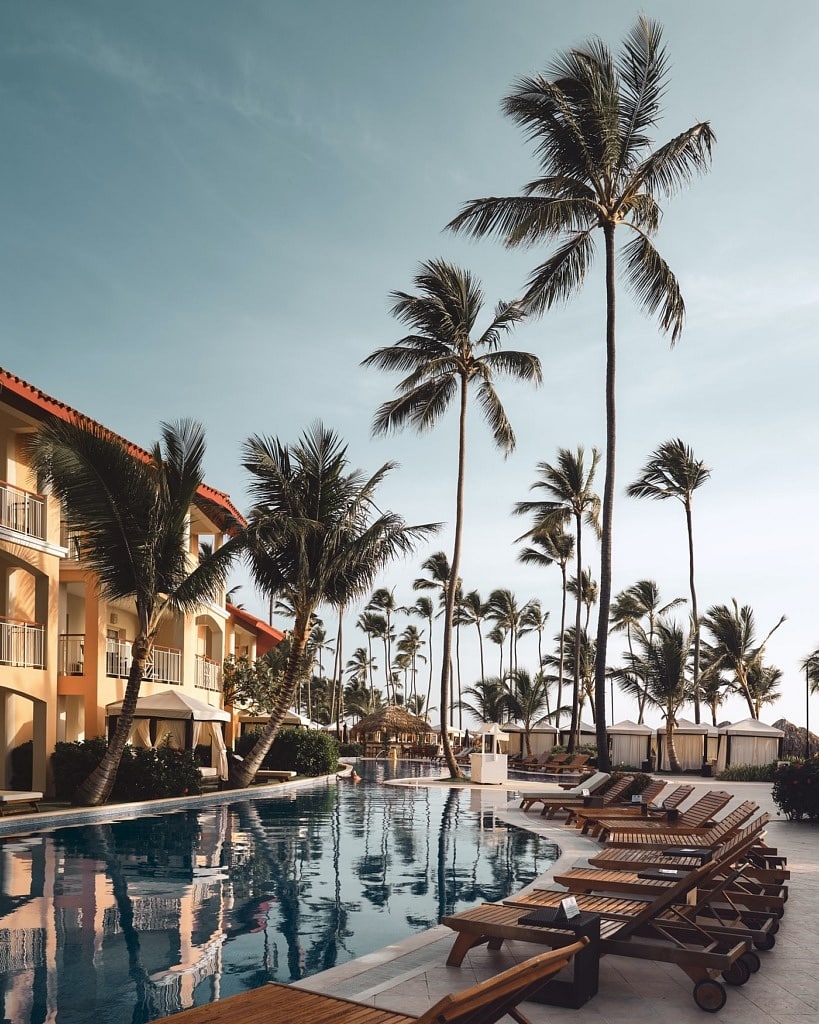 Where to stay in other cities