Where to Stay in Tijuana – A Guide to the Transnational City of Mexico
Tijuana, in the Mexican state of Baja California, is located right on the border with the United States. This border city is known for its landscape, its many canyons, steep hills, and desert. In this post, we will explore the best areas to stay in Tijuana, Mexico.
The eclectic style of Tijuana is present in its street art, historic buildings and its monumental arch, an architectural icon of the city.
For those who love the outdoors, Tijuana offers a landscape marked by its canyons and the Great Hills of Tijuana, which include Cerro Colorado and Cerro de las Abejas.
Tijuana can be reached through General Abelardo L. Rodríguez International Airport, the busiest in Baja California Norte, or by land through the Tijuana Bus Station. See long-distance bus routes, schedules & fares.
With a Mediterranean climate, hot summers and a rainy season between November and March, Tijuana has many sunny days with clear skies, so it can be visited in any season .
The best area to stay in Tijuana is the city center. This lively area has good nightlife options and hotels for all tastes and budgets. See accommodation in Tijuana City Center.
Keep reading to find out more about the best location in Tijuana.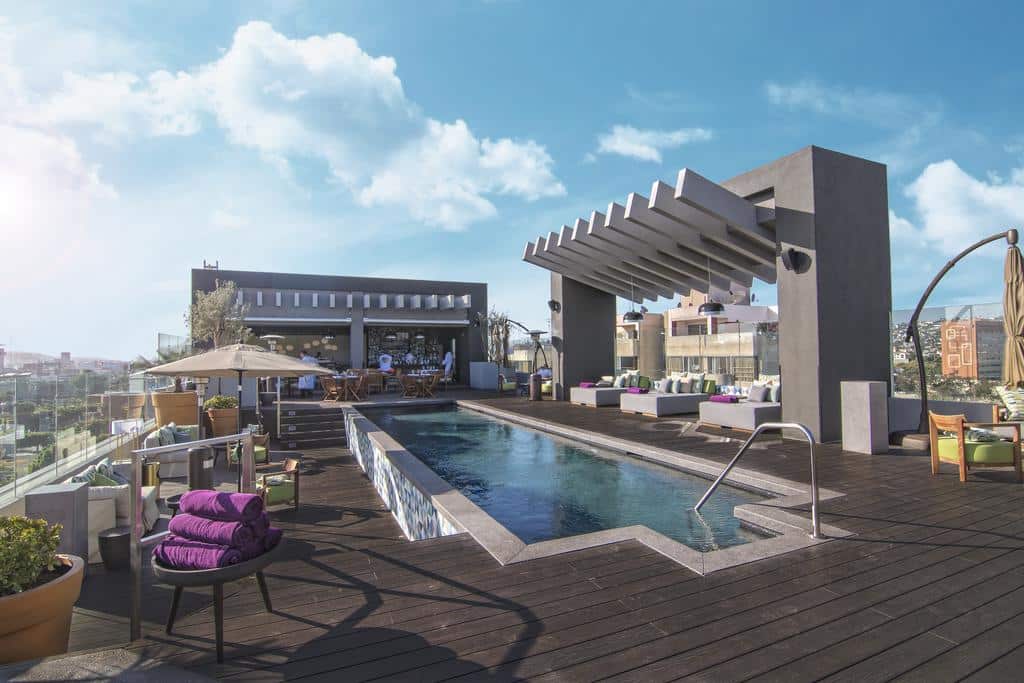 K Tower Boutique Hotel By Lucerna

Located in Tijuana, 1 mi from Tijuana Cultural Center, K Tower Boutique Hotel By Lucerna provides accommodation with a restaurant, free private parking, a fitness center, and a bar. The hotel offers an outdoor pool, a 24-hour reception, and free WiFi.
The Best Areas to Stay in Tijuana
1. Recommended area: Tijuana City Center
The City Center is the historical and economic heart of Tijuana, where most of the city's cultural life can be found.
This area has shopping centers, cinemas, and theaters where the main cultural festivals of the city are held.
Calle 6 (Sixth Street) is Tijuana's nightlife area; it is full of bars and clubs for all kinds of audiences.
These bars are especially popular with visitors from the United States because Mexico's legal age for alcohol consumption is 18.
Among the shopping centers in the area, you'll find Plaza Río, Paseo Chapultepec, Galerias Hipódromo and Plaza Pavillion.
The City Center is the best area to stay in Tijuana, as it has the best transport connections in the city and offers hotels of all categories near the main attractions.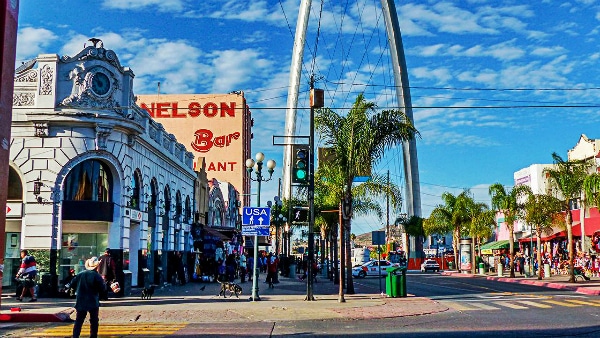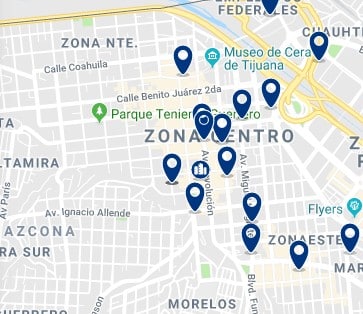 Why is this a recommended area to stay in Tijuana:
Heart of the city
Great public transport connections
Best area for nightlife
Museums and culture
Good area for shopping
All kinds of hotels
---
2. Tijuana Beach
The Tijuana Beach or Playas de Tijuana, located northwest of the city, is a major tourist attraction, where water sports such as surfing, bodyboarding, and kayaking are practiced.
Only 8 kilometers from the City Center, the are is the perfect place to relax and enjoy the good weather between restaurants and cafés.
Among the gastronomic options of Tijuana Beach, stalls selling seafood stand out, but you can also get coffee, ice cream, fruits with chili and chamoy, corn, and many other things.
The lighthouse, which is at the border between Mexico and the United States, murals and the Plaza Monumental or Monumental Square are among the best attractions to see and enjoy in this area of Tijuana.
It is one of the best areas to stay in Tijuana, Mexico, with many accommodation options for all tastes and budgets.
---
3. Rio Tijuana
Río Tijuana is a modern, commercial and financial area, where famous restaurants and self-service stores are located.
It is located 10 minutes by car from Tijuana airport and 5 minutes from the United States border.
Here, there are different shopping centers such as the modern Cultural Center of Tijuana and the famous Plaza Río Tijuana, which was the largest shopping center in northwestern Mexico during the 80s.
Río Tijuana is one of the main commercial complexes of the city, formed by over 120 stores of different products, a good variety of restaurants, bars and an impressive movie theater.
Río Tijuana offers a variety of hotels within reach because it is one of the main tourist points and is among the best areas to stay in Tijuana.
---
Read this in other languages