Where to Stay in El Puerto – A Guide to this Andalusian City
El Puerto de Santa María, locally known simply as "El Puerto" is a city located at the mouth of the Guadalete River, in southeast Andalusia's Bay of Cádiz. This city is part of the Cádiz metropolitan area and is famous for its beaches, pine forests, beautiful old town and wine cellars. In this post, we will explore the best areas to stay in El Puerto de Santa María, Spain.
El Puerto de Santa María dates back to a Greek settlement; Menestheus Port. This town is so ancient it was mentioned in Homer's Odyssey. With the arrival of the Moors in the 8th century, the city was renamed Alcanatif (Port of Salt). After the Christian reconquest of the city in 1260, El Puerto became one of the most prosperous cities in the Kingdom of Castile and played an important role during the Age of Discovery. The first expedition of Christopher Columbus to the Americas sailed from El Puerto and it was here that Juan de la Cosa created the first world map to include the coast of the New World. Later, El Puerto became one of the most trading posts between Spain and the American colonies.
El Puerto's impressive wealth and commercial legacy are clearly visible to this day in its elegant balconied palaces, ornate churches and magnificent squares. The most important historical and cultural attractions in El Puerto de Santa María's Old Town include the beautiful Iglesia Mayor Prioral, the San Marcos Castle, the Real Plaza de Toros , the monastery of La Victoria, the old Fish Market, the Rafael Alberti Foundation Museum and the Las Galeras Fountain. Find accommodation in the Historic Centre of El Puerto de Santa María.
Puerto de Santa María is also famous for its many wine and brandy cellars. This city is located in the heart of the Jerez-Xérès-Sherry Protected Designation of Origin region and is home to numerous cellars, wineries and vineyards, many of which offer tastings and tours. The main wineries in El Puerto that can be visited include the famous Bodegas Osborne, Bodegas Gutiérrez Colosía, Bodegas Caballero and Bogegas Grant, among many others. Book wine tastings in the province of Cádiz.
If you are planning to visit this Andalusian town in search of sun and sand, you'll love the fact that El Puerto de Santa María is one of the main destinations on the Costa de la Luz. Its coastline is dotted with dunes and pine forests, and the El Puerto beaches stand out for their fine sand and calm waves. Both the waves and the water temperature are largely moderated by its location in the Bay of Cádiz and its many breakwaters. The main beaches in El Puerto de Santa María are La Puntillla, Valdelagrana and Fuentebravía.
Due to their location on Andalusia's Atlantic coast, the towns of the Bay of Cádiz enjoy a Mediterranean climate. This translates to very mild winters and warm summers. Thanks to the oceanic influence, winters in this region are considered the most benevolent in all of Europe and temperatures between January and March usually range between 10 and 18 ºC. During the summer, the low temperatures rarely drop below 20 ºC, and the highs are usually around 31 ºC.
The best time to visit El Puerto de Santa María and enjoy its beaches is during the summer (from June to September) when high temperatures are perfect for the beach and water sports. On the other hand, for cultural and wine-related visits, the best time to travel to El Puerto is from October to May, when you can walk its streets without the suffocating summer heat.
Keep in mind that Easter, Christmas and the summer holidays are usually the highest tourist seasons in the city. To save some money and avoid the crowds, it's best if you avoid those periods. Find accommodation in El Puerto de Santa María
To get to El Puerto de Santa María, the city is served by Jerez de la Frontera Airport. Located about 27 kilometres northeast of the city, this small airport offers connections to a handful of domestic destinations such as Madrid, Barcelona, Bilbao, Palma de Mallorca and the Canary Islands, in addition to some seasonal international flights to the United Kingdom, Germany and Switzerland.
Puerto de Santa María is also connected by Medium and Long Distance train services with Jerez, Cádiz, Seville, Jaén and Madrid. The C1 commuter train line connects El Puerto with various towns around the Bay of Cádiz, and several bus routes link the city with the main towns in the south of Spain. Check train and coach routes, schedules and fares.
Additionally, El Puerto de Santa María is connected to Cádiz through a ferry service that links both cities in just over 30 minutes. To move around town, El Puerto de Santa María has an urban bus system. You can also rent a car or use taxis.
The best area to stay in El Puerto de Santa María is the Historic City Centre. El Puerto's Old Town offers a wide variety of historical and cultural attractions and tapas, nightlife and shopping areas. The Historic City Centre is also the best-connected area in El Puerto and where many of its boutique hotels, some located in historical palaces, can be found. Find accommodation in El Puerto de Santa María's Historic City Centre.
If you are travelling to El Puerto de Santa María to go to the beach, then probably La Puntilla & Puerto Sherry are the best locations in El Puerto for you. This popular beach is the closest to the Historic Centre and offers a wide variety of accommodation, natural areas and traditional restaurants. Find accommodation around La Puntilla & Puerto Sherry.
Other excellent areas to consider when deciding where to stay in El Puerto de Santa María include Valdelagrana and Fuentebravía.
Keep reading for more information about the best areas to stay in El Puerto de Santa María, Cádiz.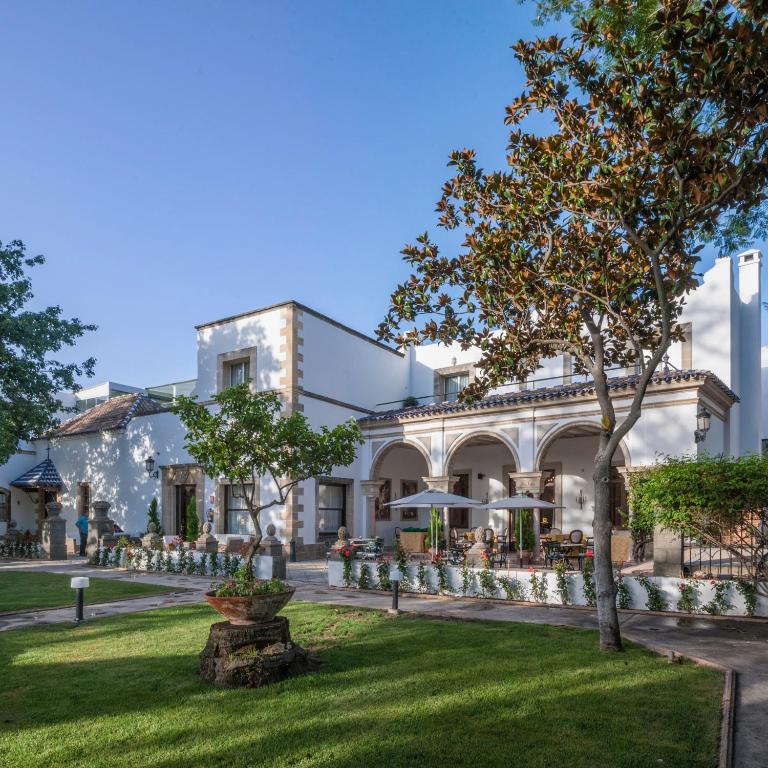 The Best Areas to Stay in El Puerto de Santa María, Spain
1. Recommended area: Old Town (Centro Histórico)
Puerto de Santa María's Old Town is located on the west bank of the Guadalete River.
Inhabited since ancient times by numerous civilisations, the centre of El Puerto stands out for its beautiful Renaissance-era palaces, tree-lined squares and beautiful churches.
One of the most outstanding historical attractions in El Puerto is undoubtedly the Castillo de San Marcos. This fortress was built on a mosque from the Almohad period to serve as a fortified church. San Marcos was expanded over the centuries and currently offers guided tours and wine tastings in its cellar. Nearby is the Antigua Lonja, an 18th-century fish market with semicircular arches.
Next to the Guadalete River is the Fuente de las Galeras, a beautiful 18th-century fountain built to provide water to the port where the fleet of Galeras Reales (Royal Galles) winterised every year since the 16th century.
Calle Luna, El Puerto's main commercial thoroughfare, connects Plaza de las Galeras Reales with the Iglesia Mayor Prioral. This beautiful 15th-century cathedral combines Gothic, Baroque and Plateresque styles. Nearby, you'll find the Municipal Archaeological Museum and the Rafael Alberti Foundation, which focuses on the legacy of this important Spanish poet and El Puerto native.
The Real Plaza de Toros de El Puerto de Santa María dates back to the 19th century and has an eclectic architectural style.
A visit to El Puerto de Santa María is not complete without taking a tour of one of its many wine cellars. Perhaps the most popular winery in the city is Bodegas Osborne, one of the most iconic Sherry wine brands.
The city centre is the best area to stay in El Puerto de Santa María for a cultural trip or to taste the fantastic sherry wines and spirits.
El Puerto de Santa María's historic city centre is compact enough to explore on foot. La Puntilla Beach is located about 2 kilometres away. The entire area is connected by the urban bus system and there are taxis available.
El Puerto De Santa María's Maritime Terminal is located next to the river and offers ferry connections with Cádiz. The journey takes 30 minutes. El Puerto train station is less than two kilometres from the city centre and offers Media Distancia and commuter services to Cádiz and Jerez.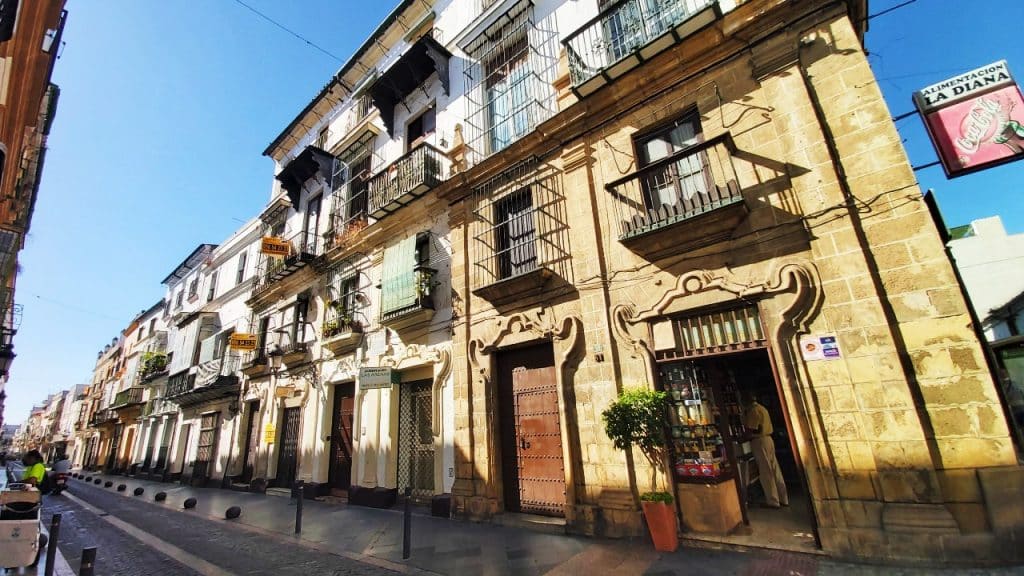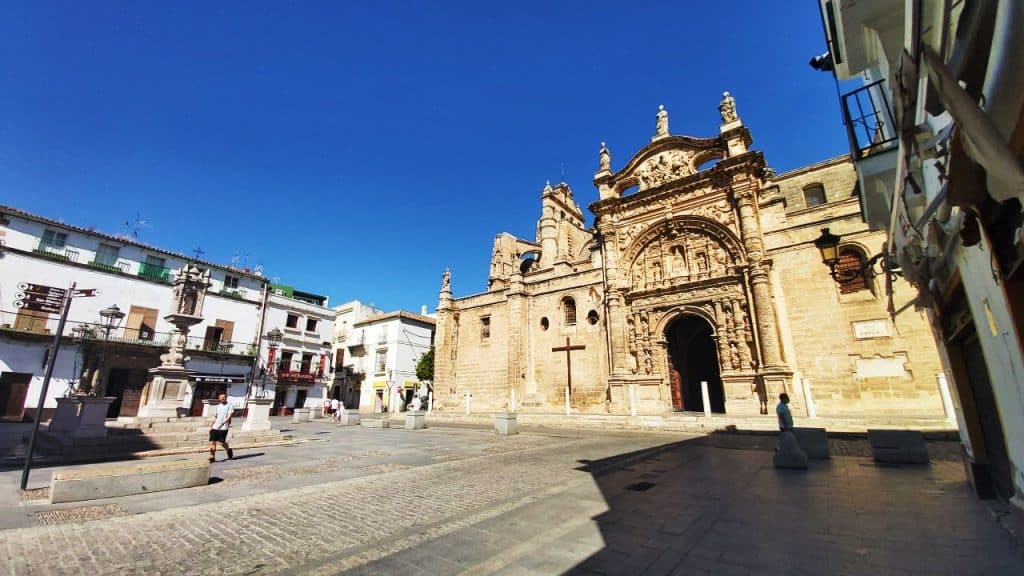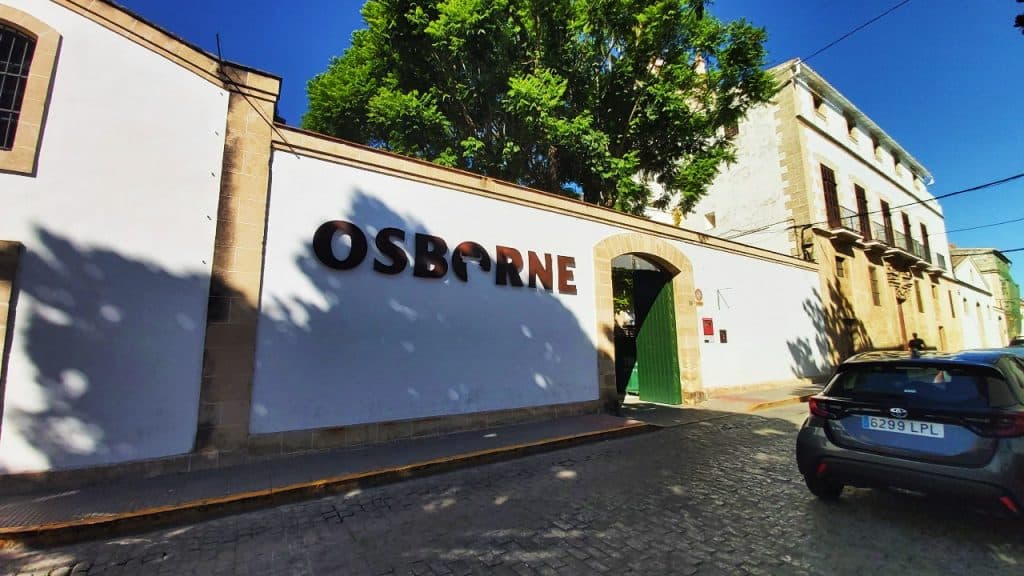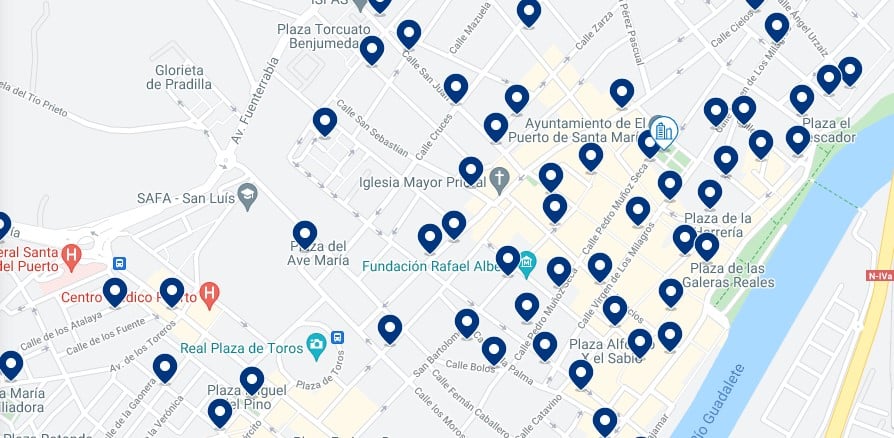 Why is this a recommended area to stay in El Puerto de Santa María:
Castillo de San Marcos
Iglesia Mayor Prioral
Osborne wineries
Ferry port
Museums and cultural attractions
Wide variety of accommodation
Connected by public transport
Best area to stay for a cultural trip
---
2. La Puntilla & Puerto Sherry
A couple of kilometres south of El Puerto's historic city centre, next to the mouth of the Guadalete River lies La Puntilla beach.
This extensive urban beach with golden sand and low waves is the most popular in the city, partly because of its proximity to the centre and also because it offers many services.
In addition to La Puntilla, this area also has other smaller beaches such as those of Aculadero or Calita Puerto De Santa Maria.
The beach area is connected to the centre by a beautiful river walk (Avenida de la Bajamar) and, next to it, you can find extensive pine forests and dune fields. Paseo del Aculadero is a paved pedestrian path that runs through the various sandy areas from La Puntilla to Puerto Sherry. On the way, there are several beach bars and traditional restaurants.
Puerto Sherry is considered one of the best marinas in Andalusia. This elegant marina is also home to some of the most exclusive beach clubs and nightclubs in El Puerto and has several restaurants and bars, plus a hotel.
On its west side, you'll find La Muralla and La Calita beaches, much less crowded than La Puntilla.
A little further north is the Real Club De Golf Vista Hermosa and some of the most exclusive developments in El Puerto.
Playa La Puntilla is connected to the city centre through lines L1, L2 and L4 of the urban bus. If you decide to stay near Puerto Sherry, it is best to have a car.
---
3. Valdelagrana
Valdelagrana is a neighbourhood located on the eastern bank of the Guadalete River.
This large area presents the most contemporary side of El Puerto de Santa María, with wide avenues and modern buildings.
The main attraction making this neighbourhood the best area to stay in El Puerto de Santa María is undoubtedly its beach.
Valdelagrana Beach is over 2 kilometres long and is considered one of the best urban beaches in the Bay of Cádiz. It has various services and a lively seaside promenade full of beach bars and restaurants.
South of the Valdelagrana Beach is the Los Toruños Natural Park, which stands out for its salt flats and marshes. The neighbouring Playa de Levante is a semi-wild beach that stretches several kilometres to the south.
Valdelagrana is connected to the rest of El Puerto through the town's urban bus system and has a commuter train station, making it easy to get to other Bay towns such as Cádiz, Jerez de la Frontera, Puerto Real and San Fernando.
---
4. West El Puerto & Fuentebravía
Fuentebravía Beach is the furthest of the beaches in this Cadiz town.
It is located about 5 kilometres west of the historic city centre of El Puerto, very close to the Rota Naval Base.
This 600-metre-long beach, much quieter and less crowded than La Puntilla, has golden sand and moderate waves, as well as various services such as showers, toilets and guard booths.
The beach area is surrounded by several residential developments.
South of Fuentebravía there are other excellent beaches such as Punta Bermeja, El Ancla, Santa Catalina and Las Redes. All these beaches are especially suitable for water sports.
Near Playa de las Redes there is a lively shopping area with bars, restaurants and shops.
Being a residential district relatively far from the city centre, the best way to move around the west of El Puerto is by car.
---
Read in other languages