Where to Stay in Málaga – A Guide to the Capital of the Costa del Sol
Málaga is the second-most populated city of the Spanish Andalusia autonomous region. Located on the Mediterranean coast, in the south of the country, Málaga is considered the "Capital of Costa del Sol," a conurbation that also includes cities like Marbella. This Andalusian city, the birthplace of Pablo Picasso, is famous for its museums, its beautiful landscapes and its lively nightlife and food scene. In this post, we will explore the best areas to stay in Málaga, Spain.
---
Why you should visit Málaga
Like other Andalusian cities, the history of Malaga is fascinating. Although Phoenicians founded it, it was also the territory of the Romans and later of the Muslims, until, in 1487, it was conquered by the Spanish Catholic Monarchs.
In the centre of a bay surrounded by mountains, its location gives Málaga some of the most beautiful landscapes in all of Spain. This city is a complete destination with beaches, mountains and parks for all tastes.
Most tourist attractions in Málaga are located in its Historic City Centre. Some of the most visited include the Roman Theatre, La Alcazaba, the Cathedral of Málaga and Mount Gibralfaro. See accommodation in Centro Histórico.
Málaga also has a very active and diverse cultural life. Home to several world-class institutions, Málaga's museum scene is the best in Andalusia and second only to Madrid in Spanish terms. Some of the most important museums in Málaga include the Picasso Museum, the Carmen Thyssen Museum, Museo de Málaga, Centre Pompidou Malaga and Centro de Arte Contemporáneo CAC Málaga.
Other than historic monuments dating back over 2,000 years and world-class museums, Málaga is known as a beach destination. The city's main urban beach, La Malagueta, is a full-service beach flanked by chiringuitos and traditional food restaurants. Nearby Paseo de la Farola is a lively seaside promenade featuring a historical lighthouse and several attractions. See accommodation in La Malagueta.
With CAC Málaga as its anchor, the most happening place for young people and hipsters in Málaga is definitely SoHo. This redeveloped area south of the city centre concentrates a large number of cafés, bars and boutiques. See accommodation in SoHo Málaga.
---
When to visit Málaga
Málaga is also famous for its traditional festivals, the two most important ones being Carnival and Easter. El Carnaval de Málaga is held every year in February or March and includes parades, concerts, murgas (street bands) competitions, and costumes. On the other hand, Easter (Semana Santa) celebrations in Málaga are, for the most part, a much more serious and solemn affair when believers flood the streets carrying images of the Virgin and Jesus Christ.
Please note that you're planning on visiting Málaga during Carnival or Semana Santa; we recommend that you book your accommodation months in advance. These festivals are the city's busiest weeks, and finding a free or affordable hotel room can be challenging. See accommodation in Málaga.
Due to its coastal location in Southern Spain, Málaga has a subtropical-Mediterranean climate. The influence of the Mediterranean moderates the city's climate conditions. Summers are hot and dry, while winters are mild. In January, temperatures typically range between 8 and 17 °C. On the other hand, the summertime can see average temperatures hover between 20 and 33 °C. Because of its constantly warm temperatures, Málaga can be considered a year-round destination. That said, the best time to visit Málaga for a cultural trip or weekend getaway is during the autumn, winter or spring (October through May). On the other hand, if you're travelling to Málaga to go to the beach, the best time to visit is during late spring, summer and early autumn (late May to early October).
---
Getting there & moving around
To get to Málaga by air, the city is served by the Malaga-Costa del Sol Airport. Located 8 kilometres southwest of the city centre, this major airport, the busiest in Andalusia and one of the busiest in Spain, operates a wide range of domestic and international flights, including +120 European connections as well as several flights to North Africa, North America and the Middle East. It serves as a base for several carriers, including Air Europa, Norwegian, Scandinavian Airlines, Ryanair, Vueling and Easyjet.
Málaga is also very well-connected by train. Málaga María Zambrano, the city's main railway station, is located west of the City Centre. From this railway hub, you can catch high-speed services to Madrid, Barcelona and Córdoba, as well as regional connections to most of Andalusia and commuter (Cercanías) services. See train routes, schedules & fares.
When it comes to moving around the city, Málaga has a very efficient public transportation network consisting of light-rail (Metro de Málaga), a 2-lines suburban commuter railway (Cercanías) and dozens of bus lines. Additionally, Málaga is served by taxis, mobile apps (like Uber and Cabify), and you can always choose to rent a car for your trip.
---
Where to stay in Málaga
The best area to stay in Málaga is the Historic City Centre. Málaga's Old Town is home to the city's main museums, historic and cultural attractions, great nightlife and restaurants, and some of the best hotels. Centro is also a very well-connected district. See accommodation in Centro Histórico.
If you're travelling to this Spanish city to go to the beach, then La Malagueta is the best location in Málaga for you. See accommodation in La Malagueta.
Other great areas to keep in mind when choosing the best areas for tourists in Málaga include Soho, El Palo and Pedregalejo.
Keep reading to find more about the best areas to stay in Málaga, Spain.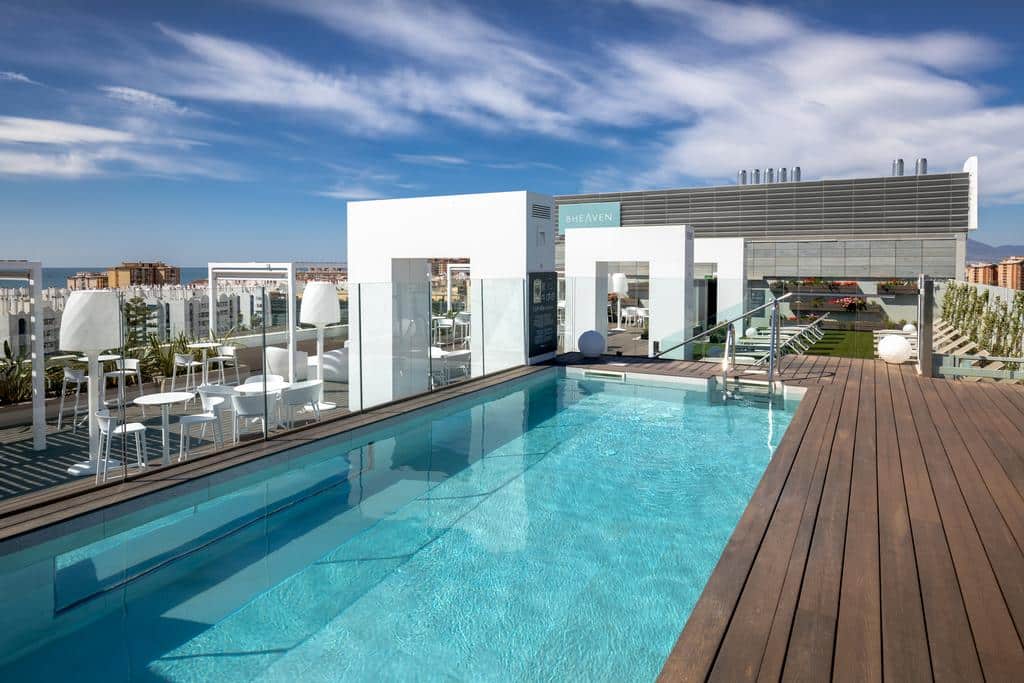 ---
Best Location in Málaga, Spain: A Quick Guide
Below, you'll find a list of the best areas to stay in Málaga according to your travel style and what you may be planning to do during your trip. Keep reading this guide to find all the specific information you need about each particular area mentioned here.
---
Best Hotels in Málaga, ES by Theme
Something more specific in mind? Here's a list of some of the best hotels in Málaga. No matter your reason for visiting the city or style, you'll find it here!
---
The Best Areas to Stay in Málaga, Spain
1. Recommended area: Málaga City Centre
Málaga's Historic City Centre encapsulates the true essence of the Costa del Sol. As the cultural and tourist heart of Málaga, Centro also has the widest selection of hotels. The accommodation offer here ranges from classic luxurious properties like the Vincci Selección Posada del Patio to modern chic hotels like the Room Mate Valeria, as well as budget alternatives such as the Ibis Malaga Centro Ciudad and backpacker-friendly The Lights Hostel.
Málaga City Centre is the heart of the city and is home to most of its most important attractions, including the Alcazaba, the Roman theatre, the cathedral, the Picasso Museum and the Carmen Thyssen Museum.
This is also the best area to stay in Málaga for shopping, as it is where Calle Larios (Larios Street) is, surrounded by department stores, boutiques and souvenir shops. Also, the decoration of this street during celebrations such as Carnival, Easter and Christmas is already famous and Instagram-friendly.
The alleys in the centre of Málaga are home to a large number of restaurants where you can taste excellent Andalusian cuisine, as well as terrace bars and fast food chains.
Staying in the centre of Málaga allows you to choose between luxury hotels, pensions, B&Bs, business hotels, hostels and more.
This is one of the best areas to stay in Málaga regardless of the reason for the trip since it is also close to La Malagueta beach.
Málaga City Centre connects with other neighbourhoods of the city through buses and with the airport, Torremolinos and Fuengirola by commuter trains.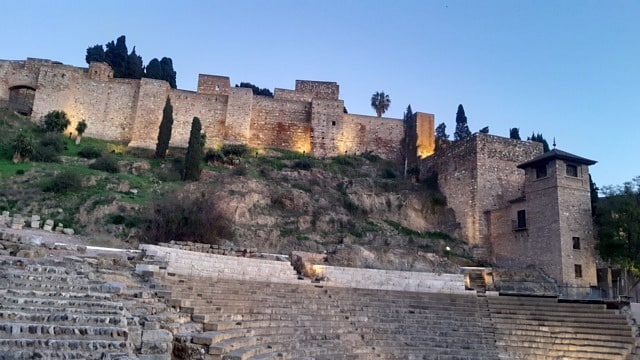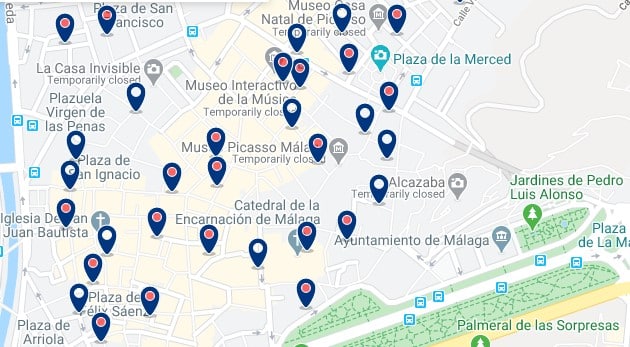 Why is this a recommended area to stay in Málaga:
Heart of the city
Pedestrian-friendly
Museums and historical attractions
Best area for sightseeing
Hotels of all kinds
Málaga's Cathedral
Connected to the airport
Great food
Alcazaba and Roman Theatre
---
2. Soho
Málaga's hip neighbourhood is packed with uber-chic boutique hotels. Some of the best-rated ones include Soho Boutique Colón and Mariposa Hotel Malaga.
Soho is one of the coolest neighbourhoods in Málaga and is located south of the city centre, in a very central location
Soho is known as the "neighbourhood of the arts" for its museums and galleries that include the Málaga Centre for Contemporary Art and the Málaga Arte Urbano Soho gallery (MAUS), dedicated to graffiti.
This charming area has the best transport connections since it is very close to the Málaga Centro Alameda station, from which you can catch the train to the airport and nearby cities such as Torremolinos or Fuengirola. The bus terminal is also located here.
Soho is one of the best areas to stay in Málaga because it is one of the quintessential hipster neighbourhoods in the city, and for having accommodation of all kinds, especially boutique-type hotels.
Furthermore, this district is very pedestrian-friendly, has many restaurants and cafes and is close to La Malagueta beach.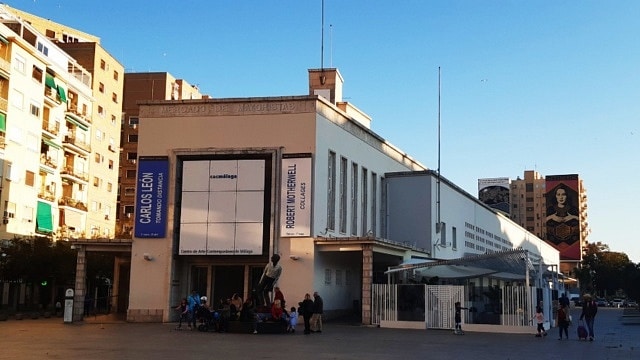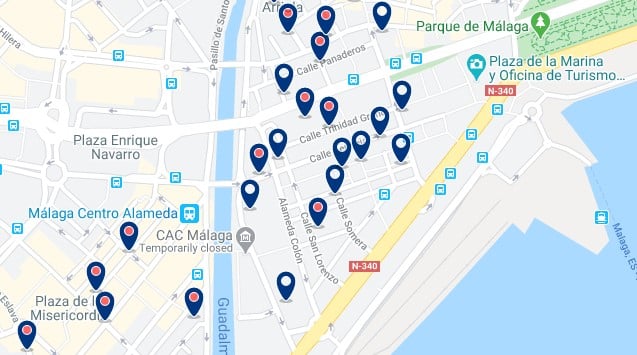 Why is this a recommended area to stay in Málaga, Andalusia:
Central location
Street art
Málaga Centre for Contemporary Art
Bars and restaurants
Hispter area
Great public transport connections
---
3. La Malagueta
La Malagueta is packed with tourist apartments and is also home to some of the best luxury hotels in Málaga. Some great options in this area include the palatial 5-star Gran Hotel Miramar GL or the lovely Hotel MS Maestranza Málaga. Budget-conscious travellers should definitely check out La Casa Azul B&B + Apartments.
La Malagueta is the most popular beach in the city and, therefore, this is the best area to stay in Málaga during the summer.
Located to the southeast of the centre of Málaga, La Malagueta offers a beach surrounded by bars where you can try some of the best fried fish in the city, as well as high-end Andalusian cuisine restaurants.
La Malagueta is located just a few minutes from Muelle Uno, a promenade full of shops, bars and restaurants that is one of the main attractions of the city.
This neighbourhood is one of the best areas to stay in Málaga for a romantic getaway since the views around here at sunset are simply stunning.
Apartments are the most common accommodation option in La Malagueta, but you can also find luxury hotels and hostels in the area.
To move from La Malagueta to other areas of Málaga, you can choose between bus or taxis.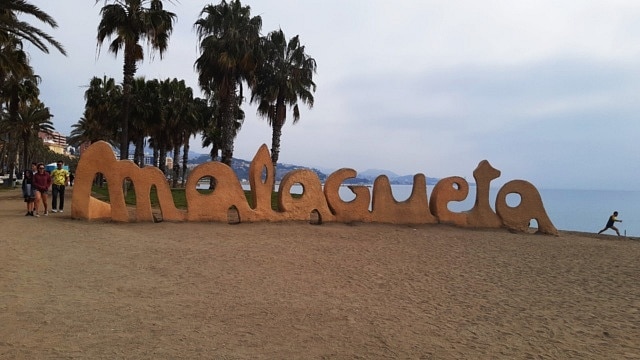 Why is this a recommended area to stay in Málaga:
Beach area
Great views
Seafood restaurants
Good area for romantic getaways
Muelle Uno
Apartaments and luxury hotels
---
4. El Palo
El Palo is another one of the beach areas of Málaga.
El Palo is eight kilometres east of the city centre.
Unlike La Malagueta, El Palo maintains some of its traditional fishing neighbourhood atmosphere.
Therefore, this is a good area to stay in Málaga if you want a more authentic experience, away from the tourist areas and the bustle of the city centre.
The biggest advantage of staying in this area of ​​Málaga is that it has sea views and cheaper hotels than those found in central neighbourhoods.
Likewise, the beach in this neighbourhood also has beach bars and restaurants of all kinds.
This area connects with the rest of Málaga via bus.
---
5. Pedregalejo
Pedregalejo is part of the East Málaga district, located 5 kilometres from the city centre, next to El Palo, and is an old fishing neighbourhood that is connected to the rest of the city by bus.
This neighbourhood has tapas bars that make it one of the best areas to stay in Málaga for foodies.
Likewise, the area's beach is known for its beach bars that offer grilled sardines and other typical delicacies.
Accommodation in Pedregalejo is divided into villas, pensions, some hostels and many tourist apartments with excellent views.
This is one of the best areas to stay in Málaga if you are looking for tranquillity and good costs during your stay, but without straying too far from the city centre and the main attractions of this beautiful Andalusian city.
---
Read this in other languages