Where to Stay in Marbella: A Guide to This Costa del Sol City
Marbella is the second-most populated city in the province of Málaga. Located on the Costa del Sol, in the south of the country, Marbella is one of Andalusia's most visited tourist destinations, thanks to its lovely weather and well-developed tourist infrastructure. This Costa del Sol town is famous for its beaches, its lively nightlife and its upscale atmosphere. In this post, we will explore the best areas to stay in Marbella, Spain.
---
Why you should visit Marbella
The Marbella municipality extends through a forty-four-kilometres-long stretch of coastal land at the foothills of the Sierra de las Nieves National Park. This Spanish city has a long-standing reputation as one of the most luxurious places in the country, thanks to its plush hotels, Michelin-star restaurants and exclusive beach clubs and shopping centres featuring the most glamorous fashion brands.
Like most cities on the Costa del Sol, Marbella has a rich history dating back thousands of years. At its heart lies Marbella's Old Town. Centred around Plaza de Los Naranjos, this quaint historic quarter presents a typical southern Andalusia layout and architecture; narrow cobbled streets and red-tiled whitewashed houses. Some of the main historical and cultural attractions in Old Town Marbella include Alameda Park, the Iglesia de la Encarnación, the Museum of Contemporary Spanish Engraving, the Muralla del Castillo, the Centro Cultural Cortijo de Miraflores, Magpie International Art Gallery, or the Dalí Sculptures. See accommodation in Marbella's Old Town.
As one of the top-rated luxury destinations in the world, Marbella is known for its swanky lifestyle ranging from classic glamour to almost ridiculous opulence. The best area to experience Marbella's jet-set vibe is around the famous Golden Mile. La Milla de Oro is the name given to the most luxurious residential and commercial area in Marbella. Although it isn't exactly a mile long (it's actually much longer than that), this coastal district stretches westward from Marbella's Old Town to the upscale town of Puerto Banús. See accommodation in Puerto Banús.
But of course, other than for its lovely Old Town and top-notch luxurious developments, Marbella is primarily known as a beach destination. A rugged coastline stretching kilometres and a well-developed tourist and road infrastructure make Marbella the best town to visit on Costa del Sol. Some of the best beaches in central Marbella include El Ancón, Nagüeles, El Faro, La Bajadilla and El Cable. Further west, you'll also find lovely beaches such as Guadalmina, Linda Vista, San Pedro Alcántara or Nueva Andalucía. Most of the urban beaches in Marbella are fully serviced and include toilets, showers, beach bars, restaurants and watersports equipment rental places. See accommodation near the beach in Marbella.
---
When to visit Marbella
Like the entire Spanish coast, Costa del Sol and Marbella are very popular destinations during the summer months. In the summer, thousands of visitors from around the world come to visit their beaches. As expected, the high season in Marbella takes place from the end of June to the end of August, coinciding with the summer holidays in most European countries. During the summer, accommodation and transportation costs increase considerably and can reach astronomical levels.
The best time to visit Marbella is in the spring, especially between May and June. During this time, Costa del Sol temperatures are warm enough to enjoy the beach, and accommodations don't yet have their high season rates. The quietest time to visit Marbella is in the winter. From November to February, there are almost no tourists to be found, and accommodation prices drop. That said, many hotels, restaurants and bars are closed for the season, and temperatures are not suitable to go to the beach.
Due to its coastal location in Southern Andalusia, Marbella has a subtropical Mediterranean climate. The influence of the sea moderates the city's climate conditions. Summers are hot and dry, while winters are mild. In January, temperatures typically range between 8 and 17 °C. On the other hand, the summertime can see average temperatures hover between 20 and 33 °C. Because of its constantly warm temperatures, Marbella can be considered a year-round destination.
Like most of Andalusia, Marbella holds a fare share of traditional festivals and celebrations including Carnival and Easter. Carnival celebrations on Costa del Sol are particularly fun. They include parades, concerts, street bands, and costumes. On the other hand, the Semana Santa celebrations tend to be a much more solemn affair.
Another important Marbella festival to keep in mind is Starlite Festival. Held in the summer and nicknamed "the best boutique festival in Europe", this month-long music and cultural event features concerts by big-name Spanish and international artists. You can expect to see performances by the likes of Julio Iglesias, Santana, Steven Tyler, Alejandro Sanz, Pet Shop Boys, Tom Jones or Jamiroquai. You can check the next edition's dates and lineup here. Please note that you're planning on visiting Marbella for StarLite Festival; we recommend that you book your accommodation months in advance. This event is the city's busiest time, and finding affordable accommodation can be challenging. See accommodation in Marbella.
---
Getting there & moving around
To get to Marbella by air, the city is best served by the Malaga-Costa del Sol Airport. Located 50 kilometres east of the city centre, this major Spanish airport, the busiest in Andalusia and one of the busiest in the country, offers a wide range of routes, including +120 Spanish and European connections and a few long-haul flights to North Africa, North America and the Middle East. It serves as a base for several carriers, including Air Europa, Norwegian, Scandinavian Airlines, Ryanair, Vueling and Easyjet.
Marbella is not connected by train. That said, the city has excellent coach connections to Málaga María Zambrano high-speed (AVE) train station and bus links to virtually every city on the Costa del Sol. See train and bus routes, schedules & fares.
When it comes to moving around the city, Marbella has an efficient bus network connecting its different districts. Additionally, Marbella is well-served by taxis, mobile apps (like Uber and Cabify), and you can always choose to rent a car for your trip.
---
Where to stay in Marbella
The best area to stay in Marbella is the Old Town. Marbella's City Centre is home to the main museums and cultural attractions, a great nightlife and restaurant offer and some of the best hotels. Marbella Centro is also a very well-connected district and is close to the main urban beaches. See accommodation in Marbella's Old Town.
If you're travelling to this Spanish city for a luxury holiday, then the upscale coastal town of Puerto Banús is the best location in Marbella for you. See accommodation in Puerto Banús.
Other great areas to keep in mind when choosing the best areas for tourists in Marbella include San Pedro de Alcántara, Nikki Beach, and Elviria.
Keep reading to find more about the best areas to stay in Marbella, Spain.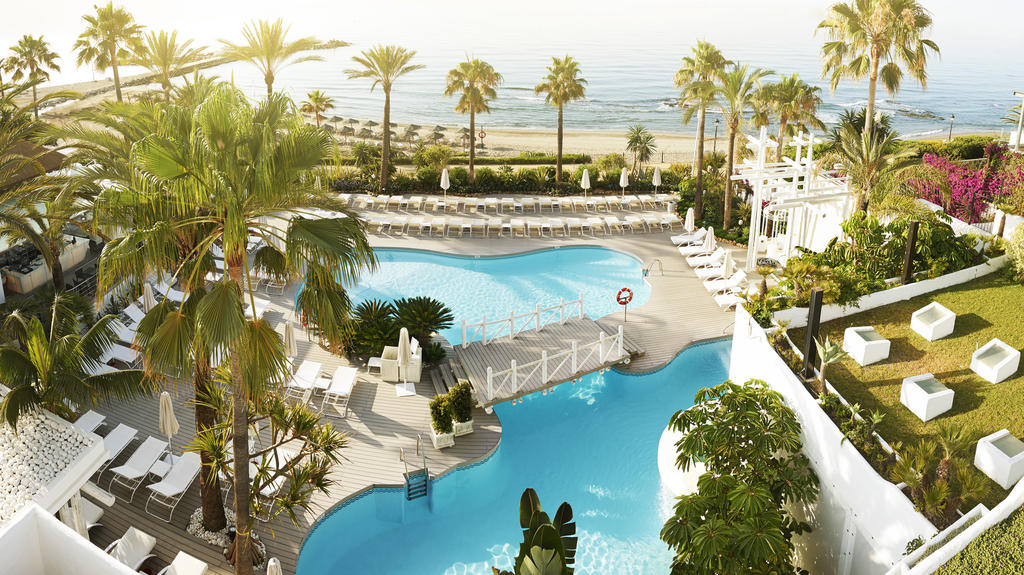 Puente Romano Beach Resort

Located between Marbella and Puerto Banús, Puente Romano Beach Resort is situated in front of the beach, surrounded by gardens and waterfalls, and offers tennis courts, several swimming pools, and a wellness centre. Puente Romano Beach Resort offers a 2-star Michelin restaurant by Spanish chef Dani Garcia, a seafront bar, pool bar and a beach restaurant.
---
Best Location in Marbella, Spain: A Quick Guide
Below, you'll find a list of the best areas to stay in Marbella according to your travel style and what you may be planning to do during your trip. Keep reading this guide to find all the specific information you need about each particular area mentioned here.
---
Best Hotels in Marbella, ES by Theme
Something more specific in mind? Here's a list of some of the best hotels in Marbella. No matter your reason for visiting the city or style, you'll find it here!
---
The Best Areas to Stay in Marbella, Costa del Sol, Spain
1. Recommended area: Old Town & Marbella City Centre
Marbella's Old Town is considered one of the most beautiful historic districts in Costa del Sol.
Similarly to other towns in southern Andalusia, Marbella's historic area is characterised by its whitewashed houses with red tiles and its many narrow winding streets.
This area includes the three historical neighbourhoods of the city; Barrio Alto, Barrio Nuevo and San Francisco.
Barrio Alto, located to the north, is the oldest settlement, probably dating back to pre-Roman times. This area still showcases a typical Arab Medina layout and several historical attractions such as the ruins of the 10th-century castle, the city walls, the Church of Santa María de la Encarnación or the Casa del Roque.
At the heart of the Old Town lies Plaza de Los Naranjos, a Renaissance-style square with several restaurants and cafés and flanked by some of the most iconic buildings in Marbella, such as the town hall, the Mayor's house and the Chapel of Santiago.
Marbella's Historic Quarter is flanked by two lovely parks; Represa Park to the east and Alameda Park to the south. Near Parque de la Alameda, Avenida del Mar offers a scenic walkway dotted with palm trees and decorated with sculptures by Salvador Dalí.
Marbella's City Centre, which includes the Old Town and its immediate districts, is home to several of Marbella's most popular urban beaches, including La Bajadilla Beach, Venus Beach, and La Fontanilla Beach. Marbella's Marina offers shops, restaurants and nightlife.
Carretera Nacional N340 connects parque de La Alameda to the township of Puerto Banús. This stretch of road is at the centre of Marbella's Golden Mile, an area home to the city's top luxury retailers, upscale condominiums and residential developments and some of the top-rated hotels and resorts on Costa del Sol.
The easiest way to get around the winding narrow streets of Marbella's Old Town is on foot. That said, Marbella's City Centre has a fairly well-developed bus system connecting its core to the beach areas and other districts and towns on the coast and mountains.
Furthermore, Marbella Centro has taxis and apps like Uber, and most hotels offer transfer services to the beach and beyond.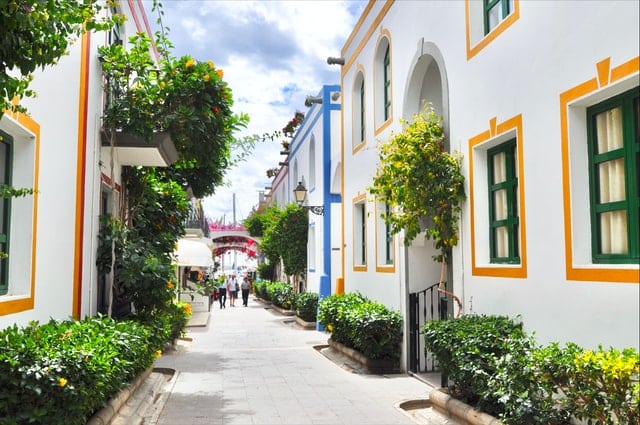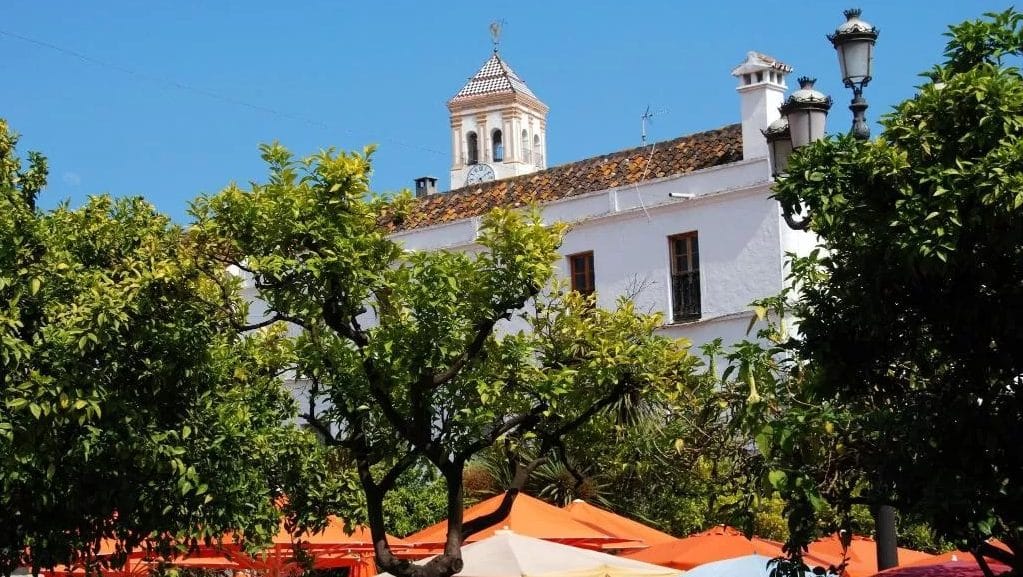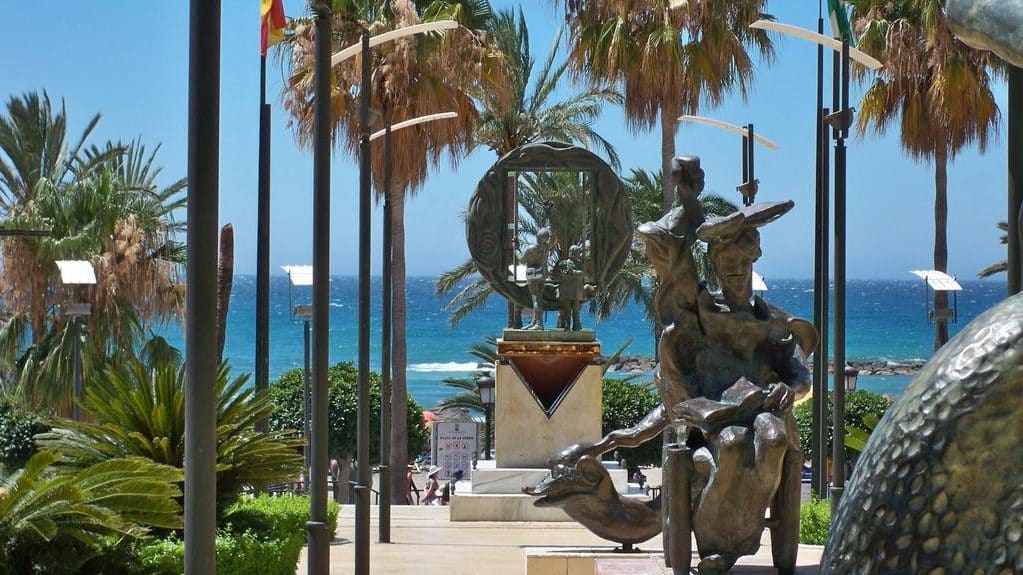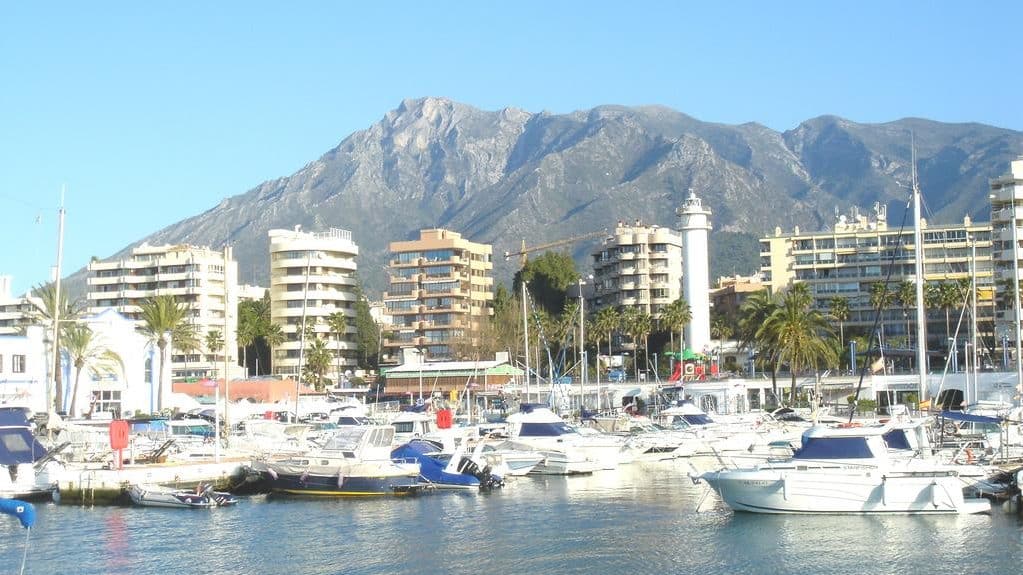 Why is this a recommended area to stay in Marbella, Spain:
Heart of the city
Pedestrian-friendly
Museums and historical attractions
Best area for sightseeing
Hotels of all kinds
Great food and nightlife
Urban beaches
Marbella Marina
---
2. Puerto Banús
Puerto Banús is one of the districts that make up the conurbation of Marbella.
Located in Nueva Andalucía, about 7 km east of Marbella's Old Town, Puerto Banús is famous for its luxurious lifestyle, exclusive nightlife, plush shopping centres and upmarket real estate property.
This Marbella district has a long-standing reputation as a playground for the rich and famous.
The town is centred around Puerto Deportivo José Banús, an exclusive sailing and entertainment marina offering luxury shopping, upscale restaurants and recreational sailing activities.
The Marina is also the main nightlife epicentre on Costa del Sol. Here, you can find some of the most exclusive nightclubs, including Buddha Beach and Ocean Club, and party next to Hollywood royalty or actual royalty.
The most popular beaches in Puerto Banús include Playa Puerto Banús, Playa El Duque, Playa Nueva Andalucía and Playa Río Verde.
As you may have guessed, the accommodation offered in Puerto Banús consists mainly of uber-luxury four and five-star hotels and some of the most exclusive spa resorts in all of Spain. That said, Puerto Banús also has a wide offer of tourist apartments.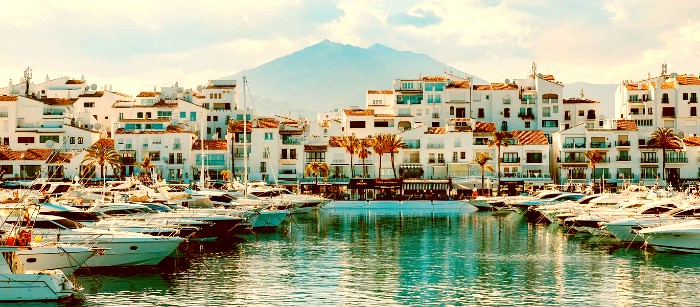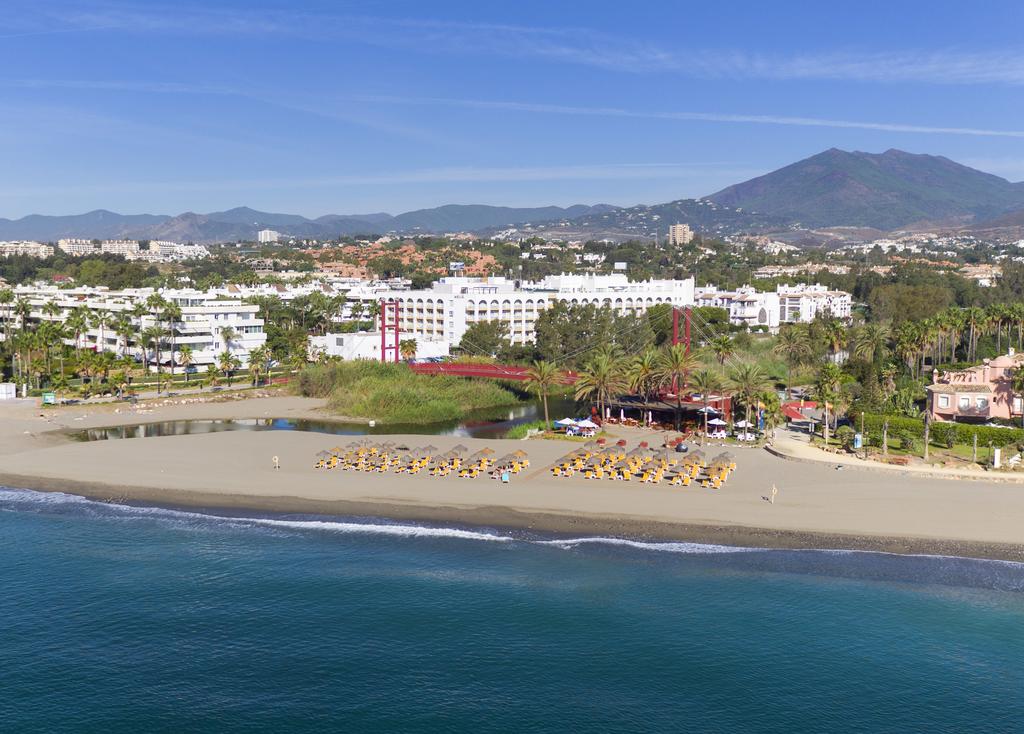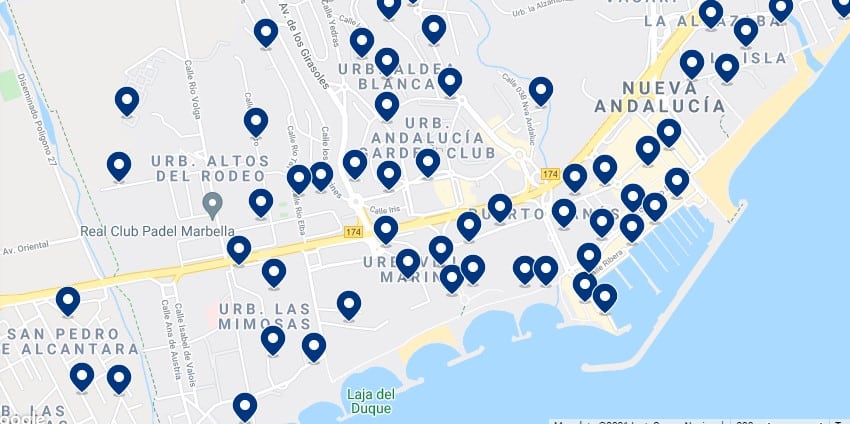 Why is this a recommended area to stay in Marbella, Costa del Sol:
Best nightlife on the Costa del Sol
Luxury shopping
Upscale restaurants and cocktail bars
Resorts and upscale hotels
Beach areas
---
3. San Pedro de Alcántara
San Pedro Alcántara is an outlying district of Marbella. It is located some 10 km west of the Old Town and 3 km from Puerto Banús.
Founded in the late 19th century as an agricultural and industrial colony, San Pedro was the only other settlement within the Marbella municipality with a relevant population before the tourist boom of the 1960s.
While San Pedro Alcantara's core is located about 2 km away from the coast, the district has grown considerably in the past decades and now covers several residential developments such as Nueva Alcántara and Guadalmina.
This Marbella district is home to several historic attractions like the Las Bóvedas Roman Baths and Watchtower, the Paleo-Christian Basilica of Vega de Mar and the buildings of the San Pedro Alcántara agricultural colony.
San Pedro is also located nearby some of Costa del Sol's top-rated golf courses and country clubs like Real Club de Golf Guadalmina, San Pedro Golf Club and Magna Golf Marbella.
The main beaches in San Pedro Alcántara are renowned for their calm waters and include San Pedro, Cortijo Blanco, Linda Vista and Guadalmina.
The great news is that the hotel offer in this area is way more varied than in other Marbella districts. In San Pedro, you can find your typical Costa del Sol luxury resorts, but also a wide variety of budget and mid-range hotels.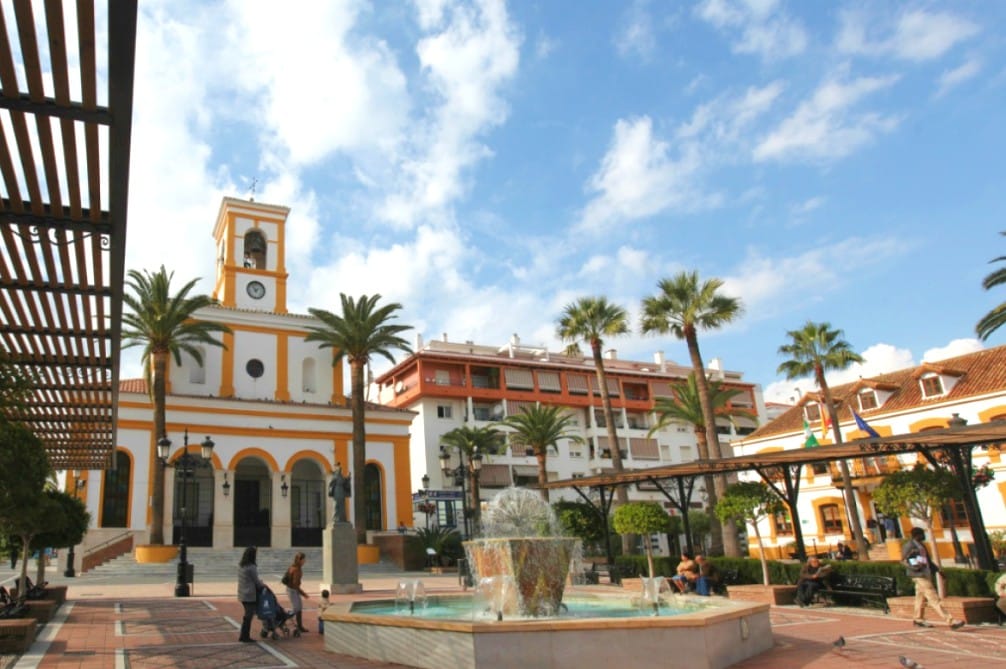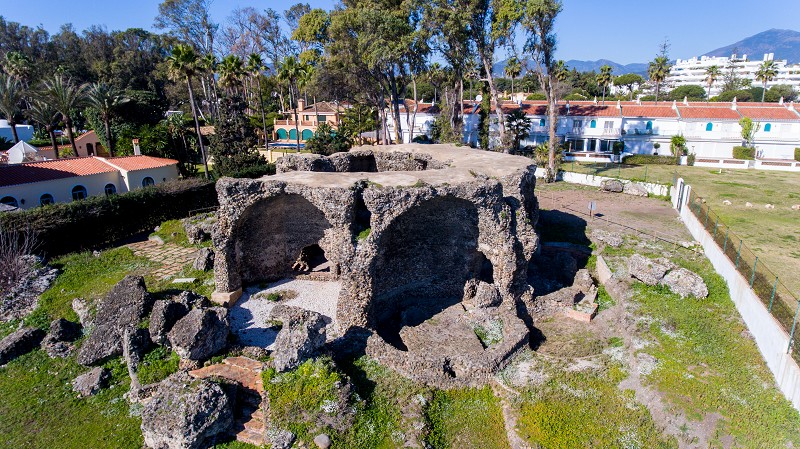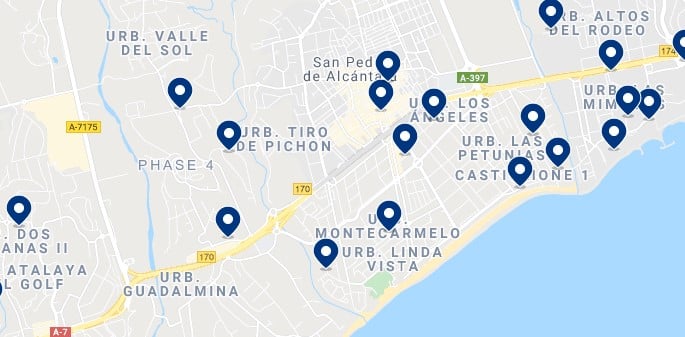 Why is this a recommended area to stay in Marbella, Costa del Sol:
Roman and medieval ruins
Best area for families
Calm beaches
Golf courses
Budget accommodation
---
4. Elvíria & Nikki Beach
Elvíria is a Marbella district located on the eastern end of the municipality, right on the border with the Mijas municipality and Sitio de Calahonda.
Unlike other Costa del Sol towns, which grew from existing (usually fishing) settlements, Elvíria developed as a purpose-built community and does not have an urban centre per se.
This sprawling suburban area is made up of a succession of sandy beaches, upscale residential developments and golf courses.
Elvíria has a pleasant and calm atmosphere and is home to some of the finest beaches in Marbella.
Elvíria is also home to Nikki Beach, an exclusive beach club including a swimming pool, restaurant, a bar and a VIP terrace with breathtaking views of the Mediterranean Sea.
Because of its suburban nature, transport in Elvíria is mostly limited to cars and taxis.
Elvíria is also home to some of the best luxury accommodation in Marbella. Here, you can find everything from gorgeous luxury villas to top-rated spa resorts.
---
Read in other languages
|ES| Las mejores zonas donde alojarse en Marbella, Costa del Sol.