Where to Stay in Seville: A Guide to the Andalusian Capital
Seville is the capital and most populated city of the Spanish Andalusia autonomous region. Located on the Guadalquivir River, in the south of the country, Seville is famous for being the birthplace of flamenco, its incredible architectural legacy and its religious and cultural celebrations. In this post, we will explore the best areas to stay in Seville, Spain.
---
Why you should visit Seville
Like many places on the Iberian Peninsula, Seville has a long and complicated history. The exact origins of the city remain a mystery to our days. Still, we know that its history stretches back almost 3000 years and was marked by the passing of several civilizations, including Tartessians, Phoenicians, Romans and Visigoths.
For five and a half centuries, Seville was a Muslim city. As one of the most important urban settlements in al-Andalus, present-day Seville, particularly the Old Town, still showcases several Almohad and Nazarí landmarks, including the Great Mosque (now Catedral de Sevilla) and its minaret (now La Giralda), the Torre del Oro watchtower or the Royal Alcázar of Seville. See accommodation in Sevilla's Old Town.
During the Age of Discovery, Seville played a crucial role as the economic centre of the Spanish Empire and, as such, is home to some of the finest examples of late-Gothic, Renaissance and Baroque architecture in Spain. Some unmissable attractions from this period include the Cathedral (expanded in the Gothic style), the UNESCO-listed Archivo General de Indias, the Seville Museum of Fine Arts and the Palacio de San Telmo.
South of the City Centre lies the expansive Plaza de España. Built in 1928, this iconic square is a great example of Regionalism Architecture with Baroque, Renaissance and Moorish elements. Right next to it, Parque de María Luisa is Seville's main urban park. See accommodation around Plaza de España.
Foodies and flamenco fans should definitely visit Triana. Located across the Guadalquivir, this lively district is home to many cheap tapa's bars, nightlife areas and some of the most authentic tablaos, small traditional cafés showcasing live flamenco shows. See accommodation in Triana.
---
When to visit Seville
Seville is also famous for its traditional festivals, the two most important ones being Feria de Abril and Easter. La Feria de Abril (April's Fair) is held every year from the second Sunday after Easter and includes amusement parks, food and drink tents (casetas), flamenco and sevillanas shows and traditional costumes. On the other hand, Easter (Semana Santa) celebrations in Seville are, for the most part, a serious and solemn affair with thousands of believers marching through the streets with elaborate floats carrying images of the Virgin and Christ.
Please note that you're planning on visiting Seville during Feria de Abril or Semana Santa, we recommend that you book your accommodation months in advance. These festivals are the city's busiest weeks, and finding a room can be a challenge. See accommodation in Seville.
Due to its inland location in Southern Spain's Guadalquivir River Basin, Seville has a Mediterranean climate. The city experiences extremely hot and dry summers and very mild winters. In January, temperatures typically range between 6 and 16 °C. On the other hand, the summertime can see average temperatures hover between 20 and 36 °C. Heatwaves are not uncommon. Because of its usually oppressive summer conditions, the best time to visit Seville is during the autumn, winter or spring (October through May).
---
Getting there & moving around
To get to Seville by air, the city is served by the Aeropuerto de Sevilla. Located 10 kilometres east of the city centre, this important Spanish airport, the second in Andalusia after Málaga, offers a wide range of domestic, European and North African connections. It serves as a base for low-cost airlines Ryanair and Vueling and as a focus airport for Iberia's regional carrier Air Nostrum.
Seville is also incredibly well-connected by train. Sevilla-Santa Justa, the city's main railway station, is located east of Old Town. From this railway hub, you can catch high-speed services to Madrid, Valencia, Córdoba, Jerez de la Frontera and Cádiz, as well as regional connections to most of Andalusia. See train routes, schedules & fares.
When it comes to moving around the city, Seville has a very efficient public transportation network consisting of light-rail (Metro de Sevilla), a 5-lines suburban commuter railway (Cercanías) and dozens of bus lines. Additionally, Seville is served by taxis, mobile apps (like Uber and Cabify), and you can always choose to rent a car for your trip.
---
Where to stay in Seville
The best area to stay in Seville is Casco Antiguo. Seville's Old Town is home to the city's main historic and cultural attractions, incredible nightlife, great restaurants, and some of the best hotels. It is also a very well-connected district. See accommodation in Sevilla's Old Town.
If you're travelling to this Spanish city for nightlife, then the area around Alameda de Hércules is the best location in Seville for you. See accommodation in Alameda.
Other great areas to keep in mind when choosing the best areas for tourists in Seville include Triana and Nervión.
Keep reading to find more about the best areas to stay in Seville, Spain.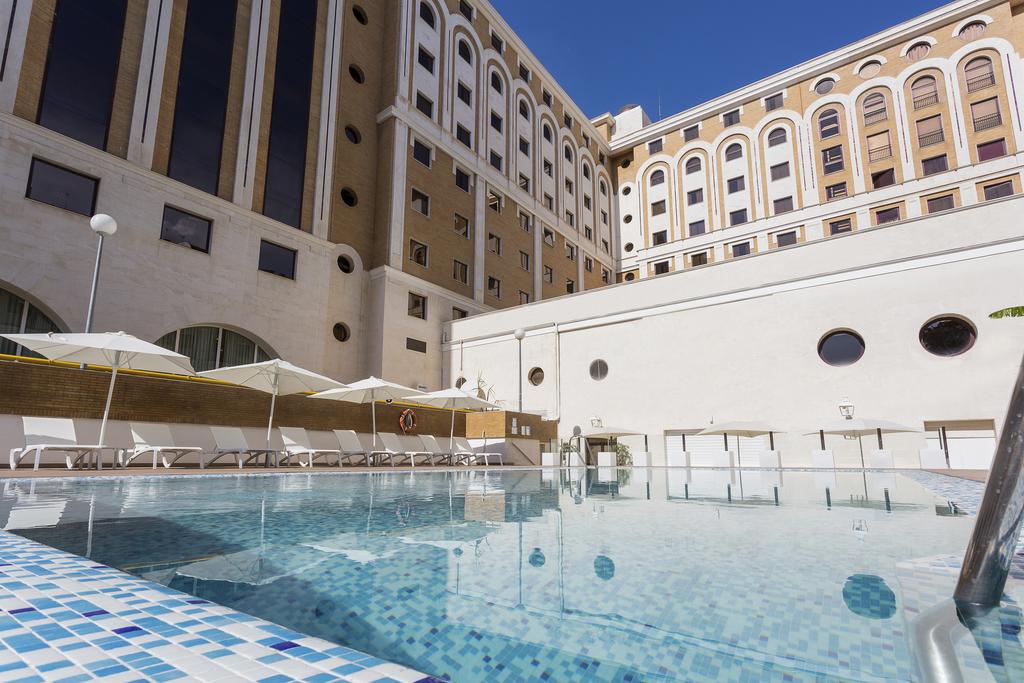 ---
Best Location in Seville, Spain: A Quick Guide
Below, you'll find a list of the best areas to stay in Seville according to your travel style and what you may be planning to do during your trip. Keep reading this guide to find all the specific information you need about each particular area mentioned here.
---
Best Hotels in Seville, Andalusia by Theme
Something more specific in mind? Here's a list of some of the best hotels in Seville. No matter your reason for visiting the city or style, you'll find it here!
---
The Best Areas to Stay in Seville, Andalusia
1. Recommended area: Casco Antiguo (Old Town)
Seville's Historic City Centre encapsulates the true essence of the Andalusian capital. As the cultural and tourist heart of Seville, Casco Antiguo also has the widest selection of hotels. The accommodation offer here ranges from classic luxurious properties like Hotel Alfonso XIII to modern chic hotels like the NH Sevilla Plaza de Armas, as well as budget alternatives such as the Hotel Murillo and the backpacker-friendly For You Hostel Sevilla.
Sevilla's Casco Antiguo, also referred to as Centro Histórico is located on the east bank of the Guadalquivir River.
This expansive district is the largest historical centre in Spain, and one of the three largest in Europe next to the ones in Venice and Genoa. It is made up of 11 different barrios (neighbourhoods), each one with its own flavour.
Following a typical Medina quarter layout, Seville's City Centre is an intricate maze of narrow cobbled streets leading to lovely shady plazas adorned by fragrant orange trees.
The main cluster of attractions in Seville's Old Town can be found around the city's Cathedral. Here, you'll find the city's UNESCO World Heritage Sites, such as the Catedral de Sevilla. One of the largest Catholic churches in the world, this Gothic-style masterpiece was built on the site of the former Grand Mosque. Its bell tower, known as La Giralda, is the symbol of the city. You can climb the tower for breathtaking views.
Right next to the cathedral is the Archivo de Indias. This serene Renaissance-style palace holds artefacts and documents on the Spanish Empire.
Not far, you'll find the Royal Alcázar of Seville. This Mudéjar palatial complex is also a UNESCO-listed site and one of the most visited attractions in the city.
A couple of hundred metres west, next to the Guadalquivir, lies the impressive Torre del Oro. A 13th-century fortified watchtower with a small naval museum.
South from here, the expansive Parque de Maria Luisa offers shady gardens and several museums including la Casa de la Ciencia, the Museum of Popular Arts and Traditions and the Archeological Museum of Seville.
But perhaps the most impressive attraction here is Plaza de España. Built in 1928 for the Ibero-American Exposition of 1929, this Art Deco and Renaissance, Mudéjar and Baroque revival masterpiece features fountains and tiled alcoves representing all the provinces of Spain.
El Barrio de Santa Cruz occupies the eastern portion of Seville's City Centre. This lively neighbourhood, Seville's old Jewish Quarter, is home to a wide variety of restaurants, small cafés, tapas bars and accommodations.
Farther north you'll find other iconic Sevillian neighbourhoods like Santa Catalina or Regina. Here, you'll find the Setas de Sevilla (Seville's mushrooms), an emblematic avant-garde wooden sculpture occupying a whole city square.
The Historic City Centre is no doubt the best area to stay in Seville to discover all the incredible things this Spanish city has to offer.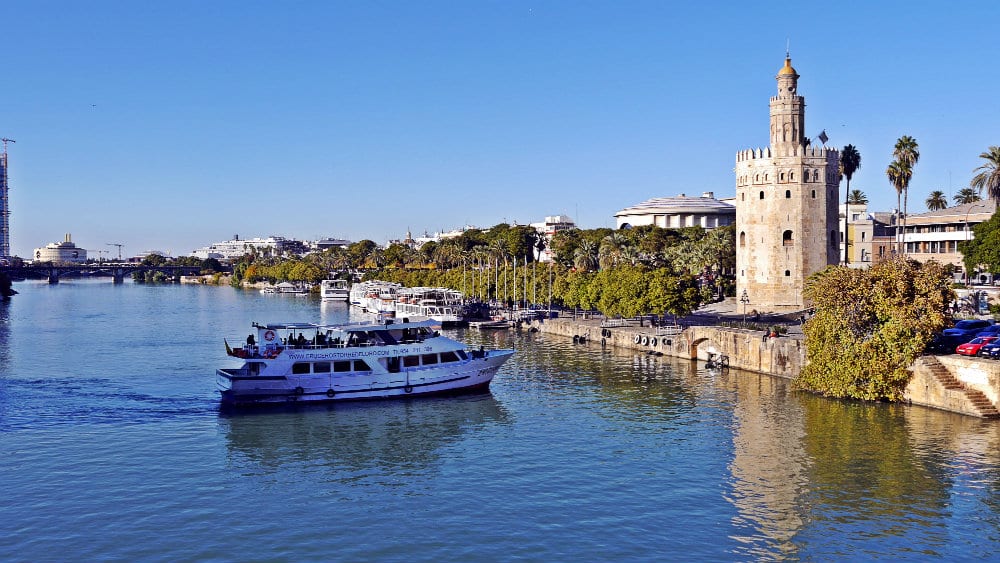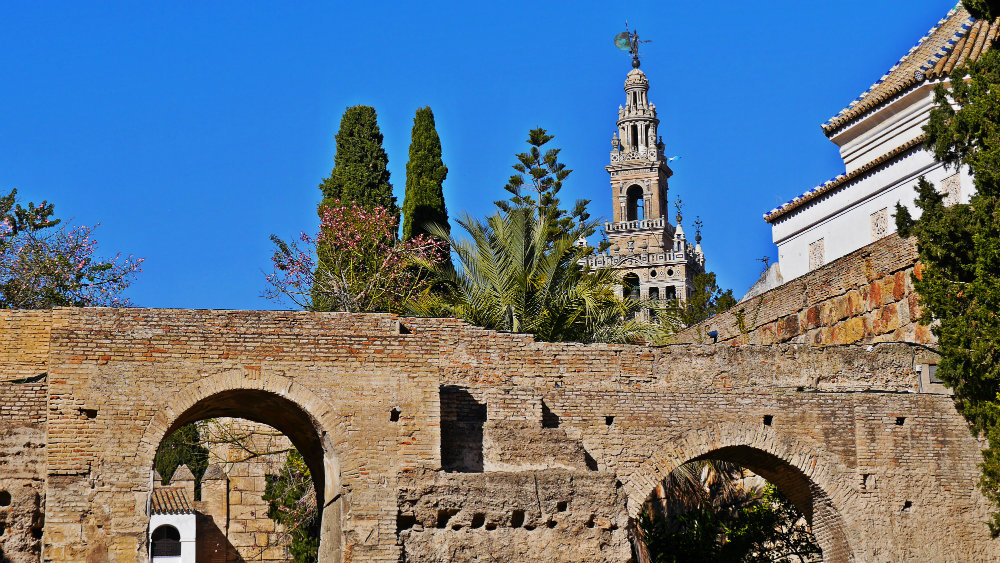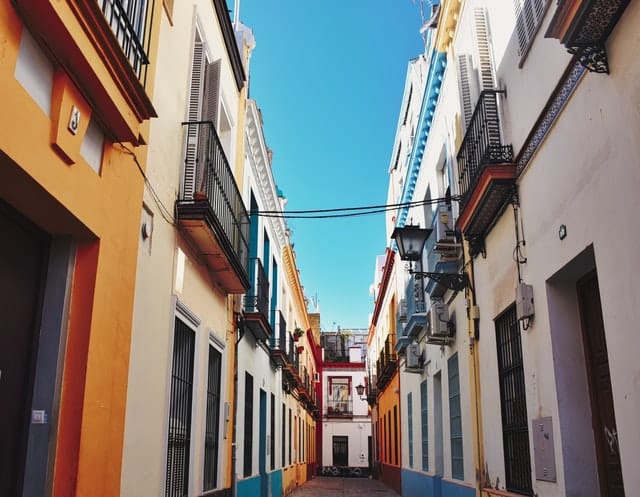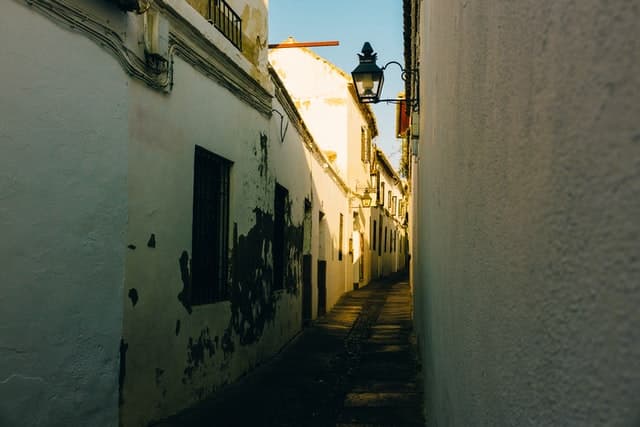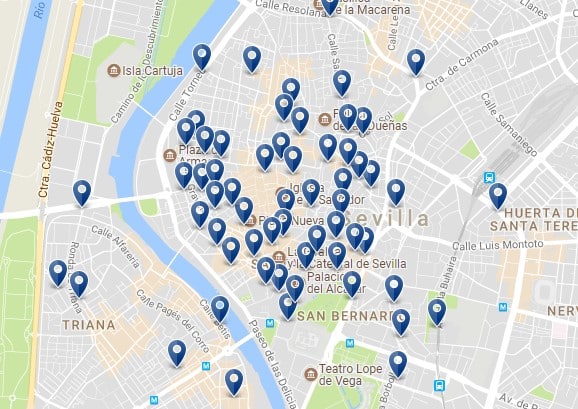 Why is this a recommended area to stay in Seville:
True heart of the city
Catedral de Sevilla
Medieval buildings
Shopping areas and entertainment
Great attractions
Real Alcázar
---
2. La Alameda de Hércules & Barrio de Feria
La Alameda de Hércules and Barrio de Feria offer some of the best-rated accommodation in Sevilla including lovely boutique properties like Sacristia de Santa Ana or The Corner House and a wealth of privately-owned tourist apartments.
Although La Alameda is officially a part of the historical centre of Seville, we decided to give this bustling nightlife district its own place on the list.
Located in the northern end of the Old Town, within barrio de Feria, La Alameda de Hércules (Hercules Walk) is Seville's dining and nightlife epicentre.
Popular with college students, hipsters and the local LGBTQ community, La Alameda is packed with bars, restaurants, entertainment venues and nightclubs.
It is an area known for its alternative scene, where bohemians and artists meet in places like Caja Negra, a live-music venue offering shows ranging from rock to flamenco.
La Alameda's main attractions are the Plaza de la Alameda de Hércules and the La Macarena Basilica.
Just 5 minutes from La Alameda is Calle Feria de Sevilla, named after the flea market held here every Thursday. This popular open-air market has been running since the thirteenth century and you can find small stalls selling antiques and second-hand items.
La Alameda is the best area to stay in Seville for those interested in the legendary nightlife scene of the Andalusian capital.
---
3. Triana
Flamenco-infused Triana is a great alternative to the touristy Casco Antiguo. Here you'll find several tourist apartments, great hotels like the Zenit Sevilla and budget B&Bs like B&B Casa Alfareria 59.
Triana is located on the west bank of the Guadalquivir River, right across from the Old Town and next to the Los Remedios neighbourhood.
Connected to Casco Antiguo by several bridges, the district of Triana is one of the most interesting areas of Seville.
With a strong local flavour, locals refer to this neighbourhood as "Triana la Independiente" (Triana the Independent).
Triana locals boast their differences with the other areas of the city and the "independence" acquired over the years. "Seville is a neighborhood of Triana" could be this area's unofficial slogan.
Traditionally a working-class district and with a large gipsy population, Triana is believed to be the birthplace of flamenco. Tablaos and small theaters devoted to this musical genre make up a large part of the music scene in the neighbourhood.
Triana is a great area to stay in Seville for those interested in flamenco music and traditional Andalusian cuisine.
As a bonus, accommodation costs in this area are cheaper compared to the Old Town and it has a wide selection of tourist apartments.
---
4. Around Sevilla-Santa Justa Railway Station
Sevilla-Santa Justa has a fair share of business-oriented properties. Some of the best-rated include Ayre Hotel Sevilla and Hotel Macià Sevilla Kubb.
Estación ​​​​​​​​​​​​​​​Sevilla-Santa Justa is the main train station in Seville.
Located less than 2 km from the city centre, this important railway hub is the busiest in Andalusia.
The station was opened in 1992 and was the destination of the very first AVE high-speed corridor in the country.
Today, Santa Justa is the third-busiest railway station in Spain (behind Madrid-Atocha and Barcelona-Sants) and handles long and medium distance routes to several national destinations and the rest of Andalusia. It is also where all of Seville's commuter (Cercanías) lines converge.
Its convenient location within walking distance to the Old Town and great connections makes the area around Santa Justa Station a great alternative for the best areas to stay in Seville, particularly among business travellers and those wishing to explore Andalusia by train.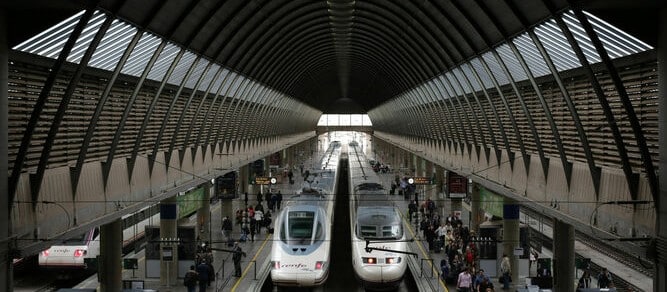 Why is this a recommended area to stay in Seville, Spain:
Very central
AVE and regional trains
Modern hotels
Best area for business travellers
---
5. Nervión
This chic neighbourhood has no shortage of upscale accommodation. Some of the best-rated hotels in Nervión include the Melia Lebreros, the Hesperia Sevilla and the Novotel Sevilla.
Nervión is located east of the city centre.
This upscale neighbourhood offers a more modern and exclusive side to the Andalusian capital.
One of the main attractions in this area is the Nervión Plaza mall. One of Andalusia's main shopping centres, this large complex offers a varied selection of high-street retailers and upmarket boutiques.
Not far, you'll find the Ramón Sánchez Pijuan Stadium, the home ground of the Sevilla FC football team.
Other attractions in this district include El Humilladero, the Cruzcampo Brewery, and the Church of the Immaculate Conception.
While Nervión is not the most central district in Seville, it is perfectly accessible from any point of the city using public transport or taxi. The area is connected by metro stations San Bernardo, Nervión and Gran Plaza.
Accommodation costs in Nervión are usually lower compared to the rest of the city, except during football season when properties welcome crowds of devoted fans.
---
Read this in other languages