Where to Stay in Gatineau – A Guide to this Canadian City
Gatineau is the third-largest city in Quebec. It is located in the west of the province, on the northern bank of the Ottawa River and across from the city of Ottawa. This French-speaking city is famous for hosting hundreds of festivals throughout the year and for being home to important museums and cultural institutions. In this post, we will explore the best areas to stay in Gatineau.
Gatineau is especially famous for its parks and lakes. Some of the most popular natural spots in town include La Baie Park, Leamy Lake Park, Lac Beauchamp Park, Gatineau Park, Jacques-Cartier Park and Pink Lake. See accommodation in Gatineau.
This Quebec city is also home to some cultural attractions like the Mackenzie King Estate, the Canadian Museum of History and the Canadian Children's Museum.
Gatineau is also an important travel destination for tourists wanting to visit Ottawa, as the Canadian capital is located just across the Ottawa River. Ottawa's city centre is easily accessible from Hull via several bridges. Both cities are also connected by the public transport system operated by the Société de Transport de l'Outaouais.
The best area to stay in Gatineau is Hull. This lively area is a stone's throw away from Parliament Hill and is home to both the Canadian Museum of History and the Canadian Children's Museum. See accommodation in Hull.
Other areas to keep in mind when choosing the best location in Gatineau are Downtown Gatineau and Aylmer.
Keep reading to find out more about our selection of the best areas to stay in Gatineau, QC.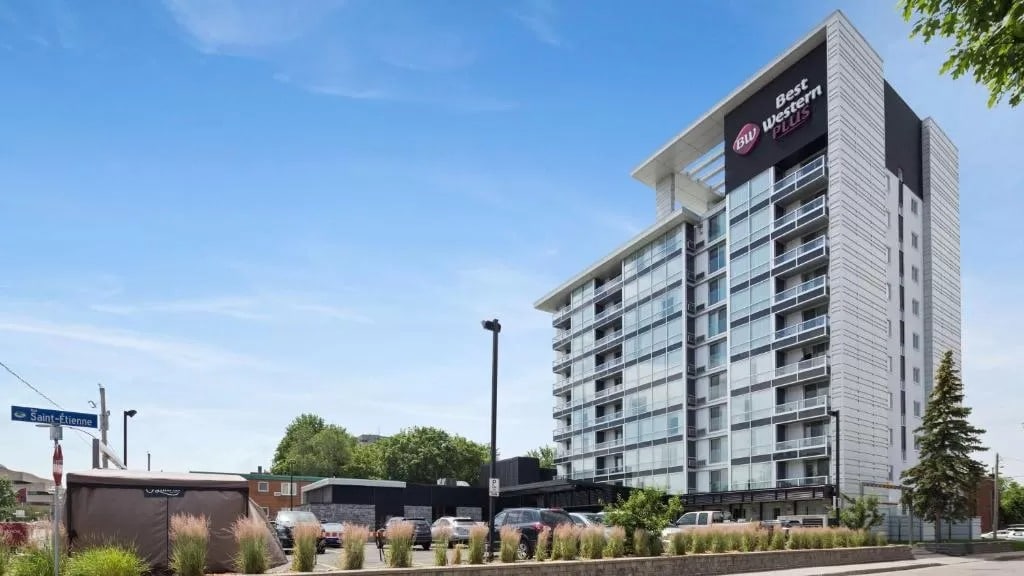 The Best Areas to Stay in Gatineau, Canada
1. Recommended area: Hull
Hull is located to the west of the city and borders Ottawa on the south.
Popular attractions in Hull include the Canadian Museum of History, where you can learn about the country's past and traditions.
Other important sights here are the Jacques Cartier Park and Mosaiculture Gatineau, with beautiful sculptures.
Hull is home to the Casino Lac Leamy, which has a theatre, bars, restaurants and, of course, slot machines and gambling tables.
Laval Street is home to microbreweries, great restaurants and bistros. Meanwhile Eddy Street is the place to go if you're looking for shops.
Moving through this area or to other parts of the city is not complicated, it can be done by bike, on foot, by car, bus or taxi.
The best part of staying in this area is that you can walk to downtown Ottawa in less than 20 minutes, making it an excellent area to stay to explore both Gatineau and the Canadian capital. In addition, hotels in Hull are significantly cheaper than those that can be found on the Ontarian side of the river.
Hull is the best area to stay in Gatineau because of its closeness to Ottawa and its many cultural attractions.
---
2. Downtown Gatineau
Downtown Gatineau is the heart of the city.
This area has numerous green areas such as the Oiseau Bleu Park, a great place to relax or play sports.
On Gatineau Avenue, lies Parc La Marche and Parc Mont Luc, ideal for those travelling with family.
Downtown Gatineau is also home to several shopping centres, such as Les Promenades Gatineau. This big mall offers several shops and restaurants.
Downtown Gatineau is also home to a wide variety of ethnic restaurants and fast-food joints.
Being a very central area, Downtown Gatineau hosts several office complexes congress centers, so it's a great area to stay in Gatineau for business travellers.
This area is very pedestrian-friendly and also has bike lanes.
To move to other places in the city, you can take the bus or go by car.
Downtown Gatineau is also home to hotels of all kinds, including luxury and business accommodation.
---
3. Aylmer
Aylmer was an independent city that became part of Gatineau and is located west of Hull.
This area has a lot of entertainment options, golf courses, parks, some spas, a marina and bicycle paths.
Another advantage of staying in Aylmer is that it has numerous hotels, bistros, cafes, and chocolate shops.
Here is the Aylmer Marina, where you can sail, practice water sports, have a picnic and take the children to the playground.
A stay in Aylmer is not complete without visiting Boucher Forest, which is an urban forest with a variety of plants and animal species, home to the black bear and the white-tailed deer.
This is one of the best areas to stay in Gatineau, Canada, if you are looking for tranquillity during your stay, if you are travelling with children or just want to enjoy nature.
---
Read this in other languages