Where to Stay in Mont-Tremblant – A Guide to this Resort in the Laurentian Mountains
Mont-Tremblant is a municipality and mountain tourist resort in Quebec. Located within the Laurentian Mountains, on the shores of Lake Tremblant and 130 km northwest of Quebec, Mont-Tremblant is famous as a major ski and winter sports centre, as well as for its breathtaking natural backdrop. In this post, we will explore the best areas to stay in Mont-Tremblant, QC.
Mont-Tremblant is especially renowned for the Mont Tremblant Ski Resort. Despite its name, this holiday destination is open year-round and offers seasonal activities ranging from, you guessed it, ski and snowboarding to hiking, cycling, golfing, horseback riding, swimming, kayaking and more. Mont Tremblant Village, located at the foot of the mountain, is also home to a pedestrian shopping area offering designer boutiques and high-end retailers. See accommodation around the Mont-Tremblant Ski Resort.
North of the resort area lies the Parc national du Mont-Tremblant, a 1,510 km2 protected natural area ideal for winter and summer activities including cross-country skiing, snowshoeing, hiking, canoe lake and river kayaking, mountain biking, camping and swimming.
Due to its location in the Laurentian Mountains, Mont-Tremblant has a humid continental climate. This area experiences four very distinct seasons with extreme variations between winter and summer temperatures and conditions. Summers are warm, with temperatures typically ranging between 11 and 24 ºC. Meanwhile, winters are snowy, with temperatures ranging between -20 and -8 ºC. Thanks to its ever-changing activity offer, Mont-Tremblant can be considered a perfect tourist destination year-round. However, if you're planning to visit for winter sports, the ski season usually lasts from late November to early March. On the other hand, the summer (June-September) is the best time to visit Mont-Tremblant for hiking and adventure sports.
To get to Mont Tremblant by air, the city is served by the Mont Tremblant International Airport. Located 4 km north of the village, this small airport offers daily connections to Toronto and Montreal.
To move around town, Mont-Tremblant has bus services connecting the different villages and tourist attractions. You can also move by taxi, Uber, or book tours and activities including transportation. If you travel by car or choose to rent a car for your trip, keep in mind that most streets in the Mont-Tremblant Village are pedestrianized and closed to motor traffic.
The best area to stay in Mont-Tremblant is the Mont Tremblant Village area. This area, home to the Mont-Tremblant Ski Resort, offers the liveliest nightlife venues, restaurants, boutiques and the region's best ski resorts and hotels. See accommodation in Mont Tremblant Village.
Other great areas to keep in mind when choosing the best location in Mont-Tremblant for tourists include the Mont-Tremblant Casino area and Domaine Saint-Bernard.
Keep reading to find out more about the best areas to stay in Mont-Tremblant, QC.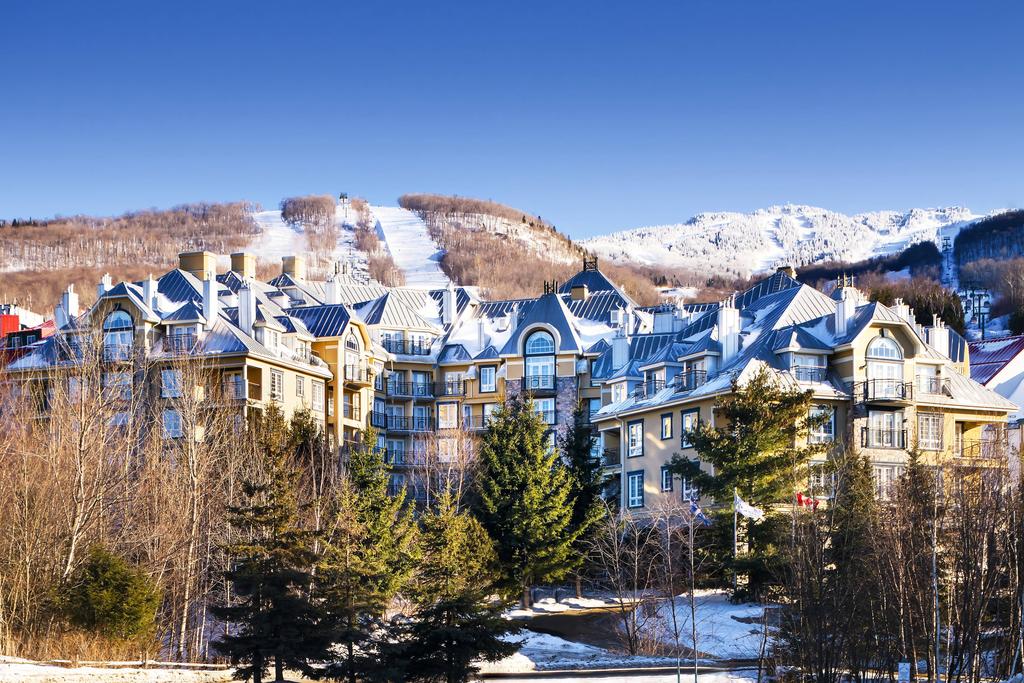 The Best Areas to Stay in Mont-Tremblant, QC
1. Recommended area: Mont-Tremblant Village & Ski Resort
Mont-Tremblant Village, located at the foot of Mont Tremblant is the best area to stay in the municipality for those wanting to be in the centre of the action.
This lively area is home to Le Centre d'Activités Mont-Tremblant Activity Centre, where you can organize and book all types of excursions and tours around the area and the National Park.
The Parc-national du Mont Tremblant, located north of the village offers all kinds of winter and summer activities, from skiing and snowboarding to hiking, kayaking and horseback riding.
The centrally located Mont-Tremblant Ski Resort also offers all kinds of activities year-round.
From the Telecabine Panoramique, (panoramic cable car) you can get the best views of the entire villa and access the ski areas in the winter.
The Mont-Tremblant Village is also a buzzing commercial and nightlife district. This area is home to several upmarket fashion retailers, luxury restaurants and fabulous cocktail lounges.
Other attractions in the Mont-Tremblant Village include Le Petit Géant miniature golf course and the Galerie D'Art Pion, with exhibitions of paintings, sculptures and wooden vases, among other objects.
Keep in mind that most of the streets within the Mont-Tremblant Village district are pedestrian-only. If you arrived in this area by car, you can use one of the many parking areas outside the centre.
If you don't have a car, Mont-Tremblant is served by an efficient bus system connecting the several villages and attractions in the area.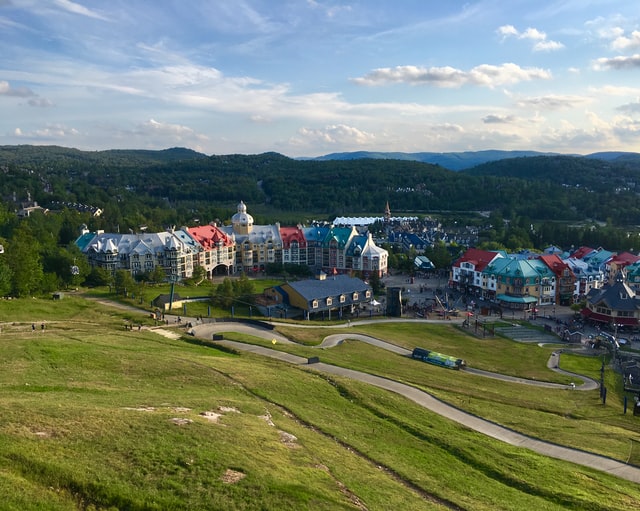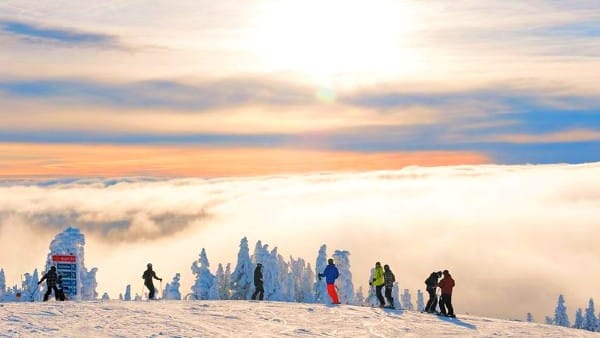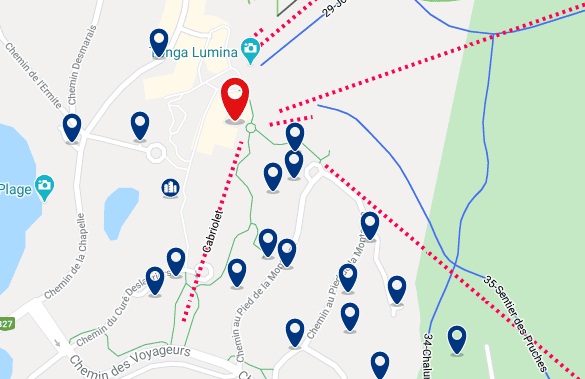 Why is this a recommended area to stay in Mont-Tremblant:
Mont Tremblant Ski Resort
Mont-Tremblant cable car
Activity Centre
---
2. Mont-Tremblant Casino Area
Casino de Mont-Tremblant is located a couple of kilometres southeast of the Village area.
With a more relaxed atmosphere, this area is popular for its luxury hotels.
This area offers easy access to the main Village (via the Casino Express Gondola) and directly to the ski slopes atop Mont Tremblant (via Le Soleil Chairlift).
Of course, the main attraction in this area is Mont Tremblant Casino, one of the most visited tourist attractions in the municipality. This casino offers slots, table games and live shows.
Chemin du Versant Soleil is the starting point of many popular mountain hiking trails including Tapecul, Laurentienne and L'Algonquin.
Near Mont Tremblant Casino you'll also find the Tamia Snowshoe trail, a great place for those who enjoy nature, hiking and breathtaking viewpoints.
The Casino area also offers a few places for dining and shopping.
---
3. Domaine Saint-Bernard
Domaine Saint-Bernard is an ecotourism park located west of the Diable River, at the foot of Mont Tremblant.
It is a good area to stay in Mont-Tremblant for those looking for a quiet environment surrounded by nature.
This area has several recreational options both in the summer and the winter.
Some of the most popular winter activities in this area include snowshoeing and cross-country skiing on the Domaine Saint-Bernard trails.
In the summer, you can hike, mountain bike, birdwatch or stargaze at the astronomical observatory.
Other attractions west of Domaine Saint-Bernard include golf courses and mountain bike trails and the nearby Mont Tremblant Racing Circuit.
Domaine Saint-Bernard houses the Scandinavia Spa, with revitalizing massage services and relaxing pools.
---
Read this in other languages