Where to Stay in Ottawa – A Guide to the Capital of Canada
Ottawa is the capital city of Canada. Located in the east of southern Ontario, on the south bank of the Ottawa River, Ottawa was established in 1826 as Bytown and, in 1867, became the Capital of the Dominion of Canada. As such, this major city is famous for being the main political and legislative centre in Canada and for being home to some of the most important museums and cultural institutions in the country. In this post, we will explore the best areas to stay in Ottawa, ON.
Ottawa is Canada's fourth-most populated urban area. Originally, the city was divided by the Rideau Canal into Upper Town and Lower Town. The former was located on the west side of the canal and was predominantly English and Protestant. Meanwhile, the latter occupied the portion east of the canal to the Rideau River and was inhabited mostly by French and Irish Catholics.
Downtown Ottawa occupies the northern end of the city, between the Rideau Waterway and the Ottawa River. This palatial administrative district is home to Ottawa's top cultural and historical tourist attractions such as Parliament Hill, the Centennial Flame, the National Arts Centre, the Bank of Canada Museum, Confederation Park and the Ottawa City Hall. See accommodation in Downtown Ottawa.
Directly south lies Centretown. This tree-lined residential and commercial district still preserves Bytown's Victorian old town charm. Some of the tourist sights in Centretown include the Canadian Museum of Nature, the Workers' History Museum and Ottawa's lively Chinatown. See accommodation in Centretown.
East of the Rideau Canal you'll find the ByWard Market and Lower Town area. These vibrant quarters hold landmarks such as the incredible National Gallery of Canada, the Notre-Dame Cathedral Basilica and the Ottawa Art Gallery. Alexandra Bridge connects this area to Hull, on the Quebec side of the Ottawa River. See accommodation in ByWard Market.
But of course, Ottawa is far more than capitols, museums and galleries. The Canadian capital is the gateway to exploring incredible parks, natural areas and reserves. Some of the most popular natural attractions in and around Ottawa include the Dominion Arboretum, Meech Lake, Rideau Falls and the King Mountain Trail.
Due to its geographical location, Ottawa has a humid continental climate. This translates into four very distinct seasons. Summers are warm, with temperatures typically ranging between 14 and 26 ºC, and winters are long, snowy and icy, with temperatures around -14 and -5 ºC. The best time to visit Ottawa is from late May to late September, when temperatures are pleasant, and you can enjoy outdoor activities.
To get to Ottawa by air, the city is served by the Ottawa International Airport. Located 10 kilometres south of downtown Ottawa, this airport, the sixth-busiest in Canada, offers connections to virtually every corner of the country, as well as a few international non-stop flights to some destinations in the US, Mexico and the Caribbean.
Ottawa is also served by train. Ottawa Train Station is 4 km from the downtown area and offers Via Rail connections east to Quebec City via Montreal and west to Toronto via Kingston and Oshawa. See train routes, schedules & fares.
Additionally, Ottawa is also well-connected through a network of long-distance buses to other Ontario and Quebec cities. See bus routes, schedules & fares.
To move around town, Ottawa has a very efficient intermodal public transport system consisting of light rail and bus and managed by two separate entities; OC Transpo operates on the Ontario side of the Ottawa River and STO on the Quebec side. The city also offers regular taxis and mobile apps like Uber, and you can choose to rent a car during your stay.
The best area to stay in Ottawa is ByWard Market. This lively district is home to some of the main cultural attractions in the Canadian capital, as well as the hottest nightlife and best restaurants. See accommodation in ByWard Market.
If you're visiting the city on business, Ottawa's financial district, office towers and congress venues are for the most part located in Downtown Ottawa.
Other great districts to keep in mind when choosing the best location in Ottawa include Hull (Gatineau), the shady Victorian-style Centretown district and the West Ottawa suburbs Nepean and Kanata.
Keep reading to find out more about the best areas to stay in Ottawa, ON.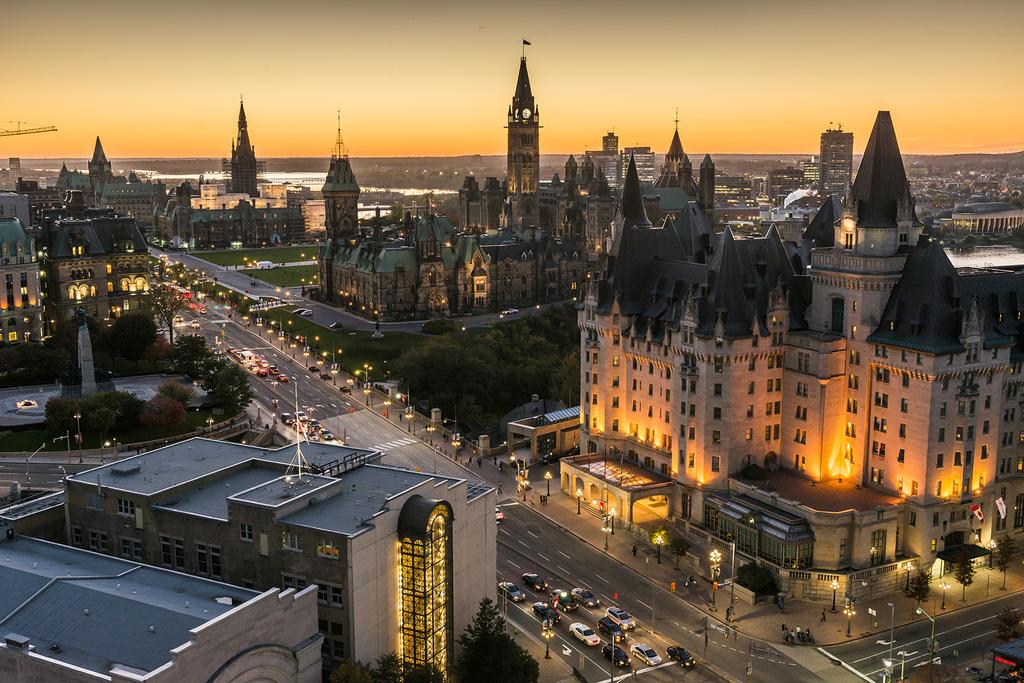 Fairmont Chateau Laurier Gold Experience

Located in Ottawa, 700 m from Rideau Locks, Fairmont Chateau Laurier Gold Experience provides accommodation with a bar, private parking, a shared lounge and a terrace. Providing a restaurant, the property also has free bikes, as well as an indoor pool and a fitness centre.
---
Best Location in Ottawa, Canada: A Quick Guide
Below, you'll find a list of the best areas to stay in Ottawa according to your travel style. Keep on reading below to find more information on each particular district.
---
Best Hotels in Ottawa, ON by Theme
Got something specific in mind? Here's a list of some of the top hotels in Ottawa. No matter your reason for visiting the city, we can help you decide!
---
The Best Areas to Stay in Ottawa, Canada
1. Recommended area: ByWard Market & Lower Town
ByWard Market is located on the east side of Rideau Canal, in Ottawa's Lower Town.
It is considered Ottawa's number one hipster spot and one of the city's most visited tourist attractions.
This vibrant open-air market full of artisan food stalls, specialty shops and boutiques attracts as many as 50,000 visitors a weekend during the summer.
The streets surrounding the market are covered in colourful graffiti and offer everything from vintage shops to quirky cafés.
Home to the city's top eateries, pubs, bars and clubs, the ByWard Market is considered Ottawa's best area for nightlife and the Canadian capital's gaybourhood par excellence.
Culture lovers will definitely enjoy the area's many locally-owned galleries and craft boutiques.
Lower Town is also home to the National Gallery of Canada, a huge museum focusing on Canadian art. Likewise, the Ottawa Art Gallery displays paintings, sculptures and photos by some of the most prominent Canadian artists.
Nearby, the Royal Canadian Mint displays the world's biggest coin and gold bars and offers guided tours and the 19th-century Notre-Dame Cathedral Basilica features a colourful neo-gothic interior and tall spires.
A short walk away, across the Ottawa River, lies the Quebec town of Gatineau, home to the Canadian Museum of History and the Canadian Children's Museum.
All and all, ByWard Market is the best area to stay in Ottawa thanks to its amazing combination of historic attractions, art, vibrant nightlife, and bohemian atmosphere.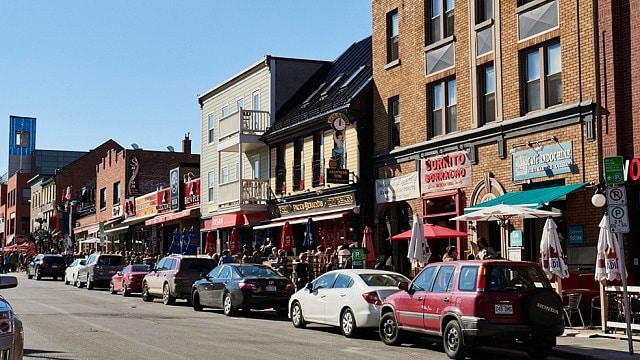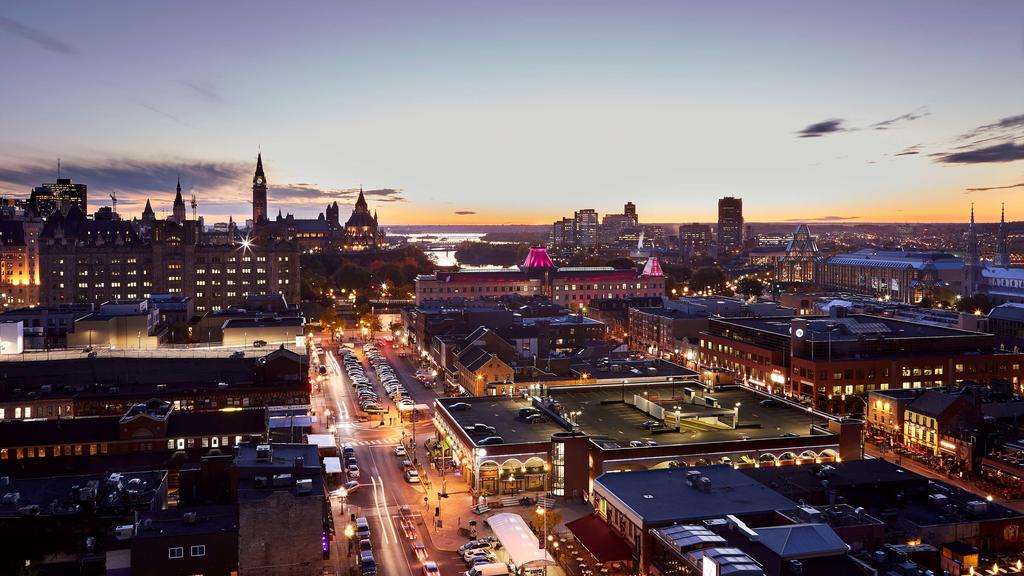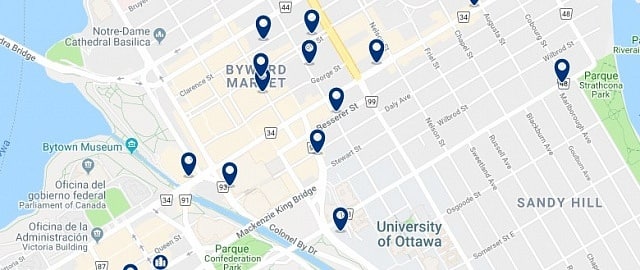 Why is this a recommended area to stay in Ottawa:
Best area for nightlife
Ottawa's Hipster neighbourhood
LGBT-friendly
Notre-Dame Cathedral
National Gallery of Canada
ByWard Market
Historical area
---
2. Downtown Ottawa
As is to be expected, Downtown Ottawa is the heart of the city.
This business-oriented and administrative district located south of the Ottawa River is home to the city's most recognizable landmarks.
The impressive Parliament Hill is located on the district's northern end. Its Gothic-revival complex is home to the Parliament Buildings, the legislative power branch of the federal government.
Other important cultural institutions in the area include the Bytown Museum, showcasing Ottawa's history, the National Arts Centre, a performing arts venue, and the Bank of Canada Museum, with interactive exhibits on the economy.
The area's main thoroughfare, Bank Street is home to shops, restaurants, nightlife venues and cafés.
Downtown Ottawa is the most important financial district in Southeast Ontario and is where many of the Canadian capital's top companies are headquartered.
Thanks to its central location and administrative, tourist, and economic importance, Downtown Ottawa is the city's best-connected area. The light rail system's Line 1 has two stations in this district; Lyon and Parliament/Parlement, which offer easy access to ByWard Market, the University and the suburbs in West and South Ottawa (via Bayview Station).
The accommodation offer in Downtown Ottawa is arguably the best in the city. While uber-chic big-chain hotels seem to be the norm, this district also offers a few mid-range and budget options.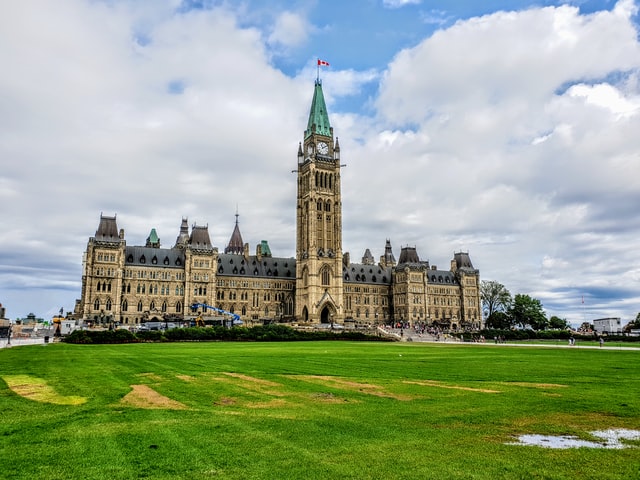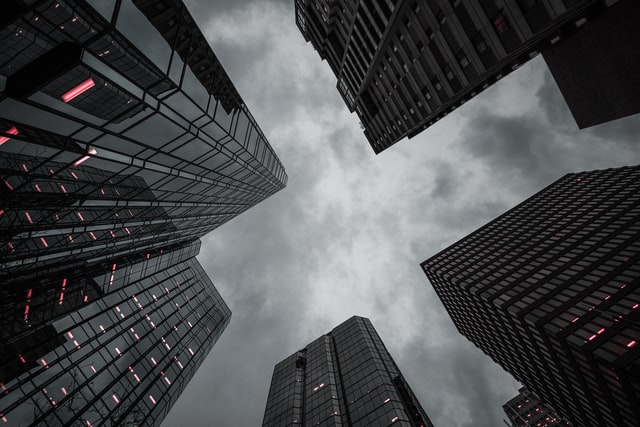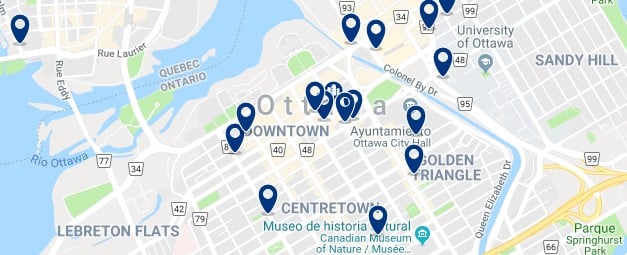 Why is this a recommended area to stay in Ottawa:
Best area for sightseeing
Best area for business travellers
Great public transport connections
Shops and bars
---
3. Hull (Gatineau)
Hull is a neighborhood in the Quebec city of Gatineau.
Located across the Ottawa River from downtown Ottawa, this district is famous for being home to some important attractions like the Canadian Museum of History and the Canadian Children's Museum.
Other important sights in Gatineau include Jacques Cartier Park, Mosaiculture Gatineau, and Casino Lac Leamy.
Rue Laval, Hull's main nightlife area is home to microbreweries, great restaurants and bistros. Meanwhile Eddy Street is the place to go if you're looking for shops.
Although Hull is not officially part of Ottawa, you can walk from Hull across the Alexandra Bridge and into the ByWard Market area in just over 20 minutes.
Staying in Gatineau is also significantly cheaper than in Downtown Ottawa or the ByWard Market District. Additionally, the value for money tends to be higher north of the river.
More info about where to stay in Gatineau.
---
4. Centretown
Centretown is located in Ottawa's Upper Town, south of Downtown Ottawa and west of the Rideau Canal.
This lovely historic portion of the town is home to some of the city's finest examples of Victorian-era residential architecture.
Centretown's main commercial thoroughfares, Bank Street and Elgin Street are home to the neighbourhood's restaurants, nightlife and shopping. Meanwhile, most other streets are largely residential, displaying a mixture of single-family homes and larger condominium apartment buildings.
Centretown is home to some Ottawa landmarks, such as the Canadian Museum of Nature, Dundonald Park, Jack Purcell Park and the Ottawa Central Bus Station.
On Centretown's western end, along Somerset Street, lies Chinatown, the main Asian district in Ottawa where you can find the cities best Chinese, Vietnamese, Korean and Thai restaurants in town.
Centertown is not directly connected by the city's light rail network, but the district is very pedestrian-friendly and you can reach other neighbourhoods through the many bus stops scattered around the area.
---
5. Nepean
Nepean is a district located 9 kilometres southwest of downtown Ottawa.
Up until 2001, Nepean was an independent city, but it was incorporated into Ottawa.
This area is especially known for its industrial developments and quiet suburban residential areas.
Nepean's main thoroughfare is Merivale Rd, a wide avenue home to the area's mains shopping and business centres and industrial developments.
This Ottawa district is a quiet alternative to the hustle and bustle of the centremost neighbourhoods mentioned above and also has a wealth of parks, green areas and preserves like Nepean Creek Park, Merivale Gardens Park or Centrepointe Park.
Its relatively secluded location miles from Ottawa's City Centre means that Nepean is a great are to stay in you're looking for tranquillity during your trip, and especially if you have a car.
If you rely on public transport, getting from Nepean to the city centre takes less than a half-hour. Several bus lines connect this district directly to Downtown Ottawa or to a light rail station.
---
6. Kanata
Kanata is located 22 kilometres west of downtown Ottawa and is considered one of the largest suburbs in the city.
This planned community is also an important high-tech hub, with big Canadian and international technology companies headquartered in its many business centres.
Some attractions in the area include the Kanata Centrum Shopping Centre and the Scotiabank Place stadium, an important venue for hockey matches and concerts.
Because Kanata is relatively far away from central Ottawa, this area is best enjoyed if you are travelling by car.
Driving from Kanata to Downtown Ottawa takes about 20 minutes, travelling by public transport (bus + light rail) should take about 40.
---
Read this in other languages