Where to Stay in Quebec City – A Guide to the "Cradle of Francophone North America"
La Ville de Québec is the capital of the province of Quebec. Located on the Saint Lawrence River and nicknamed "La Metropole du Quebec," Quebec City, a UNESCO World Heritage Site, is one of the oldest European settlements in North America and is famous for its gorgeous French-inspired architecture and distinctive cultural flair. In this post, we will explore the best areas to stay in Quebec City, QC.
Set in an area inhabited by Algonquian peoples since ancestral times, Quebec City was founded in 1608 and enjoyed a privileged position as the capital of New France and the subsequent British Province of Quebec. Today, Québec remains the only example of an intact fortified city north of Mexico and is considered Francophone North America's cradle.
The main tourist attractions in Quebec City are located within the Historic District of Old Québec and include the Château Frontenac, La Citadelle de Québec, Musée de la civilisation à Québec (Museum of Civilization), the Cathedral-Basilica of Notre-Dame, the Parliament Building, Quartier Petit Champlain and the Fortifications of Québec, to name a few. See accommodation in Vieux Québec.
Not far, Saint-Roch is Quebec City's unofficial Central Business District. With rue Saint-Joseph as its main thoroughfare, this revitalized and hipster-friendly area offers a wide selection of shops, restaurants and nightlife venues. See accommodation in Saint-Roch.
Likewise, Saint-Jean-Baptiste, located west of Vieux Québec and south of Saint-Roch, is a laid-back bohemian quarter full of cafés, restaurants, markets and boutiques. See accommodation in Saint-Jean.
Due to its location, Quebec City has a humid continental climate. This translates into four very distinct seasons and ample variations between summer and winter conditions. Summers are warm, humid and prone to heatwaves, with average temperatures ranging between 13 and 24 ºC. On the other hand, winters are long and snowy. Low temperatures in January can reach -18 ºC, and highs tend to stay below -6 ºC. The best time to visit Quebec City is from late spring through the early autumn (June to September), when temperatures are pleasant and allow for outdoor activities and sightseeing.
To get to Quebec City by air, the city is served by the Québec City Jean Lesage International Airport (YQB). Located 11 km west of Quebec City Centre, this airport offers a wide range of domestic connections to cities in Canada's eastern provinces, including Montreal, Toronto and Ottawa. A hub for regional carrier Air Inuit, YQB is an important hub for air connectivity within Quebec. It also offers a few international regular and seasonal flights to the US (Orlando, Chicago and NYC), Paris-Charles de Gaulle and Caribbean holiday resorts.
Quebec City is also well-served by train. Gare du Palais, located next to the Old City, is the terminus station for VIA Rail's Ottawa-Quebec City corridor connecting the two main cities in the province 6 times per day. Likewise, Sainte-Foy station, located 10 km west, offers Ocean corridor connections east toward Halifax and west to Montreal. See VIA Rail routes, schedules & fares.
Additionally, Quebec City is also well-connected through a network of long-distance buses to Quebec and other provinces. See bus routes, schedules & fares.
The best way to move around Quebec City, especially in the central districts like Vieux Québec, Saint-Jean, Saint-Roch and the Lower Town, is on foot. Central Quebec City is extremely pedestrian-friendly. To reach other areas, the QC capital has a very efficient public transport system consisting of several bus routes, a funicular and a ferry service between Québec City and Lévis. The city also offers regular taxis and mobile apps like Uber, and you can choose to rent a car for your trip.
The best area to stay in Quebec City is Vieux Québec. Quebec City's Old Town is home to gorgeous French architecture, cultural attractions, museums, quaint squares and parks. Vieux Québec is also where the city's top-rated hotels are located. See accommodation in the Old City.
Other great districts to keep in mind when choosing the best areas in Quebec City for tourists include Saint-Roch, Saint-Jean-Baptiste, Sainte-Foy-Sillery, Lévis and Les Rivières.
Keep reading to find out more about the best areas to stay in Quebec City, QC.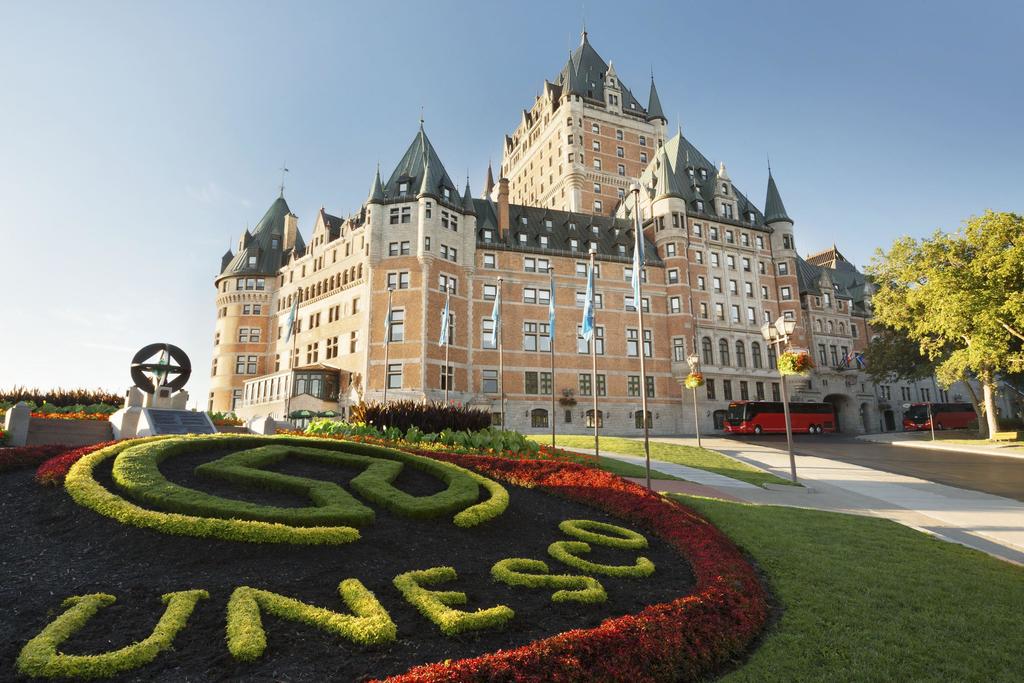 Fairmont Le Chateau Frontenac



Located in Old Quebec, this heritage property boasts views of the St. Lawrence River. On-site restaurants offer a variety of dining options, from classic to regional dishes. The elegant, European-style rooms of Fairmont Le Chateau Frontenac offer a cable TV and a coffee maker. Ironing facilities and air conditioning are also included.
---
Best Location in Quebec City, Canada: A Quick Guide
Below, you'll find a list of the best areas to stay in Quebec City according to your travel style and what you may be planning to do during your trip. Keep reading this guide to find all the specific information you need about each particular area mentioned here.
---
Best Hotels in Quebec City, QC by Theme
Something more specific in mind? Here's a list of some of the best hotels in Quebec City. No matter your reason for visiting the city or style, you'll find it here!
---
The Best Areas to Stay in Quebec City, QC
1. Recommended area: Vieux Québec & Basse-Ville
Historic, charming and lively, Vieux Québec combines a distinctly European flair with true Quebecois hospitality. This UNESCO-listed area is home to legendary heritage hotels like the Fairmont Le Chateau Frontenac, small boutique properties like the Hotel Manoir Morgan and some backpacker-friendly alternatives like the Auberge Internationale de Quebec.
Vieux Quebec, known in English as Old Quebec or The Old City is the historic and cultural heart of the city. This area is famous for its distinct European atmosphere, stone buildings and winding narrow streets lined with restaurants and boutiques.
Located at the confluence of the St. Charles and St. Lawrence rivers, this district, considered the most beautiful historic quarter in North America, was declared a UNESCO world heritage site in 1985.
Quebec's Old City comprises two main settlements; The Upper Town, located atop Cap Diamant and defended by the city's famous fortifications is Quebec's administrative and religious epicentre. Meanwhile, the Lower Town grew as a residential and commercial district around Place Royal and the Old Harbour.
Located in the Upper Town and considered the most photographed hotel in the world, the Fairmont Le Château Frontenac was was built by the Canadian Pacific Railway company. Opened in 1893 and showcasing a French-inspired Châteauesque style, this heritage hotel is the most recognizable landmark in Quebec City.
Not far lies the impressive Citadelle de Québec. This fortified historic military complex, the oldest in Canada, was built from 1820 to 1850 to secure Quebec against a potential American invasion. The Citadelle is part of the Fortifications of Québec National Historic Site.
La Basilique-Cathédrale Notre-Dame de Québec, dating back to 1647 but rebuilt several times, is one of the finest examples of Neo-classic architecture in Québec and the oldest church in all Canada.
The Upper Town is linked to the Basse-Ville by numerous public stairs and the Old Quebec Funicular.
Quartier Petit Champlain, located in the Lower Town, is a quaint section of Vieux Quebec. This picturesque European-style area is home to some of the best boutiques, cafés and chocolateries in town. Place Royale, the site of the first French Settlement in North America, is flanked by numerous bistros, bars and upscale restaurants.
Further north lies Quebec City Old Port, home to charming streets, shops and the city's cruise terminal.
The best way to move around Vieux Quebec is on foot. Its winding cobblestoned and pedestrianized streets are an open invitation to discover this quarter and get lost in its history. To reach other districts, the main boulevards and thoroughfares offer several bus stops. The city's main railway and bus station, Gare du Palais, is located directly north of the Old City.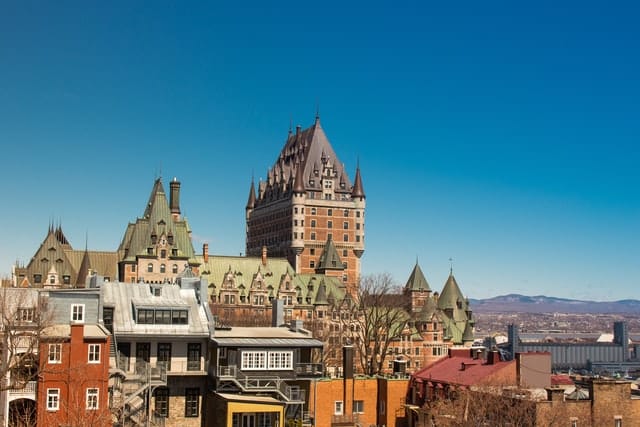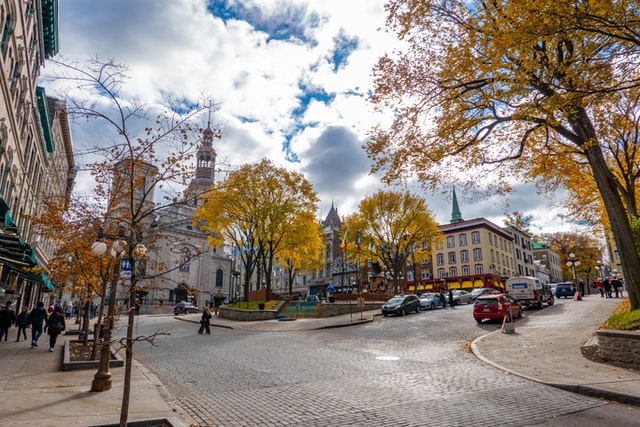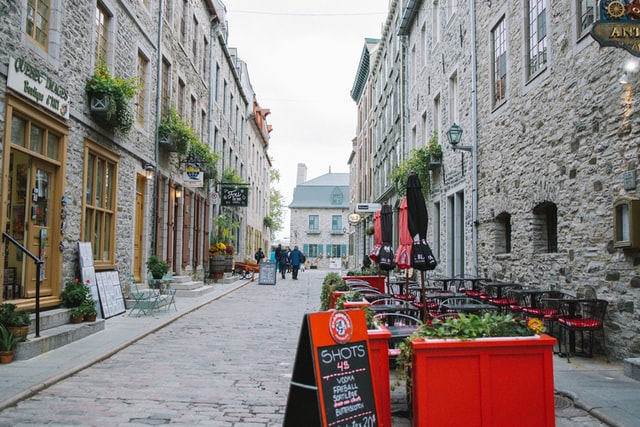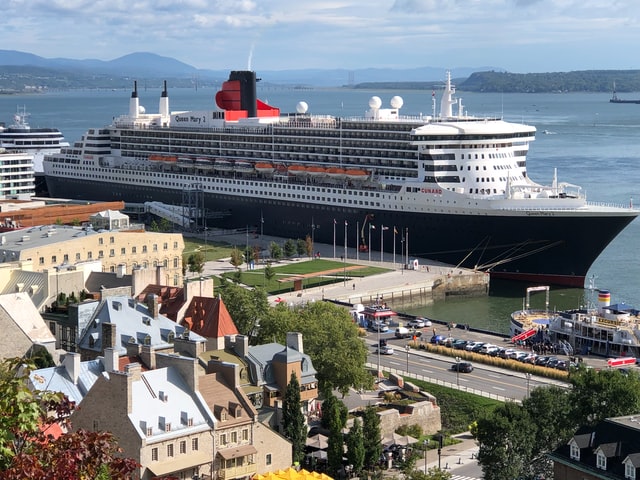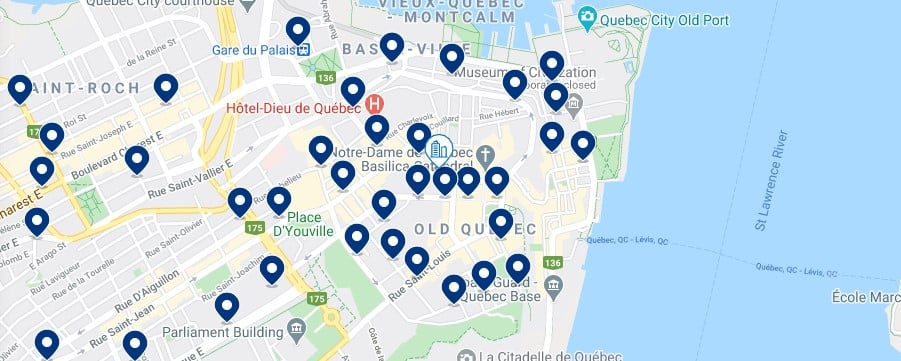 Why is this a recommended area to stay in Quebec City:
Historic architecture
Connected by public transport
Best area for sightseeing
Best area to stay without a car
Great area for nightlife
---
2. Saint-Jean-Baptiste
Saint-Jean-Baptiste is where the cool people hang out in Quebec City. As it couldn't be otherwise, this artistic quarter is home to some uber-cool boutique inns like Chateau Des Tourelles, mid-range business hotel chains such as the Delta Hotels by Marriott Quebec and a few backpacker-friendly hostels like the Auberge Jeunesse QBEDS Hostel.
Saint-Jean-Baptiste, oftentimes referred to simply as "Saint Jean" is located directly west of the Parliament Building and Quebec City's Old Town.
This laid-back historic area is known for its bohemian atmosphere, fashion boutiques, cafés, restaurants and local markets.
Its central location and reputation as a hipster-friendly hangout make Saint-Jean-Baptiste the best area to stay in Quebec City for young travellers.
Saint-Jean-Baptiste is centred around Rue St. Jean, a commercial and nightlife area offering several cafés, bars and hip restaurants.
Rue St. Jean and neighbouring Parc Saint-Matthews constitute the unofficial gay village in Quebec City.
Boulevard René-Lévesque, located in the south edge of the district is home to office towers and the Centre des congrès de Québec, making it a great area to stay in Quebec for business travellers.
The Marie-Guyart Building, the tallest building in the city, is also located here. At its rooftop, the Observatoire de la Capitale offers panoramic views of the city and the river.
Like the rest of the city's central neighbourhoods, Saint-Jean-Baptiste is best explored on foot. Its eastern edge is close enough to the historic quarter that you can just walk there. Alternatively, Quebec City's comprehensive bus network offers several stops along Rue St. Jean, Boulevard René-Lévesque and Rue D'Aiguillon.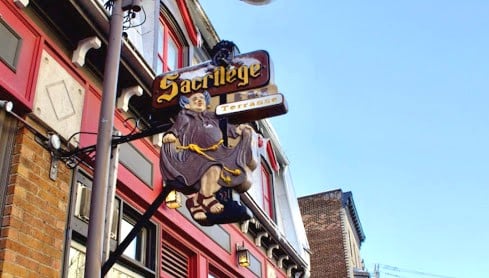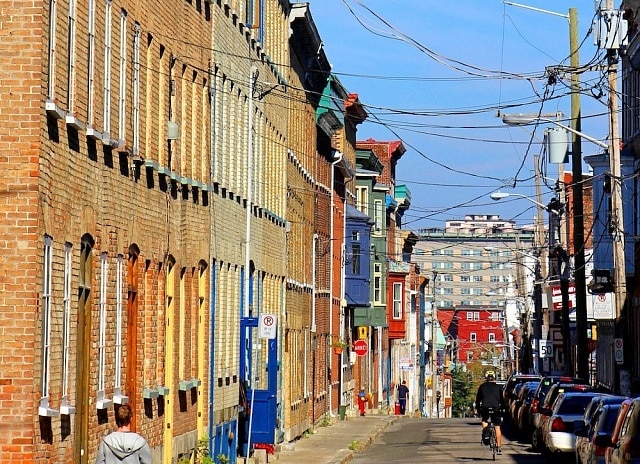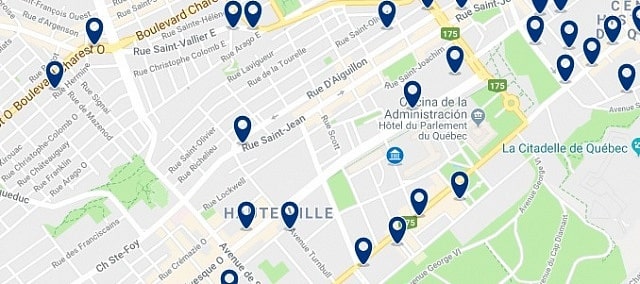 Why is this a recommended area to stay in Quebec City, QC:
Hipster area
Great for shopping
Best area for nightlife
LGBT village in Quebec City
---
3. Saint-Roch
Considered the main financial, commercial and nightlife district in Quebec City, Saint-Roch offers a wide offer of accommodation options ranging from sleek luxury properties like Hotel PUR or Hotel Royal William to budget shared accommodation options like La Belle Planete Backpackers Hostel.
Saint-Roch is a district located west of the Old City and north of Saint-Jean-Baptiste.
Traditionally a working-class neighbourhood, this historic area of Quebec (it dates back to the seventeenth century) went from being a small parish settlement to an industrial and shipbuilding district.
In the late 19th century, Saint-Roch became the primary commercial area in the city. Rue Saint-Joseph, the district's main thoroughfare, became the most popular entertainment and shopping street, known for its theatres, department stores, and boutiques. After going through a decline in the mid-20th-century, this central district has been revitalized and brought back to its former glory.
Today, Saint-Roch is considered Quebec City's Central Business District.
Rue Saint-Joseph is again the place to go in Quebec City for shopping and people-watching and the whole neighbourhood is experiencing a cultural rebirth.
Home to important cultural spaces like Théâtre de la Bordée and l'Impérial Bell, Saint-Roch is again the epicentre of Quebec City's theatre scene. The area is also home to several live music venues and nightclubs.
Boulevard Charest, one of the main arteries of Quebec City, connects Saint-Roch to Gare du Palais, on the district's eastern end.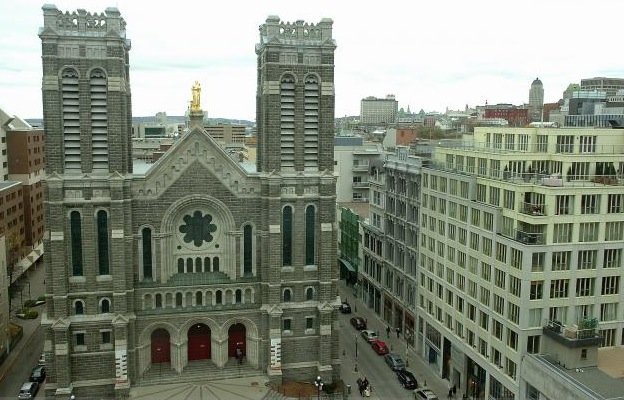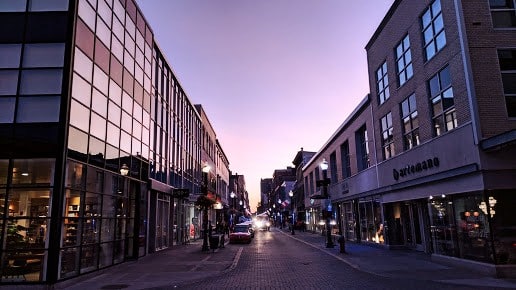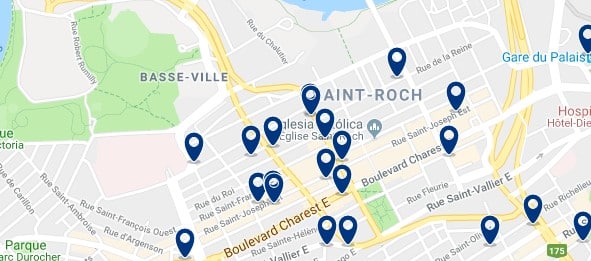 Why is this a recommended area to stay in Quebec City:
Great area for shopping
Great for business travellers
Good nightlife
Theatres and live music venues
---
4. Sainte-Foy-Sillery
Largely a suburban town and home to the international airport and Université Laval, Sainte-Foy offers everything from the super exclusive Hôtel Le Bonne Entente to several modern mid-range accommodations like Hotel Quartier and Hotel Classique. For those travelling on a tighter budget, this district is home to places like the Holiday Inn Express Quebec City-Sainte Foy.
Sainte-Foy-Sillery is a district located next to the St. Lawrence River, 7 km west of the city centre.
This largely suburban area is home to a few local sights like the Aquarium du Québec. The largest in QC, this aquarium is home to over 10,000 animals, including fish, marine mammals and amphibians.
Located in the heart of Sainte Foy, Université Laval is the oldest university in Canada and the first in North America to offer higher education in French. Its main campus features the Roger-Van den Hende Botanic Garden and the René-Bureau Museum of Geology.
Located by the river, Parc Nautique de Cap-Rouge offers the opportunity to practice several activities and adventure sports such as sailing, canoeing, kayaking, windsurfing and pedal boating.
Sainte-Foy-Sillery is also home to the Jean Lesage International Airport and Sainte-Foy Station, making it a great area to stay in Quebec City for passengers in transit or a short visit.
To move from Sainte-Foy-Sillery to Vieux Québec, the area is connected by several bus lines including direct shuttle services from Sainte-Foy Station to Gare du Palais.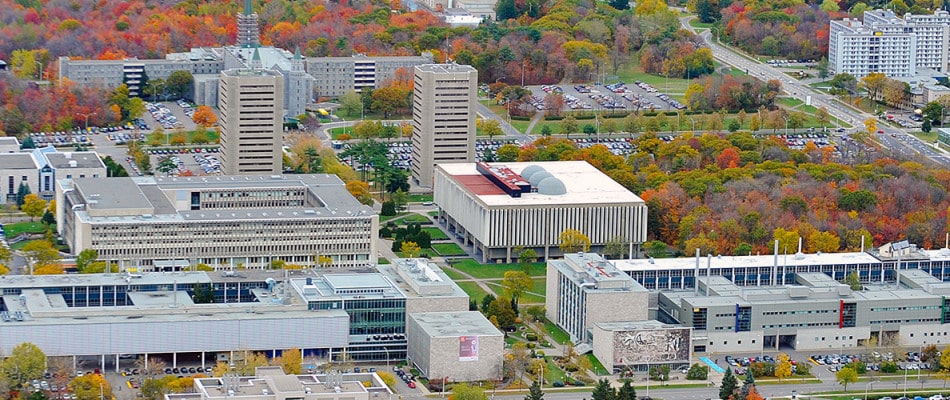 Why is this a recommended area to stay in Quebec City:
Wide range of accommodation
Quebec Aquarium
Close to the airport
Great public transport connections
---
5. Lévis
Lévis is the perfect place to disconnect and enjoy Quebec City in a tranquil environment surrounded by nature. This lovely town is home to charming B&Bs like Gîte Kezako and B&B de la Traverse. For budget-minded travellers, the west part of town offers a few budget accommodation options including Hotel Kennedy and the Comfort Inn Levis.
Lévis is an independent city located on the south shore of the Saint Lawrence River, right across from Quebec City.
This quiet bedroom community is connected to Vieux Québec by a ferry service and the Quebec and Pierre-Laporte bridges.
With a small commercial and dining area centred around Côte du Passage and a few tourist attractions of its own, Lévis is the perfect area to stay for those looking for peace and tranquillity.
Some tourist attractions in Lévis include the Lévis Forts National Historic Site, Galerie Louise-Carrier, Maison Alphonse-Desjardins and the Quai Paquet.
However, the most visited site in this riverside town is La Terrasse du Chevalier-de-Lévis. This small park located on a hill in Lévis City Centre offers the best views of Quebec City across the river.
For nature lovers, Lévis is also home of several natural preseves like Parc des Chutes-de-la-Chaudière, featuring 35-metres-high waterfalls, Parc de la rivière Etchemin and Parc Valéro Les Écarts.
There are bus services to move around the city and you can reach the Gare fluviale de Québec in Quartier Champlain in just under 12 minutes. Needless to say, the ride offers spectacular views of Vieux Québec along the way.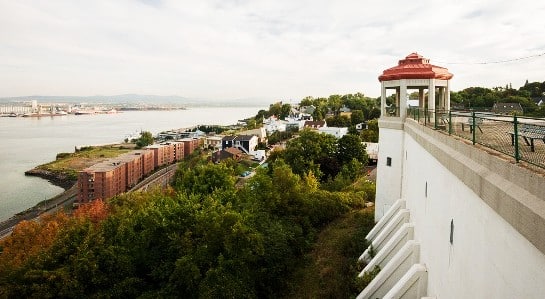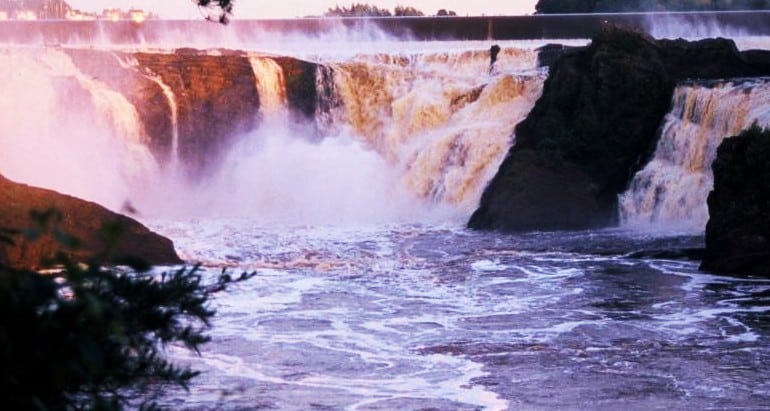 Why is this a recommended area to stay in Quebec City:
Quiet suburban area
Charming inns and B&Bs
Connected by ferry
Best views of Quebec City
---
6. Les Rivières
This suburban area of Quebec City is home to a few mid-range and upmarket hotels including the Courtyard by Marriott Quebec City and the Grand Times Hotel. If you're travelling on a tight budget, you should check out the Quality Suites Quebec City
Les Rivières is a largely suburban Quebec City district located on the St. Charles River, north of Sainte-Foy.
This mainly industrial and residential neighbourhood is home to several expansive green parks and protected areas including Escarpement Park and Chauveau Park.
This area is also home to some of the city's largest shopping centres including Les Galeries de la Capitale, a shopping mall featuring 280 stores and 35 restaurants.
If you're travelling with children, Les Rivières hosts the Méga Parc amusement park, a family-friendly attraction with a roller coaster and several rides.
While Les Rivières is connected by Quebec City's bus network, its suburban nature means that this district is best enjoyed if you travel by car.
---
Read this in other languages