Where to stay in Quebec City – A guide to the most European city in North America
Quebec City is one of the oldest cities in Canada and North America.
The architecture of French influences in the Vieux-Quebec neighbourhood makes this Canadian city one of the most beautiful cities in the North American continent.
When it comes to public transport, Quebec has the Réseau de Transport de la Capitale (RTC) bus system, with several routes in different districts of the city.The European-style streets in Quebec City host a large number of fashion shops and restaurants where you can taste local and international cuisine.
On the west side of Quebec, the Jean Lesage International Airport is located, one kilometre and a half from the city centre.
The city has unforgettable experiences to offer to travellers, breathtaking landscapes, and many more attractions throughout the entire year.
The climate in Quebec is quite rainy, with an average annual temperature of 4°C (39ºF) and January is, precisely, the coldest month.
In Quebec, more than 90% of its inhabitants are French-speaking, so their European culture is reflected in the lifestyle, architecture and main attractions.
There are different for travellers in Quebec, from large shopping centres such as Galeries de la Capitale or Laurier Quebec to festivals held every year in different parts of the city.
Among the best neighbourhoods to stay in Quebec is the Vieux Québec for its offer in entertainment, culture and traditions. See accommodation in Vieux Quebec.
Here's a guide with the best areas to stay in Quebec City, Canada.
The best areas to stay in Quebec City
1. Our favourite area: Vieux Quebec
Vieux Quebec translates to "Old Quebec" and is one of the best districts to stay in the city for travellers who want to learn about the historical past of Quebec.
To get around Vieux Quebec, you can take the train or the bus. However, walking this area on foot is the best option since it is very pedestrian-friendly.
Vieux Quebec is considered a World Heritage Site by UNESCO, so its cobblestone streets and numerous shopping centres are well worth a visit.
Vieux Quebec is divided into Haute-Ville (Upper Town) and Basse-Ville (Lower Town), which are visited each year because of their trendy restaurants, artisans' area and museums.
Vieux Quebec has many LGBT-themed venues, as it is the centre of festivals each September that supports the community.
Vieux Quebec is one of the best areas to stay in Quebec for its historic atmosphere and busy nightlife.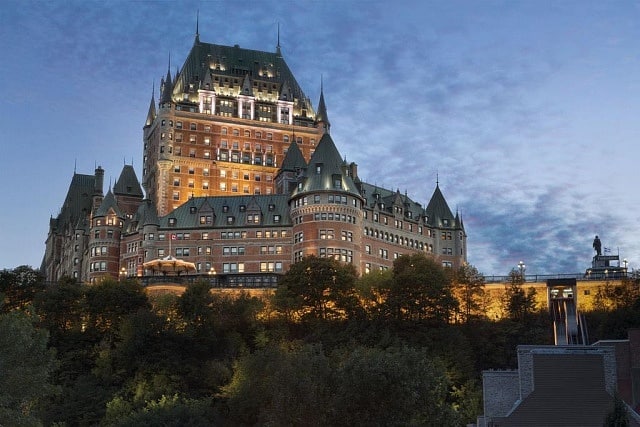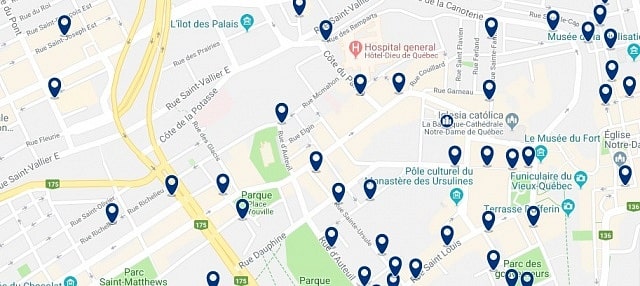 Why is this a recommended area to stay in Quebec City:
Historic architecture
Connected by public transport
Best area for sightseeing
Best area to stay without a car
Gay-friendly
Great area for nightlife
---
2. Saint-Jean Baptiste
Saint Jean Baptiste offers a bohemian atmosphere full of fashion boutiques, cafés, restaurants and local markets, making it one of the best areas to stay in Quebec City.
This district is located between Sainte Marie Madeleine on the north side and Marieville on the south, where it gathers renowned grocery stores, the Saint-Jean Baptiste church and other attractions.
Its steep streets and colourful houses, as well as its welcoming vibe, receive hundreds of tourists every year. This area also has good connections with other districts via buses.
Saint Jean Baptiste is full of shops, bars and restaurants that offer great food and drinks for visitors.
The modern Saint Jean Baptiste is one of the best areas to stay in Quebec City, as it is one of the nightlife and shopping centres in the city.
---
3. Saint-Roch
Saint-Roch is a renovated neighbourhood in Quebec City. This old working-class area is now an elegant place, with stores, cutting-edge art, restaurants with international flavours and amazing bars and boutiques.
To get around Saint-Roch, you can take the bus or the metrobus, although the striking district offers the opportunity to be travelled on foot.
Within Saint-Roch, you'll find one of the main streets of Quebec, the Rue Saint-Joseph, full of fashion shops, cafes, theatres with shows and pubs.
Other attractions for those staying in Saint-Roch are the local and five-star restaurants and the craft beer bars.
Saint-Roch is one of the best areas to stay in Quebec City for young travellers.
---
4. Sainte-Foy-Sillery
Sainte Foy-Sillery is located next to the St. Lawrence River, west of the city centre, near the Jean Lesage International Airport.
The district of Sainte Foy Sillery does not escape the fun of Quebec since is inhabited in large part by the young students of Laval University, which gives a cheerful atmosphere to the area.
It has many historic buildings, the Aquarium du Quebec and several parks for outdoor activities with ice rinks, soccer fields, and swimming pools.
Within Sainte Foy-Sillery, there is the Sainte-Foy train station and several bus stops with routes available to travel to other districts of Quebec.
Sainte Foy Sillery is one of the best areas to stay in Quebec City because, in addition to its attractions and fun, this area offers hotels with affordable prices.
---
5. Les Rivières
Les Rivières owes its name to the Saint Charles River, which crosses this area. It is located near the Jean Lesage International Airport, and connect with other districts through bus routes.
Those staying in the area of Les Rivières can enjoy attractions such as the Galeries de la Capitale shopping centre, fashion shops and some local restaurants.
The area is known for being a quiet residential neighbourhood in Quebec, with places where you can relax, away from the hustle and bustle of other areas.
Les Rivières also houses several luxury hotels, so it is safe to stay that accommodation in this area is not the cheapest.
Les Rivières is among the best areas to stay in Quebec City because of its atmosphere of total relaxation.
---
Read this in other languages