Where to Stay in Guanajuato – A Guide to this Mexican city
Guanajuato is the capital city of the namesake state in Mexico. Located in a narrow valley in the center of the country, Guanajuato is famous for its colorful colonial architecture, silver mining history, and charming narrow winding streets. In this post, we will discover the best areas to stay in Guanajuato, Mexico.
The main attractions in Guanajuato's City Center include Callejón del Beso (The Alley Of The Kiss), the Regional Museum of Guanajuato – Alhóndiga de Granaditas, Diego Rivera's House & Museum, Mercado Hidalgo and Monumento Al Pipila. See accommodation in Guanajuato City Center.
The Museum of the Mummies of Guanajuato, located west of the city center, displays a rare collection of over a hundred naturally mummified bodies.
The northern edge of town is home to La Valenciana Church, an 18th-century Mexican Churrigueresque church built at the La Valenciana mine's opening. See accommodation in North Guanajuato.
Due to its location in the heart of Mexico, Guanajuato has a semi-arid climate. Average temperatures range from 7 to 23 ºC in the winter and 15 to 30 ºC in the summer months. The wettest season goes from June to September. Because of its constantly pleasant temperature, Guanajuato can be considered an ideal tourist destination year-round. That said, since the summer is the rainiest season, the best time to visit Guanajuato is during the spring (March-May) when it's warm enough to enjoy outdoor activities without having to worry about the rain.
To get to Guanajuato by air, the city is served by the Aeropuerto Internacional de Guanajuato. This airport offers several connections to other destinations in Mexico and some international flights to the United States.
Guanajuato is also very well-connected by long-distance buses to the rest of Mexico. See long-distance bus routes, schedules & fares.
Local transportation in Guanajuato consists of bus lines. The Historic City Center is very pedestrian-friendly, and most streets are closed to motor traffic. There are also taxi services available, and you can rent a cheap car during your stay.
The best area to stay in Guanajuato is the City Center. This historic area is home to some of Guanajuato's best cultural attractions, charming colonial architecture, restaurants, nightlife, and shops. It is also where the best hotels are located. See accommodation in Guanajuato City Center.
Another great option to consider when choosing the best location in Guanajuato, especially if you have a car, is San Javier & North Guanajuato.
Keep reading to find out more about the best location in Guanajuato for tourists.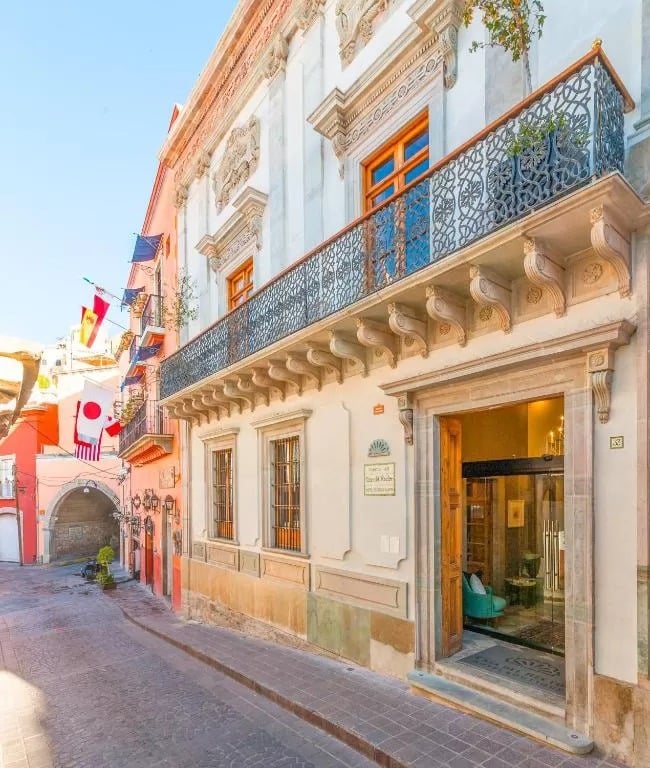 The Best Areas to Stay in Guanajuato City, Mexico
1. Recommended area: Centro Histórico (Guanajuato City Center)
The Historic Center of Guanajuato is the heart of the city.
This lovely and colorful area is home to one of the best-preserved collections of colonial-style architecture in Mexico.
The Historic Center is also where most of the city's attractions are located.
Because of the city's valley location, and contrary to most Spanish settlements, Guanajuato's Historic Center doesn't feature the usual grid street plan; its streets are narrow, winding, and colorful.
Among the main cultural attractions in Guanajuato's City Center is the Alhóndiga de Granaditas Museum, Diego Rivera's House & Museum , Teatro Juárez, or the Museo del Pueblo de Guanajuato.
Guanajuato's Historic Center is a very lively district. It is home to many restaurants, bars, cafés, and clubs where locals and tourists meet.
Guanajuato City Center is also where the widest selection of accommodation options are located.
Here, you can find small budget posadas and the most luxurious boutique hotels, many of which located in refurbished colonial mansions.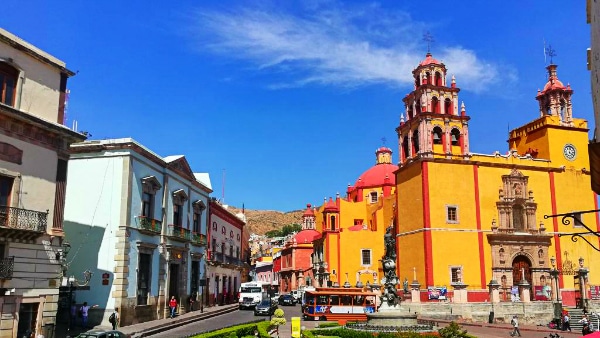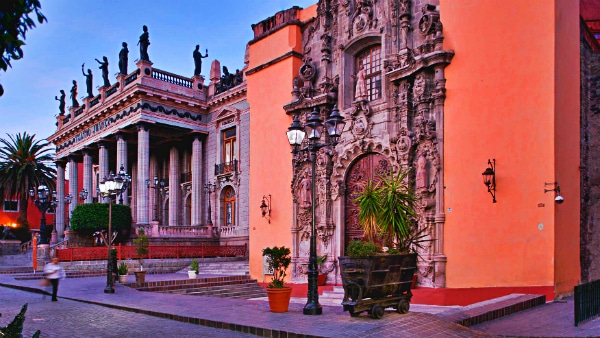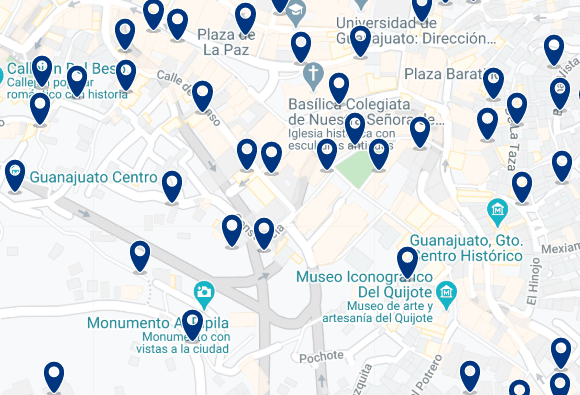 Why is this a recommended area to stay in Guanajuato:
Best area for sightseeing
Juarez Theater
Best area to stay without a car
Basilica of Guanajuato
Casa Diego Rivera Museum
Pedestrian-friendly
---
2. Cata, San Javier & North Guanajuato
Cata, San Javier and the north of the city are among the best areas to stay in Guanajuato for its monuments, recreational sites, and natural landscapes.
San Javier, Cata and the north of Guanajuato are quiet and mining areas, full of attractions such as the Villaseca de Cata Church.
In San Javier, you'll find the Eduardo Villaseñor Söhle Museum of Mineralogy, with a large collection of rocks.
La Mina el Nopal is an excellent adventure attraction in this area. It includes a 200 -meter long network of mining tunnels.
The advantage of staying in the north of the city is that this area is full of affordable hotels, so it's great for travelers on a budget.
This area is connected to the rest of Guanajuato by bus, while walking is the best way to get around its streets.
---
Read this in other languages