Where to stay in Monterrey- A guide to the capital of Nuevo León
Monterrey is the capital of Nuevo León, one of the largest states in the Mexican Republic that border the United States to the north.
Monterrey stands out at a tourist level for its culture and history, as well as for being a business, industrial and economic center for northern Mexico.
Monterrey is rich in spectacular landscapes, green areas and interesting monuments that elevate it to a cosmopolitan city that has a little bit of everything, for all kinds of visitors.
In Monterrey, there are also cultural and sporting events, as well as fairs that attract many visitors every year, arriving through the General Mariano Escobedo International Airport.
Monterrey's public transportation consists of a metro network that does not cover many routes, buses that run through most of the city, taxis and rental cars.
The best time to visit Monterrey goes from mid-May to early July, ideal for outdoor activities.
When choosing among the best areas to stay in Monterrey, the City Center stands out for housing most of its attractions (See accommodation in City Center).
Here's a guide with the best areas to stay in Monterrey, Mexico.
The best areas to stay in Monterrey, Mexico
1. Our favorite area: City Center
Monterrey City Center is the heart of the city, mixing modern areas with entertainment and an industrial touch.
It is here where most of the restaurants, bars and clubs are located, as well as 19th-century buildings, museums, and boutiques.
The Macroplaza, one of the largest squares in the world, is located in this area. It is a square full of emblematic sites and monuments.
Here, you'll find the Faro del Comercio, a 70-meter structure that has a laser beam on top, and a fountain dedicated to Neptune.
Among cobbled streets, this old quarter is home to the Government Palace, the extensive Fundidora Park, as well as the Santa Lucia Canal that passes through the center of the area, with museums, shops, and food stores around.
You can arrive by metro to this area and walk near some houses that are a hundred years old and are believed to have many "spirits" still appearing in them.
The Alameda Park, the Basilica of Guadalupe, with contemporary history and design, and the Corazon de Jesus church, with a beautiful collection of religious art and polychrome stained glass, are other attractions in this area.
The City Center is the best to stay in Monterrey, perfect for travelers interested in visiting museums, parks and having a wide range of hotels to choose from.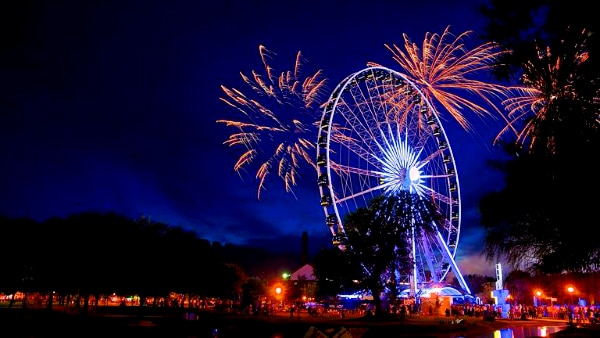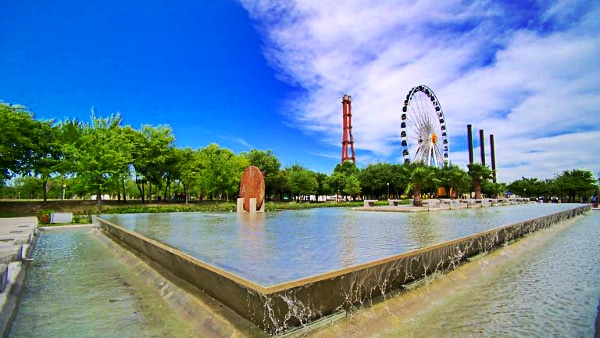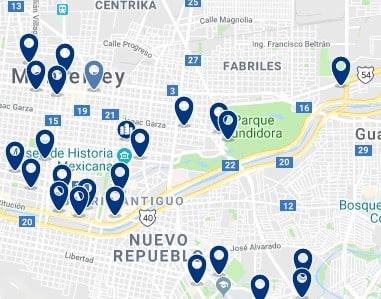 Why is this a recommended area to stay in Monterrey:
Heart of the city
Best area for sightseeing
Good area for nightlife and shopping
---
2. Apodaca
Apodaca is part of the Monterrey Metropolitan Area and, given its proximity to the United States, much of the industry is located in this suburb.
The city of Apodaca is recognized for being the headquarters of large national and international industries, so it is much sought after by business travelers during the entire year.
Within the municipality, you'll find the Mariano Escobedo Airport, making this one of the best areas to stay in Monterrey during a stopover
Here, historical monuments like the San Francisco Parish, the Municipal Presidency building and the House of Culture stand out.
The Founders Park, San Francisco Park, and Bicentennial Park are located in this area and allow visitors to enjoy a cool atmosphere during the summer.
Apodaca is one of the best areas to stay in Monterrey, with restaurants, pubs, coffee shops, cinemas, business hotels, and museums.
---
3. Guadalupe
Guadalupe is also part of the Monterrey metropolitan area and is the second-largest city in the Nuevo León state, located east of Monterrey.
Formerly known as Villa de Guadalupe, this city has different cultural, architectural and historical attractions.
The Temple of the Lord of the Expiration is among the most visited sites in Guadalupe, as well as the Holy Cross.
Guadalupe also hosts other tourist attractions such as Cerro de la Silla, a mountain with cable car rides to the top that can also be climbed, which is ideal for sport and trekking enthusiastic travelers.
The "La Pastora" Zoo makes this one of the best areas to stay in Monterrey, Mexico, especially when traveling with children.
Guadalupe is close to the Eloy Cavazos metro station and has hotels, hostels, all-inclusive resorts and varied accommodation for every type of traveler.
---
4. San Nicolás de los Garza
San Nicolás de los Garza, located north of Monterrey and next to Apodaca, has become a large industrial center in the area.
In San Nicolás de los Garza, industrial and business activity is combined with commerce, which is why it has several large shopping centers.
In the month of August, this municipality is the scene of an important event such as the Commercial Industrial and Artisan Fair, which brings together national, local and international exhibitors.
The restaurants of typical Mexican food are not lacking in this area, including pork roast, tamales, among some other traditional dishes.
This district has a great hotel offer that places it among the best areas to stay in Monterrey, with hotels close to tourist attractions and venues for concerts, festivals, fairs, and conventions.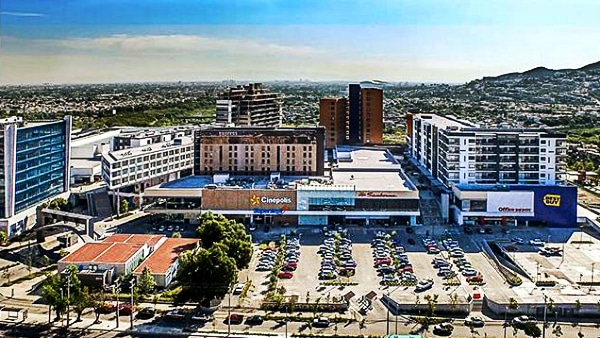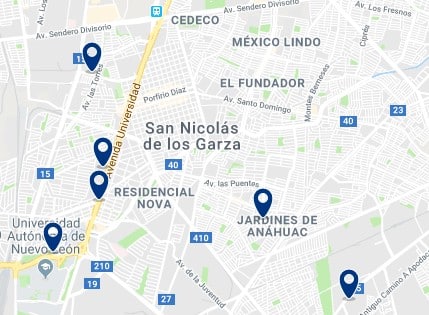 Why is this a recommended area to stay in Monterrey:
Great area for business travelers
Accommodation of all kinds
Good restaurants
---
5. San Pedro Garza García
Known simply as San Pedro, San Pedro Garza García is considered the model suburb of Mexico.
It is a wooded area where you can camp, with viewpoints from where you get the best views of Monterrey.
Here, in addition, is the Chipinque National Park and Ecological Reserve, located on the slopes of Chipinque Hill, within the Colinas de Monterrey National Park.
San Pedro also has more than 20 museums and cultural centers, in addition to the San Pedro Road and Calzada del Valle, an avenue that has several gardens.
In the surroundings, there are restaurants, boutiques, banks, shops, bars and clubs, ideal for young travelers who want to taste cocktails in jazz and funk events.
The San Pedro area has accommodations of different categories, from cheap hostels to all-inclusive resorts that make it one of the best areas to stay in Monterrey.
---
Read this in other languages