Where to stay in Regina – A Guide to the Capital of Saskatchewan
Regina is the capital of the province of Saskatchewan. Located on a broad plain in southern Saskatchewan, Regina is the second-most populated city in the province. This city is famous for being an important agricultural, industrial and commercial hub in the Canadian Prairies regions. In this post, we will explore the best areas to stay in Regina, SK.
Some of Regina's most popular historical and cultural tourist attractions include the Wascana Centre, the Royal Saskatchewan Museum, the Saskatchewan Science Centre, the Saskatchewan Legislative Building, MacKenzie Art Gallery, the Regina Floral Conservatory and Victoria Park. See accommodation in Regina City Centre.
Due to its geographical location, Regina has a humid continental climate. This translates into four very distinct seasons. Summers are warm and humid, with temperatures typically ranging between 12 and 26 ºC. Meanwhile, winters are long, harsh and snowy, with temperatures between -19 and -9 ºC. The best time to visit Regina is from late May to September when temperatures are pleasant, and you can enjoy outdoor activities.
To get to Regina by air, the city is served by the Regina International Airport. Located 7 kilometres west of downtown Regina, this airport offers connections to several places in Canada and a handful of seasonal international flights to the US, Mexico, and the Caribbean.
No passenger rail services currently stop at Regina. However, you can reach the city via a well-developed network of long-distance buses connecting it to other cities in Saskatchewan and beyond. See bus routes, schedules & fares.
To move around town, Regina has a bus network, regular taxis and mobile apps like Uber. You can also choose to rent a car during your stay.
The best area to stay in Regina is the City Centre. This lively district is home to some of the main cultural attractions in the Saskatchewan capital and some of the hottest nightlife and best restaurants in town. See accommodation in Downtown Regina.
Keep reading to find out more about the best location for tourists Regina, SK.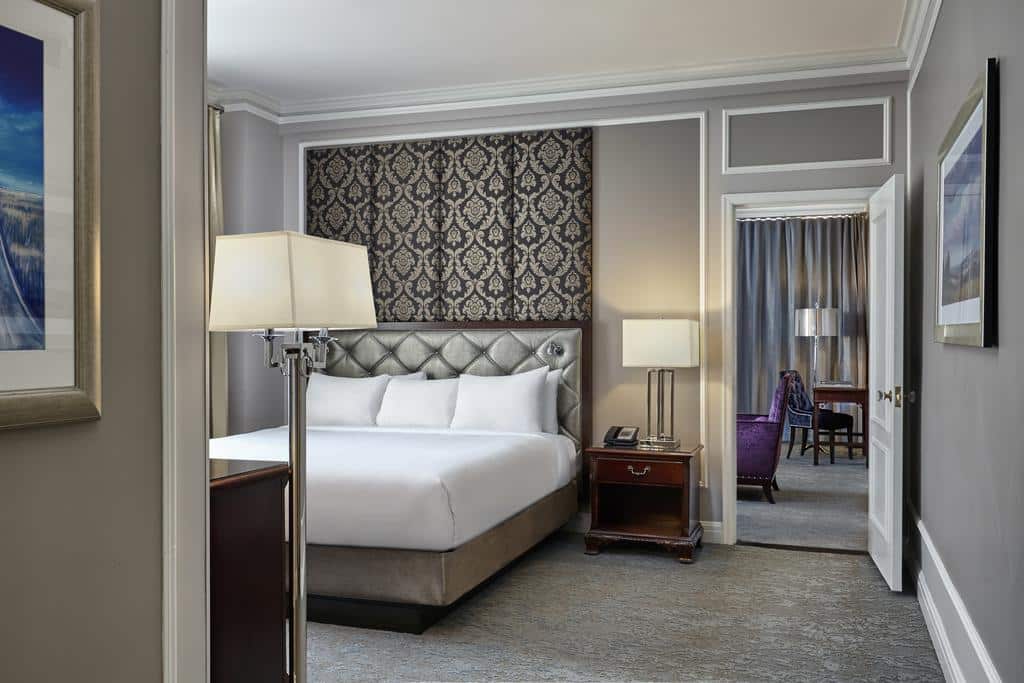 The Best Areas to Stay in Regina, Saskatchewan
1. Recommended area: Central Regina
As is to be expected, Central Regina is the commercial heart of the city.
This district is home to the city's tallest skyscrapers and office buildings.
Downtown Regina offers a perfect mix between business and pleasure. Scattered between the city's impressive high-rises you can find shopping centres and independent retailers selling everything from vintage fashion to music. This lively area is also home to Regina's best nightlife, restaurants and live-music venues.
Lovely Victoria Park is a popular meeting spot and has a winter ice-skating rink.
The Royal Saskatchewan Museum, located in the impressive Wascana Centre, south of Downtown, has exhibits on Canada's indigenous peoples and endemic animals.
Nearby, the MacKenzie Art Gallery offers an interesting display of local and international works of art.
Thanks to its central location and importance, Downtown Regina is the city's best-connected area. There are several bus stops to move to other districts.
The accommodation offer in Downtown Regina is the best and most varied in the city. This area has big-chain hotels and a few mid-range and budget options.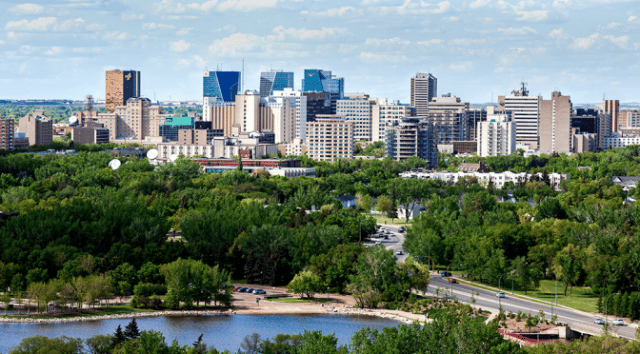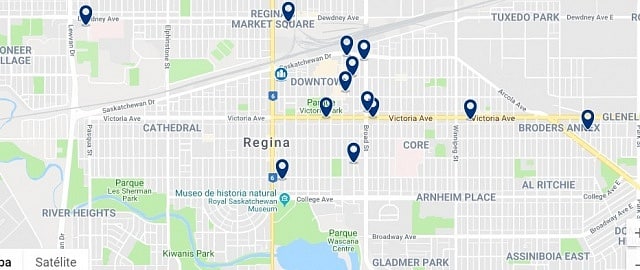 Why is this a recommended area to stay in Regina:
Heart of the city
Great restaurants
Best area for sightseeing
Best area to stay without a car
Best area for business travelers
Great transport connections
---
Read this in other languages