Where to stay in Regina – A guide to the capital of Saskatchewan
Regina is a Canadian city, capital of Saskatchewan.
Regina is a charming city, full of adventures, art and culture, considered one of the most visited destinations in the province of Saskatchewan.
Among the tourist attractions of Regina, you'll find the interactive Saskatchewan Science Center and Wascana Center, consisting of 6 parks for family activities.
The Royal Saskatchewan Museum, Mackenzie Art Gallery and its exhibition of more than 4,000 pieces of Canadian art, the Sports Hall of Fame and the renowned Globe Theater are other places to see during a stay in Regina.
The summers in regina are usually long, while in winter the temperatures drop to -19°C, so it is advisable to visit Regina in the months of July and August to enjoy blue skies and a pleasant climate.
15 minutes from downtown is Regina International Airport and, to get around, you can take any of the 23 available bus routes that operate in the city.
Downtown is the best area to stay in Regina because it houses most of the tourist attractions, best restaurants in the city and, of course, variety in accommodation. (See accommodation in Downtown Regina).
Here's a guide with the best areas to stay in Regina.
The best areas to stay in Regina, Saskatchewan
1. Our favorite area: Downtown Regina
Downtown Regina is a mix of shops, fashion boutiques, a large number of restaurants, the large FW Hill Shopping Center and City Square Plaza.
Entertainment in Downtown Regina ranges from ice skating in the winter season, shopping in Hilberg & Berk, seeing shows at The Globe Theater and enjoying delicious dishes at the restaurants.
Regina's exciting nightlife takes place in bars and venues spread throughout the area, frequented by a young audience, where cocktails and tapas abound.
Downtown Regina is covered by several bus routes at 11th Avenue, Broad St and Victoria Ave. However, those traveling by car will be able to get parking easily in this area.
For its location the Downtown has all types of accommodation, adaptable to any budget, from luxurious and comfortable hotels to rooms with affordable prices where you can enjoy your stay in Regina.
Downtown is the best area to stay in Regina for those who want to enjoy entertainment, important tourist attractions, museums and shops that make the city the ideal destination for any trip.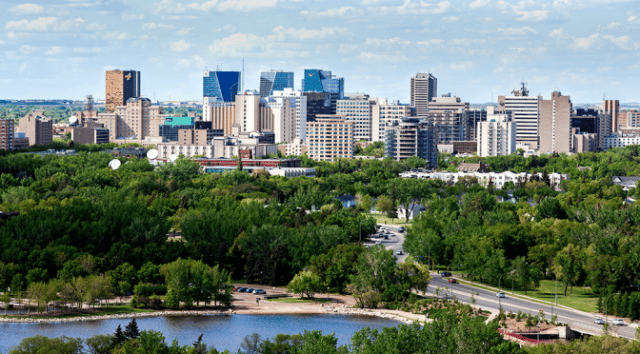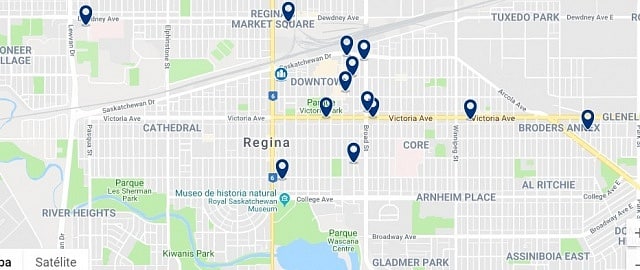 Why is this a recommended area to stay in Regina:
Heart of the city
Great restaurants
Best area for sightseeing
Best area to stay without a car
Best area for business travelers
Great transport connections
---
Read this in other languages