Where to Stay in Sacramento – A Guide to the Capital of California
Sacramento is the capital of California. Located in the north of the state, at the confluence of the Sacramento and American Rivers, Sacramento is famous for its alternative and hipster scene, its Gold Rush-era landmarks, and for being "America's Most Diverse City". In this post, we will discover the best areas to stay in Sacramento, CA.
While the Californian capital is usually overshadowed by major destinations such as Los Angeles, San Francisco, or San Diego, Sacramento offers an incredibly fun nightlife scene, gorgeous architecture, family-friendly attractions, interesting museums and cultural life, and a laid-back atmosphere that make it worth visiting.
Downtown Sacramento, centered around the California State Capitol, offers important attractions like the State Capitol Museum, Crocker Art Museum, the California Museum, the Leland Stanford Mansion State Historic Park, the Governor's Mansion, and the Cathedral of the Blessed Sacrament. See accommodation in Downtown Sacramento.
East of Downtown, near the Sacramento River, lies the Old Sacramento Historic District. This lovely area is home to the city's West Town architecture and attractions such as the iconic Tower Bridge, the Old Sacramento Waterfront, the Old Sacramento Schoolhouse Museum, and the Sacramento River Parkway. See accommodation in the Old Sacramento Historic District.
Because of its inland location in California, Sacramento has a hot-summer Mediterranean climate. This translates to hot, dry summers and mild winters. In January, average temperatures usually hover between 39 and 53 ºF (4 – 12 ºC). Meanwhile, July can see average temperatures between 59 to 92 ºF (15 – 33 ºC). Winter is also the wettest season. The best time to travel to Sacramento is during the spring and the fall (April through June and October through December). During these months, temperatures are pleasant enough to enjoy sightseeing and outdoor activities without enduring the summertime's oppressive heat or the winter's occasional rains.
To reach Sacramento by air, the city is served by Sacramento International Airport. Located 10 miles northwest of downtown Sacramento, this important airport offers a wide range of domestic connections, as well as some international routes to Mexico and Canada.
Sacramento is also connected to several places in California and beyond by train via the California Zephyr, San Joaquins, and the Capitol Corridor railway routes. Check train routes, timetables & fares.
Additionally, you can reach Sacramento from San Francisco, Los Angeles and many other US cities via frequent long-distance buses operated by Greyhound and other companies. Check bus routes, timetables & fares.
To move around the city, Sacramento has an efficient public transport system consisting of light rail, buses and Amtrak services. Mobile apps like Uber and Lyft are also available. However, you may also choose to rent a car for your stay in Sacramento, especially if you want to reach the outlying districts or the many natural sites around the city.
The best area to stay in Sacramento is Midtown, this lively and central district is considered the epicenter of Sacramento's nightlife and food scenes. Midtown Sacramento is also close to most attractions and has convenient public transportation options. See accommodation in Midtown Sacramento.
Other districts to keep in mind when deciding the best area to stay in Sacramento, CA include the Old Sacramento Historic District, Downtown Sacramento, and the neighborhoods around California State University.
Keep reading to find out more about our top picks for the best areas to stay in Sacramento.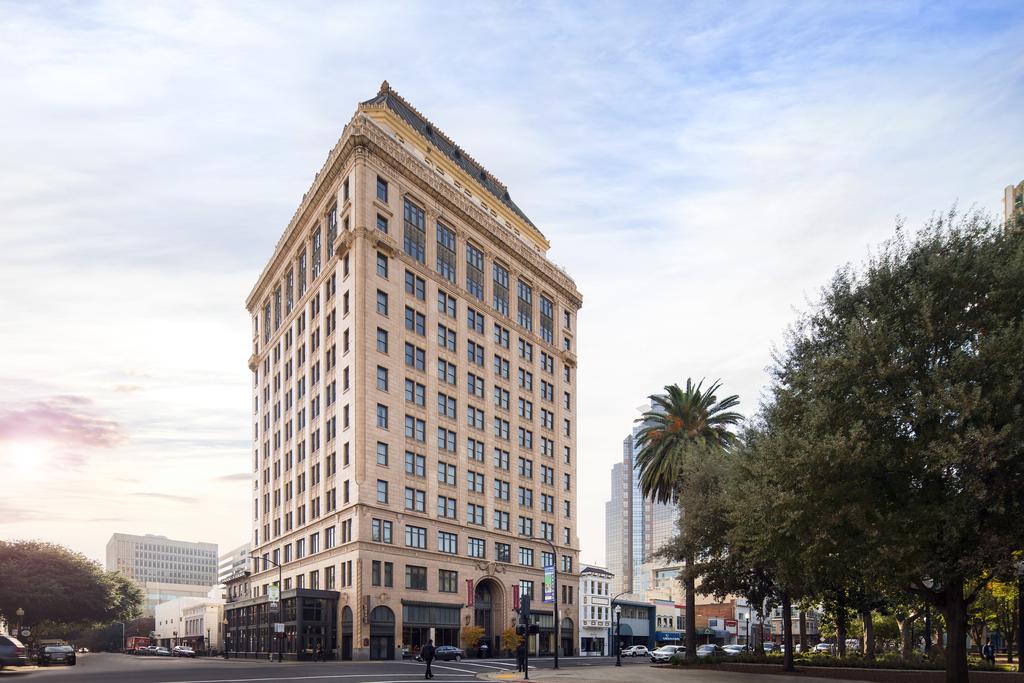 The Citizen Hotel, Autograph Collection

Set in Sacramento, 6 minutes from the Sacramento Convention Center, The Citizen Hotel, Autograph Collection offers accommodation with a restaurant, private parking, a fitness center, and a bar. Featuring a concierge service, this property also provides guests with a terrace. The accommodation provides a 24-hour front desk and room service for guests.
---
Best Location in Sacramento, California: A Quick Guide
Below, you'll find a list of the best areas to stay in Sacramento depending on your travel style. Keep reading this post to find all the information you need about each particular area.
---
Best Hotels in Sacramento, CA by Theme
Something more specific in mind? Here's a list of some of the best hotels in Sacramento. No matter your reason for visiting the city or style, you'll find it here!
---
The Best Areas to Stay in Sacramento
1. Recommended area: Midtown Sacramento
Midtown is located directly east of Downtown Sacramento.
Considered the epicenter of Sacramento's art, music, and cultural scene, this lively and hip district offers a wide range of dining options that range from the most exclusive restaurants to budget eateries.
Midtown is also the place to go in Sacramento if you're looking for trendy boutiques, art galleries, vintage shops, and independently-owned quirky cafés.
Several bars and clubs aimed at an LGBTQ+ audience are also located in the neighborhood.
Midtown is also a very well-connected area of Sacramento; it is served by the city's light rail system and its bus network.
Midtown is also famous for being one of the most pedestrian-friendly and bike-friendly districts in California.
Although accommodation in this area is limited to a few boutique-style hotels and B&Bs, Midtown is definitely the best area to stay in Sacramento.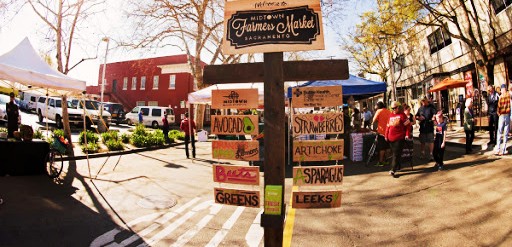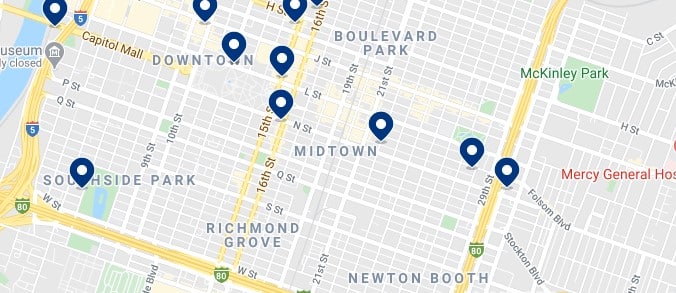 Why is this a recommeded area to stay in Sacramento:
Connected by light rail
Best area for foodies
Best area for nightlife
Best area for hipsters
Gay district in Sacramento
---
2. Old Town Sacramento
The Historic District of Sacramento, also known as Old Sac is probably the most architecturally interesting area of town. It houses several 19th-century buildings.
This historic neighborhood, located on the banks of the Sacramento River is home to a variety of museums and historic sites.
Within this area lies the historic Chinatown, numerous renovated warehouses and designer shops.
This area is home to the Sacramento Museum and the famous Crocker Art Museum.
Other activities in the Sacramento Historic District include tasting different cuisines in its many restaurants.
The Historic District has excellent connections to other areas of Sacramento, and it's also home to the main station in the city, Sacramento Valley Station.
Sacramento Historic District is among the best areas to stay in Sacramento for those travelers interested in getting to know the historic side of the city.
---
3. Downtown Sacramento
Downtown is the quintessential business district in town.
As its name may imply, it is located in the city center and it is a perfect area to stay for leisure and business travelers.
This area of the Californian capital is home to the largest shopping center in the state, Westfield Downtown Plaza, the Sacramento City Hall, and the imposing Cathedral of Sacramento.
The Wells Fargo Pavilion is a theatre venue with frequent shows by the Sacramento Theater Company.
This part of town is also home to the Community Center Theater, where musical performances, concerts by the Sacramento Philharmonic Orchestra, opera, and ballet recitals take place.
Nightlife is definitely another of the reasons to stay in Downtown Sacramento, the area has a great variety of casinos, bars, nightclubs, and restaurants.
To move to other districts, Downtown Sacramento has several light rail and bus stations.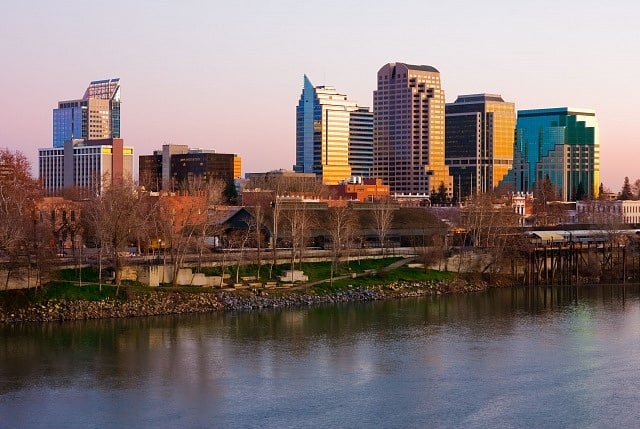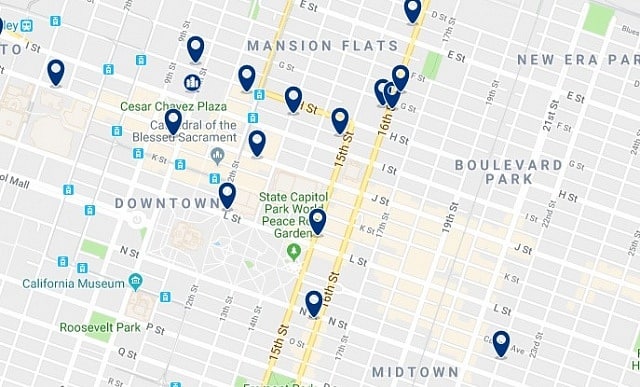 Why is this a recommeded area to stay in Sacramento:
Best area for business travelers
Connected by rail
Best area for sightseeing
Great nightlife
Malls and theaters
---
4. East Sacramento & around California State University
East Sacramento, also known as East Sac, is an area that, as the name suggests, is located east of the city center.
This area is home to the interesting McKinley Park and the "Fabulous Forties", one of the most elegant English-style neighborhoods in the city.
In addition to its proximity to the University District, East Sac has department stores, boutiques, bars, and nightclubs that are mostly attended by young people and artists, part of the alternative environment of East Sacramento.
This district is one of the best areas to stay in Sacramento, California, because of its proximity to important attractions, but without the bustle of the Downtown.
East Sacramento & the California State University have several light rail stations near Lincoln Hwy and, as it is a fairly busy area, you can find other means of transportation such as buses or taxis.
---
Read this in other languages