Where to stay in Monterey – A guide to the capital of Alta California
Monterey, originally Monterrey, is a city located in the Central Coast region of California. Founded in 1770, this seaside town was the capital of Alta California under Spanish and Mexican rule. Monterey is a very important tourist destination in the state. It is famous for its rugged coastline, its beaches, its historical and cultural landmarks, as well as for being one of the best places for whale watching in the United States. In this post, we will unveil the best areas to stay in Monterey.
For a city its size, Monterey sure has lots of things to see and do. Many of the attractions in Monterey have something to do with its close relationship to the sea. Such is the case of Cannery Row. Located on the waterfront, this colorful street is home to charming shops and quaint restaurants and cafes installed in old sardine-canning warehouses and factories. Likewise, the Monterey History & Maritime Museum has displays showcasing the history of the area from a marine perspective, and the Old Fisherman's Wharf is now a popular tourist attraction on the site of an old wholesale fish market.
Lovers of the outdoors will be happy to know that Monterey is home to amazing rugged coastal landscapes, regional parks, and wild beaches offering hundreds of hiking opportunities. Places like the Monterey Bay Coastal Trail, Lovers Point Park, Asilomar State Beach, Del Monte Beach, and nearby Jacks Peak Park and Palo Corona Regional Park are all well worth a visit. If you're traveling with kids, make sure to check out the Monterey Bay Aquarium, Dennis The Menace Playground, and Monterey County Youth Museum.
If you like quaint towns and romantic getaways, the Monterey area is also home to lovely Carmel-By-The-Sea and its small village atmosphere, historical attractions, beaches, and parks. Wine lovers will surely enjoy Folktale Winery & Vineyards.
Thanks to its position on the Pacific Ocean, Monterey enjoys a cool-summer Mediterranean climate with cool winters and very mild summers. In the winter, low temperatures rarely drop below 44ºF (7ºC). Meanwhile, you can expect high temperatures in the summer to hover around 70ºF (21ºC). Its pleasant temperatures mean that Monterey can be visited year-round. That said, if you're planning on visiting the beach or hiking, the best time to visit Monterey is from early June to mid-October.
The best time to visit Monterrey for whale-watching depends on the kind of cetacean you'd like to see. The blue whale season is between July and October, orcas and gray whales can be seen from December to May. Meanwhile, humpbacks travel through the area from May through November. Book whale-watching tours in Monterrey at a discount here.
In order to reach Monterey by air, Monterey Regional Airport is located three miles southeast of the city. This airport offers domestic short-haul flights to cities in California, Nevada, Washington, Colorado, Texas, and Arizona. Once in the city, the best way to get around Monterrey and reach its magnificent natural sites, vineyards, and beaches is by car (Rent a cheap car here). That said, the city does have a (limited) public transportation system consisting of buses. Taxis and mobile apps are also available.
To answer the question of what's the best location to stay in Monterrey, the area around Cannery Row is home to some of the best restaurants, shops, and nightlife. Additionally, the nearby town of Carmel-By-The-Sea has a relaxed and more romantic atmosphere.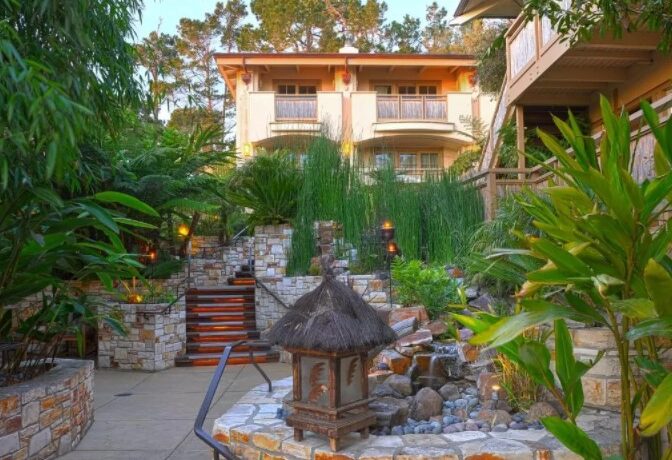 Tradewinds Carmel

This boutique hotel in Carmel is less than two blocks away from the unique shopping, galleries, and fine dining. Ocean Avenue, the main street, is just 3 blocks away. Asian fusion decor and premium linens are featured in each luxurious guest room at Tradewinds Carmel.
Keep reading to find out our top picks for the best areas to stay in Monterey, California.
The best areas to stay in Monterey, California
1. Our favorite area: Cannery Row
Cannery Row is one of the seafront districts of Pacific Grove, Monterey.
This area gets its name from its main road, where many fish-canning factories and warehouses were located.
Today, these factories are not in operation anymore. However, their buildings have been transformed into charming shops, quirky cafés and restaurants, and boutique hotels, giving this area a post-industrial, hipster-friendly atmosphere.
The main attraction in this district is the Monterey Bay Aquarium, located at the northern end of Cannery Row, the art gallery and the Monterey Canning Company shopping center.
In this port of Monterey, you can rent boats to observe the whales and some of the most exotic species in the marine world.
The way to access other districts from Cannery Row is through the buses available at Wave st and Lighthouse Ave.
Considered an ideal destination to enjoy the culture and beauty of the city, Cannery Row is the best area to stay in Monterey for its luxury hotels with sea views and trendy boutiques.
---
2. Downtown Monterey
The Downtown is the heart of old Monterey that, despite not being the most tourist area, houses a variety of 19th century buildings.
The Downtown includes mostly shops, restaurants and bars, concentrated on the city's main route: Alvarado Street.
Buses and taxis to move to other places in the city are available at stations located in the streets of Downtown Monterey, so it is safe to say that the area is well-connected.
A few meters away is the Fisherman's Wharf, with its stunning views of the ocean. However, for a day of sea, sun, and sand, it is recommended to visit Del Monte Beach.
The Downtown Monterey is recommended as one of the best areas to stay in Monterey for travelers who want to enjoy the tranquility, know the history of the city, all while getting great views of the Pacific Ocean.
---
3. Munras Avenue
Munras Avenue is well located, close to downtown Monterey and 30 minutes from the regional airport
This popular and well-located avenue offers comfortable and cheap accommodation, souvenir shops and traditional food stores.
Along Munras Avenue, there are stores and fashion boutiques for shopping fans.
Next to Munras Avenue is the Whispering Pines Park, where you can take long walks or enjoy the fresh air.
Because it is the main avenue in Monterey, Munras Avenue and adjacent streets such as Cass St have good connections with other districts, thanks to its bus system.
Munras Avenue is also recommended among the best areas to stay in Monterey due to its hotel availability and good location, as well as its bars and pubs, ideal for nightlife.
---
Read this in other languages