Where to Stay San Jose & the Silicon Valley – A Guide to California's "Tech Valley"
San Jose is the cultural, financial, and political center of Silicon Valley. Located in the south of the San Francisco Bay Area, this city is recognized as a center of technological innovation and it's famous for being one of the most prosperous, affluent, and costly places in California. In this post, we will explore the best areas to stay in the San Jose Area.
Silicon Valley is known as the mecca of technology, famous for being headquarters to many technology companies and major websites such as Google, Apple, HP, or Facebook, which makes this Californian region one of the most important business travel destinations in the country.
This lively town is home to several attractions and places of interest. Notable sights in San Jose include the San Jose Museum of Art, Tech Museum of Innovation, Rosicrucian Egyptian Museum, the Municipal Rose Garden, Plaza de César Chávez, the Institute of Contemporary Art San José, and the Japanese American Museum of San Jose. See accommodation in Downtown San Jose.
If you're traveling with kids, San Jose is also home to several family-friendly attractions like the Children's Discovery Museum of San Jose, Happy Hollow Park & Zoo, and Winchester Mystery House.
Because of its location in the San Francisco Bay Area, San Jose and the Silicon Valley have a warm-summer Mediterranean climate with sunny weather days most of the year and very mild winters. January temperatures range between 42 and 58 ºF (6 – 15º C). Meanwhile, summertime can see temperatures between 58 and 93 ºF (15 – 34 ºC). The best time to visit Silicon Valley is from mid-spring to late fall (April through November), to enjoy its open skies and warm weather.
To travel to the Silicon Valley by air, there are two main options; Norman Y. Mineta San Jose International Airport, located a 10-minute-drive northwest of downtown, offers several regional and domestic connections to most major cities in the US, as well as a handful of international flights (mostly to Mexico and Canada). On the other hand, San Francisco International Airport is located just 35 miles away. With over 120 direct connections worldwide, SFO is the main international hub in the region.
San Jose is located in Silicon Valley's heart; it is home to large fashion stores, restaurants, and entertainment venues. A large portion of its city center is residential, but the many bars and nightclubs provide a cheerful nightlife.
In Silicon Valley, the public transport system includes light rail, buses, and taxis. Additionally, Uber and Lyft also operate in and San Jose. That said, to move around the Silicon Valley area effectively, you are probably better off renting a car. You can rent a car in San Jose here.
The best area to stay in San Jose, CA is Downtown. This lively district offers the best combination of shopping, attractions, and nightlife. See accommodation in Downtown San Jose.
Other great districts and towns in Silicon Valley to consider when choosing the best location in San Jose are North San Jose, Palo Alto, Santa Clara, and South San Francisco.
Keep reading to find out more about the best areas to stay in San Jose & Silicon Valley, California.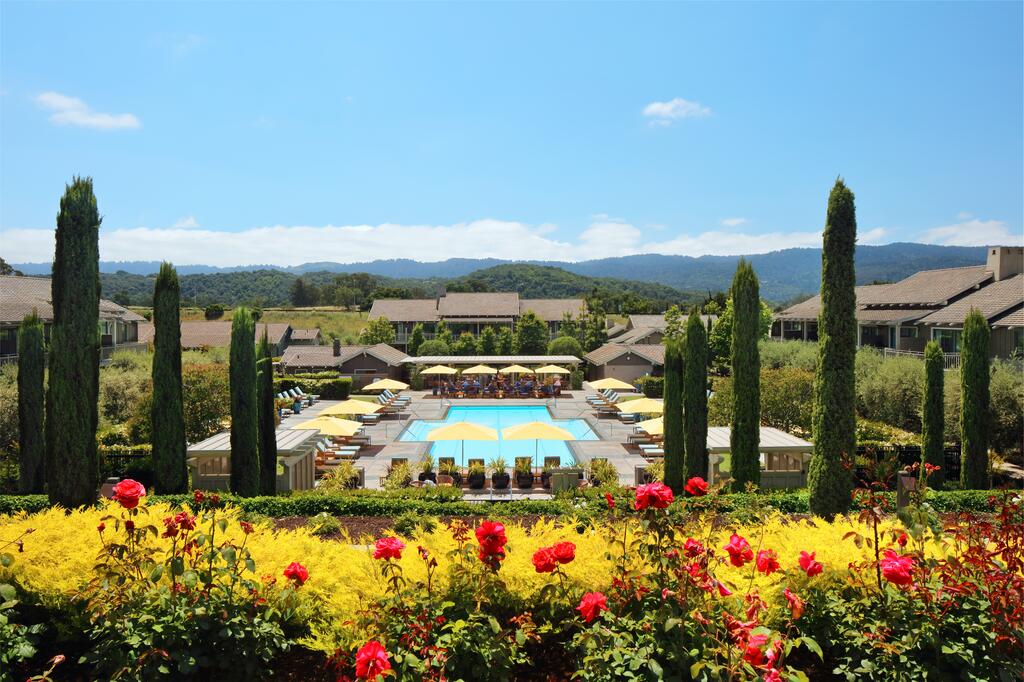 Rosewood Sand Hill

Located on 16 private acres, Rosewood Sand Hill offers sophisticated accommodation in West Menlo Park. This boutique hotel features an outdoor pool and spa center, on-site dining options, and elegant guest rooms with rain showers and free WiFi. Stanford University is 6 minutes' drive away.
---
Best Location in San Jose, California: A Quick Guide
Below, you'll find a list of the best areas to stay in San Jose depending on your travel style. Keep reading this post to find all the information you need about each particular area.
---
Best Hotels in San Jose, CA by Theme
Something more specific in mind? Here's a list of some of the best hotels in San Jose. No matter your reason for visiting the city or style, you'll find it here!
---
The Best Areas to Stay in San Jose & Silicon Valley
1. Recommended area: Downtown San Jose
Downtown San Jose is recommended as one of the best areas to stay in the Silicon Valley thanks to its cultural life , as well as for being the historic center of the city.
Downtown San Jose also has excellent transport links, thanks to the central train station and its 9 lines that run through the city on Cahill Street, as well as the bus stops on Santa Clara Street.
Among the attractions of Downtown San Jose are the Museum of Innovation, the Center for the Performing Arts, the Museum of Art, as well as shopping centers and department stores.
The east side of Downtown in San Jose has many restaurants and bars, where you can take a break from the busy center, and enjoy the best cuisine in the city.
Downtown San Jose is recommended among the best areas to stay in Silicon Valley thanks to its easy access to other districts, and its variety of options when it comes to entertainment.
---
2. North San Jose & San Jose International Airport
North San Jose includes the areas of Berryessa and Alviso, as well as the North San Jose Innovation District.
As its name indicates, this district is located north of the city center, very close to San Jose International Airport and Santa Clara.
On the south end of the district lies the expansive San Jose Flea Market, filled with antiques, crafts, and food vendors.
The Guadalupe River Trail is a popular park spanning 12.5 mi from the shores of the San Francisco Bay in Alviso south to Downtown San Jose, along the banks of the Guadalupe River.
North San Jose is very a well-connected district in the city; several BART and Amtrak lines connect this area to other neighborhoods in San Jose, its immediate cities, San Francisco and Oakland.
Due to its proximity to the airport, North San Jose offers a wide selection of hotels and tourist apartments of all kinds.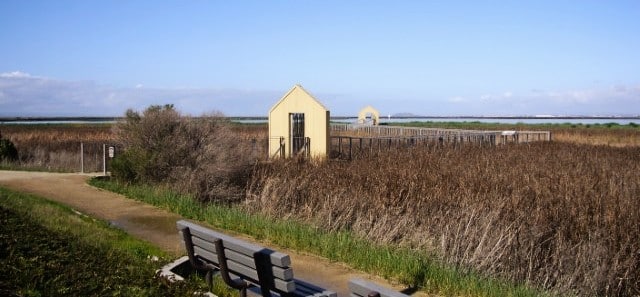 Why is this a recommended area to stay in San Jose, California:
Fairly central
Near the airport
Guadalupe River Trail
BART and other public transport connections
---
3. Palo Alto
Palo Alto is another Silicon Valley town located 20 minutes from San Jose, and known for being a green city because of its many oaks .
Palo Alto is home to Stanford University, ranked among the top five universities in the world in major education publications.
It is possible to move around this area using public transport since Palo Alto does not have a lot of public parking space for those traveling by car. However, you can use the municipal parking spots for two or three hours.
This area is covered by buses and trains, with stations in the center of Palo Alto, California Avenue and Alma Street, although many travelers and locals prefer to use a bike because of the residential and university environment of the area.
Palo Alto has its own airport, although the main one for those visiting Silicon Valley is the San Jose International Airport.
Most nightlife and leisure options in Palo Alto are around Stanford Univesity, home of the Stanford Shopping Center.
Palo Alto is among the best areas to stay in Silicon Valley for its offer in entertainment
It is also a great area for business travelers, especially for those who need to be close to tech giants Google, Facebook or Apple.
---
4. Santa Clara
Santa Clara is another town in the Silicon Valley area.
Santa Clara is located northwest of San Jose and is considered a business area because of its tech companies.
This area is next to the San Jose airport, so it is recommended for travelers who want to make a quick visit, or for business travelers.
Those staying in Santa Clara can visit California's Great America Amusement Park, the Intel Technology Museum, and several casinos to enjoy the lively nightlife.
Thanks to the University of Santa Clara, this area hosts a vibrant young community, which restaurants and bars filled with young adults.
To travel to other Silicon Valley districts or through Santa Clara, train and bus stops are available on W Tasman Drive.
Santa Clara is one of the best areas to stay in Silicon Valley for business travelers.
---
5. South San Francisco
South San Francisco is divided into several important neighborhoods such as Sunshine Gardens, Avalon Park, Winston Manor, and Buri Buri Ranch.
South San Francisco is known as a business area, thanks to its industrial environment and offices with futuristic architecture.
Due to being close to San Francisco International Airport, South San Francisco is home to lots of hotels. It also has good connections to other towns and districts through public transport and taxis.
South San Francisco (or "South City") is one of the recommended areas to stay in Silicon Valley for its wide range of hotels and proximity to the largest technology companies.
---
Read this in other languages
|ES| Dónde alojarse en San José y el Silicon Valley, California