Where to Stay in Puerto Vallarta – A Guide to Jalisco's Resort Town
Puerto Vallarta is a resort town in Jalisco, Mexico. Located west of Guadalajara, on the Pacific Coast, Puerto Vallarta is famous for its nightlife, gorgeous beaches, and watersports. In this post, we will discover the best areas to stay in Puerto Vallarta, Mexico.
As one of Mexico's premier vacation spots, tourism plays a crucial role in Puerto Vallarta's economy. From a tourist standpoint, Puerto Vallarta is divided into three main areas; Zona Romántica (Romantic Zone), Zona Hotelera (Hotel Zone), and Puerto Vallarta Centro (City Center).
Puerto Vallarta's most popular tourist attractions include the Malecón Puerto Vallarta, the Church of Our Lady of Guadalupe, Playa Los Muertos pier, and Quimixto street.
If you're traveling to Puerto Vallarta, chances are you're looking for some fun in the sun. With that in mind, some of the best Puerto Vallarta beaches include Los Muertos Beach, Las Caletas, and Mismaloya Beach.
A short boat trip away from Vallarta you'll find the incredible Marietas Islands, a small group of uninhabited islands with rich marine life where you can practice snorkeling, deep-sea diving, whale, dolphin, and bird watching.
Those traveling with kids will also enjoy attractions like Aquaventuras Park, Pirate Ship Vallarta, El Cora Crocodile Sanctuary, and Dolphin Discovery Vallarta.
Due to its coastal location in the west of Mexico, Puerto Vallarta has a tropical climate with a wet and dry season. Average temperatures range from 17 to 27 ºC in the winter and 24 to 32 in the summer months. The wettest season goes from June to October. Because of its constantly warm temperature, Puerto Vallarta is a tourist destination year-round. That said, the best time to visit Puerto Vallarta is during the spring (March-May) when it's warm enough to enjoy the beach and outdoor activities without the wet season's torrential rains.
To get to Vallarta by air, several domestic and international airlines operate out of Lic. Gustavo Díaz Ordaz International Airport. This important airport offers a wide range of connections to other destinations in Mexico, the United States, and Canada.
Puerto Vallarta is also very well-connected by long-distance buses to the Pacific Coast, Guadalajara, and Mexico City. See long-distance bus routes, schedules & fares.
Local transportation in Puerto Vallarta consists of several bus lines. There are also taxi services available, and you can rent a cheap car during your stay.
The best area to stay in Puerto Vallarta is Zona Romántica, this lively area is home to some of Vallarta's best restaurants and nightlife venues. It is also where the best hotels and resorts are located. See accommodation in Zona Romántica.
Keep reading to find out more about the best location in Puerto Vallarta for tourists.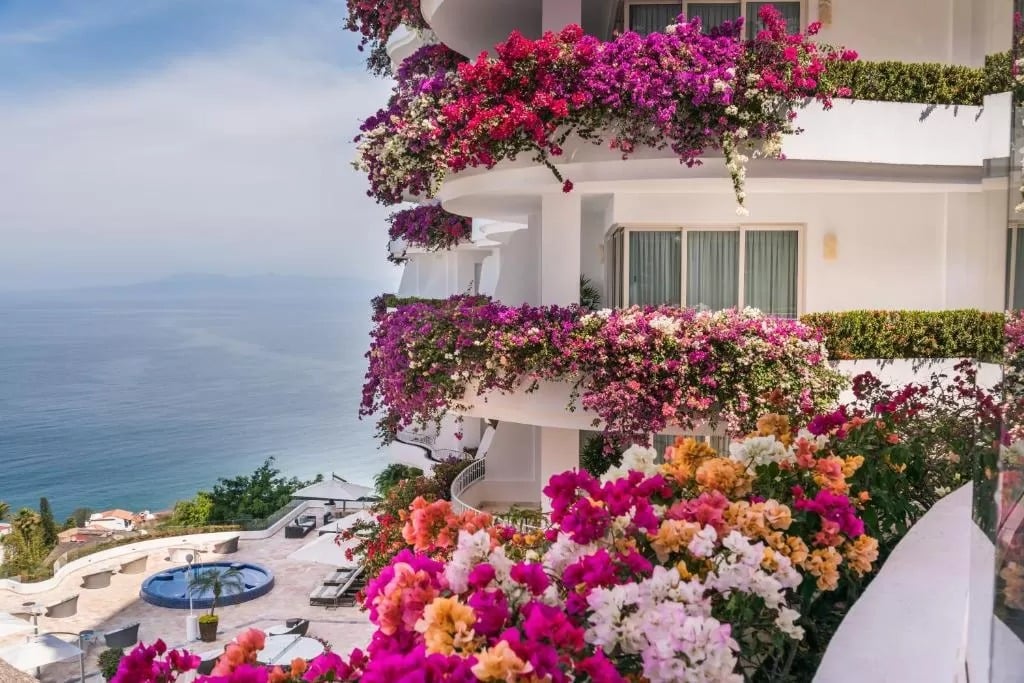 Grand Miramar All Luxury Suites & Residences

With a stunning view of the city and the Pacific Ocean, this impressive hotel is located on the hills of the exclusive Conchas Chinas area, 7 minutes drive from the famed boardwalk of Puerto Vallarta. The main terrace features 3 pools, one exterior hot tub, and activity space.
---
Best Location in Puerto Vallarta, Mexico: A Quick Guide
Below, you'll find a list of the best areas to stay in Puerto Vallarta depending on your travel style and what you may be planning to do during your trip. Keep reading below to find all the specific information you need about each particular area mentioned here.
---
Best Hotels in Puerto Vallarta, Jalisco by Theme
Something more specific in mind? Here's a list of some of the best hotels in Puerto Vallarta. No matter your reason for visiting the city or style, you'll find it here!
---
The Best Areas to Stay in Puerto Vallarta, Mexico
1. Recommended area: Zona Romántica
Zona Romántica is located south of Puerto Vallarta's City Center, across Cuale River.
This lively area is home to a thriving community of ex-pats and members of the LGBT community.
Zona Romántica stands out for its bohemian atmosphere, cobbled streets, colorful houses, small cafés, and independent art galleries.
The main beaches in Zona Romántica are Olas Altas, Los Muertos and Amapas.
On the northern end of the district lies Isla Cuale, a river island home to a small local museum, a park, and a lively flea market.
Zona Romántica's seaside section is home to some of the city's best seafood restaurants, as well as Vallarta's best nightlife venues, including several LGBT-oriented bars and clubs.
The accommodation offer in Zona Romántica is quite varied. Here, you can find small budget posadas, boutique hotels, and world-class beach resorts.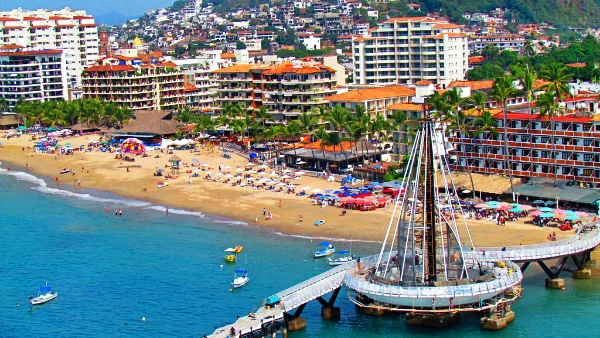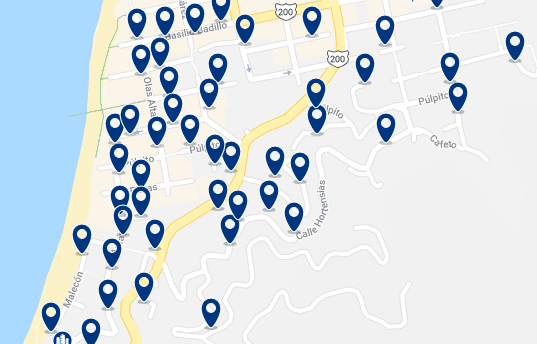 Why is this a recommended area to stay in Puerto Vallarta, Mexico:
Central location
Best area for nightlife
Great food
LGBT-friendly
All kinds of hotels
Pedestrian-friendly
---
2. Zona Hotelera (Hotel Area)
Zona Hotelera is located north of Puerto Vallarta's City Center, along the coast.
This area is home to Vallarta's main large-scale urban developments, residential condos, malls, business areas, and, of course, hotels.
Galerías Vallarta, one of the largest shopping centers on the Mexican Pacific is one of the area's main draws. This impressive American-style mall is home to several local and international fashion retailers.
The beach area in Zona Hotelera is crowded with big-chain hotels and resorts, as well as restaurants, bars, and clubs.
The main beaches in Zona Hotelera include Playa Tranquila, Playa Las Glorias, Playa Los Tules, and Playa de Oro.
Zona Hotelera is a great area to stay in Puerto Vallarta if you wish to stay in All-Inclusive resorts and experience world-class amenities.
---
3. Puerto Vallarta City Center
Puerto Vallarta's City Center offers the more traditional face of this seaside resort town.
This old area still retains a colonial vibe in its most central streets.
The main tourist attraction in Centro is the lovely Malecón de Puerto Vallarta, which features ocean views, sculptures, restaurants, bars, galleries, and shops.
Some other attractions in Vallarta's center include the lovely Our Lady of Guadalupe Church, the Naval Museum, and the Mirador Cerro de La Cruz, a hilltop attraction with impressive views over the city.
Puerto Vallarta's City Center also has some of the most popular beaches in town, such as Los Arcos, Rosita, and Camarones.
Other than offering a more local experience than Zona Hotelera, the city center is also home to some of Puerto Vallarta's best budget hotels and posadas.
---
4. Conchas Chinas
Conchas Chinas Beach is located south of Puerto Vallarta, less than a mile away from Playa de los Muertos, and near Zona Rómantica.
It is divided into two areas, the first is ideal for walks along the sea, while the other is perfect for kayaking or snorkeling.
It is a fairly quiet area of the city, and distant from the bustle of the Malecón, so it is necessary to take a taxi to move to other parts of Puerto Vallarta.
Hotels near Conchas Chinas beach include some luxury options along with some busget ones.
Most of the accommodations in this area have ocean views, making this area one of the best areas to stay in Puerto Vallarta.
---
Read this in other languages