Where to Stay in San Andrés – A Guide to Colombia's Paradise Island
San Andrés is a Colombian island on the Caribbean Sea. Located 700 km north of Cartagena and only 215 from the Nicaragua coast, San Andrés, together with nearby Providencia and Santa Catalina Islands, make up the country's smallest department. San Andrés is renowned for its paradisiac beaches, coral reefs, laid-back atmosphere, and reggae music. In this post, we will explore the best areas to stay in San Andrés, Colombia.
As one of Colombia's top beach destinations, tourism plays a vital role in the local economy. From a tourist standpoint, this elongated island can be divided into two main sections: the North End, known locally as "El Centro," is the island's main urbanized settlement, home to shopping centers, administrative buildings, residential condos, and hotels. Meanwhile, the southern portion of San Andrés is much wilder. Between the developed north and the rural south ends of the island, you can find 30 km of tropical coastline spotted with tiny fishing villages, virgin beaches, secluded eco-friendly resorts, and tourist attractions. See accommodation in San Andrés.
The main tourist attractions in San Andrés are hands down its paradisiac beaches which include Playa Spratt Bight, La Piscinita, Playa San Luis, and the urban Playa San Andrés. That said, the most impressive beaches in San Andrés can be found on its surrounding keys and islets, many of which can be accessed by motorboats. Some of the best keys off the San Andrés coast include Cayo Sucre, Cayo Rocoso, Cayo Córdoba, Rocky Cay, and Cayo Acuario.
Other beautiful natural attractions in San Andrés include Hoyo Soplador, the Big Pond, Morgan's Cave and the San Andrés Botanical Garden.
Due to its location in the Caribbean, San Andrés has a tropical monsoon climate. This translates to constant temperatures throughout the year (25 – 31 ºC) and a rainy season from May to December. Thanks to its constantly warm temperature, San Andrés is considered an ideal tourist destination year-round. However, the best time to visit San Andrés is during the dry(er) season (January through April), when you can enjoy the beaches and outdoor activities without having to worry about the wet season's torrential rains.
To get to San Andrés by air, the city is served by the Aeropuerto Internacional Gustavo Rojas Pinilla. This small airport offers frequent connections to mainland Colombia, as well as some international regional flights to Central America.
San Andrés is also connected by ferry to the Colombian port cities of Cartagena and Barranquilla. The journey takes about 72 hours and is quite inexpensive. See ferry routes, schedules & fares
Local public transportation in San Andrés is very limited and, in order to get around, your best bet is renting a car during your stay or book a tour with transport included. Additionally, most hotels can also arrange tours and excursions with transfers, and, if you're staying in the city, you can just walk around and hire a taxi for the outlying attractions.
The best area to stay in San Andrés is Saint Andrew's Bay. This upscale seaside area is home to some of San Andrés's local cultural attractions, the hottest nightlife, the best restaurants, and the island's nicest hotels and resorts. See accommodation in Saint Andrew's Bay.
Other great options to consider when choosing the best location in San Andrés, Colombia include the island's North End, San Luis, and El Cove.
Keep reading to find out more about the best location in San Andrés for tourists.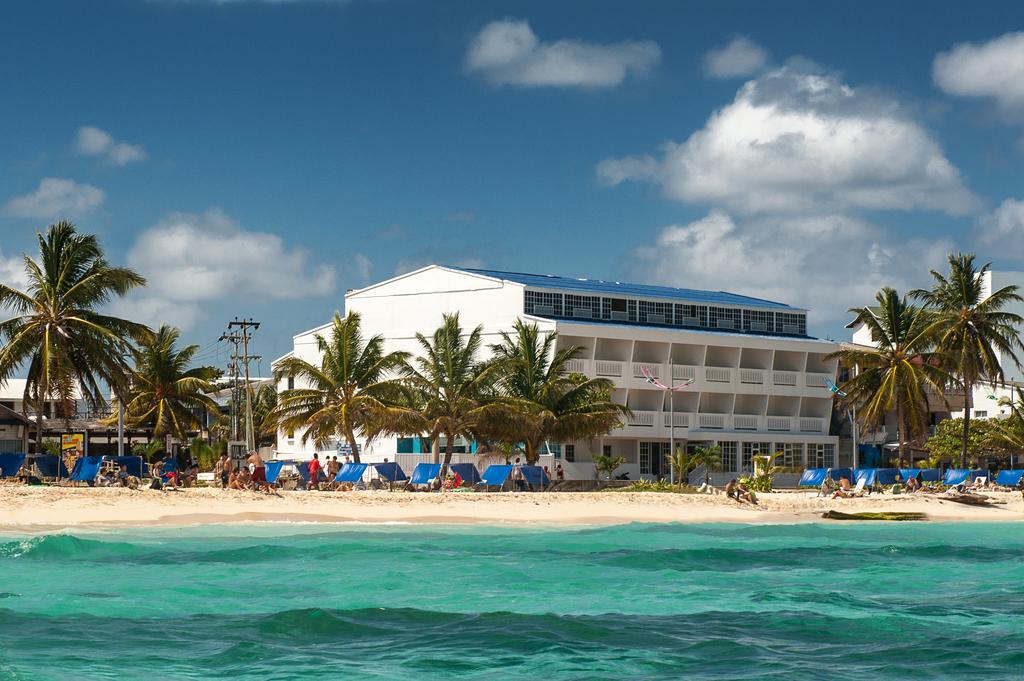 The Best Areas to Stay in San Andrés, Colombia
1. Recommended area: Saint Andrew's Bay
Saint Andrew's Bay is one of the busiest and most entertaining areas on the island.
This lively district has beaches, shops and nightlife.
Much of the activity here takes place on and around Francisco Newball Avenue, a boulevard with shops, food outlets and bars.
The Bay is home to the famous Spratt Bight Beach, an ideal place for water sports such as diving.
In addition, Saint Andrew's Bay has other attractions such as the Cocoplum viewpoint, with impressive views of the sea.
The Bay is home to many hotels with sea views, souvenir shops, and bars where you can have a cocktail at the end of the afternoon.
The bay is also one of the best areas to stay in San Andrés for romantic getaways and relaxation.
---
2. North End
The North End of the island is the most developed and urbanized area of ​​San Andrés.
This commercial and tourist area is located near the Gustavo Rojas Pinilla International Airport.
Its beaches are considered the best on the Caribbean island and are famous for its naturally occuring turquoise pools full of colorful fish.
The northern area of ​​San Andrés is also famous for its cuisine and food scene.
In this area, you can try the traditional fish balls.
Also, the northern area is popular for the Spratt Way Walking Trail and Newball Avenue, home to restaurants, shops and hotels.
The North End is also very pedestrian-friendly.
San Andrés North End is the best area to stay in San Andrés thanks to its access to places of interest and luxury hotels and resorts.
---
3. San Luis
San Luis is located on the east coast of the island of San Andrés.
It is a tropical paradise for those seeking to get away from the hustle and bustle and prefer fresh air and tranquility.
San Luis can be reached by taxi or car.
The San Luis area is home to native villages that preserve the colorful typical Antillean architecture.
In this area, you'll find beaches such as Cocoplum Bay or Sund Bay and Rocky Cay, famous for its crystal-clear and shallow waters.
The beaches of San Luis are ideal for water sports enthusiasts and you can practice diving, sailing, kayaking or jet skiing.
Not everything is sun, beach, and sand in San Luis, the Botanical Garden of San Andrés is also very close. This park offers a viewpoint of the island and thematic murals.
---
4. El Cove
El Cove is a wooded bay located on the southeastern coast of San Andrés, near the headquarters of the Colombian National Navy.
Among its attractions is the tourist pier, the main cruise port in the archipelago.
The waters of El Cove are deep and very calm. Their coral reffs, algae and colorful fish make it a perfect spot for diving and snorkeling.
In El Cove you'll find a varied restaurant offer. This is the best place to try local dishes like sopa de caracol(snail soup).
El Cove is a very safe area and, although it has little public transport, it can be reached by taxi or car.
---
Read this in other languages