Where to Stay in Santa Marta – A Guide to this Colombian Caribbean City
Santa Marta is the capital of the department of Magdalena in Colombia. Located in the north of the country, on the Caribbean Sea, Santa Marta is famous for its beaches, well-preserved colonial architecture, and the gateway to exploring Tayrona National Park and the Sierra Nevada de Santa Marta. In this post, we will discover the best areas to stay in Santa Marta, Colombia.
Santa Marta was founded by the Spanish in 1525, making it the oldest European settlement in Colombia. This coastal city played an important historic role in colonial times and during South America's subsequent fight for independence. Today, Santa Marta is a thriving port city and one of Colombia's most important tourist destinations.
From a tourist standpoint, Santa Marta can be loosely divided into three main areas; a main central nucleus including the Historic City Center and the Marina; Gaira & El Rodadero, the main tourist development south of the city center; and Taganga, a laid-back beach town located directly north.
The main cultural and historical attractions in Santa Marta City Center include Parque de Los Novios, Parque Bolívar, Museo del Oro Tairona – Casa de la Aduana, the Cathedral Basilica of Santa Marta, San Juan de Dios Chapel, Parque San Miguel, and the Casa Madame Agustine. See accommodation in Centro Histórico de Santa Marta.
A few kilometers southeast of the city center lies the Quinta de San Pedro Alejandrino, an expansive colonial-era hacienda famous for being the death place of Venezuelan-born South America's independence hero Simón Bolívar.
Some of Santa Marta's most popular beaches are located in the outlying towns of El Rodadero and Taganga. They include Playa Grande, Playa El Rodadero, Playa Taganga, and Playa Inca Inca.
However, if you're looking for postcard-perfect paradisiac beaches, then you should definitely head north to Tayrona National Park. This protected coastal area, located 34 km (21 mi) from Santa Marta's center, offers white-sand, turquoise water beaches and a wide variety of endemic flora and fauna. Because Tayrona is on protected land, reaching its best beaches requires a good amount of hiking. The good news is that there are quite a few accommodation options available within the park. See accommodation in Tayrona National Park.
Due to its coastal location in the Colombian Caribbean, in Sierra Nevada's rain shadow, Santa Marta has a semi-arid climate. Average temperatures are hot and constant throughout the year, typically hovering between 22 and 32 ºC. The wettest season goes from May to November, with October being the rainiest month. Thanks to its constantly warm temperature, Santa Marta is a tourist destination year-round. However, the best time to visit Santa Marta is during the North Hemisphere's winter months (December through April), when it's warm enough to enjoy the beach and outdoor activities without having to worry about it raining.
To get to Santa Marta by air, the city is served by the Simón Bolívar International Airport. Located 14 km (9 mi) away from the City Center, this airport offers a wide range of domestic flights throughout Colombia, including daily connections to Bogotá, Medellín, Cali, and Pereira.
Santa Marta is also well-connected by long-distance buses to other Caribbean Coast hubs, including Cartagena and Barranquilla. See long-distance bus routes, schedules & fares.
Local transportation in Santa Marta consists of bus lines. The city center and the beach areas are very pedestrian-friendly, but you will likely need to use a taxi or book a tour to get to Tayrona. Another option would be to rent a car during your stay.
The best area to stay in Santa Marta is El Rodadero. This safe seaside tourist development is home to some of Santa Marta's top resorts and hotels, the best nightlife, restaurants, and shops. El Rodadero also offers direct access to the beach. See accommodation in El Rodadero.
Other great options to consider when choosing the best location in Santa Marta include the charming Centro Histórico, the area around Marina de Santa Marta, and the beach towns of Taganga and Bello Horizonte.
Keep reading to find out more about the best location in Santa Marta for tourists.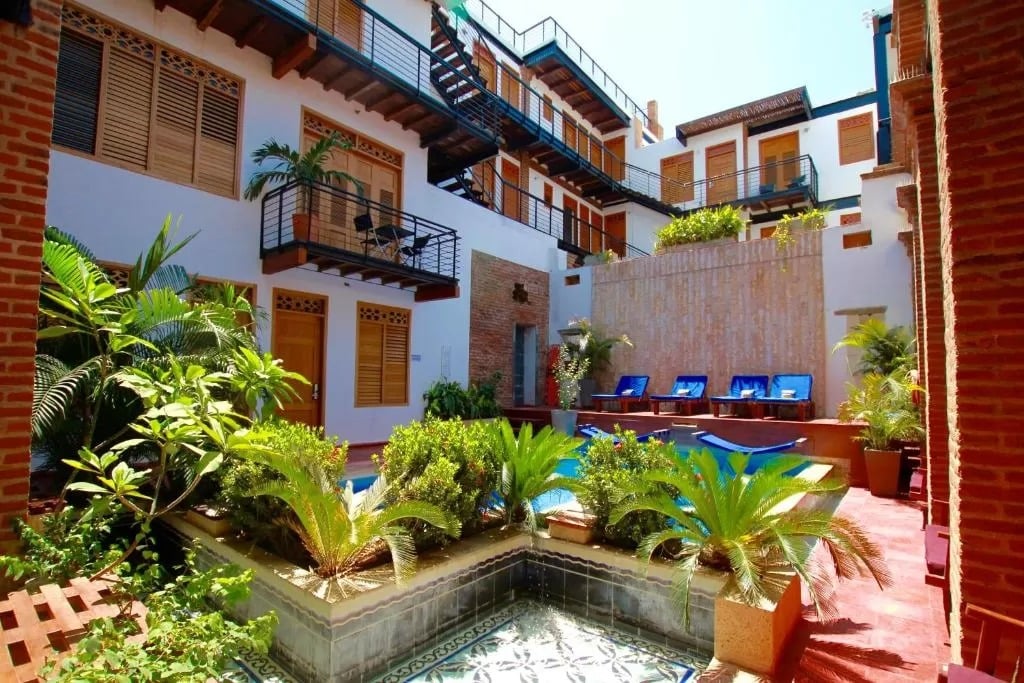 ---
Best Location in Santa Marta, Colombia: A Quick Guide
Below, you'll find a list of the best areas to stay in Santa Marta depending on your travel style and what you may be planning to do during your trip. Keep reading below to find all the specific information you need about each particular area mentioned here.
---
Best Hotels in Santa Marta, Colombia by Theme
Something more specific in mind? Here's a list of some of the best hotels in Santa Marta. No matter your reason for visiting the city or style, you'll find it here!
---
The Best Areas to stay in Santa Marta, Colombia
1. Recommended area: El Rodadero
El Rodadero is a coastal area located about 5 kilometers south of the Historic Center of Santa Marta.
Separated from the central districts of the city by Cerro Ziruma, El Rodadero is eminently a tourist town. It houses modern hotels, tourist apartments and restaurants.
This area also offers a marina, tourist information offices, varied shops, supermarkets and a shopping center.
El Rodadero is one of the most popular nightlife and leisure areas of Santa Marta.
At night, this area is very popular with young people, both locals and tourists.
The bars and clubs of El Rodadero remain open (officially) until 3 am.
In addition to its nightlife, Rodadero is popular for its beach. Very busy in the high season, El Rodadero Beach has calm and clean waters and offers many services.
El Rodadero is also a safe area to stay in Santa Marta.
---
2. Centro Histórico (Old Town)
Santa Marta's City Center is officially the oldest historic quarter in Colombia.
This lively area is the heart of the social, commercial, cultural and political life of the city.
The Historic Center of Santa Marta is located in the western end of the city, along the coast of the Caribbean Sea.
Although Santa Marta is the oldest city in Colombia, a good part of its colonial architectural heritage was destroyed by pirate attacks.
That said, Santa Marta still preserves some examples of architecture from the 18th and 19th centuries, among which are the cathedral and some large houses and museums.
In recent years, local authorities have invested in restoring and recovering the streets of the Historic Center of Santa Marta to return it to its former glory.
Keep in mind that Centro is not the safest area to stay in Santa Marta. Although its streets are very safe during the day, caution is recommended at night.
---
3. Marina de Santa Marta
The Santa Marta Marina is one of the most important marinas in the Colombian Caribbean.
It is located directly south of the Historic Center of the city, on the shores of the bay of Santa Marta.
Although this area is part of Santa Marta's central, which also includes the Historic Center, the marina area stands out for its modern upscale condo buildings, as well as for being a much safer area to stay.
The streets that surround the Marina de Santa Marta also host an excellent gastronomic and leisure offer. In this area you will find some of the most exclusive restaurants in the city.
Being directly south of the Historic Center, the cultural attractions and nightlife of Santa Marta's City Center are all within walking distance.
This area of Santa Marta also houses many of the internationally recognized brand hotels such as Hilton or AC.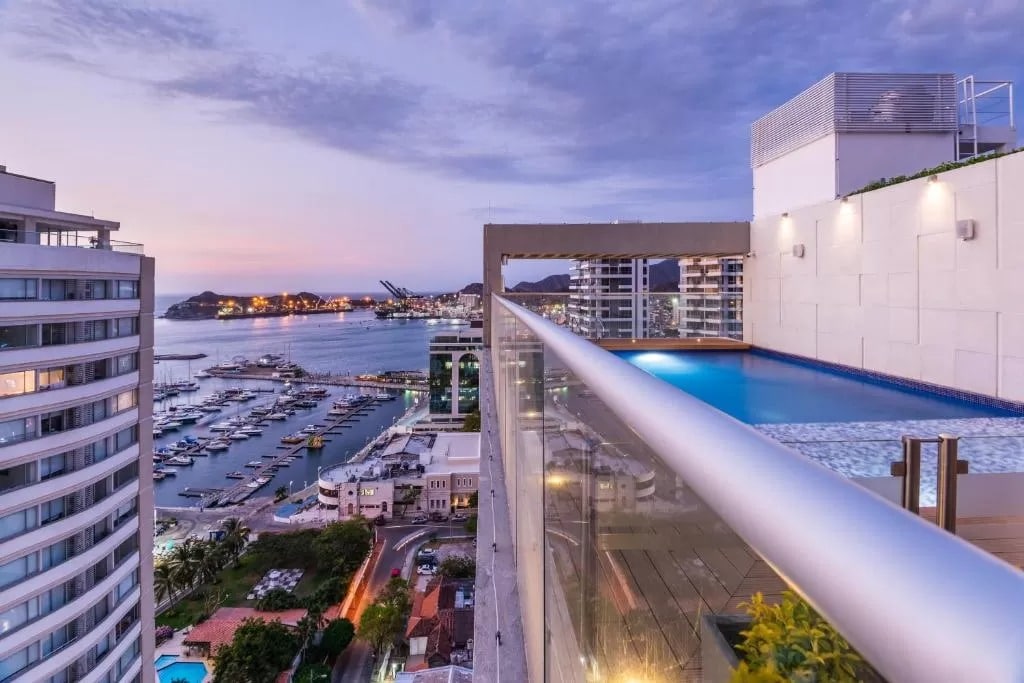 Why is this a recommended area to stay in Santa Marta, Colombia:
Exclusive area
Big-name hotel chains
Close to the Historic Center
Best area for business travelers
---
4. Taganga
Taganga is a coastal town located 5 kilometers north of the Historic Center of Santa Marta.
Like El Rodadero and Bello Horizonte, Taganga is considered a completely separate city, but from a tourist point of view it is grouped within Santa Marta.
Taganga is known for offering a more relaxed and bohemian atmosphere than the other tourist towns in Magdalena.
It is a very popular area among alternative young pleople, as well as ex-pats and hippies and offers a lively cultural life.
The main beaches in this area include the central Playa de Taganga, as well as other more hidden coves that can be accessed on foot or by boat, such as Playa Grande or Playa Escondida.
The hotel offer in Taganga is varied. Here, you can find everything from luxury resorts to small hostels and boutique accommodations.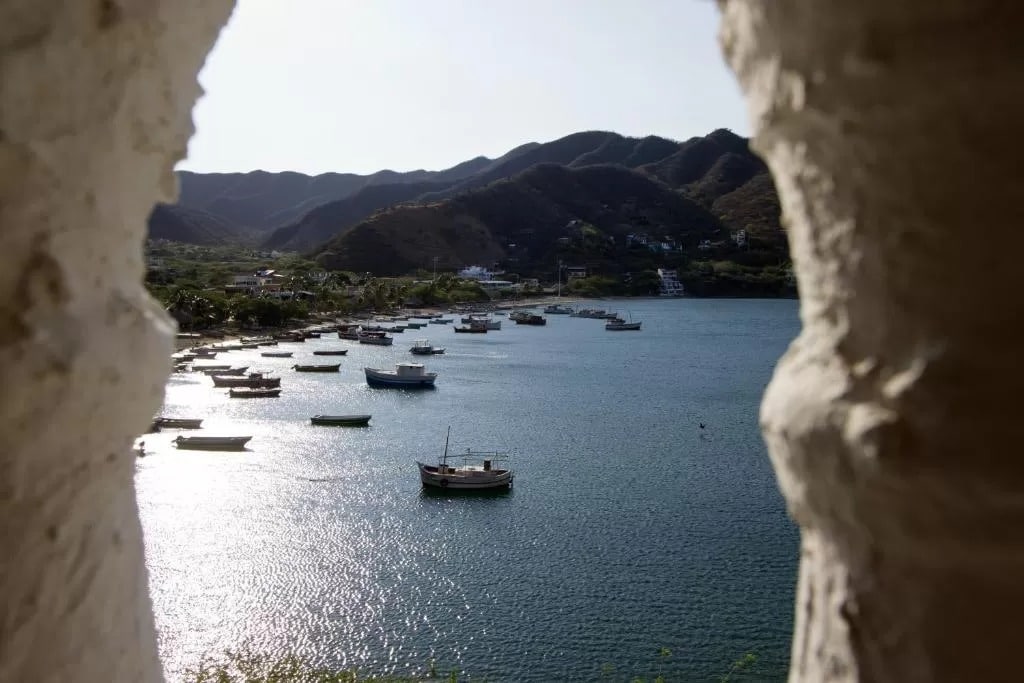 Why is this a recommended area to stay in Santa Marta, Colombia:
Quiet area
Beaches
Bohemian atmosphere
---
5. Bello Horizonte
Bello Horizonte is located south of El Rodadero, about 12 kilometers south of the Historic Center of Santa Marta.
It is located on the coast, and it's popular for its tourist and condo developments.
Bello Horizonte has a more relaxed atmosphere than El Rodadero.
The beach in Bello Horizonte is less crowded and wider than El Rodadero.
Irotama Beach is highly recommended for families since it has a boat-free section.
Bello Horizonte offers a, less touristy and more local experience.
In the morning, you can see local fishermen gathering their nets on the beach.
Bello Horizonte is also a safe area to stay in Santa Marta.
---
Read this in other languages