Where to stay in Santa Barbara – A guide to the "American Riviera"
Santa Barbara is an oceanfront city located on the Central California coast. Situated between the beautiful Santa Ynez Mountains and the Pacific Ocean, Santa Barbara is one of the top tourist destinations in the state. This city is famous for its historical Spanish colonial and revival architecture, its wine scene, and its wide, sandy beaches. In this post, we will uncover the best areas to stay in Santa Barbara, California.
Santa Barbara was founded by Spaniards in 1786, and many of its buildings reflect its deeply-rooted Mediterranean character. Santa Barbara's main Spanish and Mexican-era landmarks include the Old Mission, El Presidio de Santa Bárbara, and several adobe red-tile roofed mansions such as the Canedo, Lugo, and Orena adobes. In the early 20th century, several other Spanish-colonial-style houses and public buildings were erected all over the city. See accommodation in the Historic District of Santa Barbara.
Many of the main cultural sights, museums, and galleries in Santa Barbara are hosted in Mediterranean-style mansions and haciendas. The main ones worth checking out are the Santa Barbara Museum Of Art, Santa Barbara Museum of Natural History, The Wolf Museum of Exploration & Innovation, the Santa Barbara Historical Museum, and La Casa del Herrero.
Santa Barbara is also a great place to visit for lovers of the outdoors. With a dramatic position along the rugged Pacific Coast and with the Santa Ynez Mountains as a backdrop, Santa Barbara offers countless hiking opportunities in its gorgeous parks and natural spaces. The top natural sights in Santa Barbara include Shoreline Park, Arroyo Burro Beach County Park, Chumash Painted Cave State Historic Park, and Seven Falls Park. Beachgoers and surfers will also enjoy the amazing wild beaches around town like Leadbetter Beach, Butterfly Beach, Goleta Beach Park, and more off-the-beaten-path Summerland Beach.
For the best dining and shopping look no further than centrally-located State Street or harborside Stearns Wharf. Additionally, if you're traveling with kids, make sure to check out the city's Zoo, the Botanic Gardens, and Lotusland.
Not unlike other Californian coastal towns, Santa Barbara has a warm-summer Mediterranean climate. The ocean breeze moderates the temperatures year-round. Summers are typically long and warm, with high temperatures hovering around 76ºF (24ºC). Meanwhile, winter temperatures rarely drop below 47ºF (8ºC). Because temperatures are pleasant year-round, you can choose to travel during any season. That said, the best time to visit Santa Barbara is from late spring to early autumn (April-Nov), especially if you're planning to visit the beaches, surf, or hike its many parks.
In order to reach Santa Barbara by air, Santa Barbara Municipal Airport is located 7 miles (11 km) west of the downtown area. This small airport offers daily flights in the West and Southwest USA and a few other domestic destinations. Much, much busier and 100 mi (160km) away lies LAX International airport, with non-stop services to basically everywhere in the world. Santa Barbara is also connected by train services on the Coast Starlight and the Pacific Surfliner lines to Los Angeles, San Diego, San Francisco, and Seattle. See train timetables and fares. Frequent buses also link Santa Barbara and most cities in towns in California and beyond. See bus timetables and fares.
Once in the city, the best way to move around is by car. You can rent a cheap car in Santa Barbara here. That said, Santa Barbara offers a public transportation system consisting of buses. Taxis and mobile apps like Lyft and Uber are also widely available.
The Downtown District offers the perfect mix of historical landmarks, shopping, dining, and entertainment when it comes to the best areas to stay in Santa Barbara. See accommodation in Downtown Santa Barbara. Other great areas include The Funk Zone and around the Beaches of Santa Barbara.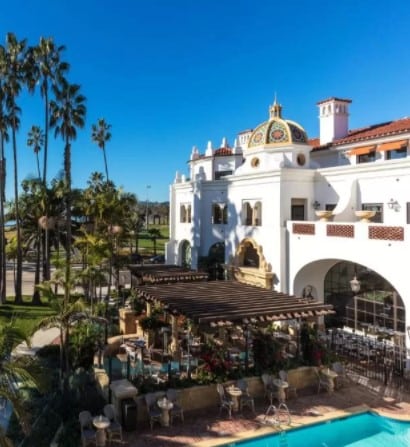 Keep reading to find out more about our selection of the best location to stay in Santa Barbara, California.
The best areas to stay in Santa Barbara, California
1. Our favorite area: Downtown
Downtown Santa Barbara is mainly a residential area, surrounded by the Laguna, Oak Park, Lower State, and Westside districts.
In Downtown, you will find boutiques and renowned stores to go to shopping, as well as restaurants and cafes, where you can learn about the culture of those who live in Santa Barbara.
Walking through this area, you can appreciate the Spanish-style architecture that predominates in Santa Barbara, with buildings such as the Teatro de Granada, as well as museums, luxurious spas, and the observatory of the city, at the top of the Palace of Justice.
However, if you want to transport to other areas of Santa Barbara, you can do it through the bus lines at State St and Chapala St.
Downtown Santa Barbara is the best area to stay in Santa Barbara for sightseeing, to enjoy the nightlife and bustle of the city.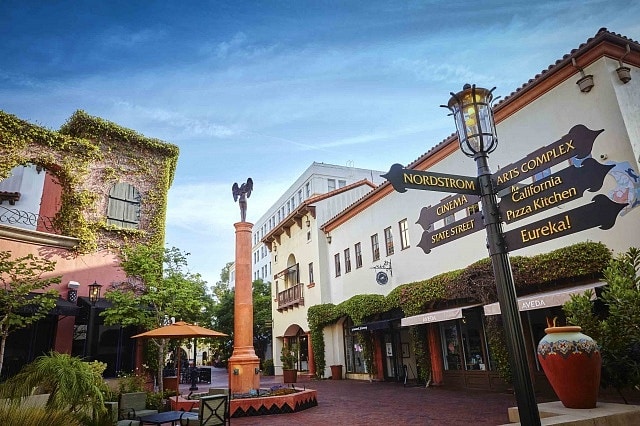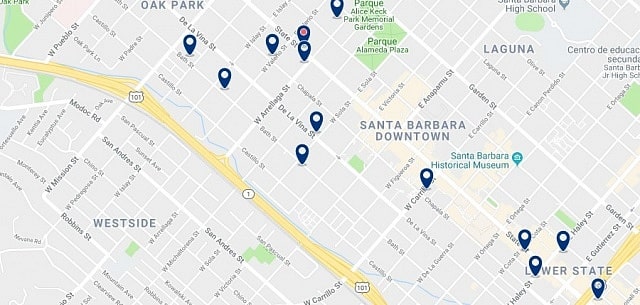 Why is this a recommended area to stay in Santa Barbara:
Heart of the city
Connected by public transport
Best area for nightlife
Best area to stay without a car
---
2. Santa Barbara Beach
Santa Barbara Beach is the favorite place for those tourists who wish to enjoy the sun and go surfing in California.
Rowing, surfing, playing volleyball in the sand, and visiting the museums are activities that can be done in Santa Bárbara Beach, as well as enjoying your stay in the best ocean view hotels.
This area is defined by West Beach, Cabrillo Beach, Incon Beach, and Thousand Steps Beach.
Similarly, at Carpintería Beach, you can see whales and sea lions, while Leadbetter Beach is ideal for water sports.
The transfer between the beaches is possible on foot, renting a bike, or through the buses on W Cabrillo Blvd.
---
3. The Funk Zone
This 12-block area, located between the Pacific Ocean and Highway 101, houses restaurants, wine tasting rooms, craft breweries and art galleries.
Those staying at The Funk Zone can visit the Urban Wine Trail, a self-guided route with more than 20 wine tasting rooms in Santa Barbara County.
By going through this area, you will be able to appreciate the picturesque murals in the buildings and warehouses, as well as enjoying a vibrant nightlife in its nightclubs and bars.
In The Funk Zone, you will find bus stations, bicycle rental services and car rental agencies, ideal for travelers who want to travel the city more comfortably.
The Funk Zone is among the best areas to stay in Santa Barbara for leisure, nightlife and for anyone who wants to spend time tasting local seafood or shopping.
---
Read this in other languages