Where to stay in Santa Barbara – A guide to the "American Riviera"
Santa Barbara, known as the American Riviera, is a city located in southern California, next to the Pacific Ocean.
Santa Barbara has several qualities that make it a charming city, including its Spanish-style architecture, as well as its beautiful beaches, for those who seek to catch some waves.
Among its attractions, the Stearns Wharf is a highlight, thanks to its wine tastings, gourmet restaurants, fashion stores and a variety of boutiques. Santa Barbara is a city that satisfies all tastes since it has national parks, luxury hotels with stunning views, shops and a dynamic gastronomic scene.
Santa Barbara can be visited throughout the entire year because of its pleasant climate. However, to enjoy the waves on many of its beaches, the perfect months are July and August.
One of the best areas to stay in Santa Barbara is its Downtown, for its connection to other neighborhoods of the city and variety of tourist attractions. See accommodation in Downtown Santa Barbara.
Here's a guide with the best areas to stay in Santa Barbara.
The best areas to stay in Santa Barbara, California
1. Our favorite area: Downtown
Downtown Santa Barbara is mainly a residential area, surrounded by the Laguna, Oak Park, Lower State, and Westside districts.
In Downtown, you will find boutiques and renowned stores to go to shopping, as well as restaurants and cafes, where you can learn about the culture of those who live in Santa Barbara.
Walking through this area, you can appreciate the Spanish-style architecture that predominates in Santa Barbara, with buildings such as the Teatro de Granada, as well as museums, luxurious spas, and the observatory of the city, at the top of the Palace of Justice.
However, if you want to transport to other areas of Santa Barbara, you can do it through the bus lines at State St and Chapala St.
Downtown Santa Barbara is the best area to stay in Santa Barbara for sightseeing, to enjoy the nightlife and bustle of the city.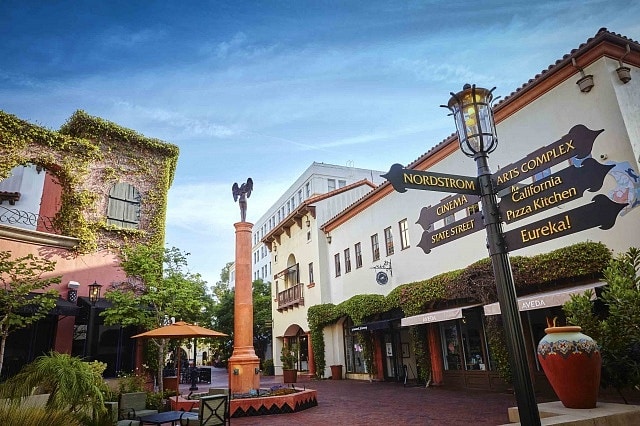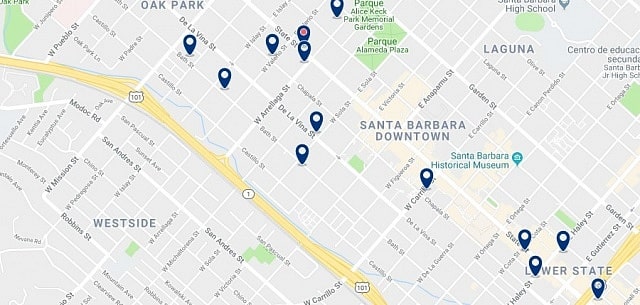 Why is this a recommended area to stay in Santa Barbara:
Heart of the city
Connected by public transport
Best area for nightlife
Best area to stay without a car
---
2. Santa Barbara Beach
Santa Barbara Beach is the favorite place for those tourists who wish to enjoy the sun and go surfing in California.
Rowing, surfing, playing volleyball in the sand, and visiting the museums are activities that can be done in Santa Bárbara Beach, as well as enjoying your stay in the best ocean view hotels.
This area is defined by West Beach, Cabrillo Beach, Incon Beach, and Thousand Steps Beach.
Similarly, at Carpintería Beach, you can see whales and sea lions, while Leadbetter Beach is ideal for water sports.
The transfer between the beaches is possible on foot, renting a bike, or through the buses on W Cabrillo Blvd.
---
3. The Funk Zone
This 12-block area, located between the Pacific Ocean and Highway 101, houses restaurants, wine tasting rooms, craft breweries and art galleries.
Those staying at The Funk Zone can visit the Urban Wine Trail, a self-guided route with more than 20 wine tasting rooms in Santa Barbara County.
By going through this area, you will be able to appreciate the picturesque murals in the buildings and warehouses, as well as enjoying a vibrant nightlife in its nightclubs and bars.
In The Funk Zone, you will find bus stations, bicycle rental services and car rental agencies, ideal for travelers who want to travel the city more comfortably.
The Funk Zone is among the best areas to stay in Santa Barbara for leisure, nightlife and for anyone who wants to spend time tasting local seafood or shopping.
---
Read this in other languages