Where to Stay in Santa Fe – A Guide to the Capital of New Mexico
The city of Santa Fe is located in the state of New Mexico, sixty miles north of Albuquerque, and it's a popular destination in the southwestern United States. It is famous for its important role as the capital of Nuevo Méjico during Spanish rule, its Native American influence, its unique architecture and diverse cuisine, and its laid back, new agey and artistic character. In this post, we will explore the best areas to stay in Santa Fe.
When you look at Santa Fe's top attractions, you can clearly see the eclectic mix of cultures that make this city unique in the United States. The NM capital is home to great sights such as the Georgia O'Keeffe Museum, Loretto Chapel, the Palace of the Governors, the Cathedral Basilica of St. Francis of Assisi, the New Mexico Museum of Art, and the San Miguel Chapel.
Additionally, the area around Santa Fe offers impressive natural landscapes and wilderness opportunities. Incredible green (plus all shades of red, brown and yellow) areas such as the Atalaya Mountain Hiking Trail, Sangre de Cristo Mountains, Valles Caldera National Preserve, Pecos National Historical Park, or Hyde Memorial State Park offer some of the best escapes in New Mexico.
When it comes to climate, Santa Fe has an arid subtropical highland climate, with cold, dry winters (low temperatures can reach 18ºF / -8ºC), very warm summers (high temperatures around 86ºF/30ºC), and relatively low rainfall. This means that the best time to visit Santa Fe goes roughly from May to October.
Santa Fe has a small, regional airport with daily flights to Denver, Dallas, and Phoenix. However, most people arriving in the NM capital by air fly through Sunport International Airport in Albuquerque, located 62 miles (100 kilometers) away by car.
When it comes to public transportation, Santa Fe offers a bus system connecting most districts of the city and some suburban areas. Traditional taxis, as well as mobile apps such as Uber or Lyft, are also widely available. That said, the best way to explore Santa Fe and the natural areas around it is by car. You can rent a cheap car in Santa Fe here.
As far as gastronomy is concerned, Santa Fe has undeniable Mexican influence, with dishes such as the famous enchiladas, tamales, totopos, posole, and guacamole, to name just a few.
Downtown stands out among the best areas to stay in Santa Fe, New Mexico, as it is home to most of the city's top attractions. See accommodation in Downtown Santa Fe.
Here's a guide with the best areas to stay in Santa Fe, New Mexico.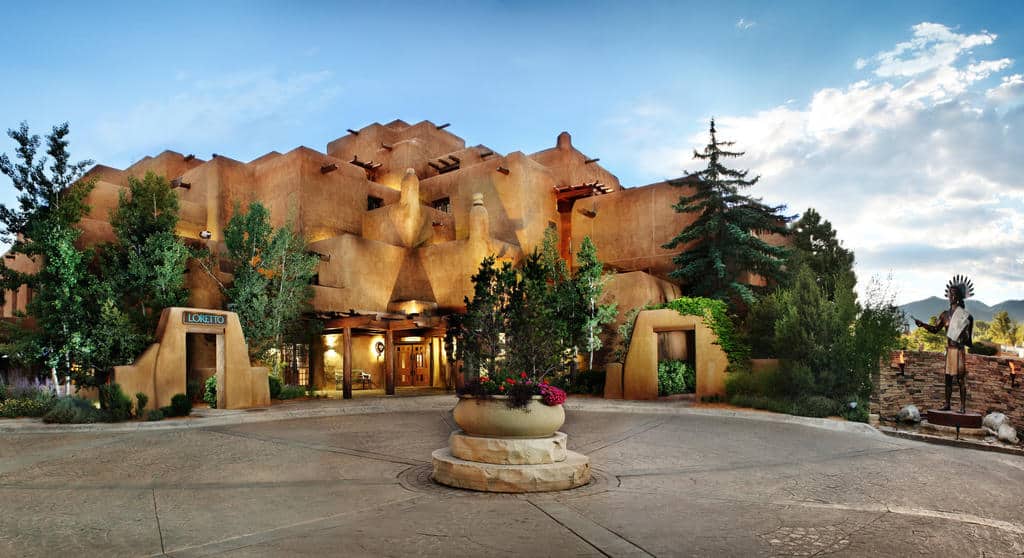 Inn & Spa at Loretto

At the end of the historic Santa Fe Trail amid the enchanted vistas of the Sangre de Cristo Mountains rests the Inn and Spa at Loretto–a modern Santa Fe lodging infused with the art and soul of the Southwest. Located in the heart of Santa Fe, the Inn and Spa at Loretto is only a short stroll to the city's famed attractions.
The Best Areas to Stay in Santa Fe, New Mexico
1. Recommended area: Downtown Santa Fe
Downtown Santa Fe is a historic district, home to the most representative buildings of this charming American city.
In the Downtown district of Santa Fe, you can find beautiful old houses and several historic buildings in traditional Pueblo-style, some of which are currently occupied by restaurants, boutiques, and souvenir shops.
Downtown is also the main commercial heart of the city, a walkable area between picturesque streets and charming boutiques, restaurants, bookstores, and art galleries.
This area is relatively small, which means you can walk anywhere at any time and it is also one of the best areas to stay in Santa Fe for nightlife.
Downtown offers convenient hotels for all budgets. In addition, it brings together the sites of cultural interest and leisure of the city, so it is ideal regardless of the reason for the trip.
---
2. Near the University of Art and Design Santa Fe
The University of Art and Design Santa Fe is located close to Downtown Santa Fe.
The surroundings of this area are characterized by a complex of buildings where art and design can be appreciated in its different manifestations.
The area of the University of Art and Design is complete with supermarkets, fast food, restaurants, banks, and public transport stops.
In the vicinity of the University of Art and Design, there is a large number of bookstores, museums, art galleries, cafes, and restaurants with a quiet atmosphere.
The area of the University of Art and Design is considered one of the best areas to stay in Santa Fe because of its affordable hotels and hostels that promise a good stay in its comfortable facilities.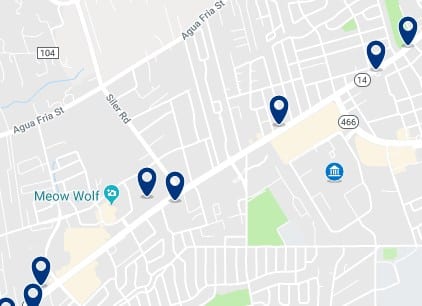 Why is this a recommended area to stay:
Cheap accommodation in Santa Fe
Museums and galleries
Peaceful area
---
3. Southeast Santa Fe (near the Museum of International Folk Art)
Southeast Santa Fe is a very charming district.
Among the iconic attractions of the area, the Museum of International Folk Art stands out. It houses the largest collection of folk art in the world.
Southeast Santa Fe has a unique sophistication that translates into historic hotels that combine a retro charm and modern services.
Southeast Santa Fe has good public transport connections, so moving to other areas of the city is not a problem.
This is also one of the best areas to stay in Santa Fe for its fast food places, coffee shops, and hotels of different categories.
---
4.Southwest Santa Fe (Near Santa Fe Place Mall)
Southwest Santa Fe is the largest district of the city and is still in full development.
This area has all kinds of green areas, from rose gardens to historical and sports parks, ideal for the best recreational and leisure activities.
The Southwest Santa Fe area became a unique combination of commercial development and adobe houses, as well as a well-established family community.
Southwest Santa Fe is also home to the Santa Fe Plaza Mall, the largest shopping center in northern New Mexico, with many stores.
Although Southwest is, mostly, a residential area, it is considered among the best areas to stay in Santa Fe for shopping.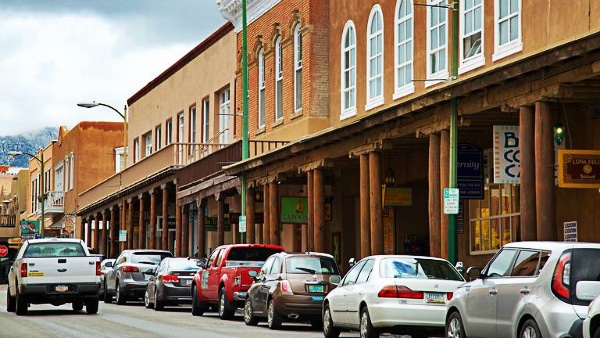 Why is this a recommended area to stay:
Santa Fe Plaza Mall
Great variety of hotels
Parks and green areas
---
Read this in other languages