Where to Stay in Tucson – A Guide to the "Old Pueblo"
Tucson (also called "the Old Pueblo") is a city located in Pima County, Arizona, home to the great University of Arizona and one of the most populous cities in the southern part of the state. In this post, we will discover the best areas to stay in Tucson.
Tucson, in addition to its many city parks, offers festivals such as the Tucson Gem and Mineral Show, an impressive zoo, and The Loop, a 131-mile network of shared-use paths for hiking, biking, and horseback riding that offers some of the greatest views of the city.
This Arizona city has warm weather, with sunny days and open skies ideal for recreation. The best time to visit Tucson is from May to September when the weather is perfect for outdoor activities.
When it comes to food, Tucson was named one of the best gastronomic destinations by UNESCO, thanks to its high-end, Mexican influenced cuisine.
Tucson is home to the Arizona International Airport, located to the south, a few miles from the city center. It offers domestic connections to major US cities and some international destinations.
Tucson has a comprehensive public transport network consisting of a light rail line; the Sun Link Streetcar route that links the University of Arizona campus with the downtown area, and several bus lines. That said, in order to enjoy the city to the fullest and explore the natural reserves and parks around it, it is advisable to rent a car. You can rent a cheap car in Tucson here.
As for the best areas to stay in Tucson, Downtown, with its central location, for business and shopping districts and historic sites is definitely the best option. See accommodation in Downtown Tucson.
Here's a guide with the best areas to stay in Tucson, Arizona.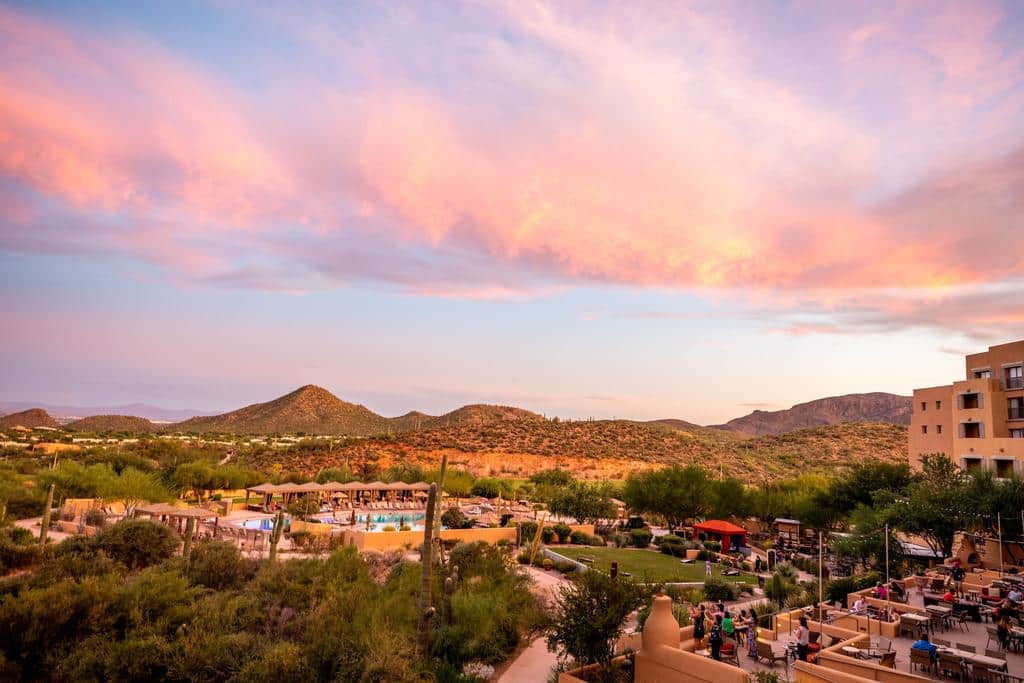 ---
Best Location in Tucson, Arizona: A Quick Guide
Below, you'll find a list of the best areas to stay in Tucson depending on your travel style. Keep reading this post to find all the information you need about each particular neighborhood.
---
Best Hotels in Tucson, AZ by Theme
Something specific in mind? Here's a list of some of the top hotels in Tucson. No matter your reason for visiting the city, we got you covered!
---
Airbnbs & Tourist Apartments in Tucson
If you're looking for independence during your trip to Tucson, or maybe just need to feel at home when you travel, then you may want to consider booking an Airbnb, a private room in someone's home, or a whole apartment. The world is your oyster.
---
The Best Areas to Stay in Tucson, Arizona
1. Our favorite area: Downtown Tucson
Downtown Tucson is recommended for travelers who want to get to know the history and culture of Arizona.
In the Downtown area, you can find the Tucson Music Hall and the Leo Rich Theater, as well as the Houston Convention Center, where concerts, meetings, and special events take place.
Downtown is the ideal district for visiting the main attractions and points of interest for tourists.
Due to its location, Downtown also offers a variety of shops, restaurants, bars and nightclubs.
For art lovers, here you can find the Museum of Contemporary Art.
From Downtown Tucson, you can access other districts of the city via the Sun Link Streetcar and several bus lines.
Downtown Tucson is also one of the best areas to stay for business travelers since it includes several business hotels and cheerful nightlife in bars and restaurants.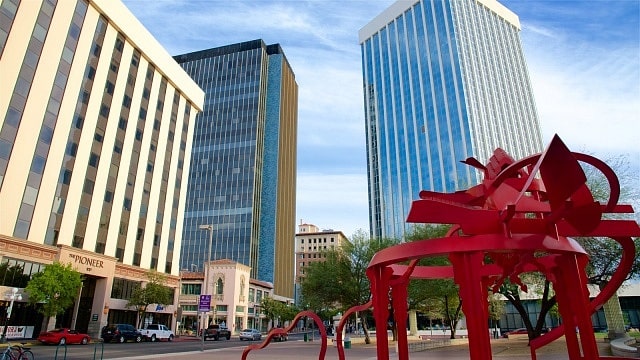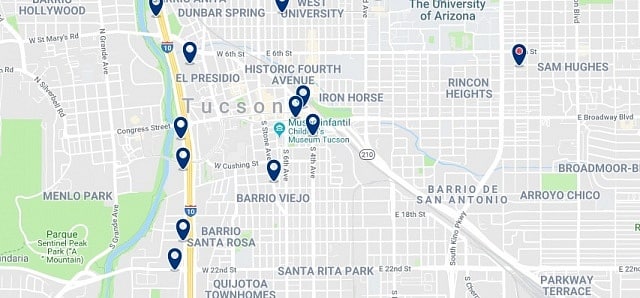 Why we love this area:
Best area for tourists
Great for business travelers
Best area to stay without a car
Tourist attractions
Good nightlife
Good transport connections
---
2. Close to the University of Arizona
Close to the University of Arizona, you'll find a youthful atmosphere, full of college students and young entrepreneurs, several museums dedicated to art, history and science.
Close to the University of Arizona lies the bustling Main Gate Square, with its shops, food venues, restaurants, bars, and breweries.
Main Gate Square, in addition to being an entertainment center in Tucson, offers streetcar connections to move to other areas of the city, as well as several bus lines.
Other attractive highlights in the area surrounding the UoA are the Steward Observatory, a center for astronomical studies, and the Mineral Museum of the UoA.
The area that includes the University of Arizona is highly recommended when deciding where to stay in Tucson for being one of the busiest areas of the city, for its wide variety of shops and its vibrant community.
---
3. North Tucson & Catalina
The north area of Tucson includes the districts of Catalina Foothills, Oro Valley, Tortolita, and Casa Adobe. It is located a few minutes from the city center.
This area offers a landscape full of mountains, breathtaking views, galleries, spectacular golf courses, restaurants and brand shops.
Popular attractions for those staying in North Tucson are the Sanino, Bear and Pima canyons.
This area is also home to La Encantada, Tucson's largest plush shopping center, where trendy stores and exclusive designer firms are located.
History lovers can visit the DeGrazia Gallery in the Sun, set in a series of buildings along the desert.
To travel from the north of Tucson to other areas of the city and downtown, several bus lines are available.
The Catalina Foothills district includes luxury accommodations for demanding travelers, and its location away from the hustle and bustle of the city makes it one of the best areas to stay in Tucson.
---
4. Around Tucson International Airport
The Tucson International Airport area, thanks to its relatively central location and connection to other districts via public transport, is also a recommended area to stay in Tucson.
To get to other areas of Tucson from the airport, public transportation is not a problem, as it has several bus stops along the S Park Ave, as well as taxi lines.
This area is perfect for travelers with a long layover in TUS, or those who need to catch an early flight.
Accommodation in this area tends to be cheap and cheerful, with several budget airport motels and 2-star hotels, so it is perfect for those traveling on a budget.
---
Read this in other languages