Where to Stay in Tucson – A Guide to "The Old Pueblo"
Tucson is the second-most populated city in Arizona. Located in the southeast of the state, in the Sonoran Desert, and nicknamed "The Old Pueblo," Tucson is famous for its constantly sunny weather, unique desert landscape, Mexican vernacular architecture, and for being the main financial, commercial, and tourist hub in southern Arizona. In this post, we will discover the best areas to stay in Tucson, AZ.
The main tourist attractions in central Tucson include the Tucson Museum Of Art, Presidio San Agustín del Tucsón Museum, and the Southern Arizona Transportation Museum. See accommodation in Downtown Tucson.
Not far, the University of Arizona campus and its neighboring districts also offer an impressive amount of cultural attractions and museums such as the University of Arizona Museum of Art, the Arizona State Museum, the Center for Creative Photography, the Arizona History Museum, the Flandrau Science Center and Planetarium, and the Hall of Champions. See accommodation around the University of Arizona.
Other unmissable tourist attractions in Tucson include Mission San Xavier del Bac, the Pima Air & Space Museum, Tucson Botanical Gardens, Tohono Chul, Reid Park Zoo, and the Arizona-Sonora Desert Museum.
Tucson is also one of the main gateways to explore the amazing landscapes of the Sonoran Desert. Some of the best natural spaces, parks, and preserves in and around Tucson include Saguaro National Park, Catalina State Park, Sabino Canyon Recreation Area, Mount Lemmon, and Mica Mountain.
Due to its location in the middle of the Sonoran desert, Tucson has a hot desert climate. This means mild winters, extremely hot summers, and very little rainfall throughout the year. The average temperatures in July and August usually hover between 84 and 106 º F (27 – 41 ºC). Meanwhile, January is the coolest month, with temperatures typically ranging from 46 to 67 ºF (8 – 20 ºC). The best time of the year to visit Tucson goes from late fall to early spring (roughly November through April). During these months, temperatures are pleasant enough to enjoy outdoor activities and sightseeing without enduring the summertime's scorching heat.
To travel to Tucson by air, the city is served by the Tucson International Airport. Located 8 miles south of downtown Tucson, this important airport, the second-busiest in Arizona after Phoenix's, offers hundreds of non-stop connections across the United States.
Tucson is also connected by train. Tucson Amtrak station, located downtown, is served the Sunset Limited service, connecting Tucson west to Los Angeles (via Maricopa and Palm Springs) and east to New Orleans (via El Paso, San Antonio, and Houston). Additionally, the Texas Eagle Service also stops at Tucson on its route between LA and Chicago. Check train routes, schedules & fares.
Greyhound and other bus companies also connect Tucson to other cities in the South and West USA, including Phoenix, El Paso, San Diego, and Los Angeles. Check Greyhound routes, schedules & fares.
To move within the city, Tucson offers a comprehensive public transport network consisting of a light rail system, called the Sun Link Streetcar, linking the University of Arizona campus with the downtown area, several bus lines, taxis, and mobile apps like Uber and Lyft. That said, to enjoy the city to the fullest and explore the natural reserves and parks around it, it might be advisable to rent a car for your trip. You can rent a cheap car in Tucson here.
The best area to stay in Tucson is Downtown. This centrally located district is home to the city's main shopping streets, historic sites, nightlife venues, and restaurants. Downtown Tucson is also where the best hotels in town are located. See accommodation in Downtown Tucson.
On the other hand, if you're visiting Tucson for a relaxing or romantic getaway in the sun and plan to spend your vacation sipping cocktails by a pool, then Catalina and its world-class resorts are for you.
Other great districts to keep in mind when choosing the best location in Tucson include the area around the University of Arizona and Tucson International Airport.
Keep reading to find out more about the best areas to stay in Tucson, Arizona.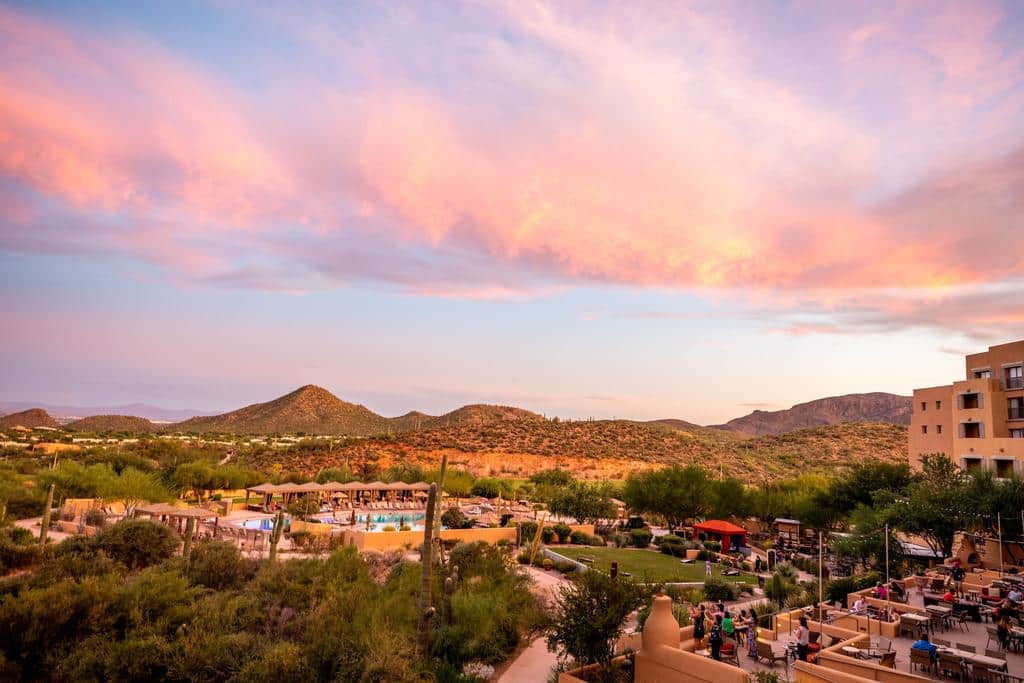 ---
Best Location in Tucson, Arizona: A Quick Guide
Below, you'll find a list of the best areas to stay in Tucson depending on your travel style. Keep reading this post to find all the information you need about each particular neighborhood.
---
Best Hotels in Tucson, AZ by Theme
Something specific in mind? Here's a list of some of the top hotels in Tucson. No matter your reason for visiting the city, we got you covered!
---
The Best Areas to Stay in Tucson, Arizona
1. Recommended area: Downtown Tucson
Downtown Tucson has the most varied offer of accommodation in town. This central district offers everything from historic properties like the Historic Hotel Congress to mid-range hotels like the AC Hotel Tucson Downtown or Doubletree By Hilton Tucson Downtown Convention Center.
Downtown Tucson is a vibrant business and entertainment district.
This expansive section of town is made up of six smaller neighborhoods (Presidio, Main Gate, Congress Street, Fourth Avenue, Sentinel, and Convention); each one with its own distinct atmosphere.
El Presidio District is the historic heart of Tucson, this is the area where the city was established in 1775 by the Spaniards as El Presidio San Agustín del Tucsón. This historic neighborhood is home to several attractions like the Tucson Museum Of Art, J Knox Corbett House, and, of course, the Presidio San Agustín del Tucsón Museum. Presidio is also home to the Old Town Artisans, a collection of 19th-century adobe buildings with shops and galleries.
The Congress Street area is one of the main business and shopping areas in Downtown Tucson. This lively neighborhood is home to Tucson Amtrak Station, the Rialto Theatre, and several local shops, cafés, and bars.
The Historic Fourth Avenue district is Tucson's quintessential hipster area. This historical strip is packed with local designer boutiques, quirky cafés, art galleries, Mexican restaurants, and artisanal breweries.
The Convention district is centered around Tucson Convention Center. This huge venue, one of the most important in Arizona, hosts regional and national events, trade shows, concerts, and theater productions.
The four-mile Sun Link Tucson Streetcar connects Downtown Tucson to the University area. Additionally, there are dozens of bus stops available to reach other districts.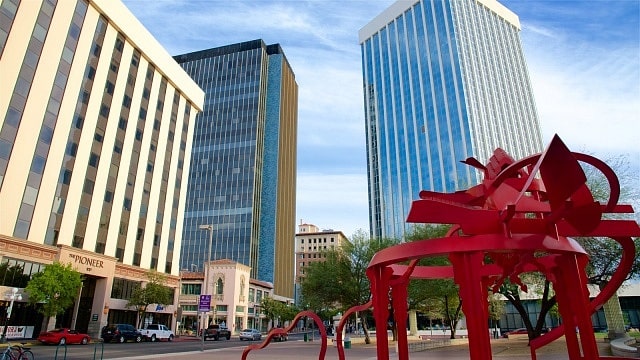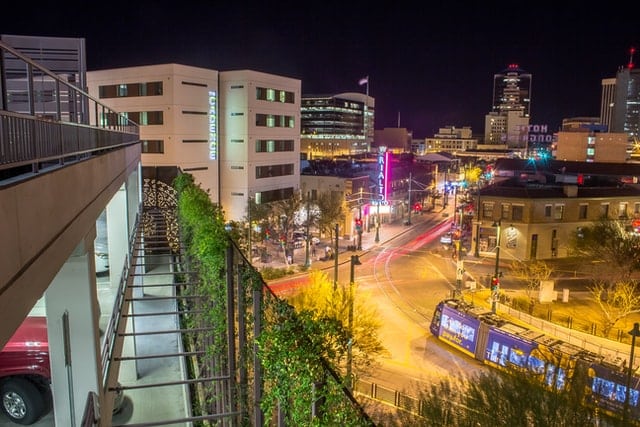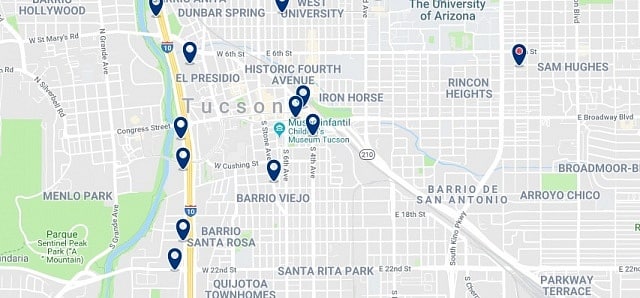 Where to stay in Downtown Tucson:
Why is this a recommended area to stay in Tucson, AZ:
Best area for tourists
Great for business travelers
Best area to stay without a car
Tourist attractions
Good nightlife
Good transport connections
---
2. Main Gate & around the University of Arizona
A place for the young (or the young at heart), the districts around the University of Arizona provide a wide range of accommodation options ranging from the chic-yet-budget University Inn to historical casas like the Sam Hughes Inn B&B, as well as the uber-hip Graduate Tucson.
The University of Arizona and the neighborhoods around it are home to a youthful student population, cheap eateries, buzzing nightlife and live-music venues, and some of the best attractions in Tucson.
If you're into art, history, shopping, Mexican cuisine, sports, and/or dancing the night away, then around the University of Arizona is the best area to stay in Tucson for you.
Culturally speaking, the UofA's main campus, located less than two miles away from Downtown Tucson, has the highest concentration of museums per square mile in Arizona. Here, you'll find landmarks like the Arizona State Museum and its wide collection showcasing Southwestern and Sonoran culture; The University of Arizona Museum of Art displays art from the Renaissance to the 20th century; the Center for Creative Photography, The University of Arizona Mineral Museum, and the Flandrau Science Center and Planetarium.
Sports lovers can check out the Hall of Champions, highlighting the best Arizona athletic accomplishments. The University Football Stadium, McKale Center, and Cole and Jeannie Davis Sports Center are all located nearby.
The lively West University area is a lively college district centered around 4th Avenue, a continuation of the Fourth Avenue Historic District, this lovely neighborhood is a busy commercial, shopping, and nightlife area home to delicious Sonoran-style Mexican food, bars, clubs, and coffee shops.
For shopping, West University offers hipster-friendly record and book shops, local designer boutiques, and thrift stores. Not far, Main Gate Square shopping mall offers retailers, a food court, and a young and diverse crowd.
The districts to the north and east of the UofA tend to be more suburban and quiet, but still great areas to stay in Tucson.
Additionally, the University area is very well-connected to Downtown Tucson via the city's light rail system. Being a less crowded alternative to the City Center, the districts around UofA also have more parking spaces available if you're traveling by car.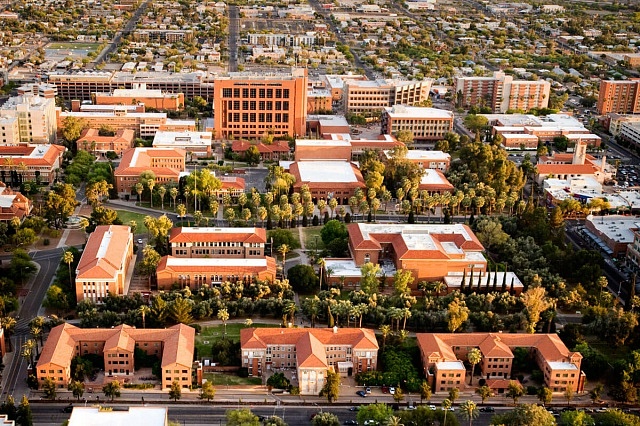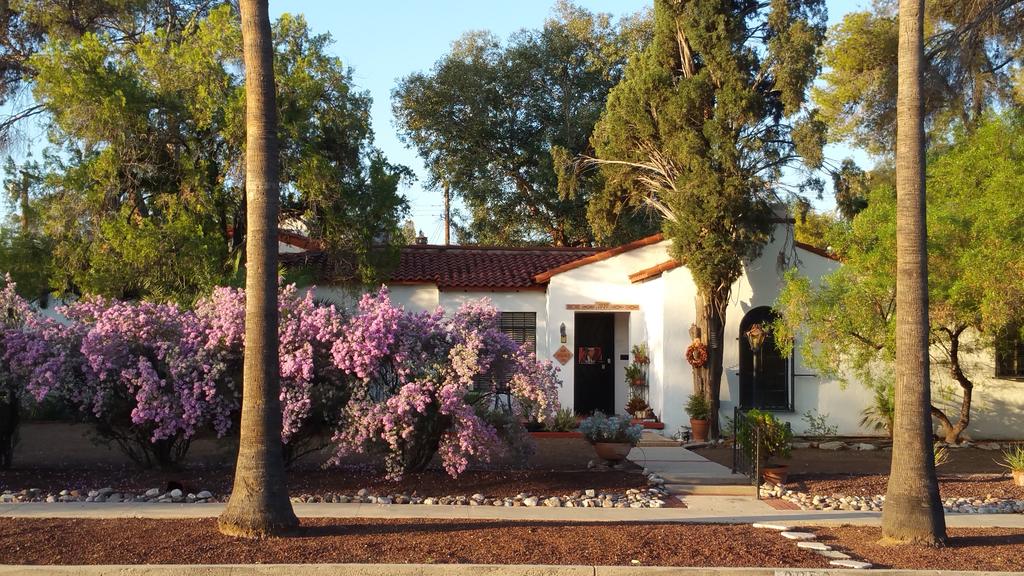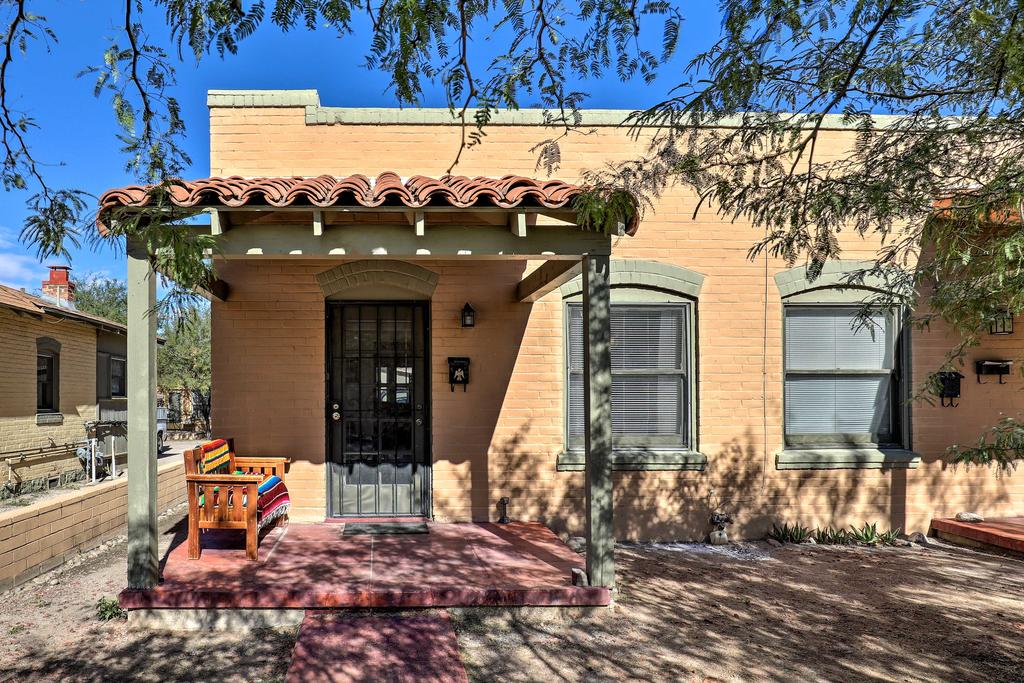 Why we love this area:
Best area for young travelers
Museums
Hipster area
Great transport connections
University of Arizona
Great nightlife
---
3. North Tucson & Catalina
The Catalina Foothills is synonymous with luxury resorts and plush accommodation. Some of the best-rated properties here include La Posada Lodge & Casitas, The Westin La Paloma Resort & Spa, and Loews Ventana Canyon Resort.
The north area of Tucson includes the districts of Catalina Foothills, Oro Valley, Tortolita, and Casa Adobe.
This area is located a few minutes from the city center by car.
The main attraction of North Tucson is its desert landscape full of mountains, local flora and breathtaking views.
North Tucson & Catalina also offer art galleries, spectacular golf courses, restaurants, and brand shops.
Popular attractions for those staying in North Tucson are the Sanino, Bear and Pima canyons.
This area is also home to La Encantada, Tucson's largest upscale shopping center, where you can find trendy stores and exclusive designer boutiques.
Art lovers can visit the DeGrazia Gallery in the Sun, set in a series of buildings along the desert.
To travel by public transport from the north of Tucson to other areas of the city and downtown, several bus lines are available. That said, moving by car is probably your best option.
The Catalina Foothills district includes luxury accommodations, boutique hotels, and upscale resorts. This is the best area to stay in Tucson for a romantic getaway.
---
4. Around Tucson International Airport
Tucson International Airport is located in South Tucson, 8 miles from the downtown area.
This area is perfect for travelers with a long layover in TUS, or those who need to catch an early flight.
Accommodation in this area tends to be cheap and cheerful, with several budget airport motels and 2-star hotels, so it is perfect for those traveling on a budget.
To get to other areas of Tucson from the airport, public transportation is not a problem, as it has several bus stops along the S Park Ave, as well as taxi lines.
---
Read this in other languages
|ES| Dónde alojarse en Tucson, Arizona.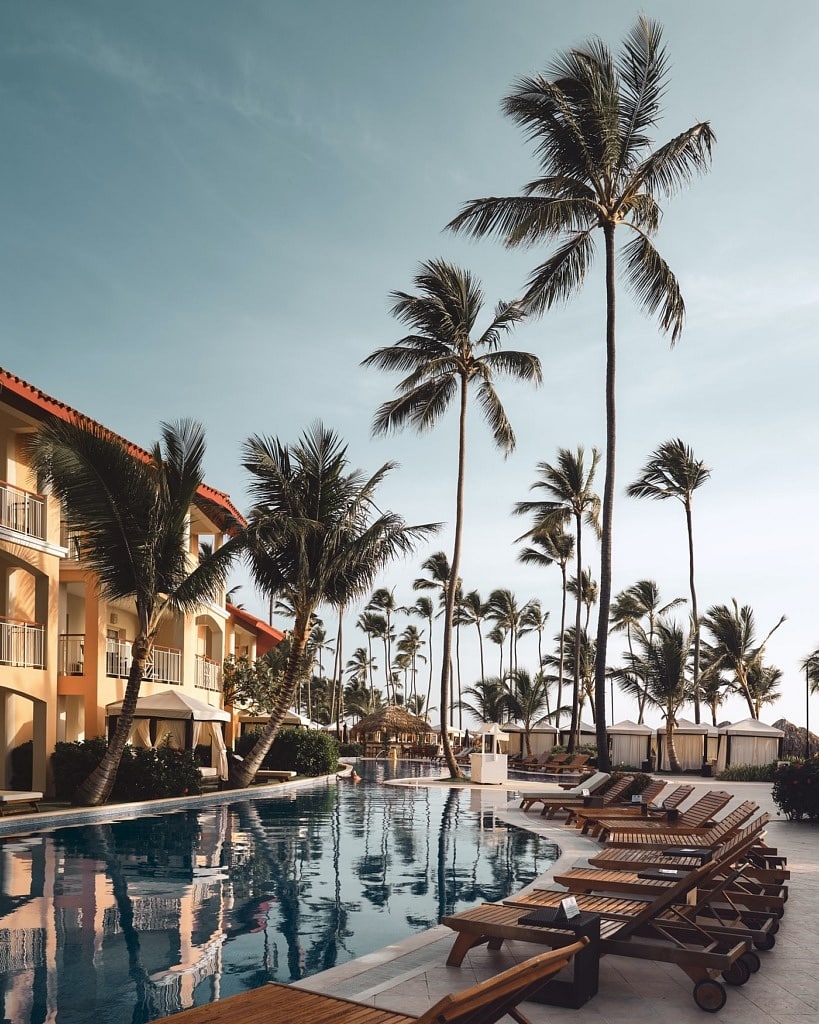 Where to stay in other cities