Where to Stay in Whitehorse – A Guide to the Most Remote City on the Planet
Whitehorse is one of the most remote regions on earth and is located in northern Canada, in Yukon, a sparsely populated subarctic area.
The city owes its name to the resemblance it had to the mane of a white horse before the river was dammed.

The best time to travel to Whitehorse is from the end of June to the beginning of August when the days have up to 19 hours of light and the weather is especially pleasant.It is the largest city in northern Canada and the least polluted in the world, with beautiful natural landscapes that are postcard-worthy.
In Whitehorse, you can observe the magic of the northern lights, ski, snowboard at Mount Sima or visit Whitehorse City Centre and its shops.
In the cultural sphere, Whitehorse has museums such as the McBride Museum, dedicated to the history of Yukon, or the North End Gallery.
Whitehorse Erik Nielsen International Airport, located west of the City Centre, is Whitehorse's main air terminal.
Generally, to move around the city, you can take a bus, taxi or car, although it is also possible to get around by motorcycle, truck or motor home, a great way to get to know Canada.
The City Centre is among the best areas to stay in Whitehorse for its beautiful views, upscale restaurants and hotels of all kinds. (See accommodation in Whitehorse City Centre).
Here's a guide with the best areas to stay in Whitehorse, Canada.
The Best Areas to Stay in Whitehorse, Canada
1. Our Favorite Area:  Whitehorse City Centre
Whitehorse City Centre is a very scenic area where you can take walks along the river and, in addition, get unrepeatable panoramic views for your Social Media posts.
Whitehorse City Centre icons include the SS Klondike National Historic Centre and the Old Long Church.
It is also the best area to stay in Whitehorse for its three and four-star hotels with the best location, close to many high-quality restaurants.
Whitehorse City Centre is home to natural beauty and wildlife, in addition to the cultural movement that can be found in places like the North End Gallery.
Plus, the airport is less than a 10-minute drive away, making the City Centre one of the best areas to stay in Whitehorse for business travellers or during a short visit.
This area is very pedestrian-friendly but has public transport services that connect it with the rest of Whitehorse.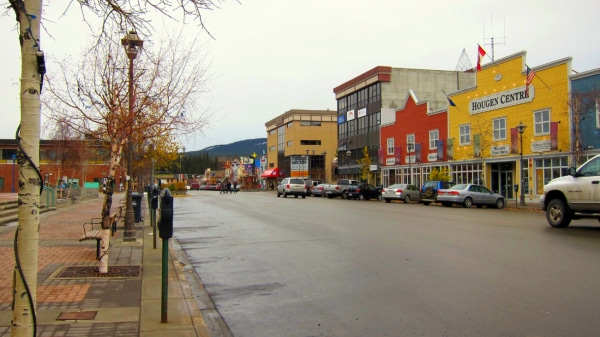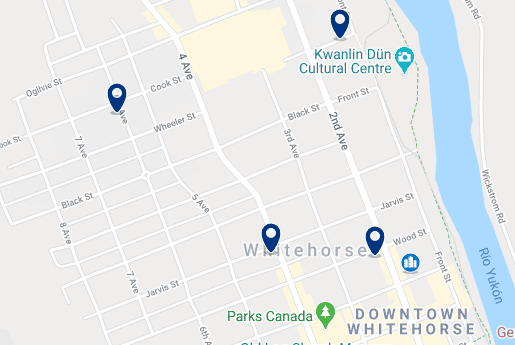 Why is this a recommended area to stay in Whitehorse:
Best area for sightseeing
Best area for business travellers
Near the airport
Galleries and museums
Beautiful landscapes
Great hotels
---
2. Near Mount Sima Ski Resort
The surroundings of Mount Sima Ski Resort are the best area to stay in Whitehorse for winter sports.
Mount Sima Ski Resort has 10 kilometres of slopes available with different levels of difficulty.
If this area stands out for something, it is for the great diversity of lakes and rivers it houses, making it one of those perfect places to practice fishing.
Throughout this area, there are mountain restaurants and cozy ski cabins that, in many cases, offer accommodation.
Bison, mountain goats, caribou, wapiti (Canadian deer), reindeer, musk ox and even elk are some of the animal species that can be seen near Mount Sima.
This is one of the best areas to stay in Whitehorse when travelling with family or for anyone who is either into winter sports or just looking for tranquillity, away from the bustle of bigger cities in Canada.
---
Read this in other languages