Where to Stay in Whitehorse – A Guide to the Land of the Midnight Sun
Whitehorse is the capital and only city in Yukon and the most populated settlement in northern Canada. Located in the south of the territory, on the Yukon River, and nicknamed "the Land of the Midnight Sun," Whitehorse is famous for its incredible natural landscapes and extreme winter conditions. In this post, we will explore the best areas to stay in Whitehorse, YT.
Whitehorse was founded in the late 19th century during the Klondike Gold Rush and became a prosperous mining town and trading post on the Alaska Highway. Today, tourism plays a vital role in the local economy.
Whitehorse is a remarkably compact city. Most of its centrally-located cultural attractions are within walking distance and include the Old Log Church Museum, the S.S. Klondike National Historic Site, the MacBride Museum of Yukon History, the Kwanlin Dün Cultural Centre and the Miles Canyon Historic Railway Society. See accommodation in Downtown Whitehorse.
Other unmissable tourist attractions in Whitehorse include the Yukon Beringia Interpretive Centre and the Yukon Transportation Museum, located near the airport.
However, if you're visiting Whitehorse, chances are you are particularly interested in visiting Yukon's natural sights. After all, this city is the main gateway to explore some of the most amazing national parks, natural areas and reserves Canada has to offer. Some of the most popular natural attractions in and around Whitehorse include Miles Canyon, Schwatka Lake, Chadburn Lake and Haeckel Hill.
Due to its inland location in Yukon and in the rain shadow of the Coast Mountains, Whitehorse has a subarctic climate with low precipitations. This translates into long, frigid, snowy winters with temperatures ranging between -19 and -11 ºC. Meanwhile, summers are mild and sunny, with temperatures typically ranging between 8 and 20 ºC. The best time to visit Whitehorse is during the summer months (June through September), when temperatures are warm enough to enjoy outdoor activities and sightseeing. That said, if you're in Whitehorse to catch the northern lights, then January is a better option. Needless to say, December – March is the best time for skiing and winter sports.
To get to Whitehorse by air, the city is served by Erik Nielsen Whitehorse International Airport. Located 1 km (though 5.5 km by road) from downtown Whitehorse, this small airport offers connections to some Canadian cities (including daily flights to Vancouver, Calgary and Edmonton, plus frequent services to Kelowna and Victoria), as well as a few seasonal international flights to Alaska (Juneau) and Frankfurt.
To move around town, Whitehorse's City Centre is compact enough that you can walk anywhere. Additionally, the city has a bus system. To reach the outlying natural attractions, your best bet is to rent a car for your trip or book tours with transportation included. You can see a list of the best tours in and around Whitehorse here.
The best area to stay in Whitehorse is Downtown. Whitehorse's City Centre is small but charming and hosts many cultural attractions, museums, nightlife venues and the best restaurants. Downtown Whitehorse is also where the city's top hotels are located. See accommodation in Whitehorse City Centre.
Another great area to keep in mind when choosing the best location in Whitehorse is around Mount Sima Ski Resort.
Keep reading to find out more about the best areas to stay in Whitehorse, YT.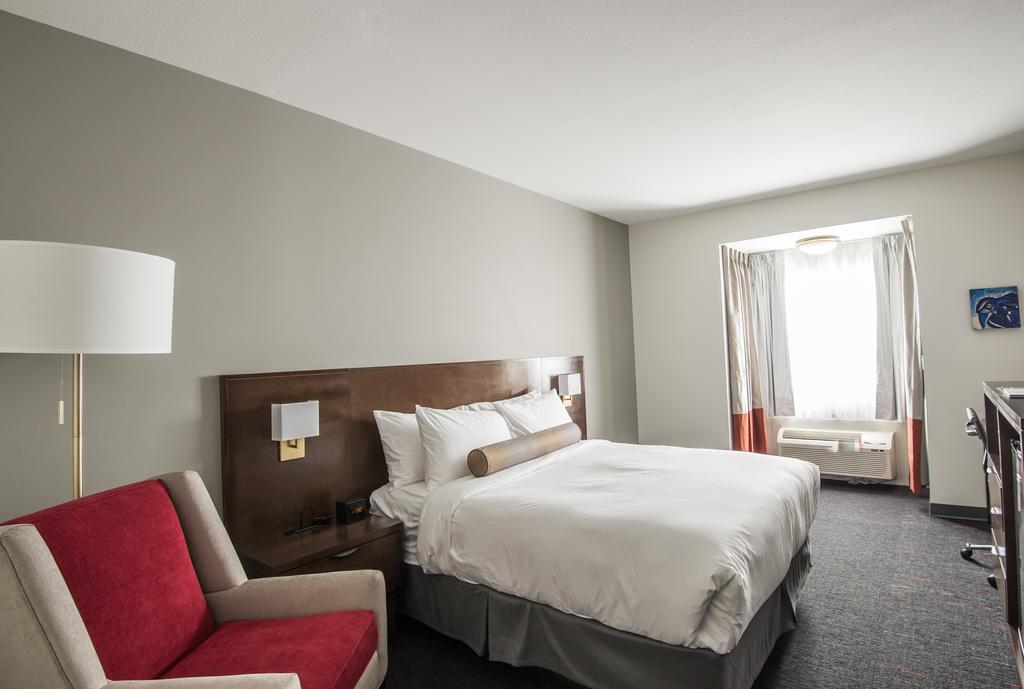 The Best Areas to Stay in Whitehorse, Canada
1. Recommended area: Whitehorse City Centre
Downtown Whitehorse is located on the west bank of the Yukon River.
This scenic area offers incredible river views and most of Whitehorse's cultural and historic attractions.
Some of the landmarks in Whitehorse City Centre include the SS Klondike National Historic Centre, a historic sternwheeler, and the Old Log Church, an early-20th-century building with historical exhibits.
Nearby, the MacBride Museum of Yukon History showcases the history of this arctic region.
The Kwanlin Dün Cultural Centre offers great insight into Yukon's First Nations.
This area is very pedestrian-friendly but has public transport services that connect it with the rest of Whitehorse and most of the outlying natural sights.
Whitehorse International Airport is located less than a 10-minute drive away from the city centre, making Downtown Whitehorse the best area to stay in Whitehorse for business travellers or during a short visit.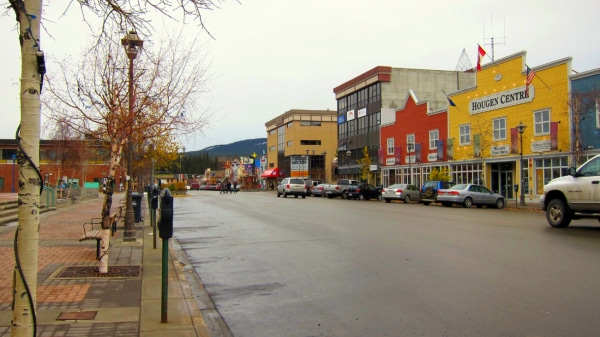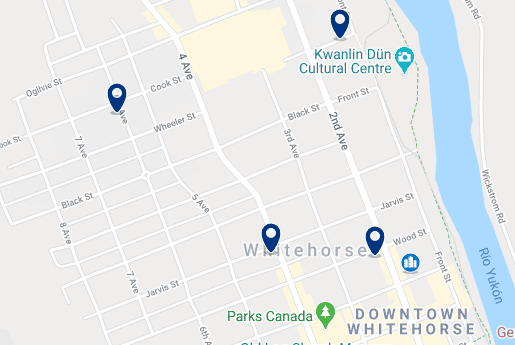 Why is this a recommended area to stay in Whitehorse:
Best area for sightseeing
Best area for business travellers
Near the airport
Galleries and museums
Beautiful landscapes
Great hotels
---
2. Mount Sima Ski Resort & around
Mount Sima Ski Resort and its surroundings are the best area to stay in Whitehorse for winter sports.
Located about 15 km south of Downtown Whitehorse, Mount Sima Ski Resort offers 10 kilometres of slopes with different levels of difficulty.
In the summertime, this area also offers several lakes and rivers, great for fishing and kayaking.
Throughout this area, there are mountain restaurants and cozy ski cabins with accommodation.
This area also offers the opportunity to see majestic and rare animals like bison, mountain goats, caribou, wapiti (Canadian deer), reindeer, musk ox and even elk.
This is one of the best areas to stay in Whitehorse when travelling with family or for anyone who is either into winter sports or just looking for tranquillity, away from the bustle of the big cities.
---
Read this in other languages