Where to stay in Victoria – A guide to this city of British Columbia
Victoria is the capital of the province of British Columbia. It is considered the most English city in North America and an unmissable destination in Canada.
In Victoria, there are pubs, restaurants and colourful shops with a bohemian style, as well as cafes, so there is always something to do or see in this city.
This city deserves to be travelled on foot, however, it is preferable to ride bikes since Victoria is the city with more routes for cyclists in all of Canada.
As far as attractions are concerned, Victoria enjoys sites that are well worth a visit, such as its magnificent theatres and the Royal British Columbia Museum.
Victoria has the mildest winter climate in Canada, making it easy to tour the city and its attractions during any season. Summer is the best time to travel to Victoria, with temperatures up to 22°C.
As for transportation, getting to Victoria from other cities is possible via ferry or direct flights to the city's airport, the Victoria International Airport.
The neighbourhoods of Victoria are connected to each other through the bus and taxi services.
Among the best areas to stay in Victoria, the Downtown stands out because of its transport connections and attractions (See accommodation in Downtown Victoria).
Here's a guide with the best areas to stay in Victoria, Canada.
The best areas to stay in Victoria, British Columbia
1. Our favourite area: Downtown Victoria
The small and vibrant Downtown Victoria retains its historic architecture, as well as a large number of restaurants, pubs, markets and street artists with their crafts.
This area is popular among travellers thanks to its cinemas, theatres, hotels and tourist attractions such as the Bastion Square street shopping complex, located in the heart of the district.
Market Square is also part of the Downtown area, where there are small shops, restaurants and bars.
Downtown Victoria is considered the business district in the city.
Here, you will find Centennial Square, which, along with Victoria's Town Hall, is commonly used for small electronic music festivals.
Downtown is one of the best areas to stay in Victoria, as it is the historic and financial district of the city and has the best attractions.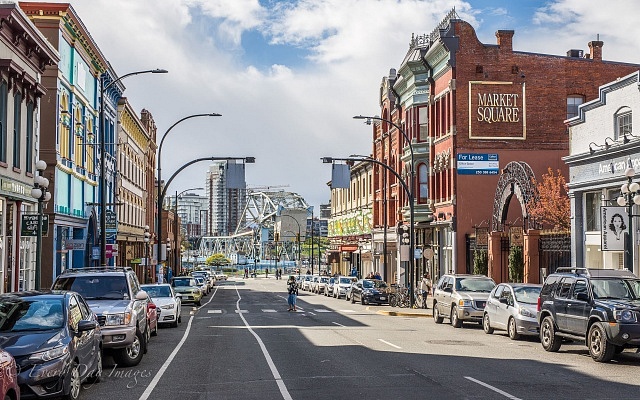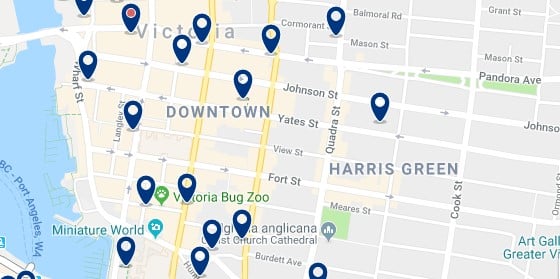 Why is this a recommended area to stay in Victoria:
Heart of the city
Great restaurants
Best area for sightseeing
Best area to stay without a car
Great transport connections
---
2. Chinatown
Victoria's Chinatown is the oldest Chinese district in Canada and is, currently, one of the most popular areas among tourists for its offer in culture and entertainment.
Chinatown is located next to other places of interest in Victoria, such as the Bay Centre Mall and the Fan Tal Alley, an alley full of galleries, beauty centres, restaurants, apartments and offices.
This neighbourhood connects with the rest of the city through the buses found on Pandora Avenue and Douglas Street.
The modern Chinatown is still an important neighbourhood within the city, with hotels, bars and shopping areas nearby.
This area is also known for being one of the historic sites of Canada and one of the best areas to stay in Victoria.
---
3. James Bay
James Bay is a residential and diverse neighbourhood with historic apartments and houses. It is located southeast of Downtown Victoria.
Tourism plays an important role in the James Bay area, with admirable buildings such as the Parliament, the Royal British Columbia Museum, Beacon Hill Park and fabulous hotels with stunning views.
James Bay has a mixture of a maritime and colonial atmosphere. It also offers horse-drawn carriage rides.
This quiet neighbourhood is the oldest in the city, so it retains its original Victorian style. The eastern end of the neighbourhood was recovered for the construction of the famous Fairmont Empress Hotel.
James Bay is another of the best areas to stay in Victoria for those who want to surround themselves with the English culture of the city, enjoy sunsets on the pier and drink cocktails at night.
---
4. Inner Harbour
Inner Harbour is one of the main tourist districts of Victoria. In its port, it houses several fishing boats and colourful houseboats that give maritime and colonial atmosphere to the area.
Those who decide to stay in Inner Harbour can go to cafes and restaurants distributed in the streets with spectacular views, especially in the evenings, when you can watch the whales.
Thanks to the ferry terminals available in Inner Harbour, it is possible for travellers to arrive from other cities, including Seattle.
Inner Harbour is quite popular with tourists and ideal for walking, however, to move to other districts of Victoria, you can take the buses available in Menzies street.
Inner Harbour is another of the best areas to stay in Victoria since its location allows easy access to other important areas of the city, such as James Bay, the Parliament, the Royal Museum and bars where it does place the nightlife.
---
5. West Shore
West Shore is a community made up of the neighbourhoods of Colwood, Langford, Metchosin and The Highlands. Given the proximity between these neighbourhoods, you can walk or bike.
Most of this area has a rich heritage and a connection with nature, which makes it one of the best areas to stay in Victoria.
This area is ideal for those travelling with family or romantic getaways, with attractions such as Fort Rodd Hill and the Fisgard Lighthouse.
To enjoy the art, the Coast Collective Arts Centre public gallery featuring art and crafts from Vancouver is available at West Shore.
To go shopping, you have the West Shore shopping centre with a lot of fashion and souvenir shops.
West Shore in Victoria is an excellent place to stay in the capital of British Columbia for its wide range of hotels for all tastes.
---
Read this in other languages