Where to Stay in Benidorm: A Guide to the "Mediterranean Manhattan"
Benidorm is a vibrant destination known for its beautiful beaches, nightlife, and countless entertainment options. Each neighborhood in the city has a unique charm and attractions, so choosing where to stay can be tricky. In this post, we'll explore the best areas to stay in Benidorm, including the attractions and highlights of each district, accommodation options, accessibility, and price range.
---
Why visit Benidorm
Benidorm is a coastal city in the province of Alicante, located on Spain's eastern coast, within the Autonomous Community of Valencia. Benidorm's history dates back to ancient Roman and Punic settlements. But it wasn't until 1325 that Admiral Bernat de Sarrià officially founded the town.
The city's location makes it an attractive destination for anyone seeking a warm Mediterranean climate. Situated along the Costa Blanca, Benidorm features two prominent beaches: Levante Beach and Poniente Beach, which span approximately six kilometers.
The Old Town, with narrow streets and traditional white stone houses, offers a glimpse into the city's architectural past. Meanwhile, the rest of Benidorm stands out from other cities in Spain because of its modern architecture and, especially, its skyscrapers.
Some noteworthy landmarks in Benidorm include the Balcon del Mediterráneo, a viewpoint boasting picturesque panoramas. Other notable sites include Tossal de la Cala, an ancient Iberian settlement dating back to the third century BC, and Iglesia de San Jaime y Santa Ana, a neoclassical church erected in 1740. Natural parks such as Serra Gelada Natural Park are also worth visiting.
Yet, many people from other areas of Spain and Europe visit Benidorm mainly because of its legendary nightlife. The bars and clubs in the city have it all, from live music performances to packed dance floors and shows. Known for its annual events like Visor Festival and Low Festival, the city attracts music fans worldwide. Likewise, the city hosts the Benidorm Fest, a contest created to choose Spain's representative for the Eurovision Song Contest.
But that's not all; Benidorm has also gained a lot of comparisons to Las Vegas due to its casinos.
When to visit Benidorm
The best time to visit Benidorm is spring and autumn, particularly in April, May, and October. These months offer mild temperatures around 20ºC and fewer crowds than during the summer.
Getting there and moving around
The Alicante International Airport (ALC), about 58 kilometers from the city center, serves as the primary gateway for international visitors to Benidorm. On the other hand, train services connect Benidorm to cities like Alicante, Denia, and regional destinations via TRAM Metropolitano Alicante's Line 9. There are also buses connecting Benidorm with neighboring cities
Within Benidorm, public transport consists of buses and trams, operated by the Llorente Bus Company and TRAM Metropolitano Alicante, respectively.
Where to stay in Benidorm
Levante Beach is the best area to stay in Benidorm. Located on the eastern side of the city, Levante Beach stretches for approximately 2 kilometers (1.2 miles) parallel to the Mediterranean Sea. The history of Levante Beach dates back to the 1950s when notable architect Ricardo Bofill began designing a tourist destination within Benidorm's town limits. Officially inaugurated in 1965, this location experienced rapid development with the growth of the tourism industry throughout Spain. Today, Levante Beach is a hub for holidaymakers from all over Europe.
Prominent attractions nearby Levante Beach include Parque de Elche, built in memory of Benidorm's agricultural past and dedicated to its palm grove heritage, and Avenida de la Armada Española, a famous promenade with bars and restaurants. Moreover, skyscrapers like the Gran Hotel Bali and Torre Intempo showcase the area's modern architecture.
---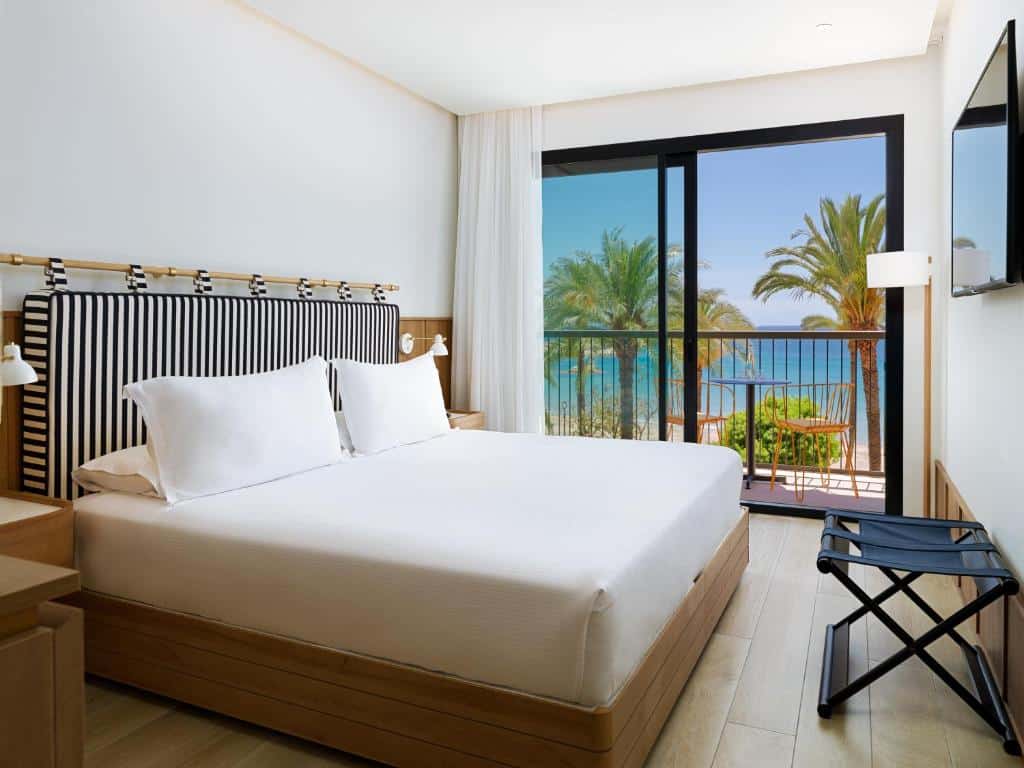 ---
The Best Hotels in Benidorm
Is something more specific in mind? Here's a list of some of the best hotels in Benidorm. You'll find it here no matter your reason for visiting the city or style!
---
The Best Areas to Stay in Benidorm, Spain
1. Old Town
Our Recommended Area to Stay in Benidorm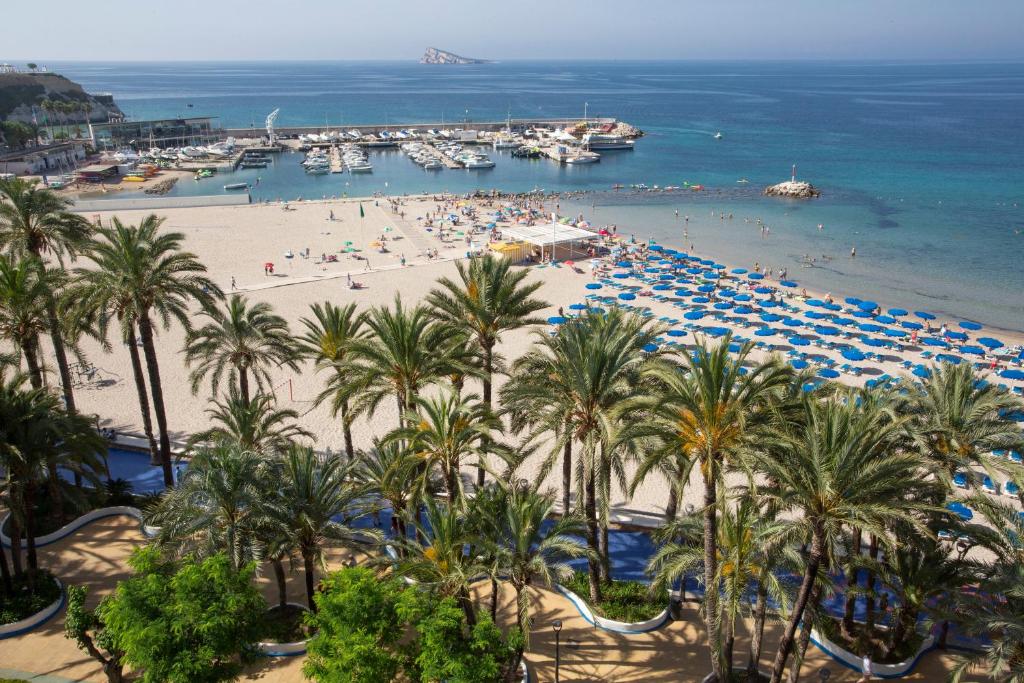 The Old Town is a historic district in the heart of Benidorm. Unlike any other part of the city, this area has a rich cultural heritage, with narrow streets radiating an authentic Spanish charm. The Old Town acts as a preserved window into Benidorm's past, showcasing the city's history before the tourist boom of the 20th century. While walking through the winding cobblestone streets, it becomes evident how this area has retained its authentic atmosphere amid the rapid urban expansion. One notable feature of the Old Town is the 18th-century church of San Jaime and Santa Ana.
Other attractions in the Old Town include the Balcón del Mediterraneo. This viewpoint has some of the most spectacular views in the city, and it is excellent for both sunset lovers and photographers. In terms of nightlife, you can find several tapas bars serving traditional food alongside lively pubs and clubs in this district.
Benidorm's Old Town is easily accessible by public transportation through buses and trams. Likewise, there are also many options regarding accommodation in the Old Town. These range from family-run guesthouses and hostels to boutique hotels.
The Old Town is the best area to stay in Benidorm because it combines the city's modern and authentic sides.
Featured Accommodation in Old Town Benidorm
---
2. Levante Beach
Best Beach Area to Stay in Benidorm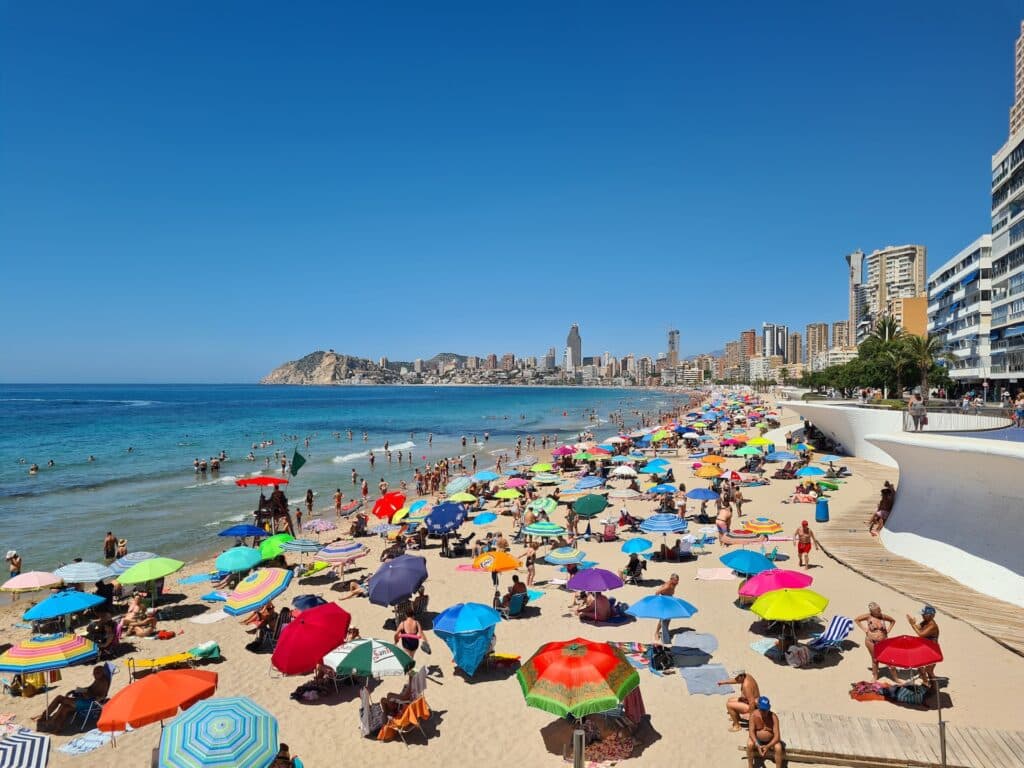 In the past, Benidorm was a small fishing village that gradually transformed into a popular tourist destination. Levante Beach played a significant role in this transformation. Over the years, the area around it saw considerable development with the establishment of many hotels and entertainment facilities.
This beach area is east of the Old Town, and its name is Playa del Levante or Platja de Llevant. The most popular attraction in Levante Beach is Festilandia, a large amusement park. This park contributes to the family-friendly vibe of the area. However, the beach is what attracts the most visitors to this area. This beach is suitable for sunbathing, swimming, or playing beach volleyball. Likewise, there are also several bars, pubs, and clubs in Levante for when the sun goes down.
As for transport options, the bus service connects Levante Beach to other neighborhoods in Benidorm. Additionally, there are many taxis available for hire around the beach. As one of Benidorm's most visited areas, accommodation near Levante Beach includes hotels for all budgets. Yet, luxury, resort-type hotels dominate the area.
Featured Accommodation on Levante Beach
---
3. Rincon de Loix
Modern Area to Stay in Benidorm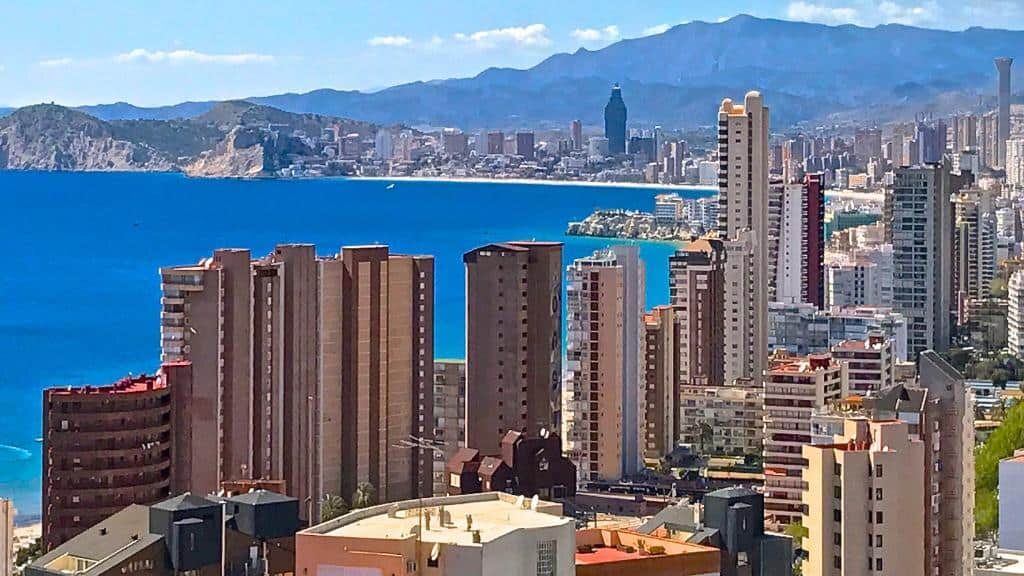 Rincon de Loix is a neighborhood located in the eastern part of Benidorm, to the right of Levante Beach.
The development of Rincon de Loix can be traced back to the 1960s, when the tourism boom in Benidorm led to the establishment of new neighborhoods. Thus, this period saw the construction of various buildings and facilities that have since become landmarks in the area. This neighborhood became the largest in the city, a title it still maintains.
One noteworthy attraction in Rincon de Loix is Aqualandia, a prominent water park located near the neighborhood's eastern border. Aqualandia offers diverse water attractions, and it first opened its doors in 1985. Another significant attraction is Mundomar, an animal park focused on marine and exotic species.
As with pretty much every area in Benidorm, Rincon de Loix has no shortage of bars and restaurants. Likewise, there are some clubs in the district, too.
Public transportation options include buses that run frequently between the neighborhood and Benidorm's city center.
Accommodation options in Rincon de Loix vary from budget-friendly guesthouses to upscale hotels. This neighborhood is the best area to stay in Benidorm with kids since the beach and two parks are nearby.
Featured Accommodation in Rincón de Loix
---
4. Mal Pas Beach
Great Area to Stay in Benidorm near the Beach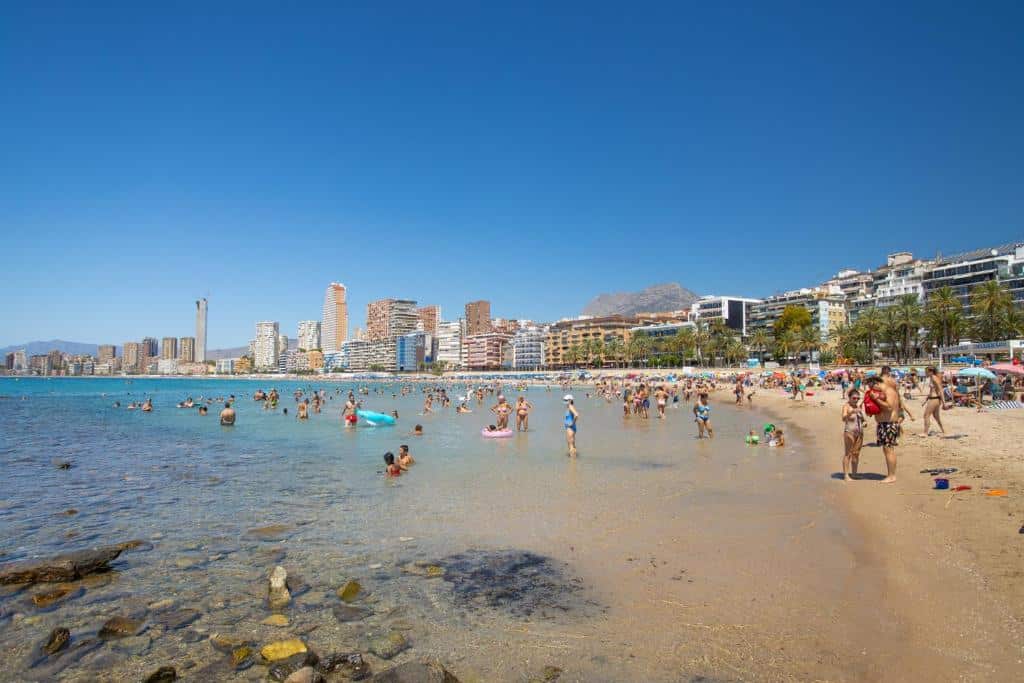 Mal Pas Beach, also known as Cala Mal Pas, is a small cove located on the northern side of the city's old town. This beach is situated between the larger Levante and Poniente Beaches. Established in 1871, Mal Pas Beach was declared a Beach of Cultural Interest by the Spanish Ministry of Culture due to its historical significance and natural beauty.
The beach is noted for its calm atmosphere, which sets it apart from the bustling larger beaches nearby. Surrounded by cliffs and rock formations, Mal Pas Beach features idyllic scenery and crystal-clear waters well-suited for snorkeling.
The beach is easily accessible on foot from the center of Benidorm, taking roughly 15-20 minutes via Avenida de la Comunidad Valenciana and Calle Tomás Ortuño or by following the scenic pedestrian walkway next to Poniente Beach. Alternatively, buses and, of course, taxis connect this city with the rest of the city.
The beach is open year-round; however, certain facilities such as lifeguard services and beachside amenities may have limited availability during off-peak seasons. While visiting Mal Pas Beach, it is essential to practice responsible behavior by adhering to local regulations and preserving the area's pristine condition for future generations.
In terms of accommodations, several hotels within proximity to Mal Pas Beach cater to various budgets and preferences. The surrounding area offers diverse lodging options ranging from luxury hotels and resorts to more budget-friendly establishments.
The neighborhood near Mal Pas Beach possesses a rich history that can be explored through its architecture, such as the neighboring historic old town. A wide selection of bars, cafes, and restaurants can be found nearby, offering traditional Spanish cuisine as well as international dishes. The area's nightlife scene generally tends to be quieter and more relaxed compared to that of the Old Town.
Featured Accommodation in Cala Mal Pas, Benidorm
---
5. Gemelos
Great Area to Stay in Benidorm near the Beach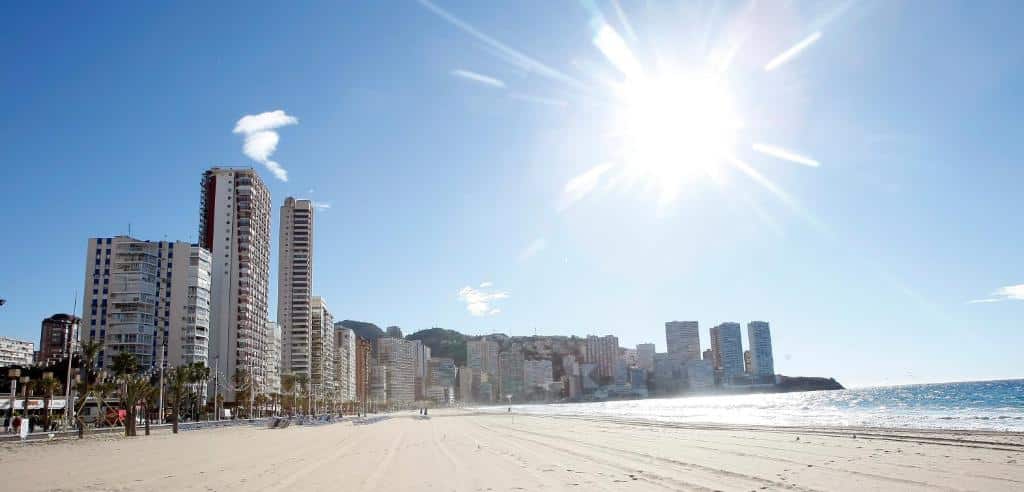 The name "Gemelos" translates to "twins" in English, referring to the towering twin buildings in this district. These buildings are what most people associate with Benidorm and are either residential or holiday complexes.
Gemelos occupies a convenient spot close to Levante Beach. This area also offers proximity to several natural and tourist attractions, such as Serra Gelada Natural Park situated 4 kilometers east of the area.
Though mostly residential, Gemelos houses a large number of hotels and holiday apartments. These accommodations include several family and budget-friendly options. Also, the high-rise buildings that house the hotels and tourist apartments often have swimming pools and fitness centers.
The general atmosphere within Gemelos is generally lively during peak tourist seasons. But most of the nightlife options are outside of this district, though it is within a short walking distance of Benidorm's Old Town area.
Several bus lines connect this area to Benidorm's central districts but also to more distant locations such as Alicante and Valencia.
Featured Accommodation in Gemelos, Benidorm
---
Read in other languages:
|ES| Las mejores zonas donde alojarse en Benidorm, España.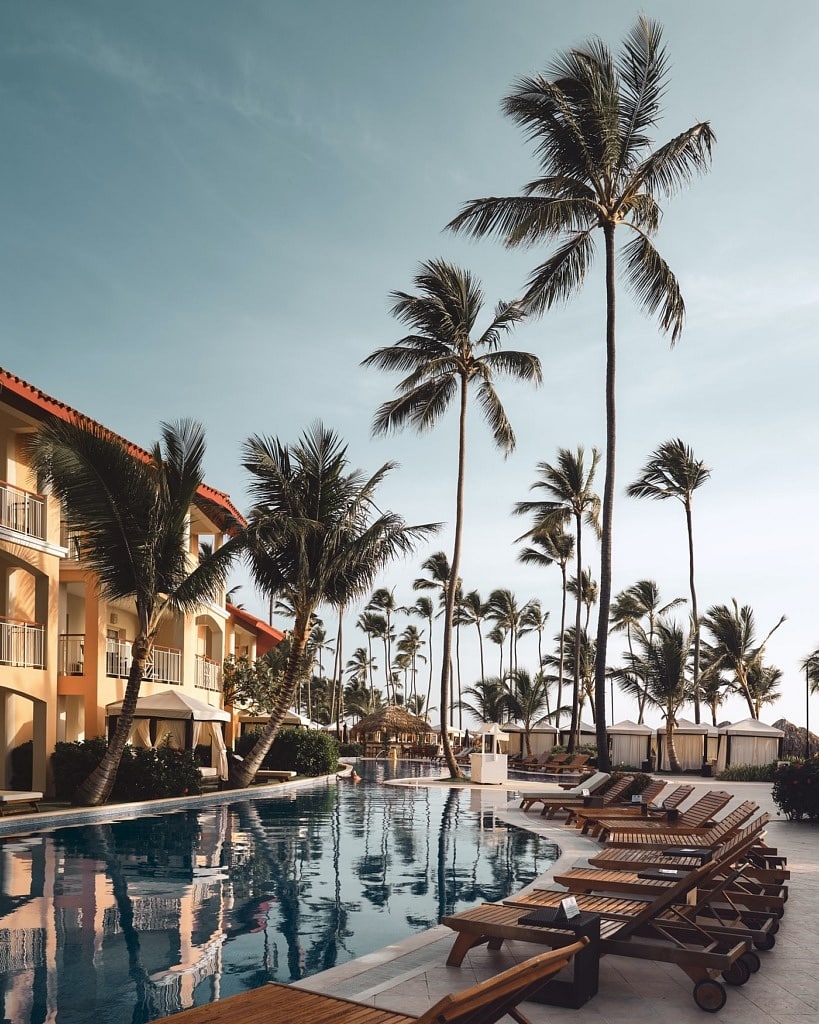 ---