Where to Stay in Birmingham – A Guide to "The Magic City" of Alabama
Birmingham is the largest city in Alabama and began as an industrial center specializing in manufacturing steel. Its rapid growth during the Industrial Revolution years grated its nicknames "The Magic City" and "Pittsburgh of the South". Today, Alabama is a thriving town with a growing tourist industry. In this post, we will discuss the best areas to stay in Birmingham, AL.
This Alabama city's main cultural attractions are Vulcan Park and Museum, Birmingham Museum of Art, and the Civil Rights Institute. For nature lovers, Birmingham has a wealth of parks and green areas such as the Botanic Gardens, Oak Mountains State Park, and the Birmingham Zoo.
The best way to end the day in Birmingham is to try southern and international flavors in the high-end restaurants located in the City Center.
The climate in Birmingham is defined by hot and long summers, while winter is quite rainy, so the best time to visit in Birmingham is from April to June.
Birmingham-Shuttlesworth International Airport is the city's main entry point via air. It's located five miles northeast of Downtown Birmingham and offers direct connections to the main cities across the US. Additionally, Amtrak operates daily passenger train services to Atlanta, New Orleans, and New York.
The public transportation system in Birmingham consists of buses. Traditional taxis, as well as mobile apps, are available in the city. In order to best enjoy Birmingham and the wonderful natural attractions around it, we recommend you rent a car during your stay.
Birmingham is also a cheap city to visit in the USA. Even in areas like Downtown, it is easy to find affordable accommodation.
When it comes to the best areas to stay, the Downtown area offers the widest selection of hotels, places to eat and shop, as well as museums and galleries. See accommodation in Downtown Birmingham.
Here's a guide with the best areas to stay in Birmingham, Alabama.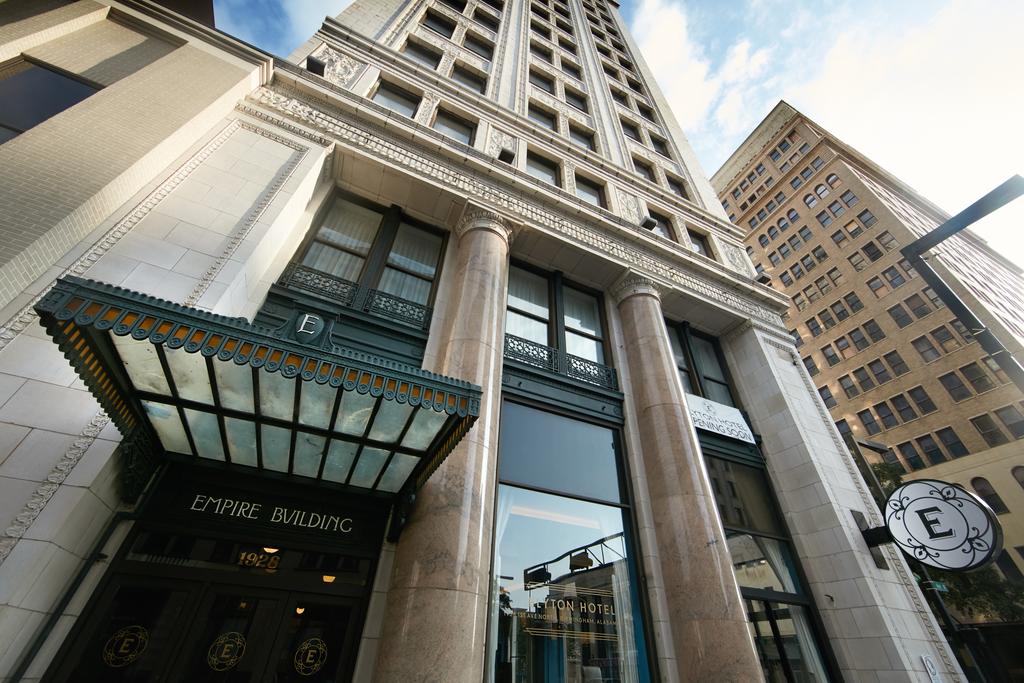 Elyton Hotel, Autograph Collection

Set in Birmingham, 0.9 mi. from BJCC, Elyton Hotel, Autograph Collection offers accommodation with a restaurant, private parking, a fitness center, and a bar. Among the facilities at this property are a 24-hour front desk and room service, along with free WiFi throughout the property.
The best areas to stay in Birmingham, Alabama
1. Recommended area: Downtown Birmingham
The City Center is a mix of commercial spaces, modern buildings, breweries, restaurants, cafes, and bars that make it the best area to stay in Birmingham.
Downtown Birmingham is known for being a dynamic area at night, thanks to the youthful community of the University of Birmingham.
Some of the business hotels in the Downtown area are renovated and comfortable historic buildings, with excellent services.
Downtown is perfect for walking through parks, learning about art and Birmingham's past in museums, and, of course, shopping.
This is a good area to stay in Birmingham without a car since its tourist attractions are close to each other.
Other important sites in the Downtown are Sixteenth Street Baptist Church, its parks, and 3rd Avenue North, as it is one of the most important commercial streets in Birmingham.
Downtown is one of the best areas to stay in Birmingham thanks to its attractions, its entertainment offer, and the best nightlife options in town.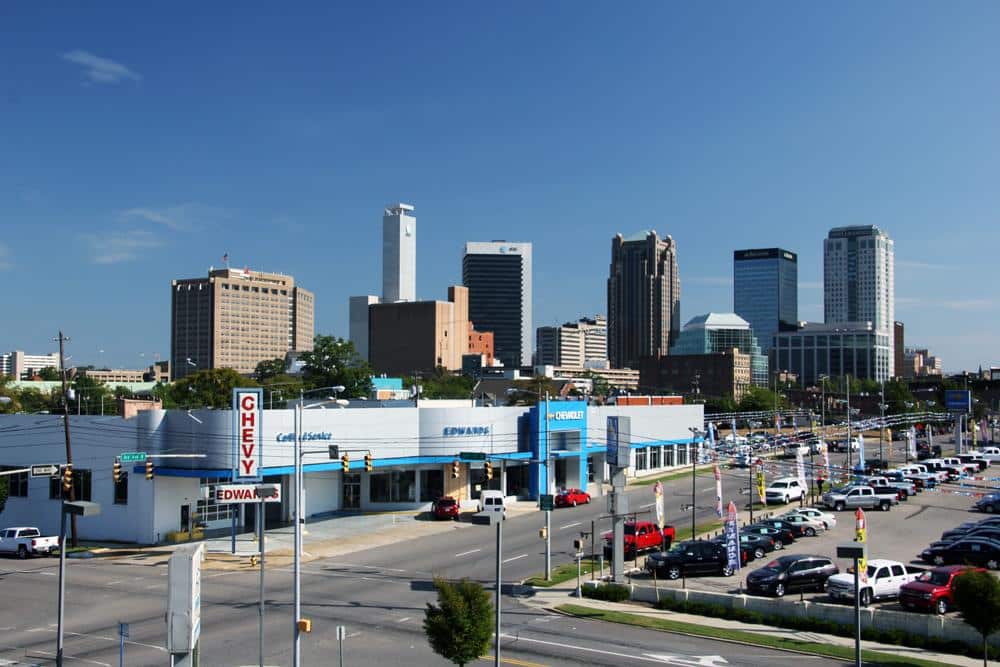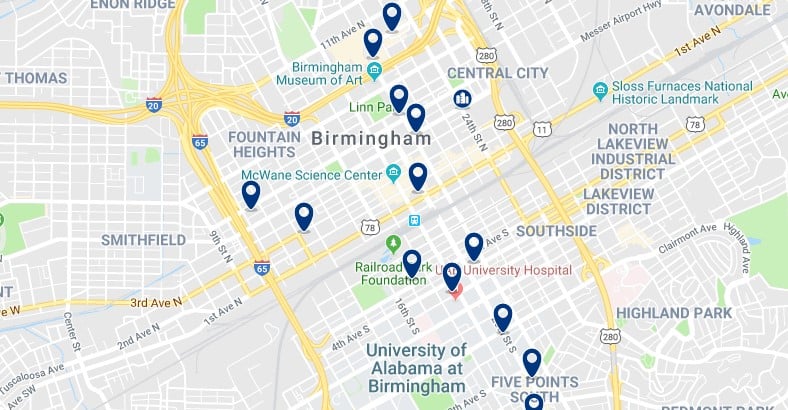 Why is this a recommended area to stay in Birmingham:
Near the university
Near the attractions
Great nightlife
Best area to stay without a car
Best area for sightseeing
Best area for business travelers
---
2. Near the Botanical Garden and the University of Birmingham
The University of Alabama at Birmingham is a public research university with prestigious research centers and medical schools.
This area is full of residences occupied by young students, as well as travelers who visit the city for study or leisure.
One of the most popular attractions of the area, and of all Alabama, is the Birmingham Botanical Garden, located next to Lane Park, near Red Mountain.
The Birmingham Botanical Garden is home to different species of exotic plants from all over the world, in addition to different types of birds.
The hotels in this area are comfortable and affordable, ideal for travelers visiting Birmingham for a short period of time.
The surroundings of the Botanical Garden and the University of Birmingham are among the best areas to stay in Birmingham, especially because of how easy it is to move around here via car or bike.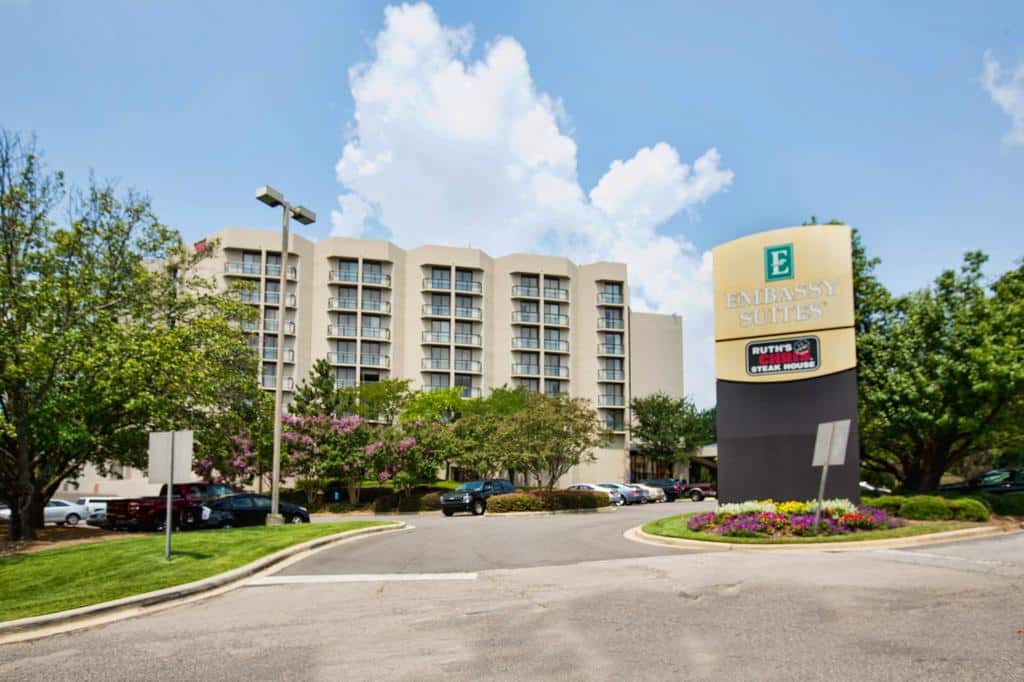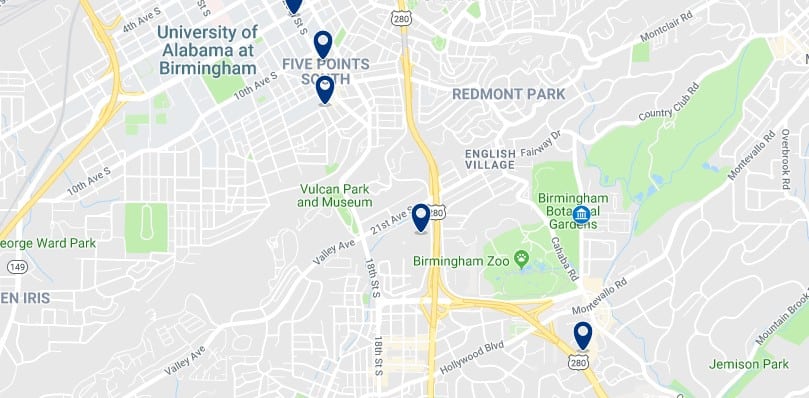 Why is this a recommended area to stay in Birmingham:
University of Alabama
Botanical Gardens
Quiet area
Cheap accommodation
---
Read this in other languages