Where to Stay in Nashville – A Guide to the Capital of Tennessee
Nashville, popularly known as "the City of Music" for being the birthplace of country music in the United States, is the capital of Tennessee and a tourist destination full of attractions, outdoor entertainment, and plenty of food.

The Tennessee capital is also home to the famous Grand Ole Opry House, the Ryman Auditorium and the Johnny Cash Museum, which celebrates the singer-songwriter's life. The Country Music Hall of Fame and Museum is one of the most popular attractions in the city and is located in the Downtown area.
While the music scene is Nashville's highlight, the city has renowned museums and sites like the Bicentennial Capitol Mall State Park.
The best time to visit Nashville is from May to July when the weather is nice and great music festivals are held, including the CMA Music Festival.
Nashville International Airport is located southeast of Downtown, a 25-minute drive. This air terminal has connections with Canada, the United Kingdom, and Mexico, in addition to domestic flights to and from cities such as New York, Houston, Miami, and Los Angeles.
Although the city is pedestrian-friendly, those who want to move around Nashville in a more comfortable way can take one of the available bus routes, light rail or taxis.
In addition to tourist attractions, the city has a wide range of hotels for any type of traveler, from cheap accommodation to the most exclusive hotels.
The best area to stay in Nashville is Downtown. Like many cities, this district is home to most of the fun and entertainment, as well as a wide variety of hotels. (See accommodation in Downtown Nashville).
Here's a guide with the best areas to stay in Nashville, Tennessee
The Best Areas to Stay in Nashville, Tennessee
1. Our Favorite Area: Downtown Nashville
Downtown Nashville is where the best music and flavors of the city can be found.
This district is located along the Cumberland River and gathers most of the shops, restaurants, bars, and clubs of the city.
Those staying in Downtown will be able to enjoy live music every night in the many pubs on Lower Broadway, Honky Tonks Highway and 2nd Avenue.
Art galleries and museums are also part of Downtown Nashville, as well as visual arts centers.
Downtown is the best area to stay in Nashville, as it is pedestrian-friendly but connects to the rest of the city by public transport.
Also, you can take the Segway tourist trolley in this area.
Other places to see in this part of Nashville are the iconic Tennessee State Capitol building, the Music Hall of Fame, and the Farmer's Market.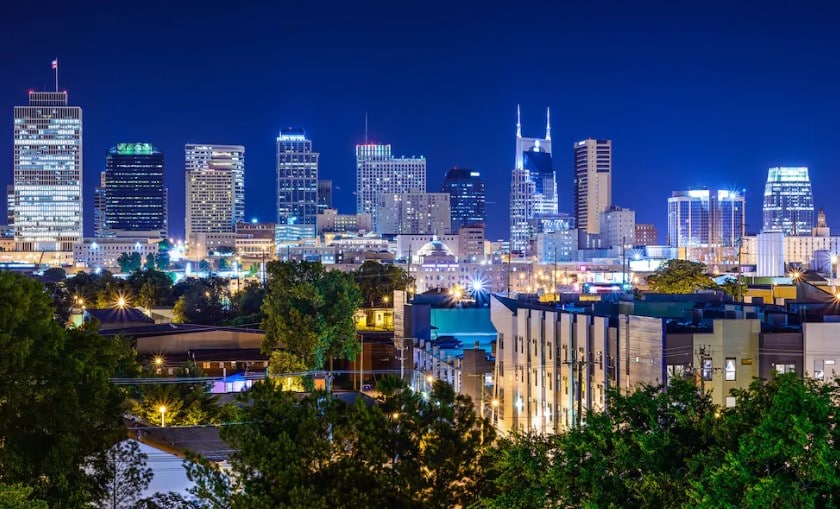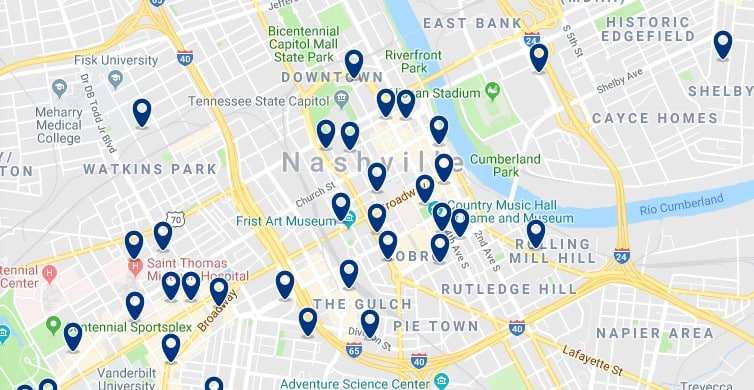 Why is this a recommended area to stay in Nashville:
Lower Broadway
Tennessee State Capitol
Good public transport connections
Best area for sightseeing
Best area to stay without a car
Best area for business travelers
---
2. East Nashville
East Nashville is known for being a quieter area than Downtown.
This area of the Music City is home to many bars where country artists perform constantly.
East Nashville is located on the other side of the Cumberland River and, in addition to its offer in shops and gastronomy, it is an area that mixes a residential with a business environment.
In this area, there are several boulevards where you can spend time window shopping or buying souvenirs for your loved ones.
This area, like others in Nashville, is pedestrian-friendly and has bus lines to get to other places.
East Nashville is known as a creative district, its multicultural and diverse atmosphere makes it one of the best areas to stay in Nashville.
East Nashville is the area that put the city on the map as a tourist destination for foodies. If you are looking for good cuisine, this neighborhood is an excellent alternative.
---
3. South Nashville
South Nashville is a recommended area to stay in Nashville for peace and quiet in the Tennessee capital.
In this neighborhood, there are plenty of food outlets and bars with live music, as well as stores for shopping lovers.
South Nashville is a great area for those who want to stay close to the airport or travelers who make a layover in the city.
Although this area connects to Downtown and the rest of Nashville by public transport, renting a car is recommended when staying here, as buses are usually less frequent.
An advantage of staying in this district somewhat removed from Nashville's main attractions is the low cost of accommodation.
---
Read this in other languages