Please note: This post is about accommodation in Perth, Scotland. Click the following link for the best areas to stay in Perth, Western Australia.
Where to Stay in Perth, Scotland – A Guide to "The Fair City"
Perth is a city in central Scotland. Located on the banks of the River Tay, Perth is the historic county town of Perthshire and is famous for its medieval architecture, whisky industry and as one of the main gateways to the Highlands. In this article, we will explore the best areas to stay in Perth, Scotland.
Some of the most famous tourist attractions in central Perth include the Perth Museum & Art Gallery, the Fergusson Gallery, St. John's Kirk, St Ninian's Cathedral, The Fair Maid's House and the Perth City Hall Museum. Find accommodation in Perth City Centre.
Perth is also home to lovely parks and green spaces like Branklyn Garden and Branklyn Garden. The city is also the main gateway to explore the lovely Kinnoull Hill Woodland Park, a wooded area with five hills offering nature trails and a 19th-century cliffside tower.
If you're a big fan of history or castles, you'll be thrilled to know that Perth and its surroundings are home to some of the finest examples of medieval fortifications and historic houses in Scotland. Some castles, tall houses and stately homes in Perth and around include Huntingtower Castle, The Black Watch Castle & Museum, Kinnoull Tower. Furthermore, Perth is also located very close to Scone Palace. Built on the site of an early Christian church, this Gothic-Revival-style historic house and its grounds are open to the public. Scone was the crowning place of the Kings of Scots since early medieval times and is considered the historic capital of the Kingdom of Scotland. Find accommodation in Scone.
Like most of Scotland, Perth has an oceanic climate. Due to its inland location, this city experiences cold, snowy winters and warm summers. Average temperatures in January are usually between -2 and 7 ºC. Meanwhile, July can see temperatures hover between 11 and 20 ºC. Rain is common year-round. The best time to visit Perth is during the summer (June through late August) when the temperatures are perfect for sightseeing.
The easiest way to reach Perth is through Edinburgh Airport (EDI). This important airport, the busiest in Scotland, is located 65 kilometres south of central Perth and offers frequent direct flies to a wide range of domestic and European destinations.
Perth is also well-connected to the rest of Scotland and England by train. Perth railway station, located near the City Centre, offers frequent passenger connections to Edinburgh, Glasgow, Aberdeen, Dundee, Carnoustie, Arbroath and Inverness. Check train schedules, routes and fares.
To move around the city, Perth has a bus network, as well as taxis and mobile apps. To explore the city's outlying districts, the natural wonders and castles around Perth, you may also choose to rent a car for your stay.
The best area to stay in Perth is the City Centre. Perth's central district is where most of the main museums, tourist attractions, shopping centres and nightlife areas are located. Perth City Centre is also home to some of the best-rated hotels and offers great transport connections to other suburbs and towns. Find accommodation in Perth City Centre.
Another excellent suburb to keep in mind when choosing the best areas to stay in Perth for sightseeing is Scone.
Keep on reading to find more information about the best areas to stay in Perth, Scotland.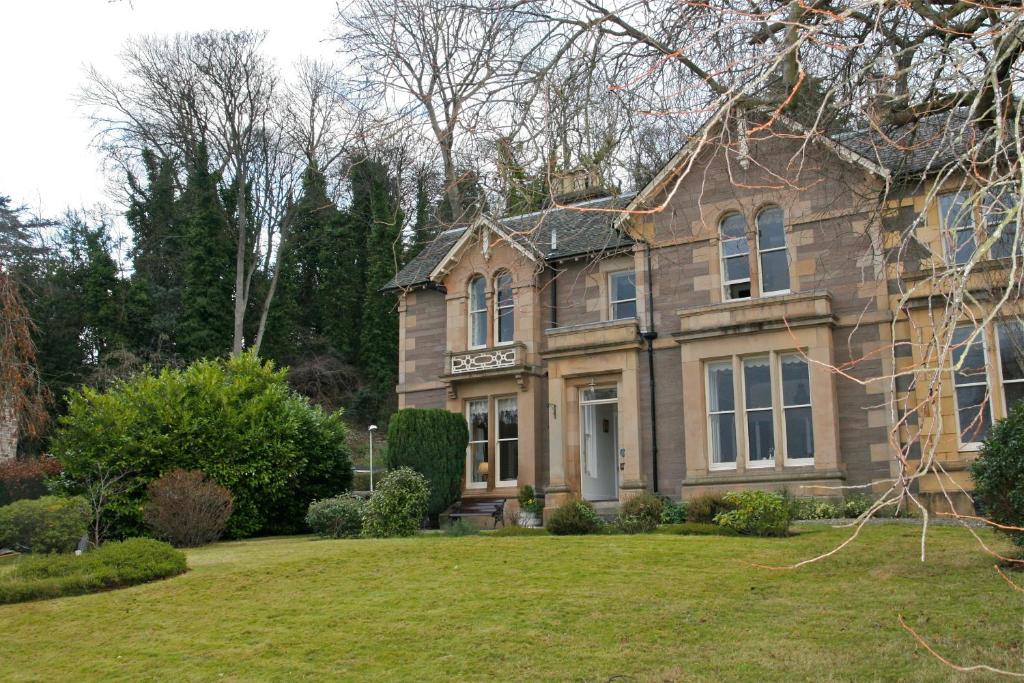 ---
The Best Areas to Stay in Perth, Scotland
1. Recommended area: Perth City Centre
When it comes to the best areas to stay in Perth, Scotland, no other district can beat the city centre.
Situated on the west bank of the River Tay, Perth City Centre is the main administrative, tourist, business and shopping district in this Perthshire town.
High Street, the city's main shopping thoroughfare, crosses the centre from east to west. High Street is packed with independent stores, British and international retailers and department stores.
St Ninian's Cathedral, located northeast of the city centre, stands out for its beautiful neo-gothic facade. Meanwhile, St. John's Kirk, set by the river, dates back to the Middle Ages and is one of Perth's most recognisable landmarks.
Also located next to the Tay, Perth Museum & Art Gallery is a lovely neo-classical building that holds interesting collections focusing on natural history, arts and photography. The River Tay Public Art Trail features a variety of sculptures from local artists.
The Fair Maid's House Visitor Centre, headquarters for the Royal Scottish Geographical Society, is the oldest secular building in Perth and offers interactive exhibitions about geography and geology.
A few hundred metres north of the city centre lies the Black Watch Castle & Museum. This striking manor residence dates from the 16th century and tells the history of The Black Watch regiment and the many roles it has played in Scottish military history.
Perth railway station, the city's main transit hub, is located directly southwest of the centre and provides frequent connections to Edinburgh and Glasgow. Perth's bus station is situated some 100 metres away.
As is to be expected, the City Centre also offers the widest selection of accommodation options in Perth. Whether it's luxury hotels, family-run guesthouses or tourists apartments, you'll find it here.
We have chosen the City Centre as the best area to stay in Perth thanks to its perfect mix of attractions, shopping and nightlife options, and transport connections.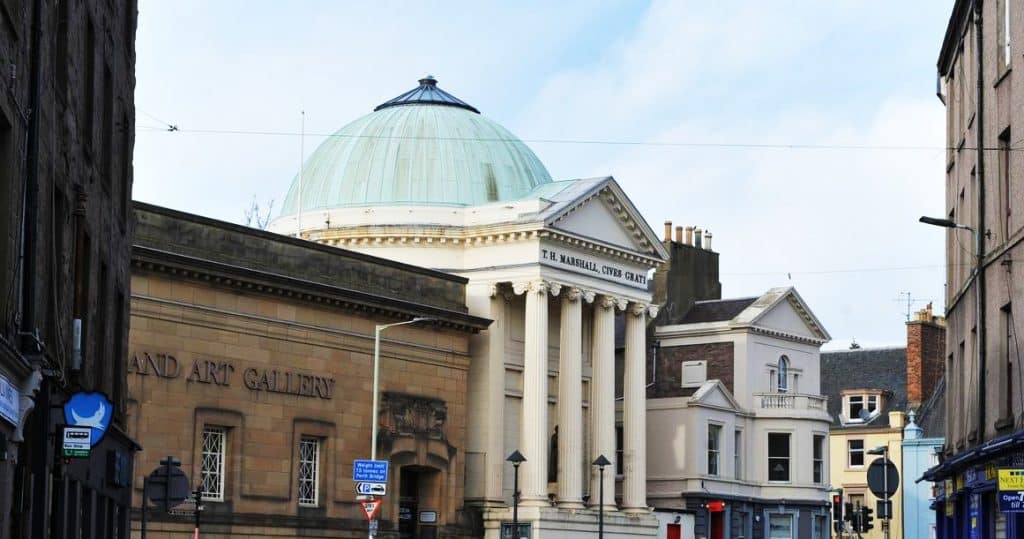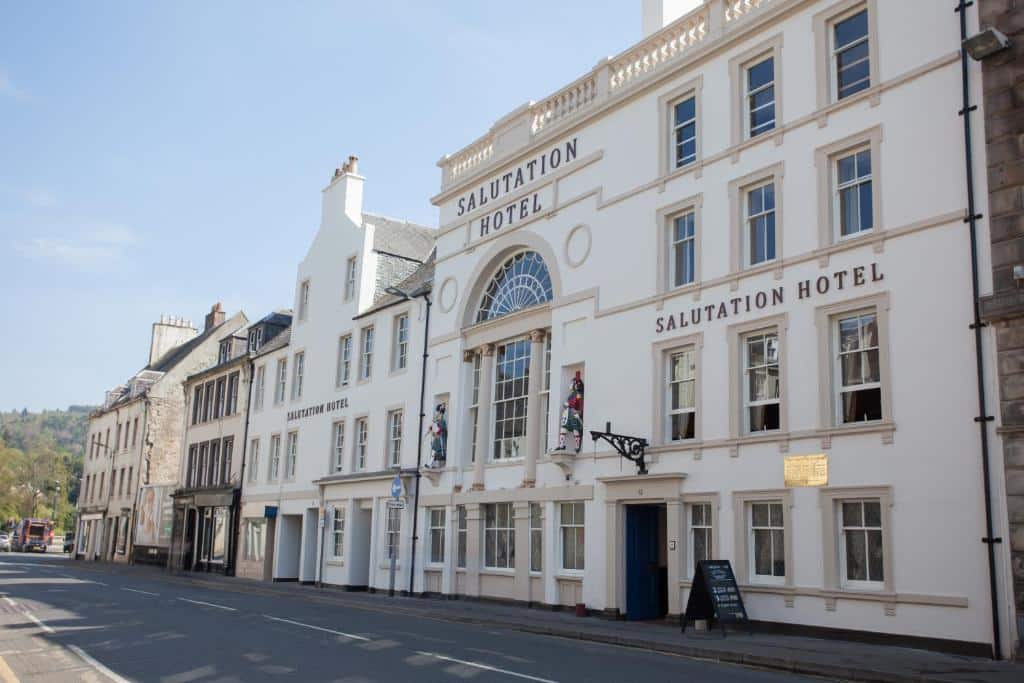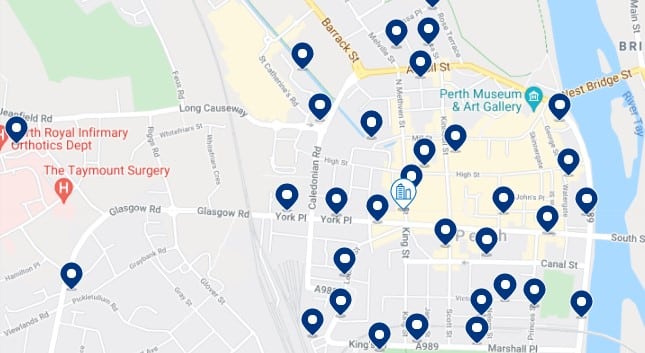 Why is this a recommended area to stay in Perth, Scotland:
Museums and art galleries
Main shopping and nightlife district
The Fair Maid's House
Perth railway and bus station
Well-connected by public tranport
Wide variety of accommodation
---
Read in other languages: