Where to Stay in Estepona: A Guide to Costa del Sol's Garden City
Estepona is a city located on the Costa del Sol, in the south of the province of Málaga. This coastal city is famous for its beautiful and well-preserved historic centre, beaches, and impressive natural environment framed by the Mediterranean Sea and the Los Reales de Sierra Bermeja Natural Park. In this post, we will explore the best areas to stay in Estepona, Spain.
---
Why visit Estepona
Known as the "Garden City" of Costa del Sol, Estepona has several family-friendly attractions. One of the most visited attractions in Estepona is the avant-garde Estepona Orchid House, a botanical garden with beautiful orchids and a waterfall housed under modern glass domes.
Estepona also has a charming historic centre. More than for specific attractions, Estepona's Old Town stands out for its atmosphere and its labyrinth of narrow streets bordered by whitewashed houses with tiled roofs and gorgeous squares decorated with flowers and fountains. At its heart, Plaza de las Flores offers a quiet and idyllic setting with several restaurants and cafes. See accommodation in Estepona's Old Town.
In addition to its charming Old Town, Estepona is mainly known for being a beach destination. The Estepona coastline is made up of a succession of wide sandy beaches. The city's scenic Paseo Marítimo (seaside promenade) connects Estepona's main bathing areas. Some of the most popular beaches in Estepona aree Playa de la Cala, Playa de la Rada, Playa Beach, Playa del Cristo and Playa Seghers. See accommodation near the beach in Estepona.
For nature lovers, Estepona is very close to the Los Reales de Sierra Bermeja Natural Park. This mountainous area stands out for its forests and winding hiking trails leading to viewpoints offering panoramic views of the Costa del Sol and the Mediterranean Sea.
---
When to visit Estepona
Like the entire Costa del Sol, Estepona is a very popular destination during the summer when thousands of visitors from all over Europe come to visit its beaches. As expected, the high season in Estepona occurs from the end of June to the end of August, coinciding with the summer holidays in most European countries. During these months, accommodation and transportation costs increase and can reach astronomical levels.
The best time to visit Estepona is during spring, especially between May and June. During those months, the Costa del Sol temperatures are warm enough to hit the beach, and hotels don't yet have their high season rates. The quietest month to visit Estepona is December. In the winter, there are no tourists to be found, and accommodation prices drop. That said, many hotels, restaurants and bars are closed, and the temperatures are not suitable to go to the beach.
---
Getting there and around
Estepona is connected by air through Málaga-Costa del Sol Airport (AGP). Located 80 km from Estepona, this major Spanish airport, the busiest in Andalusia, offers connections to all of Spain, many destinations in Europe (especially the United Kingdom, Germany and France) and some long-haul flights to North Africa and the Middle East.
Estepona does not have railway connections, but it has excellent bus connections with Málaga, including express services to the airport and the María Zambrano high-speed train station. Additionally, several coach routes connect Estepona with many destinations on the Costa del Sol such as Marbella, Benahavís, Fuengirola and Torremolinos, and other points in southern Andalusia. See train and bus schedules, routes & fares.
The easiest way to move between Estepona and other Costa del Sol towns is by car. You can rent a cheap car here. If renting a car is not an option, Estepona has a small network of urban buses, taxis and mobile applications such as Uber and Cabify.
---
Where to stay in Estepona
The best area to stay in Estepona is the Old Town. This charming quarter packed with quaint narrow streets and whitewashed houses is home to the main attractions, the best restaurants, nightlife venues and accommodation options in Estepona. Estepona's Old Town is also very close to the beaches. See accommodation in Centro Histórico de Estepona.
Other great areas to consider when choosing the best location in Estepona include the Port of Estepona – city beaches and the Playa del Saladillo area.
Keep reading to find out more about the best areas to stay in Estepona, Spain.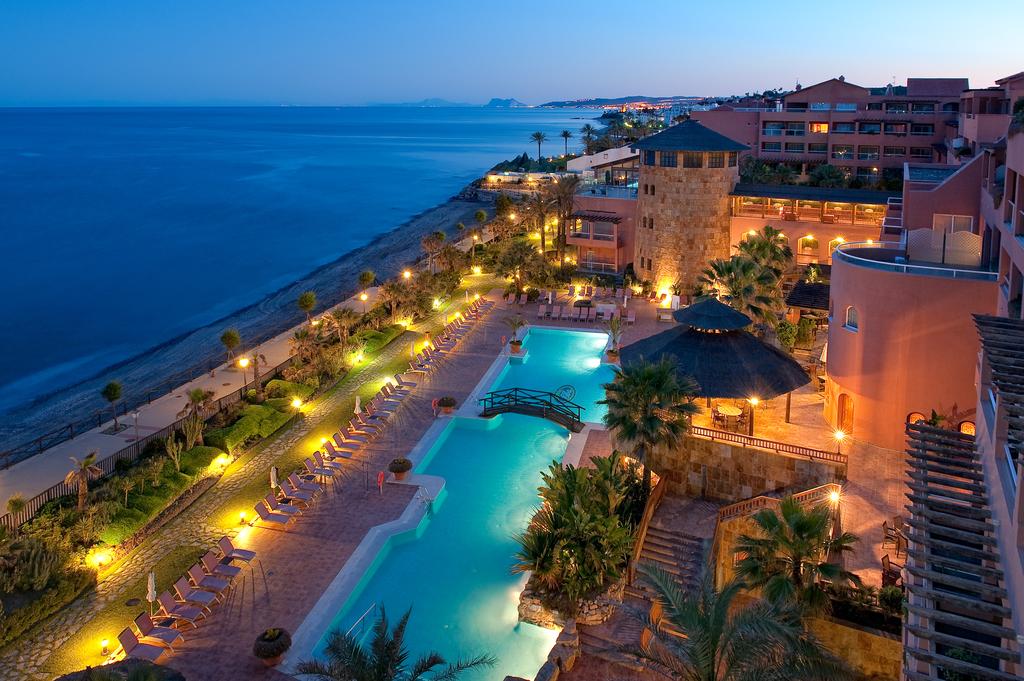 The Best Areas to Stay in Estepona, Spain
1. Recommended area: Centro Histórico de Estepona (Estepona's Old Town)
Estepona's Centre is considered one of the most beautiful historical quarters on the Costa del Sol.
This area is located on a small hill near the Ensenada de Estepona beaches. It stands out for its traditional architecture, typical of the White Villages of Andalusia, with narrow pedestrian streets decorated with flowers.
The historic centre of Estepona also has beautiful squares like Las Flores, surrounded by small cafes, restaurants and terraces.
Another interesting square is Plaza del Reloj, considered the city's heart; this square hosts the town hall, the main market and the church of Los Remedios.
Nearby, the Archaeological Museum offers a small but interesting collection of objects and artefacts dating back to prehistory.
Located in the north of the Historical Center, the Estepona Orchid House offers the most avant-garde facet of the city. This interesting botanical garden displays thousands of flower varieties and a waterfall in a modern setting under three massive glass domes.
To the south, central Estepona is very close to some of the city's most popular beaches, such as La Cala and La Rada.
As it couldn't be otherwise, the centre of Estepona is the best-connected area of this Costa del Sol town.
Avenida de España, which runs parallel to the seaside promenade, has several bus stops connecting the main beaches of the municipality and the other towns on the coast, such as Marbella or Málaga.
For long-distance destinations, the Estepona Passenger Terminal is located a couple of kilometres to the east.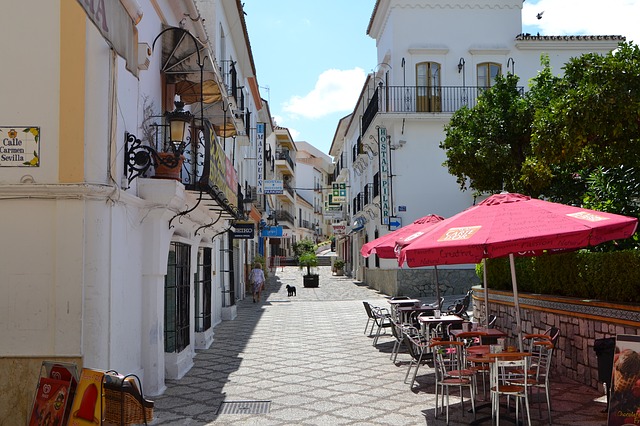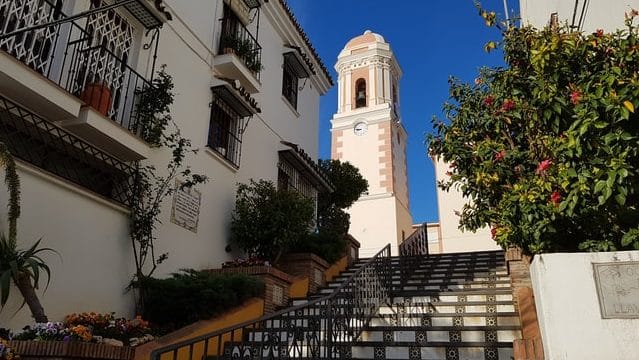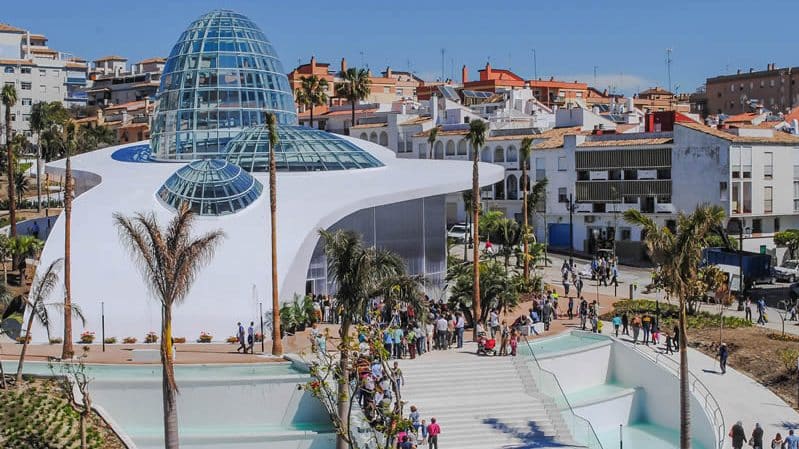 Why is this a recommended area to stay in Estepona, Costa del Sol:
Charming quarter
Near the beach
Museums and attractions
Best area for tourists
Well-connected area
Estepona Orchid House
---
2. Estepona Beaches & Port Area
Although it has a charming historic city centre and several cultural attractions, Estepona is primarily a beach destination.
This city on the Costa del Sol has a spectacular coastline full of wide beaches with fine white sand and offering all kinds of services and amenities for a perfect holiday in the sun.
The main beaches in the urban centre of Estepona are Playa de la Cala, Playa de la Rada, Playa Beach, Playa del Cristo and Playa Seghers.
The beaches closest to the city centre are connected by the Pedro Manrique Promenade, a lively and quaint boardwalk full of restaurants, bars and shops.
Playa de La Rada, one of the most famous on the Costa del Sol, is very popular for its beach bars and places to eat. Just behind it is the old Fishermen's Quarter of Estepona. This area is characterised by its typical Andalusian architecture and countless restaurants. Nearby, you'll also find the Fun Beach Park Estepona, which offers fun for kids on its giant inflatable obstacle courses.
At the southern end of the city is the Puerto Deportivo de Estepona (Estepona Marina). One of the most important on the Costa del Sol, this port area has many shops, restaurants and nightlife venues.
To the west of the port, Playa del Cristo is considered one of the best in Estepona. El Cristo attracts many families thanks to its shallow waters and sun lounger rental services.
The coastal districts are the best areas to stay in Estepona for families and for those looking for a beach holiday. Estepona's coastline is packed with accommodation options ranging from modest B&Bs to the most elegant tourist apartments and five-star spa hotels.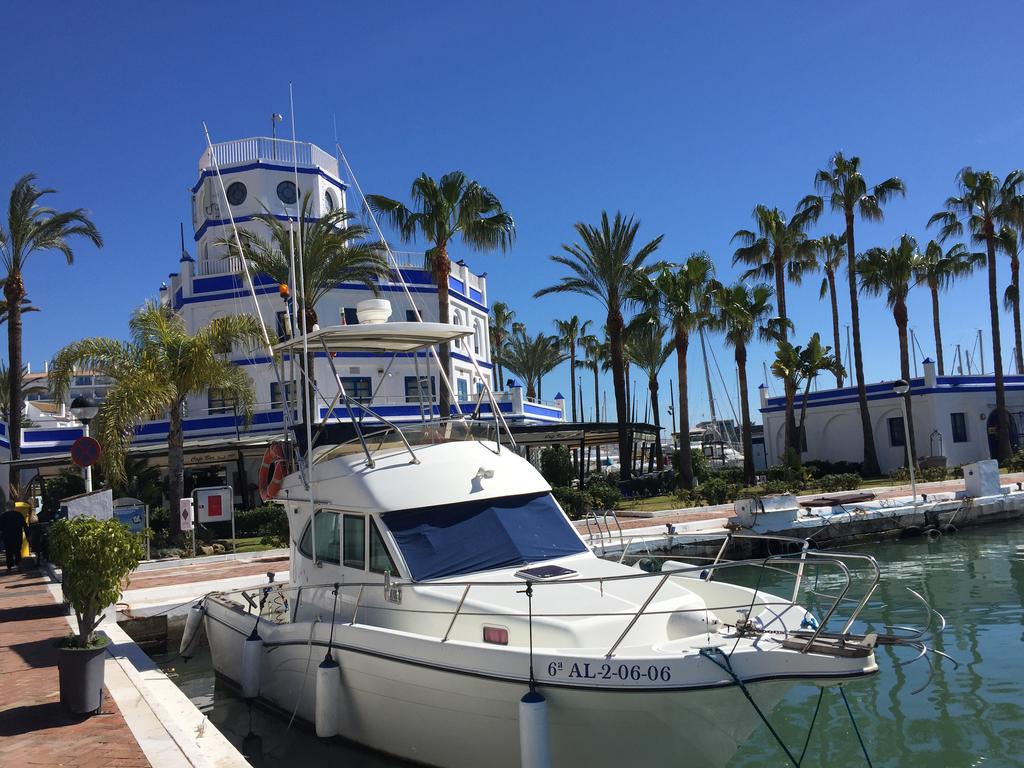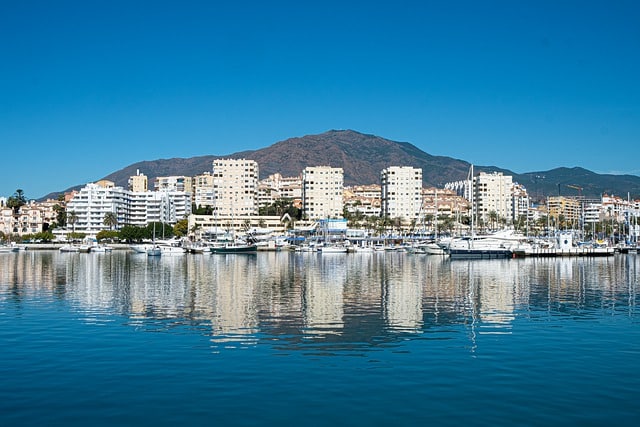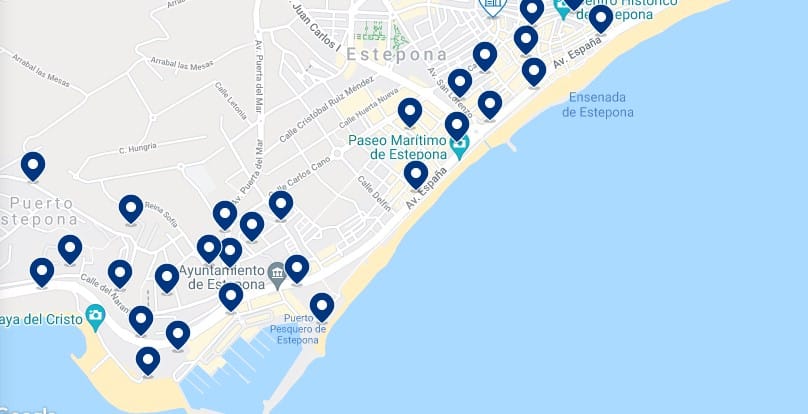 Why is this a recommended area to stay in Estepona, Spain:
Beaches of Estepona
Best area for families
Port of Estepona
Best area for nightlife
---
3. East Estepona: Saladillo Beach & Estepona Golf Courses
Saladillo Beach is located about 10 kilometres east of the city centre of Estepona.
With more than three kilometres of fine sand, El Saladillo is considered one of the best beaches on the Costa del Sol.
It is a popular destination for families and young couples and offers all kinds of services, including toilets, showers, and rental services for sun loungers and water sports equipment.
El Saladillo is also popular thanks to its many leisure and nightlife options, including several restaurants, beach bars and pubs.
This ​​eastern Estepona area is characterised by being a semi-urban district, with a large number of luxury residential developments, country clubs and exclusive shopping centres.
Not far from El Saladillo, you can find many world-class golf courses such as El Paraíso Golf, Atalaya Golf & Country Club, Real Club de Golf Guadalmina and Villa Padierna Golf Club.
As you might expect, this area is also characterized by its exclusive accommodation offer, including gorgeous beach resorts, spa properties, luxurious private villas and some of the best luxury hotels in the province of Malaga.
Being an exclusive and predominantly residential area, most compounds in eastern Estepona lack good public transport connections. The best way to get around this area is by car or taxi. Additionally, many east Estepona hotels offer shuttle services to the beach and golf courses.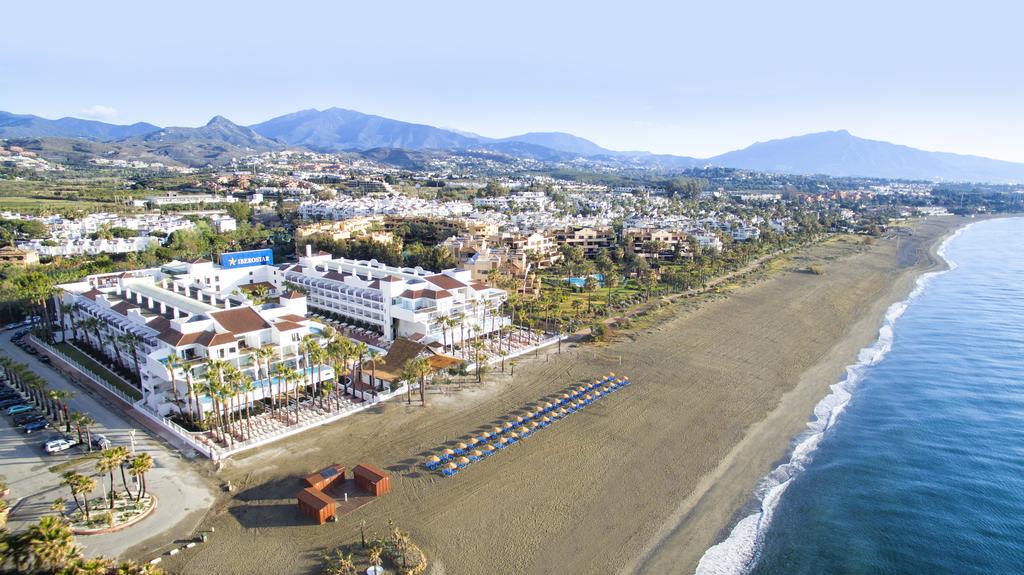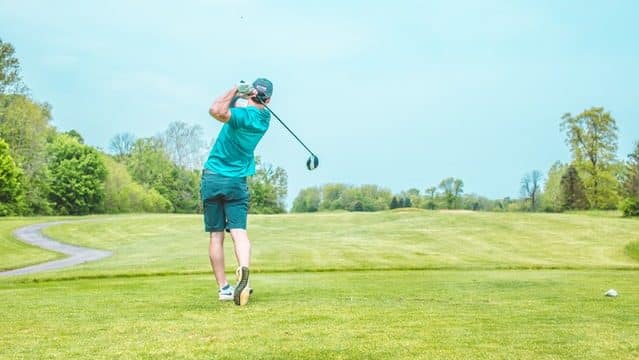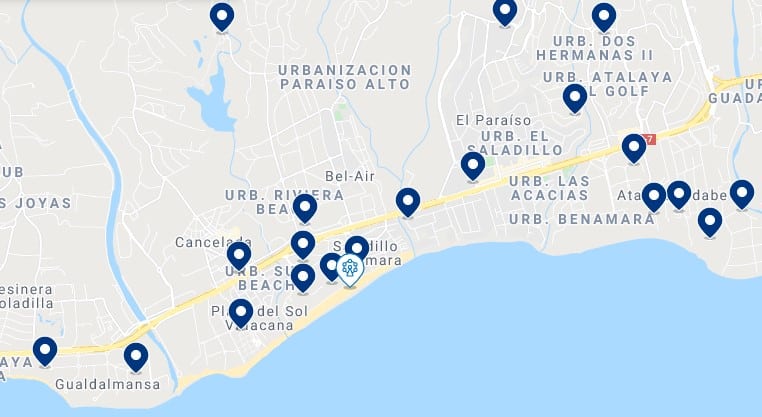 Why is this a recommended area to stay in Estepona, España:
Saladillo Beach
Golf courses
Best area for a luxury holiday on Costa del Sol
Exclusive area
Upscale hotels
---