Where to Stay in Torremolinos – A Guide to This Costa del Sol City
Torremolinos is a coastal city in Southern Spain's province of Malaga. Once a small fishing village, Torremolinos is now one of the most visited destinations in Andalusia thanks to its beautiful beaches, lively nightlife and excellent location in the heart of the Costa del Sol. In this post, we will explore the best areas to stay in Torremolinos.
---
Why visit Torremolinos
During the summer, Torremolinos's beaches attract thousands of tourists from all over Spain and northern Europe. This city is also famous for being one of the most gay-friendly towns in Spain. It has lots of bars, nightclubs, hotels and events especially aimed at the LGBTI community, particularly in its central area. See accommodation in Torremolinos Centro.
Although the main attractions in Torremolinos are beaches such as Bajondillo and La Carihuela, this city is also home to sights such as the Casa de Los Navajas, an impressive neo-Mudejar palace, or Calle San Miguel, with shops and restaurants and cafés for all tastes.
---
When to visit Torremolinos
The best time to travel to Torremolinos is during the summer . From late May to early October, you can sunbathe on one of its many beaches, as well as taste the delicacies of Andalusian cuisine in its chiringuitos (beach bars).
That said, the summer is the high tourist season in Costa del Sol, and the accommodation costs tend to be higher, so it is advisable to book in advance to find a good deal. See accommodation in Torremolinos.
Spring is also a great time to visit Torremolinos. During the springtime, temperatures are less oppressive, and the city hosts its annual LGBTI Pride celebrations.
---
Getting there & around
Torremolinos is 7 kilometres from Malaga-Costa del Sol Airport, which translates to a journey of approximately ten minutes by commuter train. It is also possible to reach the city by car or bus. See long-distance bus and train schedules.
---
Where to stay in Torremolinos
The best area to stay in Torremolinos is the City Centre. This lively area is home to all kinds of accommodations, vibrant nightlife, and it's really close to El Bajondillo beach and the city's train station. See accommodation in Torremolinos Centro.
Other great areas to consider when choosing the best location for tourists in Torremolinos include La Carihuela, Los Álamos & Playamar and around the train station.
Keep reading to find out all the info you need about the best areas to stay in Torremolinos, Spain.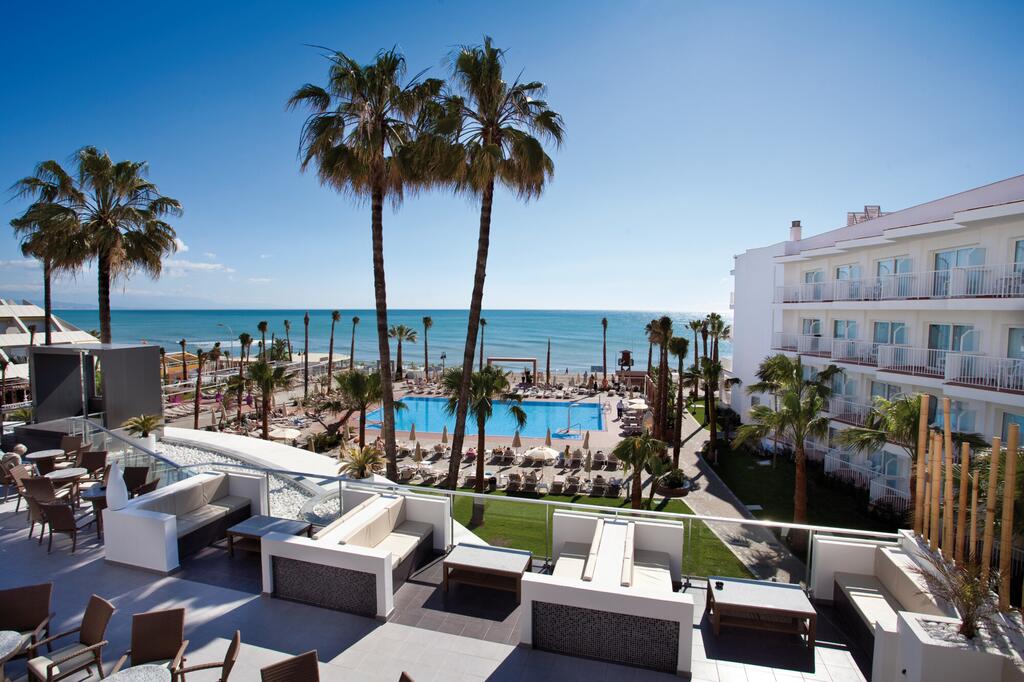 The Best Areas to Stay in Torremolinos, Spain
1. Recommended area: Torremolinos Centro
Torremolinos Centro is the heart of the city and, as such, concentrates a great deal of its best restaurants, hotels, bars and attractions such as the Church of San Miguel Arcángel and the Casa de Los Navajas.
Torremolinos's City Centre is also the LGBT+ area of ​​the city. This comparatively huge gaybourhood includes several city blocks flanked by gay bars and nightclubs aimed at an LGBTI audience. Needless to say, Centro is the best area to stay in Torremolinos during the city's Gay Pride celebrations (Orgullo de Torremolinos).
The central Calle San Miguel is the main commercial thoroughfare in Torremolinos. It hosts several souvenir shops, boutiques and department stores for all tastes.
Centro is no doubt one of the best areas to stay in Torremolinos. It is a very pedestrian-friendly district within walking distance of El Bajondillo neighbourhood and its popular beach.
El Bajondillo beach is packed with chiringuitos selling pescaíto frito (fried fish) and beer.
In addition, the Torremolinos train station is located near the city centre. From here, you can catch commuter trains to the airport, Málaga, and other Costa del Sol cities like Fuengirola.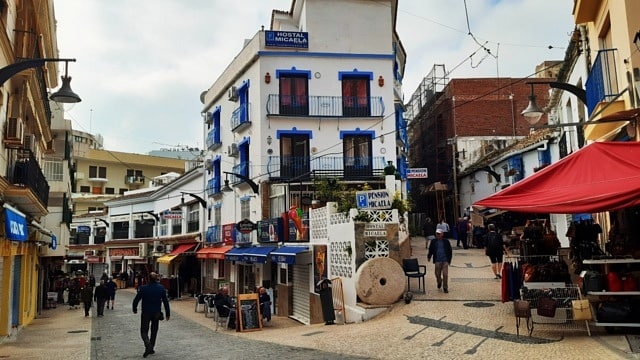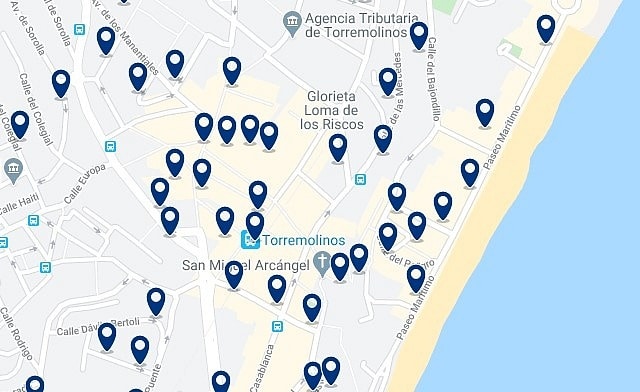 Why is this a recommended area to stay in Torremolinos:
Best area for tourists
Hotels of all kinds
Best area for shopping
San Miguel Street
Excellent food
Torremolinos Renfe Station
Gay bars and clubs
Near the beach
Pedestrian-friendly
---
2. La Carihuela
La Carihuela is an old fishing district located southwest of Torremolinos City Centre. Over the years, this area has become a favourite place for artists and bohemians.
La Carihuela is also home to one of the best beaches in Torremolinos. This area has luxury hotels with pools offering spectacular views of the Mediterranean Sea during sunrise and sunset, as well as several privately-owned tourist apartments.
That is why La Carihuela is one of the best areas to stay in Torremolinos for a romantic getaway.
Although this area does not have many attractions other than the beach and its food and nightlife options, it is located near La Batería Park, a small green space offering recreation away from the crowds.
This area is very pedestrian-friendly, as it has a seaside promenade full of shops.
La Carihuela is connected to the centre of Malaga and Bajondillo by bus.
---
3. Los Álamos Beach & Playamar
The Álamos Beach and Playamar area is one of the quietest in Torremolinos.
This area has a more local feel to it and has a wealth of tourist apartments.
Playamar and Los Álamos are located northeast of Playa Bajondillo and the centre of Torremolinos, about 11 minutes by bus.
This is a recommended area to stay in Torremolinos for those looking for tranquillity during their stay or those looking for a more authentic and local experience. The area is packed with restaurants specializing in seafood, and the accommodation here tends to be cheaper than in the central districts.
In Los Álamos Beach you can practise all kinds of watersports including kite-surfing, so it is a good area to stay in Torremolinos for sports fans.
---
4. Around Renfe Station
Although, technically, Torremolinos station is located within the city centre, it deserves to be mentioned among the best areas to stay in Torremolinos for its connections with Malaga, the airport and Fuengirola.
Around the station there are many fast-food restaurants and accommodation of all kinds, including some cheap hotels to stay in Torremolinos.
Staying near the station is a good idea when you have an early flight and you need to arrive early at Malaga airport or when you are on a train route along the Spanish Costa del Sol.
---
Read in other languages