Where to Stay in Fort Lauderdale – A guide to "The Venice of America"
Fort Lauderdale is a seaside city located in southern Florida, 25 miles north of Miami. This city is famous for its lovely beaches, amazing nightlife, historic riverfront and its canals, which earned it the nickname Venice of America. In this post, we will explore the best areas to stay in For Lauderdale, Florida.
The top tourist attractions in Fort Lauderdale are its beautiful wide beaches such as Fort Lauderdale Beach, Las Olas, or Sebastian Street Beach. From a cultural standpoint, this Florida city is home to historical mansions like Bonnet House and Stranahan House, both of which are now museums. Art lovers should not miss the NSU Art Museum, with a collection of contemporary art. Finally, the Museum of Discovery and Science offers interactive displays for adults and children.
Lovers of the outdoors will really enjoy Fort Lauderdale's city parks, nature conservation centers, and natural areas like the Hugh Taylor Birch State Park, Butterfly World, Dr. Von D. Mizell-Eula Johnson State Park, Anne Kolb Nature Center, Flamingo Gardens, or Tree Tops Park.
Fort Lauderdale's legendary dining and shopping scene and nightlife can be seen taking a stroll around places such as Las Olas Boulevard, Hollywood Beach Broadwalk, or Fort Lauderdale's Riverwalk.
Home to the third-busiest airport in Florida, Fort Lauderdale–Hollywood International Airport is the main hub for several low-cost carriers and offers hundreds of connections to North America, the Caribbean, and a handful of European cities. Furthermore, Miami International Airport, located around 30 mi south, further connects the city with several destinations around the world. Fort Lauderdale is also connected via frequent trains to Broward, Miami-Dade, and Palm Beach via the Tri-Rail commuter system, as well as Amtrak services to Orlando and beyond. Check train connections and timetables.
In order to move around Fort Lauderdale, the easiest way is by car. Rent a cheap car here. That said, public transportation options in the city are available. The most popular, albeit also the most touristy one would be Sun Trolley, a bus system resembling an old-style tram. Water taxis are also a scenic way to get around the Venice of the Americas. Other than that, Fort Lauderdale also offers traditional bus services, as well as taxis and ride-sharing apps like Uber and Lyft.
When considering the best location in Fort Lauderdale, the oceanfront districts encompassed in the Lauderdale-by-the-Sea township offer amazing views and some of the best hotels and resorts in town. See accommodation in Lauderdale By-the-Sea.
If it's nightlife and shopping you're after, Downtown Fort Lauderdale and Las Olas Boulevard are home to the hottest place in town. See accommodation near Las Olas Boulevard. Also, Fort Lauderdale is a major LGBT destination in the US. Although most of the city is pretty gay-friendly, the main gay quarter is around the Wilton Manors area. See accommodation in Wilton Manors.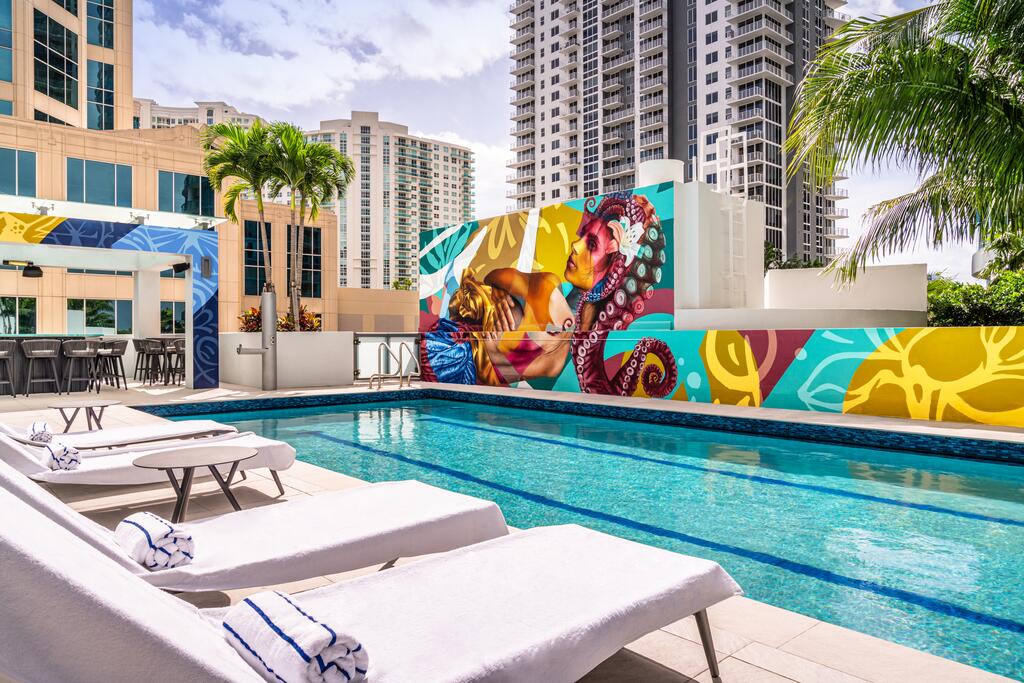 Keep reading to find out more about the best areas to stay in Fort Lauderdale, Florida.
---
Best Location in Fort Lauderdale, Florida: A Quick Guide
Below, you'll find a list of the best areas to stay in Fort Lauderdale depending on your travel style. Keep reading this post to find all the information you need about each particular area.
---
Best Hotels in Fort Lauderdale by Theme
Something more specific in mind? Here's a list of some of the best hotels in Fort Lauderdale. No matter your reason for visiting the city or style, you'll find it here!
---
The Best Areas to Stay in Fort Lauderdale, Florida
1. Recommended area: Fort Lauderdale Beach
Unlike other big cities in Florida and their bustling beaches, Fort Lauderdale is perfect for romantic getaways, for sunbathing and relaxing.
The paradisiacal scene offered by the beaches of Fort Lauderdale includes white sand, warm and clear waters.
With numerous parks near the beach, swimming is not the only activity to do in this area.
Those staying at the beaches of Fort Lauderdale will be able to observe different species of animals and plants in their beautiful natural oases.
Lauderdale By-the-Sea is surrounded by souvenir shops and hotel complexes.
In this area, you can also find Sebastian Street, a friendly paradise for the LGBT community, full of life during the day and night.
The beaches of Fort Lauderdale are a meeting point between tourists, with public parks, parking spaces available, fashion shops and restaurants that make it the best area to stay in Fort Lauderdale.
---
2. Downtown Fort Lauderdale
Downtown Fort Lauderdale is the starting point of the city.
With an urban and tropical touch, the center of Fort Lauderdale is ideal for those who want to stay among shops, restaurants, and entertainment for all ages.
Downtown activities can be done both day and night, including visiting the historic Stranahan House, the Museum of Discovery and Science and the Broward Center for the Performing Arts.
Lovers of picnics, good jazz and afternoon walks will enjoy staying in Downtown Fort Lauderdale.
The Downtown also has a great boulevard with fashionable cafes, shops of recognized brands and restaurants.
The resurgence of Downtown Fort Lauderdale has turned this area into a place full of condos and new hotels that provide comfort and access to the best entertainment.
Downtown Fort Lauderdale is one of the best areas to stay in Fort Lauderdale because it is close to the beaches and has a great availability of hotels and public transport.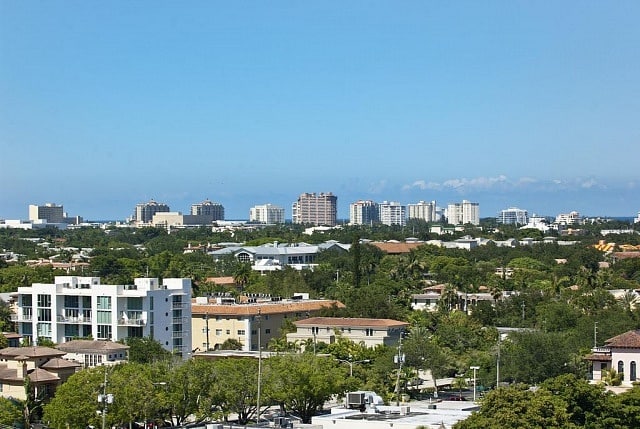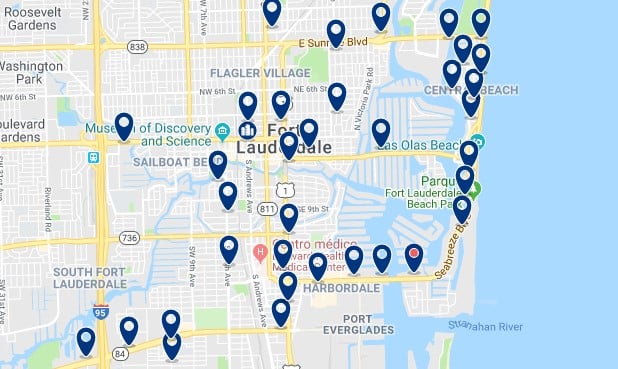 Why is this a recommended area to stay in Fort Lauderdale, Florida:
Connected by public transport
Best area to stay without a car
Great nightlife
---
3. Wilton Manors
Wilton Manors, known as the LGTB Friendly area of ​​Fort Lauderdale, is one of the best places to stay. Wilton Manors is nicknamed "the Island City", is located north of Fort Lauderdale and is a separate city, however, because of the proximity, it is considered as another great area to stay.
In addition to being a district inhabited by a large gay community, this area hosts a family atmosphere with beautiful homes and apartments, excellent shopping options, restaurants, and parks.
Colohatchee Park is a picturesque place where nature predominates, in addition to the Richardson Historic Park & ​​amp; Nature Preserve for kayak rides.
The culinary scene at Wilton Manors stands out for its delicious burgers, Thai food, tapas bars, and excellent cocktails.
Wilton Manors enjoys the best nightlife, thanks to its lively bars and clubs with cheerful atmospheres, full of music and dance.
Wilton Manors is among the best areas to stay in Fort Lauderdale since it has easy access through public transport and offers accommodation for any type of traveler.
---
4. Near Fort Lauderdale-Hollywood International Airport
In the area surrounding the Fort Lauderdale International Airport, hotels are available for business travelers or for short stays.
A point in favor of staying in the area near the airport is the availability in terms of public transport and taxis since it has good connections with other areas of Fort Lauderdale.
The Fort Lauderdale Airport is located 8 kilometers south of the city center. In this area, you will find fast food restaurants, souvenir shops, and some parks.
The airport is also near the beaches of Fort Lauderdale, so those who stay here can easily access the entertainment of the city.
The area surrounding the Fort Lauderdale International Airport is one of the recommended areas to stay during a short visit and has cheap hotels for travelers who do not have a large budget.
---
Read this in other languages