Where to Stay in Tampa – A Guide to "The Big Guava"
Tampa is located on an inlet reaching far into the west coast of Florida, it is the economic center of the state's west coast and the main city in the state's second-most populous metro area. It is famous for being the birthplace of Death Metal, and for being home to popular family-friendly tourist attractions such as Busch Gardens or Adventure Island. In this post, we will explore the best areas to stay in Tampa.
Among its other attractions are Tampa Zoo, the city Aquarium, the popular shopping and entertainment area around its Riverwalk, or the Museum of Science and Industry.
Tampa has a humid subtropical climate. This means that winters (from December to February) are mild, while summers (from June to September) are super warm and rainy. The peak travel times in Tampa are around the Christmas holidays, Spring Break, and the months of July and August.
When it comes to public transport, the city offers a streetcar line providing a connection between historic Ybor City to Channelside Bay Plaza and several bus lines. However, the best way to get around Tampa and enjoy all of its city attractions and the outlying beach resorts is to rent a car. You can rent a cheap car in Tampa here.
With regards to the best areas to stay, Downtown is well-connected and houses many attractions and the best nightlife. See accommodation in Downtown Tampa.
Here's a guide with the best areas to stay in Tampa, Florida.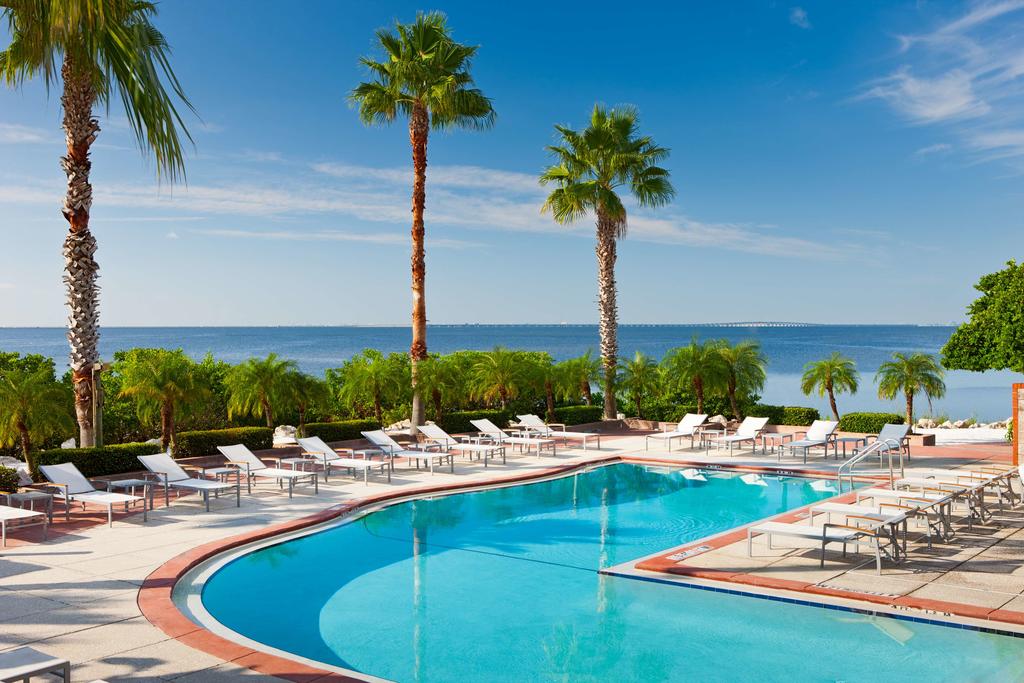 ---
Best Location in Tampa, Florida: A Quick Guide
Below, you'll find a list of the best areas to stay in Tampa depending on your travel style. Keep reading this post to find all the information you need about each particular area.
---
Best Hotels in Tampa by Theme
Something more specific in mind? Here's a list of some of the best hotels in Tampa. No matter your reason for visiting the city or style, you'll find it here!
---
The Best Areas to Stay in Tampa, Florida
1. Recommended area: Tampa Bay Harbor
Located a few miles west of Downtown Tampa, Bay Harbor offers a great location by the sea.
This neighborhood offers spectacular views, hotels near the piers, restaurants, and terraces where you can enjoy excellent dishes and cocktails and several entertainment options.
In Tampa Bay Harbor, you can enjoy shows, exquisite wines, craft beers, modern stores, museums, historical places and much more, making it one of the best areas to stay in Tampa.
Tampa Bay Harbor is home to Ben T Davis Beach, one of the most popular beaches in the Tampa metro area.
Tampa Bay Harbor offers top-notch hotels and the best accommodation option for those who want to enjoy the fresh air and open spaces next to the bay.
---
2. Downtown Tampa
Downtown Tampa is home to the city's historic area.
The area's main cultural attraction is Ybor City, a historic neighborhood just northeast of downtown Tampa.
In the wake of the 20th century, Downtown Tampa in general, and Ybor City in particular, used to host several cigar factories that, nowadays, house art galleries, shops, restaurants, and museums such as the famous Cigar Museum.
The Downtown Tampa district is also popular with hipsters thanks to its alternative bars, skating areas, shops, quirky cafés, and restaurants.
The Downtown is recommended as the best area to stay in Tampa because it is easy to know the main attractions of the city.
---
3. Westshore & Tampa International Airport
The Westshore area, near Tampa International Airport is another great area to stay, especially for travelers on a stopover or for short stays.
In this area, you can find the large shopping center Westshore Plaza, known for its variety of fashion stores and multiple food venues.
Near Westshore lies the Raymond James Stadium, so, those who stay here, can enjoy football games during the season of games in the city.
Near the airport, you'll find a wide selection of restaurants.
In addition, this area allows the traveler to rent cars to move to other areas of the city or take a tram or bus at their stops.
Because it is close to the airport, Westshore is also one of the best places to stay in Tampa for business travelers.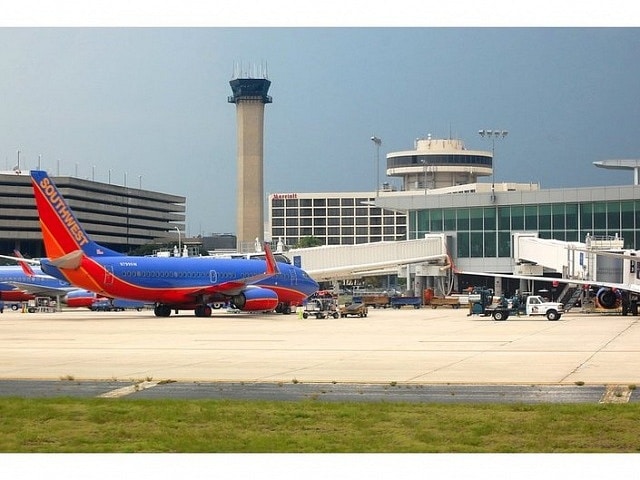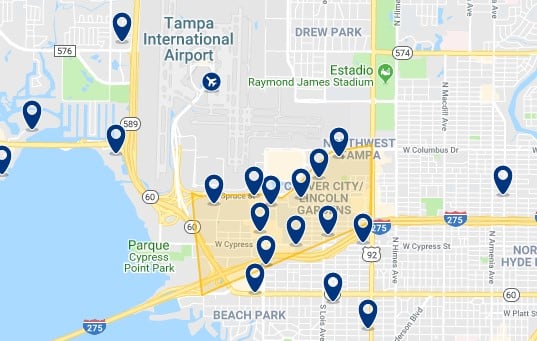 Why is this a recommended area to stay in Tampa, FL:
Best area for a layover
Good for shopping
Near the airport
---
Read this in other languages