Where to Stay in Palm Beach – A Guide to the "Island City"
Palm Beach is an oceanfront city located in South Florida, 62 miles north of Miami. This lovely town, set on a thin island between Lake Worth Lagoon and the Atlantic Ocean is one of the top tourist destinations in Florida. Palm Beach is famous for its stately historical mansions, its upscale shopping boulevards, and its long, wide, thin-sand beaches. In this post, we will explore the best areas to stay in Palm Beach.
This city is known primarily for being home to some of the best beaches in the state of Florida and for its glitzy shopping and dining options. However, there's more than white sands and impressive sunsets to this town which actually offers the art scene of a much larger city. Some of the cultural sights in Palm Beach include the Henry Morrison Flagler Museum, the Society of the Four Arts, the Norton Museum of Art, and the Ann Norton Sculpture Gardens. Most of these museums and galleries are set in beautiful historical mansions.
The city's main commercial boulevard, Worth Avenue, is home to some of the most luxurious boutiques, art galleries, and world-class restaurants. On the other side of the lagoon lies the city of West Palm Beach. This mainland area offers a less touristy atmosphere while still offering excellent dining and shopping options, particularly around Clematis Street.
As with the rest of South Florida, the tropical climate of Palm Beach makes it a tourist destination year-round. Summers are hot and humid, with high temperatures around 83 to 91°F. Meanwhile, winters are drier and warm (low temperatures rarely drop below 59°F). The wet season lasts from May to October and tropical cyclones are rare.
Palm Beach International Airport is one of three major airports serving the Miami metropolitan area. It offers direct daily and seasonal connections to several places in North America and the Caribbean. Much busier and still nearby are Fort Lauderdale–Hollywood International Airport (50 mi away) and Miami International Airport (73 mi away). Palm Beach is one of the few places in Florida also connected via frequent commuter trains (Tri-Rail) to Miami and Fort Lauderdale, you can also catch Amtrak services to Orlando and other cities. Check train connections and timetables.
Although public transportation options are available, in order to move around Palm Beach and West Palm Beach, the easiest way is by car. Rent a cheap car here. Palm Beach has a bus system, as well as taxis and ride-sharing apps like Uber and Lyft.
When considering the best location to stay in Palm Beach, the best hotels, top shopping options, and the hottest nightlife venues are all located on Palm Beach Island. For the best transport options, cheaper accommodation, and a more down-to-earth atmosphere, look no further than Downtown West Palm Beach.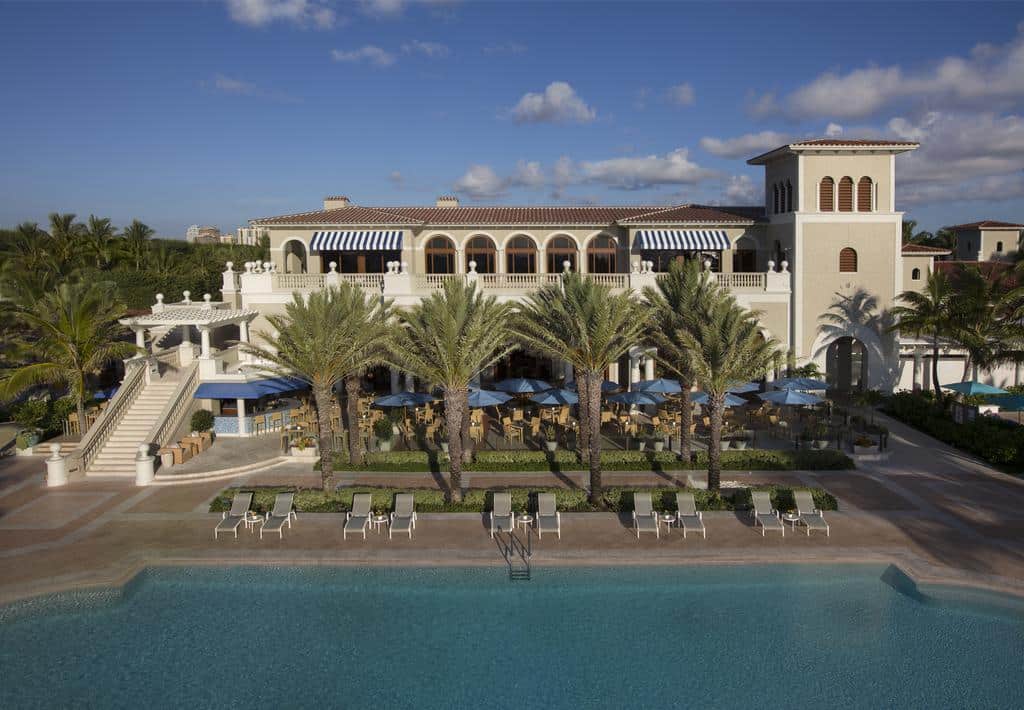 Keep reading for our pick of the best areas to stay in Palm Beach, Florida.
The best areas to stay in Palm Beach, Florida
1. Our favorite area: Palm Beach Island
Palm Beach is one of the great entertainment centers of Florida.
The city is full of luxury mansions and shops that offer exclusive entertainment for the most demanding travelers.
The golden coast of Florida has plenty to keep any tourist busy, from major museums to the best shops and restaurants where you can taste local and international cuisine.
Public transport in this area is divided into several bus routes and taxis. In addition, the district is friendly for those who want to move on a bike.
The most visited attractions of Palm Beach are the Henry Morrison Flagler Museum and historic sites such as the Clock Tower that are well worth a visit.
The beach charm and cheerful nightlife make the district the best area to stay in Palm Beach.
---
2. Downtown West Palm Beach
In West Palm Beach, there are many museums and art galleries, such as the famous Norton Art Museum, as well as several performing arts centers.
With breathtaking views, West Palm Beach is a welcoming, beautiful place to stay.
There is no way to visit this neighborhood without getting caught up in the fun and leisure of the area.
Activities such as shopping in large malls, visiting luxury shops and taking the brunch in the afternoon are typical of West Palm Beach.
Other attractions in the area are the Palm Beach Zoo and the Lion Country Safari, which offer visitors unforgettable experiences and are ideal for those traveling with family.
At night, West Palm Beach has areas full of life such as Clematis Street and CityPlace, with nightclubs and bars, as well as cafes.
Undoubtedly, the exclusivity of its luxury hotels with impressive views qualifies West Palm Beach as one of the best areas to stay in Palm Beach.
---
Read this in other languages