Where to stay in Fort Myers – A guide to this city of Florida
Fort Myers is known as "The City of Palms". It is located on Florida's west coast, about 100 miles from Tampa and 120 miles from Miami. This town is famous for its amazing beaches, perfect for water sports, its historical estates, and its nearby islands. In this post, we will explore the best areas to stay in Fort Myers.
This tourist destination is ideal for everyone from adventurous travelers to couples, and families. Fort Myers's natural environment, golf courses, water sports, world-class resorts, and white sand beaches make this own a true tropical gem. The best activities to do in Fort Myers also include shopping and visiting its bars and nightclubs at night.
As with most Florida beach resorts, public transportation in Fort Myers is not its strongest asset. There are some bus lines and taxis are available. However, the best way to get around town is definitely by car. You can rent a cheap car in Fort Myers here.
The best area to stay in Fort Myers is around the beach. It is home to luxury hotels and resorts near the seashore and offers great views, restaurants, shops, and lots of nightlife options. See accommodation in Fort Myers Beach.
Other great areas worth checking out when choosing the best location in Fort Myers are Sanibel Island and Downtown Fort Myers.
Here's a guide with the best areas to stay in Fort Myers, Florida.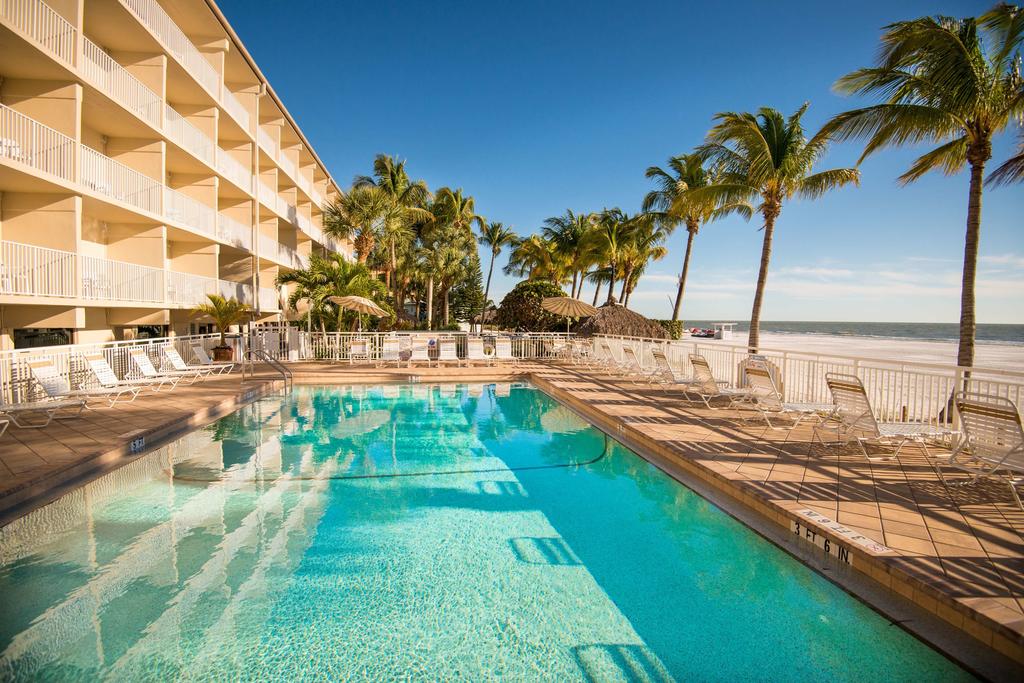 ---
Best Location in Fort Myers, Florida: A Quick Guide
Below, you'll find a list of the best areas to stay in Fort Myers depending on your travel style. Keep reading this post to find all the information you need about each particular area.
---
Best Hotels in Fort Myers by Theme
Something more specific in mind? Here's a list of some of the best hotels in Fort Myers. No matter your reason for visiting the city or style, you'll find it here!
---
The Best Areas to Stay in Fort Myers, Florida
1. Recommended area: Fort Myers Beach
To enjoy a stay full of relaxation and fun, the best area to stay in Fort Myers is Fort Myers Beach.
The beaches of Fort Myers are a meeting point for tourists and locals to enjoy sunny days, open sea, clear waters, and lots of fun.
In this area, you can either choose to rent a car or even just walk if you're not planning to move to other areas. Being a tourist area, the beach, as well as most hotels and shops are reachable on foot, which allows travelers to move easily around the area.
A short distance from Fort Myers, you'll find the islands of Captiva and Sanibel, other beachside resort areas with different attractions to visit.
Fort Myers Beach is the best area to stay in Fort Myers, with a variety of hotels and spaces for outdoor activities.
---
2. Sanibel Island
The Sanibel Island area is the ideal choice for any type of trip, be it for romance, family getaways or simply to enjoy nature, away from the hustle and bustle.
Sanibel Island offers beach breaks, visits to the museum, theaters, and the best bars and clubs, with live music shows by local artists.
The beaches of Sanibel Island are a great place to unwind, enjoy fishing, bird-watching, or take advantage of the relaxation options at its luxury hotels.
Other activities on Sanibel Island include exploring the art galleries, enjoying a night at the theater or tasting delicious lobsters and shrimp at many of its restaurants.
Sanibel Island has many accommodations, including luxury hotels and villas.
Sanibel Island perfectly mixes beach and city life, which is why it's one of the best areas to stay in Fort Myers.
---
3. Downtown Fort Myers
Downtown Fort Myers is surrounded by nature reserves and is home to museums dedicated to Thomas Edison and Henry Ford.
Downtown Fort Myers stretches along the Caloosahatchee River, making it full of ecological, historical, and cultural attractions. In addition, it also has a high range of vintage stores and outdoor shopping centers.
The nightlife in downtown Fort Myers is one of the best in the city.
This district has charming streets, bars, and terraces where you can dine and enjoy cocktails at night.
The Downtown district in Fort Myers is another of the best areas to stay in Fort Myers thanks to the easy access to the attractions of the city, its proximity to beaches, and entertainment options.
Downtown is also the place to find cheap accommodation in Fort Myers.
---
Read this in other languages