Where to Stay in Guatemala City – A Guide to the Capital of Guatemala
Guatemala City is the capital of Guatemala. Located in the south-central part of the country, in a valley surrounded by volcanoes, Guatemala City is known for being a business, industrial and economic hub in Central America. In this post, we will discover the best areas to stay in Guatemala City.
The main cultural attractions in Guatemala City's center include the Palacio Nacional de la Cultura, Plaza de la Constitución, the Metropolitan Cathedral, and the Mercado Central. See accommodation in Guatemala City.
Other important attractions in Guatemala City include Museo Popol Vuh, Torre del Reformador, Museo Miraflores, Museo Nacional de Arte Moderno Carlos Mérida, the Railway Museum, or Avenida La Reforma.
Outdoorsy types and nature lovers, as well as those traveling with kids will enjoy attractions like Parque Zoológico La Aurora, IRTRA Mundo Petapa theme park, La Asunción Ecological Park, and Senderos Alux Ecological Park.
Due to its high-altitude location, Guatemala City has a tropical savanna climate. The city has an almost constant temperature (14 – 24 ºC) year-round. The rainy season lasts from May to November, while the rest of the year is drier. The best time to visit Guatemala City is during the dry season (December through April). During these months, you can enjoy outdoor activities without having to worry about the humid season's torrential rains.
To get to Guatemala City by air, the city is served by the La Aurora International Airport. Located 6 kilometers south of the City Center, this airport offers regional connections to several destinations in Central America, Mexico, and the Caribbean and a handful of international services to cities in the US, Spain, and Colombia.
A network of long-distance buses also connects Guatemala City to most cities in the country and neighboring nations. See bus routes, schedules & fares.
Guatemala City's public transportation consists of a rapid bus network known as Transmetro, several traditional bus lines, taxis, and rental cars. You can rent a cheap car in Guatemala City here.
The best area to stay in Guatemala City, especially as a foreign tourist, is Zona 10. This upscale area is home to some of the city's main shopping centers and best international hotels. Zona 10 is also the safest area to stay in Guatemala City. See accommodation in Zona 10.
Other excellent options when choosing the safest areas to stay in Guatemala City include Zona 4 and Zona 13.
Keep reading to find out more about the best location for tourists in Guatemala City, Guatemala.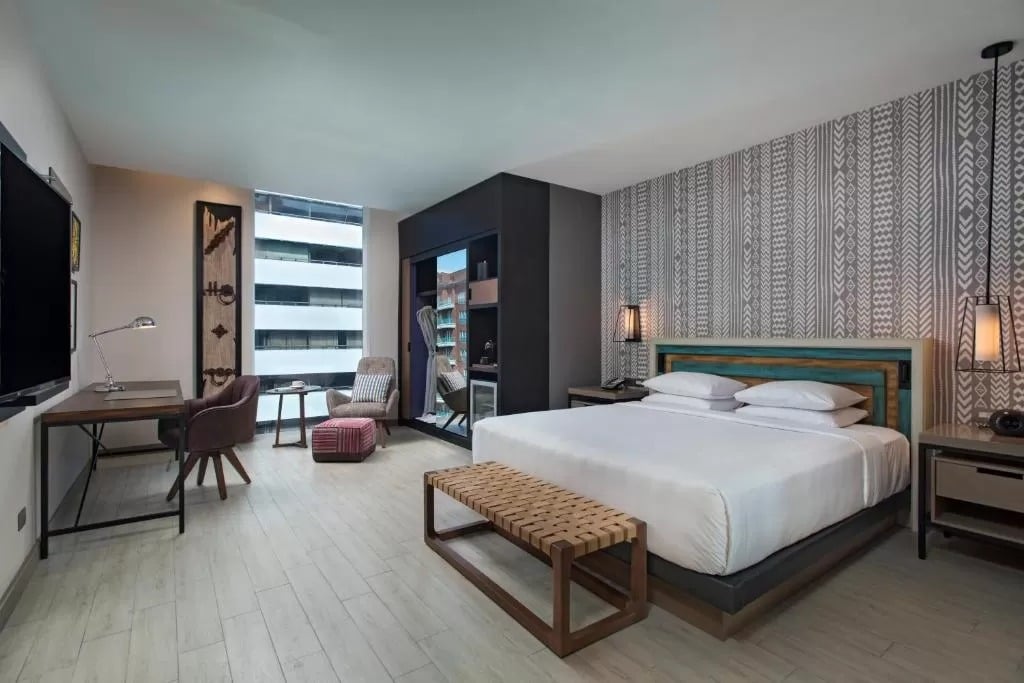 Hyatt Centric Guatemala City

Located in Guatemala, Hyatt Centric Guatemala City features accommodations with a restaurant, free private parking, an outdoor swimming pool, and a fitness center. Featuring a bar, the 5-star hotel has air-conditioned rooms with free WiFi, each with a private bathroom.
The Best Areas to Stay in Guatemala City
1. Recommended rea: Zona 10 (Southeast Guatemala City)
Zona 10, also known as Area 10 is located south of the City Center, separated from the 9th district by Avenida La Reforma.
Reforma Avenue is an important thoroughfare home to the city's office developments and commercial areas.
This district stands out for being the most luxurious and safe residential area in the country.
This area is also home to several government buildings and embassies, and it offers elegant hotels, restaurants, and shopping centers.
From a cultural perspective, Zona 10 is home to several of the best museums in Guatemala, such as the Popol Vuh Museum, the Ixchel Museum of Indigenous Costume, and the National Museum of Natural History.
In addition, Zona 10 has good transport connections with the rest of the city.
Zona 10 is the best area to stay in in Guatemala City for its variety of hotels, central location, and good nightlife.
Most importantly, Zona 10 offers a safe environment for international visitors to Guatemala City.
---
2. Zona 4
Zona 4 is a hipster-friendly and colorful neighborhood, located south of Zona 1.
It is a dynamic place known as the Guatemalan Brooklyn, thanks, in large part, to its street art and colorful murals.
Similarly, in Zona 4, you will find a good leisure offer, with numerous bars, restaurants, ice cream parlors, shops, and clubs.
In addition, here is the Plaza de la República and the Exposición metro stations, as well as a bus terminal, making it one of the best areas to stay in Guatemala City.
---
3. Zona 13
Zona 13 houses La Aurora International Airport and stands out for its many green spaces.
This district has many restaurants and cafes, in addition to spaces for children such as the Children's Museum, the Aurora Zoo, and the Esquilandia Amusement Park.
Also, the National Museum of Archeology is a good option in this area, with 20,000 archaeological artifacts and about 50,000 ethnological pieces, it's one of the best museums in the country.
For shopping lovers, the area offers several shopping centers.
Among the advantages of Zona 13 is its proximity to the airport and its good transport connections with the rest of the city.
Zona 13 is one of the best areas to stay in Guatemala City for its hotels for all tastes and budgets.
---
Read this in other languages