Where to Stay in Windsor – A Guide to the "City of Roses"
Windsor is a city in Ontario. Located in the southwest of the province, on the south bank of the Detroit River and right on the border with the United States, Windsor is famous for its industrial and manufacturing heritage and for being part of the largest transnational conurbation in North America. In this post, we will explore the best areas to stay in Windsor, ON.
Not unlike its neighbour Detroit, Windsor is especially famous for its motor industry and is known as the "Automotive Capital of Canada."
Windsor's City Centre is located next to the Detroit River, right across from Downtown Detroit. Some of the best tourist attractions in this area include the Art Gallery of Windsor, Windsor Riverfront, Dieppe Gardens, Ouellette Avenue and Adventure Bay Family Water Park. See accommodation in Windsor City Centre.
Other unmissable attractions in Windsor include the Ambassador Bridge, Windsor Sculpture Park, Coventry Gardens, and Jackson Park.
Due to its location in southwestern Ontario, Windsor has a humid continental climate. Its status as Canada's southernmost city means Windsor's climate is milder than most other places in the country. It experiences four very distinct seasons with stark variations between summer and winter conditions. Summers are warm, with temperatures typically ranging between 18 and 28 ºC. On the other hand, winters are cool, with temperatures around -7 and 0 ºC. The best time to visit Windsor is from April to late October when temperatures are pleasant enough to enjoy outdoor activities and sightseeing.
To get to Windsor by air, the city is served by the Windsor Airport. Located 10 km south of downtown Windsor, this small airport offers connections to a few selected destinations in Canada including Toronto and Calgary. For a much wider range of destinations, Detroit Metropolitan Wayne County Airport, located 37 km away, offers short and mid-haul flights across North America and non-stop international connections to Europe, Latin America, the Middle East and Asia.
Windsor is also served by train. Windsor Train Station is the western terminus of the Quebec City–Windsor Corridor. Located 3.5 km east of Downtown Windsor, in Walkerville, this station offers frequent Via Rail connections to Toronto via London. See train routes, schedules & fares.
Additionally, Windsor is also well-connected through a network of long-distance buses to Ontario, Quebec and neighbouring Detroit. See bus routes, schedules & fares.
To move around town, Windsor has a public transport system consisting of bus routes connecting its districts. This city also offers regular taxis and mobile apps like Uber, and you can choose to rent a car for your trip.
The best area to stay in Windsor is the City Centre. Downtown Windsor is home to the main cultural attractions and museums, the best nightlife venues, restaurants and shopping areas in town. The area facing the river also offers the best views of the Detroit skyline. See accommodation in Downtown Windsor.
Keep reading to find out more about the best location in Windsor, ON.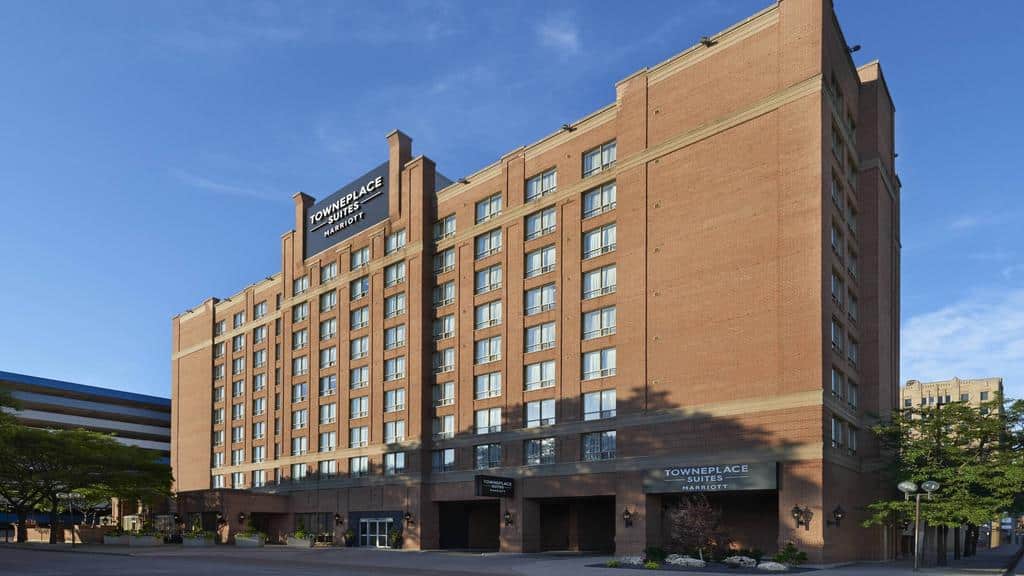 The Best Areas to Stay in Windsor, Ontario
1. Recommended area: Windsor City Centre
Windsor City Centre is a buzzing area located on the south bank of the Detroit River.
Ouellette Avenue is Downtown Windsor's main thoroughfare. This buzzing commercial street is home to Windsor's best restaurants, shops and nightlife venues.
At its northern end, you'll find the Windsor Riverfront, a 5-km-long collection of lovely parks following the course of the Detroit River and offering breathtaking views of the Detroit skyline.
The Art Gallery of Windsor, located at the riverfront offers an eclectic collection of modern art in an impressive glass building.
On the Riverfront's western edge, you'll find the impressive Ambassador Bridge, a suspension bridge dating back to the early twentieth century. Next to the bridge lies Windsor Sculpture Park, a riverside park with several larger-than-life contemporary sculptures and statues by notable Canadian and American artists.
If you're travelling with kids, the Adventure Bay Family Water Park is an indoor waterpark with several slides, a lazy river and a wave pool. For some adult fun, nearby Caesars Windsor Casino features just under one hundred table games, poker rooms and 3,000 slot machines.
Downtown Windsor is compact and pedestrian-friendly enough that you can (and will want to just) walk around the district and the Riverfront. To reach other areas, you can always use the city's comprehensive bus network.
To move from Windsor to Detroit, there are bus services connecting both downtown districts via an underground tunnel and the Ambassador Bridge. Please note that will need a valid passport to cross over to the American side and vice-versa.
Also note that, at present, there is no way of walking between Windsor and Detroit. However, that will change in 2024 when the new Gordie Howe International Bridge is opened.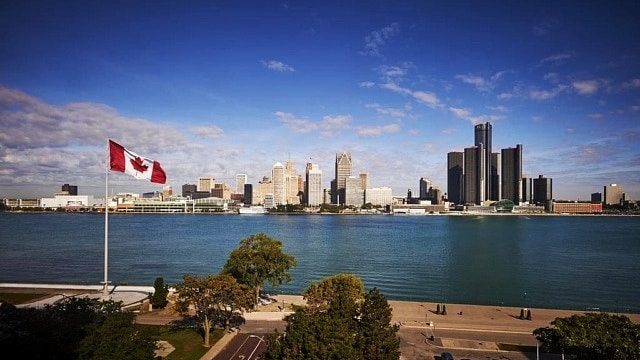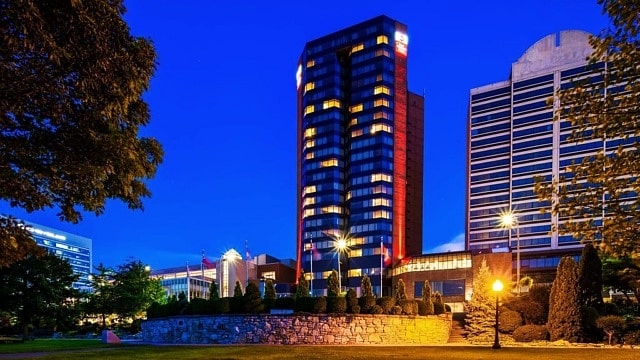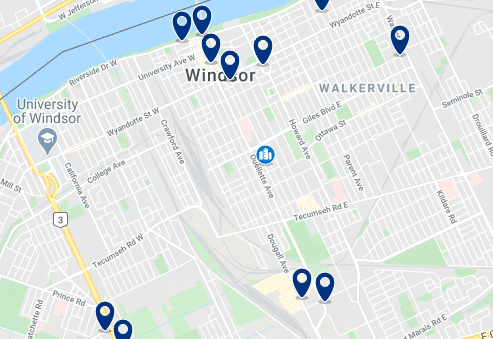 Why is this a recommended area to stay in Windsor, ON:
Best area for sightseeing
Best area for business travellers
Best area for nightlife
Cheaper alternative to staying in Detroit
---
Read this in other languages