Where to stay in Palm Springs and the Coachella Valley
Palm Springs is a desert resort city located in Southern California. This place, situated 100 miles east of Los Angeles, in the Sonoran Desert, is one of the most important tourist destinations in the state. Palm Springs is mostly famous for its glamorous estates and mid-century architecture, as well as for its upscale shopping and dining and its lavish hotels and spas. This post will explore the best areas to stay in the Coachella Valley and Palm Springs.
The history of Palm Springs is tightly linked to the growth of the film industry in nearby Hollywood. By the beginning of the twentieth century, Palm Springs was little more than a small inland settlement. Its warm climate, proximity to Los Angeles, and its natural hot springs helped popularize the village among the show business elites. By the 1930s, Palm Springs was already one of the fastest-growing cities in California.
The city expanded rapidly and art dèco and mid-century modern buildings, hotels, homes, spas, shopping strips, and golf courses began sprouting everywhere. Anyone who was anyone in Hollywood started acquiring property in town to spend their winters and in-between-movies periods and so Palm Springs became "The Playground of the Stars". Today, the name Palm Springs is synonymous with classic Americana, Old Hollywood glamour, and a laidback atmosphere away from the hustle and bustle of LA. Book accommodation in Palm Springs.
A rapid influx of money, a strong connection with the arts, and a growing population turned Palm Springs into one of the most progressive towns in the US. For over 100 years, Palm Springs has been a safe haven for LGBT people. This longstanding gay-friendliness is still very valid today and Palm Springs has even been called "The Gayest Place in America". In fact, the city has several properties aimed exclusively at a gay audience such as the Santiago Resort, Bearfoot Inn, or All Worlds Resort. Most of the LGBTQ life is centered around Arenas Road, just off Palm Canyon Drive, in Central Palm Springs. Book accommodation in central Palm Springs.
Palm Springs is located at the foot of San Jacinto Peak, in an arid section of the Coachella Valley, This whole area has a dry Mediterranean climate. Summers can come with extremely high temperatures. Average temperatures in July and August hover around 77-108ºF (25-42ºC). Meanwhile, during winter, you can expect a thermic variation of 44-74ºF (7-23ºC). All and all this means that, while it is a tourist destination year-round. The best time to visit Palm Springs goes from March to April and again from September to November. These months are still warm enough to practice outdoors activities, sightsee, or dip in a pool while still allowing you to breathe! Keep in mind that the high tourist season in the city is the winter and that if you're visiting for Coachella (usually in April), you'll need to book months in advance. Book accommodation for Coachella at a discount here.
In order to reach the Coachella Valley by air, Palm Springs International Airport is located near Cathedral City and offers domestic daily connections to a handful of destinations, mainly in the West and Southwest US, as well as some international flights to several Canadian cities. Much busier and with a more comprehensive network, Los Angeles International Airport is located about two hours away by car. Palm Springs is also connected to Los Angeles by train. There are two passenger services each day. Check train timetables and fares. The Coachella Valley is also connected to LA and other places in California via frequent buses operated by Greyhound and other companies. Check bus timetables and fares.
The best way to get around Palm Springs is by car. You can rent a cheap car here. That said, the city has a bus system, taxis, and mobile apps like Uber and Lyft are also available.
The best area to stay in Palm Springs and the Coachella Valley is central Palm Springs, particularly around Palm Canyon Drive. This area offers all the excitement, glamour, and nightlife this desert town has to offer. See accommodation in central Palm Springs. The nearby towns of Cathedral City and Indio offer a more relaxed atmosphere and cheaper accommodation. For those looking to be near nature, the area around Mount San Jacinto is your best choice.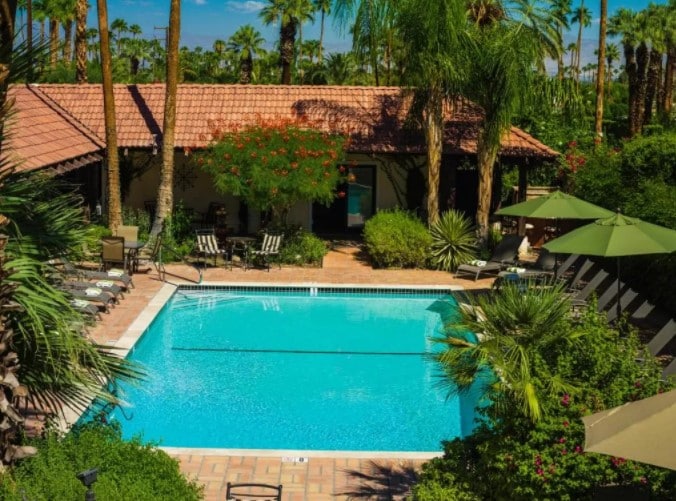 Keep reading to find out more about our top picks for the best areas to stay in Palm Springs and the Coachella Valley.
---
Best Location in Palm Springs & the Coachella Valley, California: A Quick Guide
Below, you'll find a list of the best areas to stay in Palm Springs & the Coachella Valley depending on your travel style. Keep reading this post to find all the information you need about each particular area.
---
Best Hotels in Palm Springs by Theme
Something specific in mind? Here's a list of some of the top hotels in Palm Springs. No matter your reason for visiting the city, we got you covered!
---
The best areas to stay in the Coachella Valley
1. Our favorite area: Palm Springs City
Palm Springs is located in the heart of the Sonoran Desert and is the most important city (from a tourist standpoint) in the Coachella Valley.
It's famous for its hot springs (hence the name), fancy accommodation, spas and golf courses. It's also home to many great examples of midcentury-modern architecture.
This city enjoys unique attractions such as a Palm Springs Aerial Tramway or Robo Lights Park, with its exhibitions of extravagant sculptures.
Palm Springs has been a popular getaway town for movie stars and people in showbiz since the early days of cinema. Many actors, directors and producers chose to stay in Palm Springs to be close to (but at the same time not in) Los Angeles. So the city became an oasis for stars who wanted to take a break from bustling Hollywood.
Today, you can still feel that old-Hollywood glamour in the city just by looking at its palm tree lined streets and 1950's mansions.
Being a small city, transportation within Palm Springs and to nearby towns is limited without a car. You can rent a cheap car here.
Palm Springs is the best area to stay for travelers who want to take a rest from the big cities of California at its luxury hotels, be near the attractions, and with easy access to other areas.
---
2. Cathedral City
Cathedral City, also known as "Cat City" is located east of Palm Springs.
It was first developed in 1925, but wasn't officially incorporated until the 1980s.
Staying in Cathedral City allows travelers to enjoy several local and gourmet restaurants, shopping centers and quick access the Palm Springs (PSP) airport.
This residential area surrounded by golf courses and desert enjoys attractions such as the Wet N 'Wild water park, the Fountain of Life, souvenir shops and upscale hotels.
To travel to central Palm Springs from Cathedral City, there are several bus stops along the Date Palm Dr.
Cathedral City is the best area to stay in the Palm Springs area due to its proximity to the airport and a wide variety of hotels, which makes it ideal for business travelers.
---
3. Indio
Indio is located in Riverside County, between Briska Palms, the Coachella Valley and Bermuda Dunes, east of Palm Springs.
It is the most populated city in the Coachella Valley.
Indio is well-known for hosting the Coachella Festival, a world-famous music event held at the end of April. It brings some of the biggest names in the music industry and is attended by thousands of people.
During the rest of the year, Indio is a more or less sleepy desert town. However, it is home to several budget and mid-range hotels, which malkes it a great area to stay in the Coachella Valley..
Some of the attractions in this area are the Desert Holocaust Memorial, the Coachella Valley History Museum and the striking murals of the first inhabitants of the Valley.
As with the rest of the Valley, a car is key to fully enjoy staying here and moving to Palm Springs and other areas.
Indio is the best area to stay in the Palm Springs area for travelers on a budget.
---
4. Mount San Jacinto
Mount San Jacinto, with its 9000 feet (3,000 meters), is the highest peak in Riverside County. It is also home to the Cactus to Clouds Trail, an ideal hiking area for adventurous travelers.
Although it does not have great tourist attractions, the area around San Jacinto Mountains offers a great escape into the nature of this desert region.
This quiet area has several hotels in the vicinity of the park offering spectacular views, and an atmosphere of total relaxation during your stay.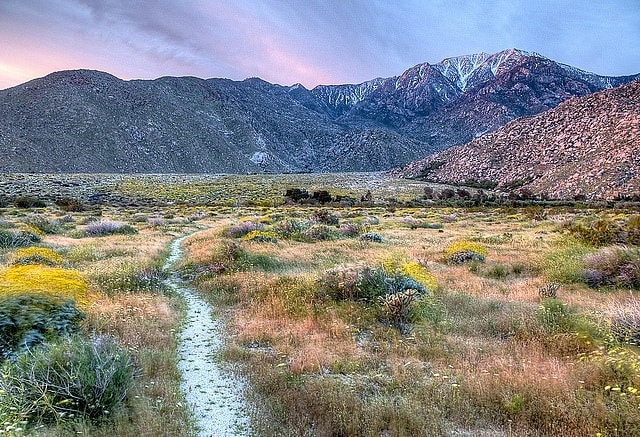 Why we love this area for a stay in the Coachella Valley
Great area for sightseeing
Beautiful views
Nature
---
Best Location in Palm Springs & The Coachella Valley – Frequently Asked Questions
What is the best area to stay in Palm Springs for sightseeing?
Palm Springs is a relatively compact city. The best area to stay for tourists is its main street, Palm Canyon Drive. It is a shopping and nightlife area packed with luxury boutiques, restaurants, bars and clubs. It is also home to some of the best city hotels.
What is the best area to stay in Palm Springs without a car?
Palm springs is definitely better when you have a car. It's the best way to enjoy the breathtaking natural landscapes of the Coachella Desert and to reach the attractions that are hard to get to by public transport. That said, Uber is everywhere nowadays! If you want to visit Palm Springs without a car, the best area to stay is Downtown, around Palm Canyon Drive.
What is the best hotel in Palm Springs?
La Maison Hotel, located south of Downtown Palm Springs is the top-rated 5-star hotel in town. Other great alternatives include ARRIVE Palm Springs, Alcazar Palm Springs, and Dive Palm Springs; all with an average guest rating of 9/10 or above.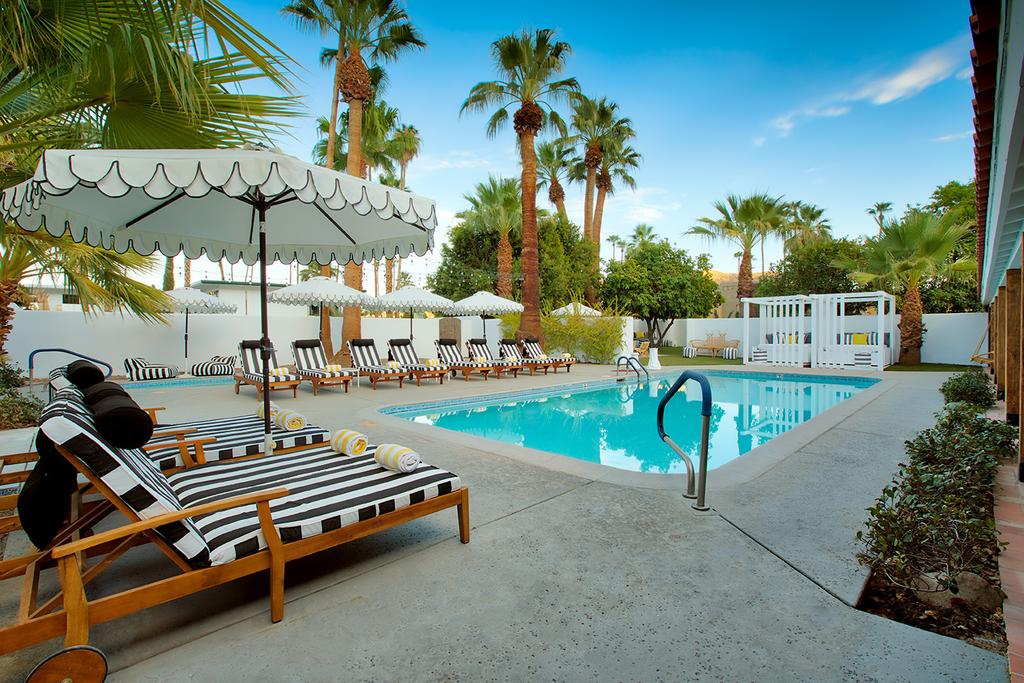 When is the best time to visit Palm Springs?
December to March, or the winter is the best time to visit the Coachella Valley; The winter brings perfect weather for all activities: you can go hiking and sightseeing without the scorching heat. Plus, temperatures in the mid-60s – 70s means you can truly enjoy a spa treatment. The best part: hotel rates are very affordable during these months.
How soon in advance should I book accommodation for Coachella Festival?
As soon as you know you're attending! Room rates tend to skyrocket in the area during Coachella and the closer the date, the more expensive (and difficult) it is going to be to secure a room. You can book your accommodation here.
Read this in other languages