Where to stay in Palm Springs and the Coachella Valley
Palm Springs is a beautiful desert city known as "the patio of the stars", an ideal destination for those tourists looking to visit Southern California.
Palm Springs is a perfect getaway full of trails, deserts, open skies and other natural attractions.
Palm Springs retro and hipster style offers different outdoor activities, such as the Coachella festival, nightlife and a great culinary scene with Greek and Australian influences, as well as some local dishes.
Palm Springs is located at the foot of San Jacinto Peak and has a warm climate with arid and clear summers, hence the best time to visit Palm Springs is from the beginning of June to the end of September.
To travel nationally and internationally from Palm Springs to other cities, the Palm Springs International Airport, located near Cathedral City is available, while transport within the region is served by buses and taxis.
Palm Springs is the best area to stay in the Coachella Valley because of its accommodation at affordable prices and because it is the best area for those who want to escape the hustle and bustle of big cities (See accommodation in Palm Springs).
Here's a guide with the best areas to stay in Palm Springs and the Coachella Valley.
The best areas to stay in the Coachella Valley
1. Our favorite area: Palm Springs City
Palm Springs is a neighborhood that enjoys unique attractions such as the cable car and its particular restaurant available at the top of the mountain or Robo Lights Park, with its exhibitions of extravagant sculptures.
The glamour in this area was born in the early days of cinema because many artists were staying in Palm Springs to be close to Los Angeles, it was an oasis for the stars who wanted to take a break from the bustling Hollywood.
To move within Palm Springs, it is recommended to use a car (owned or rented), but there are also buses, taxis, and mobile apps.
Palm Springs is the best area to stay for travelers who want to take a rest from the big cities of California at its luxury hotels, near attractions, and with easy access to other districts.
---
2. Cathedral City
Cathedral City is located east of Palm Springs, was founded in the 90's and is also recommended as one of the best areas to stay in the Coachella Valley.
Staying in Cathedral City allows travelers to enjoy several local and gourmet restaurants, shopping centers and quick access the airport.
This residential area surrounded by golf courses and desert enjoys attractions such as the Wet N 'Wild water park, the Fountain of Life, souvenir shops and upscale hotels.
To travel to downtown Palm Springs from Cathedral City, there are several bus stops along the Date Palm Dr.
Cathedral City is the best area to stay in the Palm Springs area due to its proximity to the airport and a wide variety of hotels, which makes it ideal for business travelers.
---
3. Indio
Indio is located in Riverside County, between Briska Palms, the Coachella Valley and Bermuda Dunes, east of Palm Springs.
Indio is popular for being the stage of the Coachella Festival, a famous music-related event, which is held at the end of April and is attended by hundreds of tourists and artists of worldwide renown.
During the rest of the year, the hot Indio serves as an escape for those travelers who want to enjoy a short or long stay in its wide range of hotels.
Other attractions that this district presents are the Desert Holocaust Memorial, the Coachella Valley History Museum and the striking murals of the first inhabitants of the Valley.
Bus stops to get to other districts can be found at 111 Road and Dr Carreon Blvd.
Indio is another of the best areas to stay in Palm Springs, recommended for young travelers for its lively nightlife and entertainment offerings.
---
4. San Jacinto Mountain
San Jacinto Mountain, at 9000 feet (3,000 meters), is the highest peak in Riverside County in California, and home to the Cactus to Clouds Trail, an ideal hiking area for adventurous travelers.
Although it does not have great tourist attractions, San Jacinto Mountain is recommended for those who want to stay away from the bustle of Los Angeles.
This quiet area has several hotels in the vicinity of the park that offer spectacular views, and an atmosphere of total relaxation during your stay.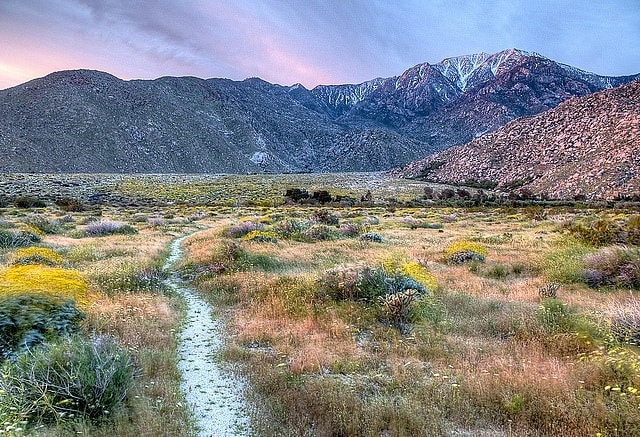 Why we love this area for a stay in the Coachella Valley
Great area for sightseeing
Beautiful views
Nature
---
Read this in other languages