Where to Stay in Saint Petersburg – A Guide to "St Pete"
Saint Petersburg, known locally as "St. Pete" is a city and tourist destination in Florida. It's part of the Tampa Bay area. Also nicknamed "Sunshine City", St. Pete not only is a major beach town, but it is also full of cultural things to do and places to see. In this post, we will talk about the best areas to stay in Saint Petersburg, Florida.
Saying St. Pete is a cultural powerhouse for a city its size is not an exaggeration; this Florida town is home to prestigious museums such as the Museum of Fine Arts, with pieces of pre-Columbian art and impressionist paintings, as well the Salvador Dalí Museum, the second most important museum about the Spanish artist. Local Mahaffey Theater is home to the Florida Orchestra.
Its location on the Gulf of Mexico means St. Petersburg enjoys a tropical climate. On average, there are 248 sunny days per year in St. Petersburg. July can see temperatures climb to around 90ºF (32ºC), while it almost never drops below 59ºF (15ºF) in February. The best time to visit St. Pete is April, March, and November. It's still warm enough to go to the beach, but it's not scorching hot.
The city center is full of shops, restaurants, bars, and attractions, Boyd Hill Nature Park is ideal for outdoor enthusiasts and Fort De Soto Park is a beach with a park to enjoy the sunny days.
Public transport in Saint Petersburg is made up of buses. They are convenient in the areas surrounding the city center, but for the rest of St. Pete, it is recommended to use a taxi or rent a car to get around. You can rent a car in St. Petersburg here.
The best areas to stay in Saint Petersburg are located around its beaches. The most popular areas being Madeira Beach and Treasure Island.
Here's a guide with the best areas to stay in Saint Petersburg, Florida.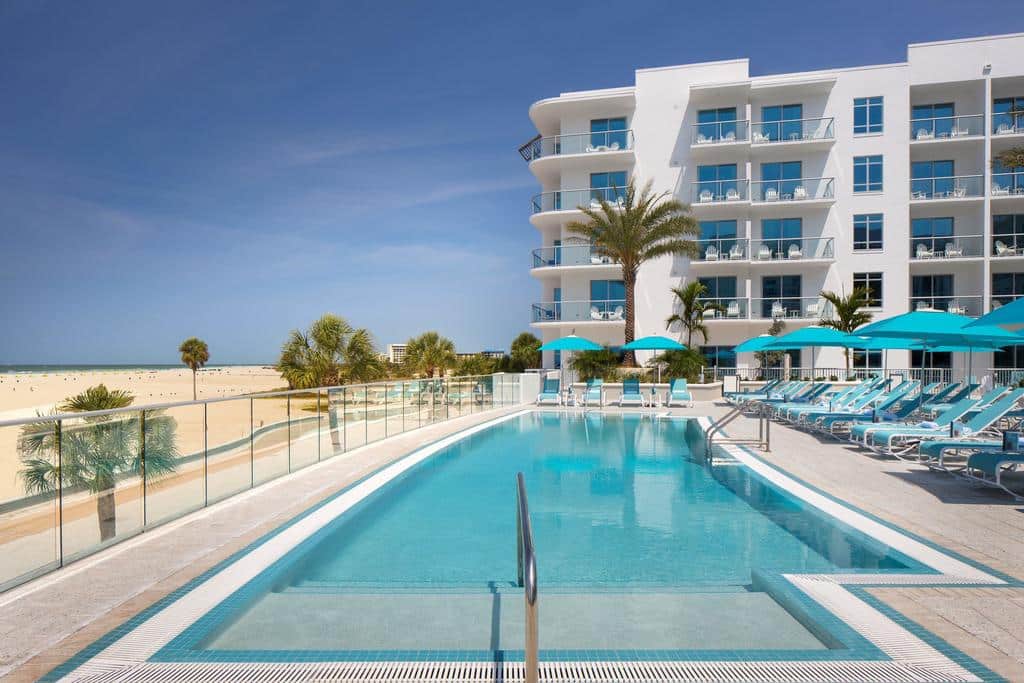 ---
Best Location in St Petersburg, Florida: A Quick Guide
Below, you'll find a list of the best areas to stay in St Petersburg depending on your travel style. Keep reading this post to find all the information you need about each particular area.
---
Best Hotels in St Petersburg, FL by Theme
Something more specific in mind? Here's a list of some of the best hotels in St Petersburg. No matter your reason for visiting the city or style, you'll find it here!
---
The Best Areas to Stay in Saint Petersburg, Florida
1. Recommended area: Madeira Beach
This area is located west of downtown Saint Petersburg and has all three ingredients for a perfect holiday: sun, beach and food.
Madeira Beach is known as "The Grouper Capital of the World", so tasting it at a local restaurant is an absolute must.
One of the attractions to visit in Madeira Beach is John's Pass Village & Boardwalk, a shopping and outdoor dining complex with stunning ocean views.
Madeira Beach offers lots of parking space, which is great if you're traveling by car.
Beach parties and a wide selection of nightlife venues also make Madeira Beach a great place to stay. At night, its beachfront fills up with young people looking for a fun night out.
Madeira Beach is also a great area to stay in Saint Petersburg because of its seemingly infinite offer of beautiful hotels and resorts with ocean views, restaurants with exquisite flavors, and private beaches.
---
2. Treasure Island
Treasure Island, whose name is due to a local history based on the discovery of several chests buried in this beach, is a perfect area to stay by the sea.
The main attraction for visitors on Treasure Island is its beach, ideal for diving and romantic walks at sunset.
Treasure Island is also a place to taste great food, as restaurants abound in the area, especially high-end seafood restaurants, as well as cocktail bars and beach lounges.
The island connects with Madeira Beach through public transportation distributed by Boulevard Gulf. Also, you can move on foot or by bike in the area.
Accommodations in this area are geared to all types of traveler and budgets, and numerous local bistros offer great places to relax by the beach.
---
3. Downtown Saint Petersburg
Downtown St. Pete has the largest cultural buzz in the city, which makes it a recommended area to stay in Saint Petersburg.
The Downtown area is where Dalí 'sMuseum is located. This museum is home to one of the largest collections of works by the Spanish surrealist painter.
Downtown Saint Petersburg also stands out for its shops and restaurants.
During the holidays, Downtown hosts the city's most popular festivals, such as the Sugar San Festival on the pier, a sculpture contest witnessed by hundreds of tourists and locals.
Being the center of the city, this area is well-connected by public transport. Also, from Downtown, it is easy to access the beach on foot.
The Downtown district has comfortable and budget-friendly hotels with excellent services, near the attractions of the city.
Downtown is one of the best areas to stay in Saint Petersburg for its shops and streets full of restaurants, as well as its proximity to the beach.
---
4. North Redington Beach
The area of North Redington Beach houses luxury hotels and resorts.
North Redington Beach is a small town located near major attractions of the city.
This area is not as popular as those mentioned above, making it an excellent destination to enjoy peace and tranquility.
The beaches in Redington are popular thanks to their white sand and are ideal for water activities such as fishing and diving.
In this area, you can also visit parks and the Redington Pier.
North Redington Beach is located a 25-minute-drive from Downtown Saint Petersburg. It is also possible to access this area through public transport.
Its location allows you to easily reach the museums, galleries, and restaurants of Saint Petersburg. Therefore, North Redington Beach is among the best areas to stay in Saint Petersburg.
---
Read this in other languages