Where to Stay in Columbus – A Guide to the Capital of Ohio
Columbus, the capital of Ohio, is famous for being a university town (Ohio State University is one of the largest in the US), for its incredible parks and its world-class zoo. This city is located in the center of the state, on the banks of the Scioto River and halfway between Indianapolis and Pittsburgh. In this post, we will have a look at the best areas to stay in Columbus.
The top tourist attractions in Columbus include Franklin Park Conservatory and Botanical Gardens, the Columbus Zoo and Aquarium, the Columbus Museum of Art, North Market, Inniswood Metro Gardens, the German Village, the Italian Village, and the Ohio Statehouse.
As you can see from the list, Columbus is filled with attractions for every taste: colorful neighborhoods, markets, museums, zoos, and parks.
When it comes to climate, Columbus has a humid continental climate. High temperatures can reach 85ºF / 30ºC in the summer and lows can reach 21ºF / -11°C in the winter. The best time to visit Columbus is from May to August, when temperatures are pleasant and you can explore the city's many parks.
John Glenn Columbus International Airport serves the metropolitan area and other cities in Ohio. This air terminal has domestic flights and direct connections with international destinations in Mexico, Canada, and the Dominican Republic. Columbus is also very well-connected via bus with several cities in Ohio and the Mid-West. Check bus fares and timetables.
With regards to public transportation, Columbus offers a bus system that connects much of the city. Additionally, traditional taxis and ride-sharing apps are widely available. That said, if you want to make the best out of your trip to Columbus, you're better off with a car. You can rent a cheap car in Columbus here.
Columbus has a calm vibe during the day and a fast pace at night, when the restaurants, bars, and clubs fill up with tourists and locals.
The Italian Village is the best area to stay in Columbus thanks to its excellent cuisine and upbeat vibe. See accommodation in the Italian Village.
On the other hand, Downtown Columbus is one of the best areas to stay in Columbus for business travelers. See hotels in Downtown Columbus.
Here's a guide with the best areas to stay in Columbus, Ohio.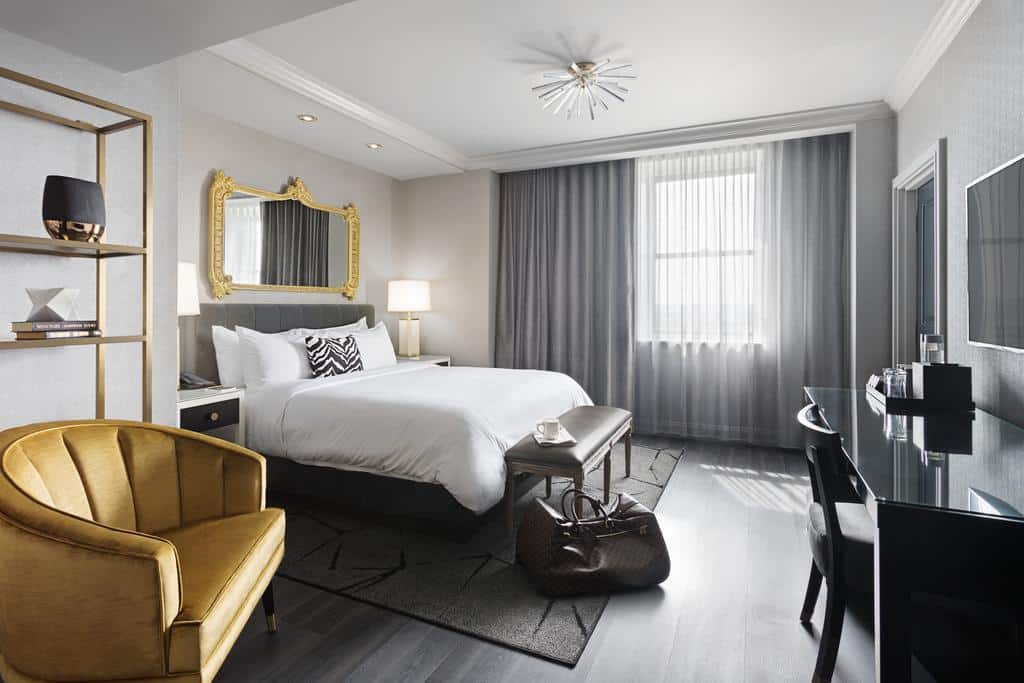 ---
Best Location in Columbus, Ohio: A Quick Guide
Below, you'll find a list of the best areas to stay in Columbus depending on your travel style. Keep reading this post to find all the information you need about each particular neighborhood.
---
Best Hotels in Columbus, OH by Theme
Something specific in mind? Here's a list of some of the top hotels in Columbus. No matter your reason for visiting the city, we got you covered!
---
The Best Areas to Stay in Columbus, Ohio
1. Recommended area: Italian Village & Short North District
The Italian Village, as its name clearly suggests, was the area where many Italian immigrants settled in Columbus.
Today, it preserves a big part of its culture and essence, making it the perfect place for lovers of great food and coffee.
This area is also a popular place for events such as the Italian Festival, which includes a parade, live music, and, of course, excellent pizzas.
The Italian Village Park is located within the district and is perfect for picnicking with the family and taking a break from shopping and walking for a moment, as this is a very pedestrian-friendly area.
Meanwhile, the Short North District is a modern area that stands out for its cultural vibe, its galleries, and contemporary art exhibitions.
In the Short North District it's easy to find record stores and vintage clothing, as well as coffee shops, craft beer bars, and restaurants. It can be said that Short North is the quintessential bohemian neighborhood of Columbus.
In addition, it is a fairly gay-friendly neighborhood, and this is reflected in its bars and clubs especially aimed at the LGBT community.
This is one of the best areas to stay in Columbus, Ohio, for its variety of accommodation and its good transport connections with the rest of the city.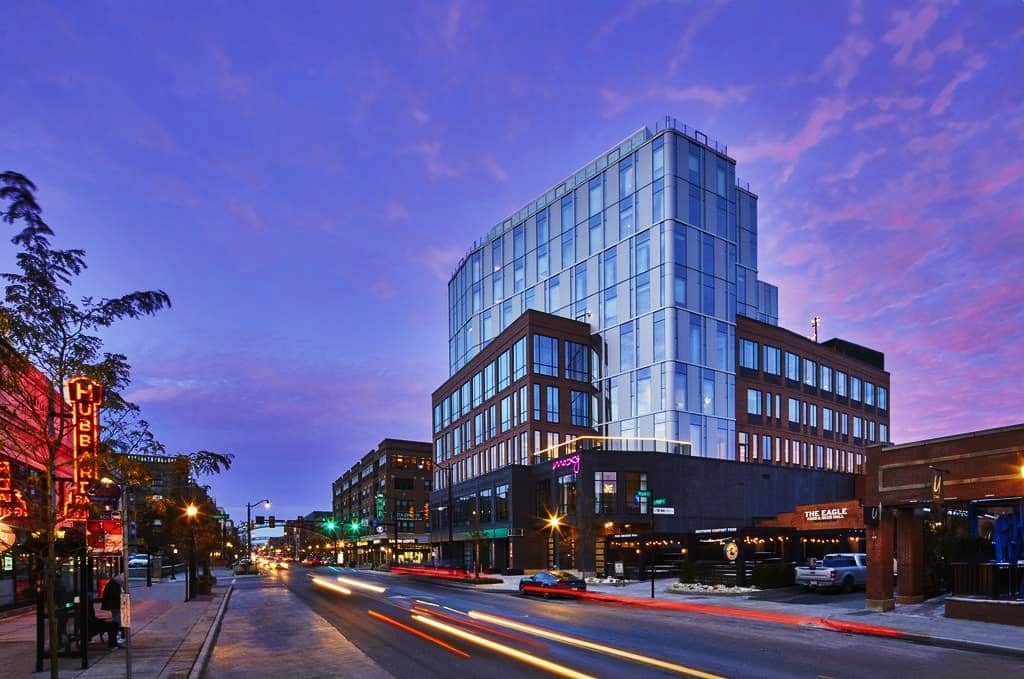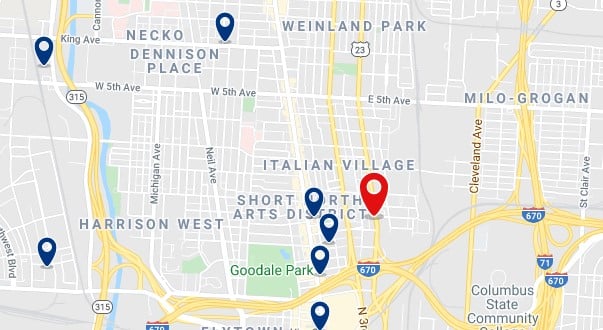 Why is this a recommended area to stay in Columbus, OH:
Best area for sightseeing
Pedestrian-friendly
Great food
Good nightlife
Gay-friendly
Bohemian area
---
2. Downtown Columbus
Downtown Columbus is the business district in the city, which is why it is mostly associated with modern buildings, office complexes, and business or luxury hotels.
However, this area is much more than its corporate environment; It is also home to theaters, bars, restaurants, and breweries.
Downtown is home to the Scioto Mile River Promenade, Bicentennial Park, Scioto Mile Fountain, as well as the Bicentennial Park Performing Arts Pavilion.
This is the best area to stay in Columbus with a car for its many parking spaces, but it is also a pedestrian-friendly place, with bike lanes and bus stops.
For history, science, and culture lovers, this is the area where the Veterans National Monument and Museum and the COS Science and Industry Center are located.
Downtown is among the best areas to stay in Columbus due to its proximity to most of the city's attractions, its good public transportation options, and for being only an 8-minute-drive from the airport.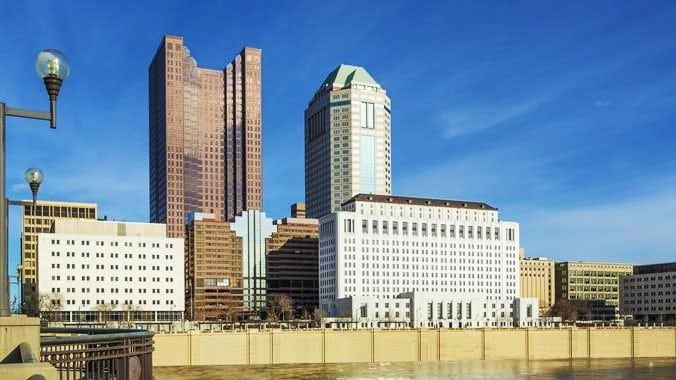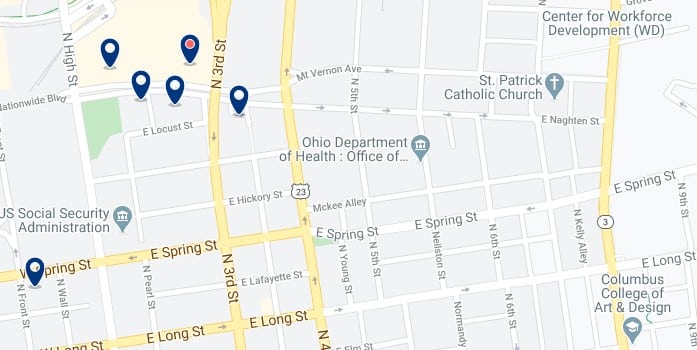 Why is this a recommended area to stay in Columbus, Ohio:
Best area for business travelers
Great bars and restaurants
Good area for shopping
Best area to stay with a car
Business-type hotels
Heart of the city
---
3. University District
The University District is located north of Downtown Columbus and, as the name implies, houses one of the most important universities in the United States, Ohio State University.
Why is a university district one of the best areas to stay in Columbus? Simple, in addition to mixing bohemian and residential neighborhoods, the University District has a unique and youthful atmosphere, with a very lively nightlife.
This area has several parks to spend the afternoons and also restaurants and stores for shopping lovers.
Staying in this area allows you to be close to the university campus, enjoy a Buckeyes soccer game, or attend events at the Schottenstein Center.
The University District is well-connected to other areas by public transport, but it is also easy to explore on foot and by car.
University District is one of the best areas to stay in Columbus as it is far from the bustle of Downtown and, at the same time, enjoy its own entertainment, from theaters to small bars with live music.
---
4. Polaris
Polaris refers to the area surrounding Polaris Fashion Place, one of the largest shopping malls in Columbus.
Polaris Fashion Place is the perfect place to hang out. It has lots of shops, movie theaters, and restaurants.
In the surroundings of the shopping center, there is a residential area, as well as some parks and other recreational centers.
Therefore, this is a peaceful area to stay in Columbus. It is located about 20 minutes north of the City Center, with bus connections and parking spaces.
It may not be the most central area for tourists, but it is ideal for those seeking tranquility during their stay.
No matter the reason for your trip, the Polaris district is one of the best areas to stay in Columbus, with hotels of different types for all budgets.
---
Read this in other languages