Where to Stay in Indianapolis – A Guide to the Capital of Indiana
Indianapolis (affectionately known as "Indy") is the capital and cultural center of the state of Indiana, in the United States.
Indianapolis is located on the banks of the White River and has a growing cultural movement where art galleries, live music, museums, and festivals bring the city to life.
Sports are part of everyday life in Indianapolis since the city houses the Lucas Oil Stadium and events like the Indianapolis 500 race circuit, the most famous in the United States.
The city also stands out for its natural landscapes and recreation sites such as the White River State Park, the Indianapolis Zoo and Fort Harrison State Park.
Indianapolis has a warm climate and the best time to visit the city is from May to September, with non-suffocating temperatures and clear skies, ideal for outdoor activities.
Indy has the Indianapolis International Airport that connects it with other American cities, in addition to countries such as Canada, France, and Mexico. This air terminal is a 15-minute bus ride from Downtown Indianapolis.
On the other hand, Indianapolis's transport system is divided into bus, trolley, train, and taxi services, but areas like Downtown can be easily explored on foot or by bike.
Downtown is the best area to stay in Indianapolis for its many dining, accommodation, leisure and transportation options (See accommodation in Downtown Indianapolis).
Here's a guide with the best areas to stay in Indianapolis, Indiana
The Best Areas to Stay in Indianapolis, Indiana
1. Our Favorite Area: Downtown Indianapolis
Downtown is the best area to stay in Indianapolis for business travelers, as it is the financial district of the city and has the Indiana Convention Center.
Downtown Indianapolis is popular because it houses the Bankers Life Fieldhouse Stadium, home to the NBA's Indiana Pacers.
Within Downtown is the Wholesale District, where the iconic Soldiers and Sailors Monument is located, with a lookout point and museum dedicated to Indiana history. Here is also the Indiana State House, the seat of state government.
Nightlife in Downtown Indianapolis revolves around Meridian Street and along Massachusetts Avenue, with bars and restaurants for drinks, live music, and dancing.
The cultural offer in the district includes the Hilbert Circle Theater, home of the Indianapolis Symphony Orchestra, the Indianapolis Zoo and the Indianapolis Children's Museum.
Downtown Indianapolis is easy to get around on foot or by bike, but it has buses and taxis to move to other parts of the city.
Downtown Indianapolis is one of the best areas to stay in Indianapolis due to its perfectly central location, but keep in mind that hotels here are, usually, more expensive.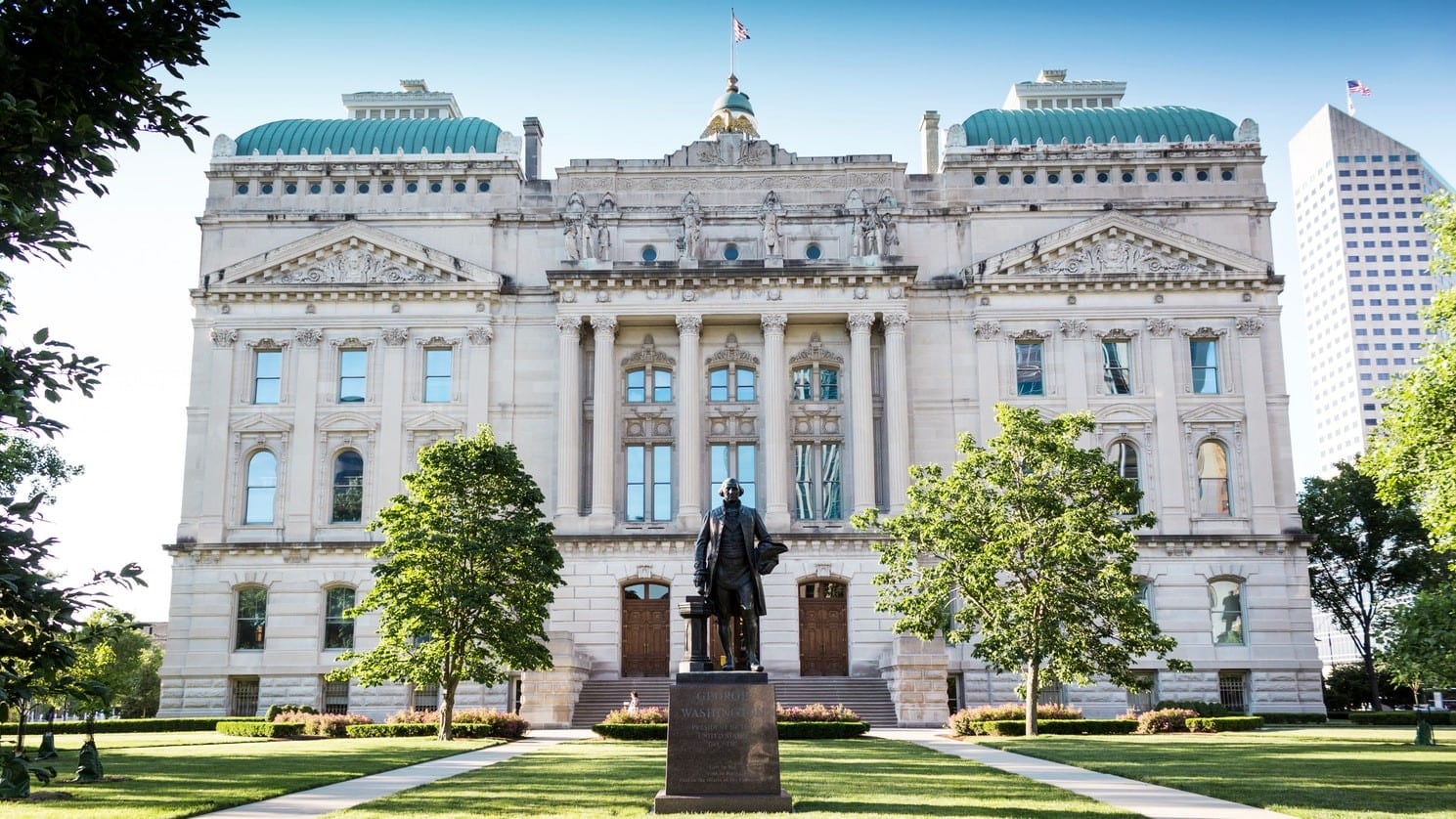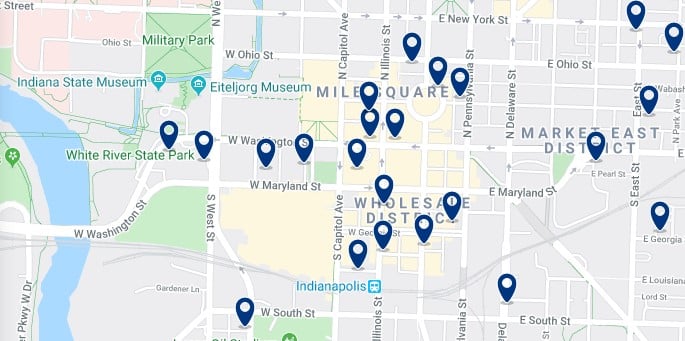 Why is this a recommended area to stay:
Best area for business
Hotels of all kinds
Best area to stay without a car
Best area for sightseeing
Good area for nightlife
Indianapolis Zoo
---
2. East Indianapolis
East Indianapolis is one of the best areas to stay in Indianapolis and stands out for hosting attractions such as the cultural trail and the James Whitcomb Riley Museum, a Victorian house that can be visited to delve into the city's past through its decoration and furniture.
The Midland Arts and Antiques Market, a small market where you can buy all kinds of vintage objects and souvenirs, is also in this part of town.
East Indianapolis is known for its natural spaces such as Highland Park, one of the oldest in Indy, with a playground, paved trails, and picnic areas.
In East Indianapolis is the Cole Noble district, which is striking for its homes and buildings with Art Deco and Georgian architecture.
Inside Cole Noble, you'll find Christian Park, with sports areas, hiking areas, children's games, and a pool to cool off during the summer.
The main advantage of staying in East Indianapolis is that it is close to Downtown and has some cheap hotels to stay in Indianapolis, as well as restaurants of different types.
Although East Indianapolis has bus connections, it is recommended to have a car when staying in this area since transportation is not very frequent and there are many parking spaces.
---
3. Warren Township
Warren Township is an area away from the hustle of Downtown and has companies, offices, stores and shopping malls that make it one of the best areas to stay in Indianapolis, with a mix between residential and business environment.
Warren Township is a great area to stay in Indianapolis for its many green spaces, ideal for family trips.
For example, the Warren World Sports Park allows you to practice cricket, lacrosse, throwing or rugby, among other disciplines, while the Grassy Creek Regional Park offers a quiet place for hiking and has a tennis court.
Warren Township has bus stops connecting it to the rest of Indianapolis.
Warren Township is a good area to stay in Indianapolis for its affordable hotel offer and shopping malls.
---
Read this in other languages