Where to Stay in Cincinnati – A Guide to this City in Ohio
Cincinnati is located in the southwest of Ohio. The third most populous city in the state, Cincinnati is situated on the Ohio River and is famous for its amazing skyline, its love of chili, and for being Steven Spielberg's hometown. In this post, we will explore the best areas to stay in Cincinnati, OH.
This lively town is home to several attractions and places of interest. Notable landmarks in its central districts include the Carew Tower Observation Deck, the Contemporary Arts Center, Smale Riverfront Park, Taft Museum of Art, John A. Roebling Suspension Bridge, and Purple People Bridge. See accommodation in Cincinnati's City Center.
A few miles northeast you'll find Eden Park, home to the Cincinnati Art Museum, and Krohn Conservatory. See accommodation in Eden Park.
The Over-the-Rhine district, located in the city's West end, is famous for its historical architecture and the popular Findlay Market, which has food and craft vendors. See accommodation in Over-the-Rhine.
Other unmissable attractions in Cincinnati include the Cincinnati Museum Center, Cincinnati Zoo & Botanical Garden, and Newport Aquarium.
Due to its geographical location, Cincinnati has a humid continental climate. Summers are humid and warm, with frequent rainfall and high temperatures that hover around 94 °F (34 °C). Meanwhile, winters are very cold and snowy, with low temperatures sometimes reaching 0 ºF (-18 ºC). The best time to visit Cincinnati is from late May to late September when temperatures are still pleasant enough to enjoy outdoor activities.
To reach the city by air, Cincinnati is served by the Cincinnati/Northern Kentucky International Airport (CVG). Located 10 miles southeast of downtown Cincinnati, this major airport is a major hub for Delta Airlines and offers non-stop connections to 50 destinations in the US, Canada, and Mexico, as well as some long-haul flights to some European cities.
Cincinnati is also well-connected to other cities via train. Amtrak's Cardinal is an intercity passenger service offering three weekly trips between Chicago and New York City via Cincinnati Union Terminal. See train routes, schedules and fares. Additionally, Cincinnati is also served by long-distance bus routes, connecting it to other destinations in the Midwest and East Coast. See bus routes, schedules and fares.
In order to move around the city, Cincinnati's districts and its outlying cities are very well-connected by public transport. The Cincinnati Bell Connector is a modern streetcar service linking The Banks to Over-the-Rhine. To move to other districts, you can use the extensive bus network operated by Metro and TANK (Transit Authority of Northern Kentucky). Cincinnati is also served by traditional taxis, mobile applications (like Uber and Lyft), and rental car services.
The best area to stay in Cincinnati is Downtown. This lively district is home to the citiy's best shopping, restaurants, and the widest accommodation offer. See accommodation in Downtown Cincinnati.
Other great districts worth checking out when choosing the best location in Cincinnati include Over-the-Rhine, Eden Park, as well as the KY cities of Covington and Newport.
Keep on reading to find out more about our top picks of best areas to stay in Cincinnati, Ohio.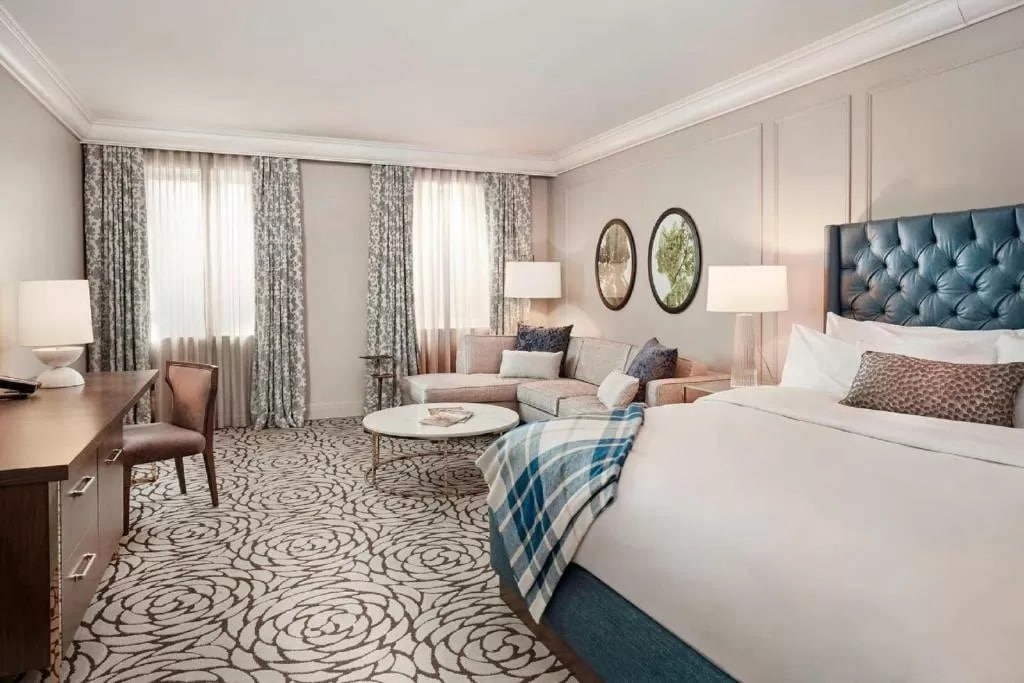 The Lytle Park Hotel, Autograph Collection

Set in the center of Cincinnati, 0.7 mi from Great American Ball Park, The Lytle Park Hotel, Autograph Collection offers air-conditioned rooms and free WiFi. The hotel has family rooms and all rooms are fitted with a desk, a flat-screen TV, and a private bathroom.
---
Best Location in Cincinnati, Ohio: A Quick Guide
Below, you'll find a list of the best areas to stay in Cincinnati depending on your travel style. Keep reading this post to find all the information you need about each particular area.
---
Best Hotels in Cincinnati, OH by Theme
Something more specific in mind? Here's a list of some of the best hotels in Cincinnati. No matter your reason for visiting the city or style, you'll find it here!
---
The Best Areas to Stay in Cincinnati, Ohio
1. Recommended Area: Downtown Cincinnati
Downtown Cincinnati, also known as Central Business District, is home to Cincinnati's attractions, office complexes, and congress spaces.
Some of the attractions in Downtown Cincinnati include the Carew Tower, used as a model for the Empire State Building in New York. While its art deco exterior is impressive on its own, the incredible views over the city from its panoramic deck make it worth visiting.
Other places of interest in this area include Fountain Square and the John A. Roebling Suspension Bridge.
At night, the area is transformed into a lively district with nightclubs, bars, and restaurants for all tastes.
Staying in Downtown Cincinnati during October, you can enjoy the city's famous Oktoberfest, one of the largest festivals in the United States.
If you have enough time, we recommend you visit the Contemporary Art Center, the National Underground Railroad Freedom Center, the Taft Art Museum, and the Fire Museum, all located in this area.
Downtown is one of the best areas to stay in Cincinnati as it is home to most of its tourist attractions, nightlife, and restaurants.
Downtown Cincinnati also offers a wide array of accommodations of all kinds.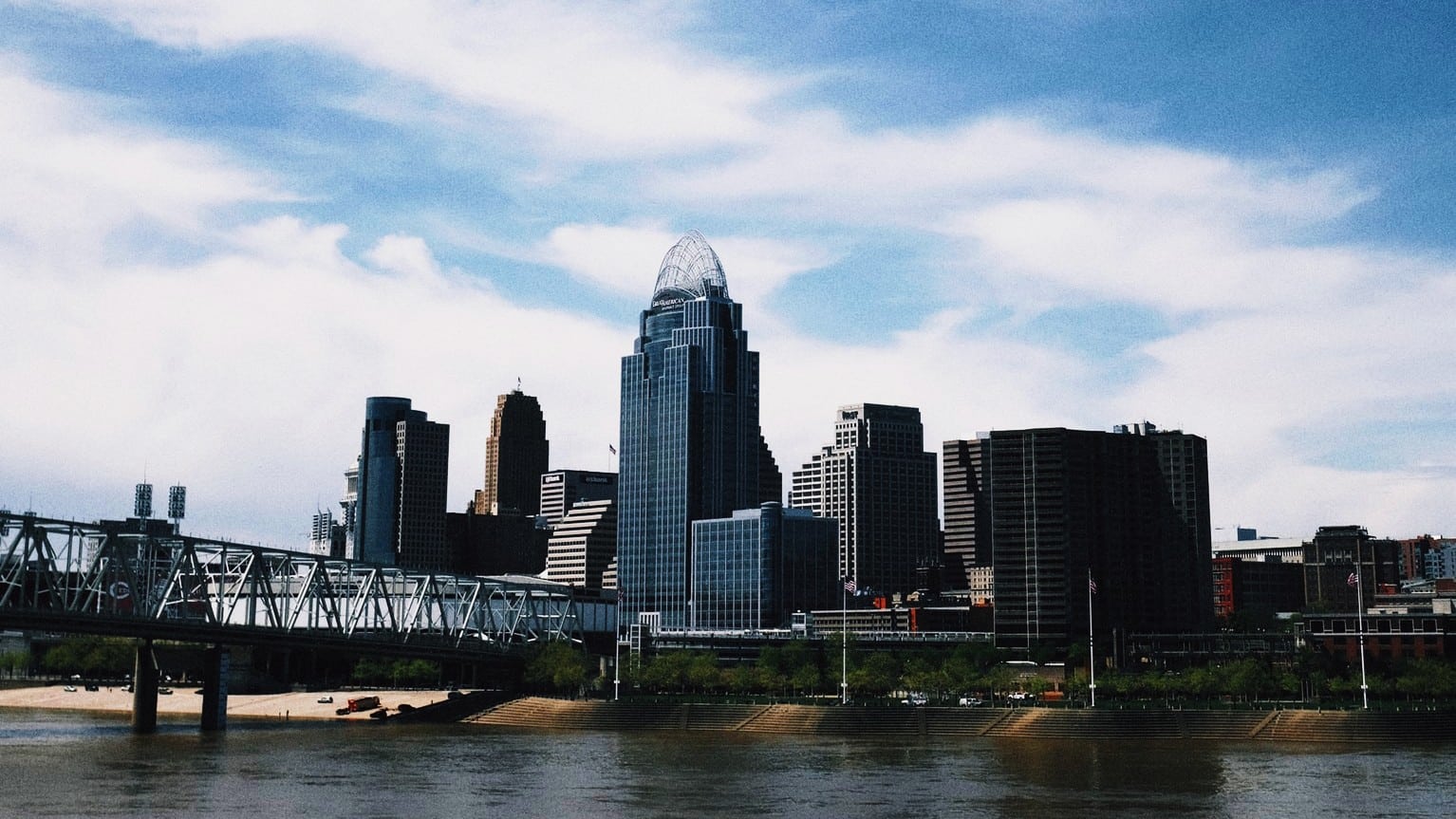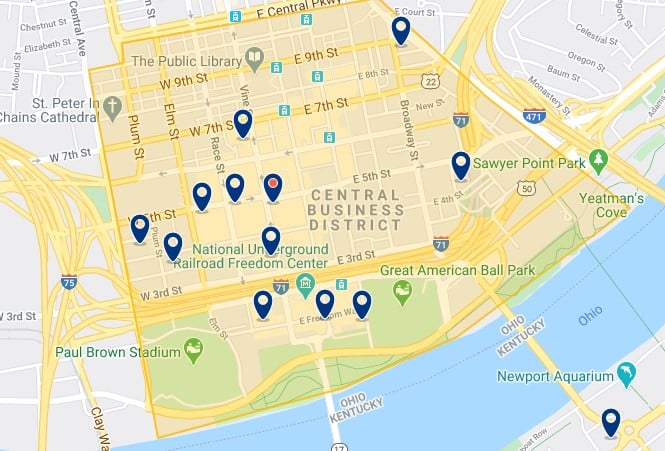 Why is this a recommended area to stay in Cincinnati:
Best area for sightseeing
Great transport connections
Roebling Suspension Bridge
Heart of the city
Carew Tower
Hotels of all kinds
---
2. West End & Over-The-Rhein
Over-The-Rhine is the largest historic district in the city.
Located north of downtown Cincinnati, this area houses notable sites, such as the Cincinnati Music Hall and the Cincinnati Opera.
Findlay Market is also located in this area. It is Ohio's oldest public market, perfect for visiting on a weekend and sampling the best local flavors.
Cincinatti's West End is located west of Over-The-Rhine and is mainly a residential neighborhood with local attractions such as Dayton Street, full of renovated old mansions and trendy shops.
Some galleries such as the Beyond Boundaries Art Gallery and Carol Solway are also located in the West End.
This area is also very pedestrian-friendly.
West End and Over-The-Rhine are among the best areas to stay in Cincinnati for hipsters and young travelers.
---
3. Eden Park (Near the Cincinnati Art Museum)
Eden Park is a hilltop urban park in Cincinnati, offering stunning views of the Ohio River.
This area is recommended for family trips, as visits to the park and outdoor activities are attractive for younger travelers.
Inside Eden Park is the Cincinnati Art Museum, where you can admire works by local and American artists.
Getting to the park from Downtown is a matter of minutes by car or bus.
In the surroundings, there are other popular parks, so it is a good idea to take a bicycle tour of the area during the summer.
The area surrounding Eden Park is home to many accommodations, as well as restaurants and souvenir shops.
The Eden Park area is one of the best areas to stay in Cincinnati, especially during the summer and when planning a family trip.
---
4. Covington
Covington is a city located directly south of Downtown Cincinnati, across the Ohio River.
Because it is south of the river, Covington is officially in Kentucky, although it's part of the Cincinnati metro area.
Covington offers a more relaxed atmosphere to Downtown Cincinnati; this area is incredibly charming thanks to its riverside cafés and restaurants overlooking the impressive Cincinnati skyline.
The MainStrasse Village district is a popular hipster hangout, with several upscale restaurants, international eateries, and trendy pubs.
Covington is very well-connected to central Cincinnati thanks to the three bridges connecting both cities, including the iconic John A. Roebling Suspension Bridge, built in the 1800s.
Several bus lines connect Covington to Cincinnati and neighboring Newport.
Covington is also really close to Cincinnati/Northern Kentucky International Airport, a 15-minute drive away.
---
5. Newport
Like Covington, Newport is also an independent city located at the confluence of the Ohio and Licking rivers in Kentucky.
A part of the Cincinnati Metropolitan Area, Newport is connected to Downtown Cincinnati by three bridges, including the pedestrianized 1872 Purple People Bridge.
The Ohio River area is home to a few hotels, upscale restaurants, and several tourist attractions.
The main tourist attraction in Newport is no doubt Newport Aquarium, which includes 70 exhibits and 14 galleries, a jellyfish room, walk-through tunnels, and exhibits housing penguins, and rays.
Newport is also home to the USS Nightmare, a horror-themed tourist attraction located on the riverfront, the World Peace Bell Center, considered the largest winging bell in the world, and the Newport History Museum.
The revitalized area around the Monmouth Street Historic District, in the heart of Newport, offers a wide array of shops, cafés, and restaurants.
Newport is connected to both Cincinnati and Covington by several bus lines.
---
Read this in other languages