Where to Stay in Detroit – A Guide to "Motor City"
Detroit is Michigan's largest city. Located on the Detroit River, in the Great Lakes region, on the US-Canada border, and nicknamed "Motor City," Detroit is famous for its architectural and industrial heritage, cultural scene, and contributions to Motown and techno music. In this post, we will talk about the best areas to stay in Detroit, MI.
Founded in 1701, Detroit played an important role during the Industrial Revolution in the United States. Its status as a manufacturing powerhouse, exponential growth, and overall economic prowess during the late-19th and early 20th century fostered one of the most impressive collections of Beaux-Arts, Art-Nouveau, and Art-Deco high-rises and skyscrapers in America.
Some of the most visited tourist attractions in Downtown Detroit give an account of the city's past glory and include iconic skyscrapers like the GM Renaissance Center, the Guardian Building, the Book Tower, or the David Whitney Building; impressive cultural landmarks like the Fox Theatre and Savoyard Center; and lovely parks and green spaces such as the Detroit Riverfront, Dequindre Cut, and William G. Milliken State Park and Harbor. See accommodation in Downtown Detroit.
North of Downtown lies Midtown and the Art Center District, one the most important cultural districts in the US. This area is known for its museums, art galleries, and cultural attractions like the Detroit Institute of Arts, the Charles H. Wright Museum, Michigan Science Center, the Museum of Contemporary Art, the N'Namdi Center for Contemporary Art, or the Elaine L Jacob Gallery. See accommodation in Midtown Detroit & Arts Center.
Other unmissable tourist attractions in Detroit include the Henry Ford Museum of American Innovation, the Detroit Zoo, and Belle Isle Park.
Due to its geographical location in the American Midwest's Great Lakes region, Detroit has a hot-summer humid continental climate. Winters are cold and snowy, with temperatures hovering between 19 and 32 ºF (-2 – 0 ºC). Meanwhile, summers are warm and humid, with average temperatures of around 64 and 83 ºF (18 – 29 ºC). The best time of the year to visit Detroit is from late-spring to mid-fall (May through October), when temperatures are warm enough to enjoy outdoor activities and sightseeing.
To get to Detroit by air, the city is served by Detroit Metropolitan Wayne County Airport. This major hub, Michigan's busiest and the second in the Midwest after Chicago's O'Hare, is located 20 miles east of downtown Detroit and offers connections to virtually every major city in the USA, as well as dozens of non-stop international connections to cities in Canada, Mexico, the Caribean, and Europe.
Detroit is also well-served by train. Detroit Amtrak Station, located 3 miles north of downtown Detroit, is the city's main intercity railway hub and intermodal station. The Wolverine high-speed service provides connections between Detroit and the Midwest cities of Ann Arbor, Kalamazoo, Chicago, and Pontiac. See train routes, schedules & fares.
Additionally, Detroit is connected to other places in Michigan and the Midwest through a network of long-distance buses. See bus routes, schedules & fares.
To move around town, Detroit has a very efficient and well-developed intermodal public transport system consisting of several urban and suburban bus routes linking the city center to the outlying districts (and the Canadian city of Windsor); a monorail system (the People Mover) operating in a loop around the downtown area; a 9.3-mile-long light rail system (QLine) connecting downtown to the Amtrak station in New Center; and Amtrak's Wolverine service, with several stops in the suburbs. Also, Detroit offers taxis, mobile apps like Uber and Lyft, and car rental offices.
The best area to stay in Detroit is Downtown. This lively district is home to Detroit's historical skyscrapers, lovely parks, shopping centers, nightlife, and some of the best restaurants in town. Downtown Detroit is also the best-connected area and offers the widest range of accommodation options. See accommodation in Downtown Detroit.
Other excellent options to keep in mind when choosing the best location in Detroit, MI, include New Center & Arts Center, the area around Detroit Mercy University, Dearborn, and the Canadian city of Windsor.
Keep reading to find out more about the best areas to stay in Detroit, MI.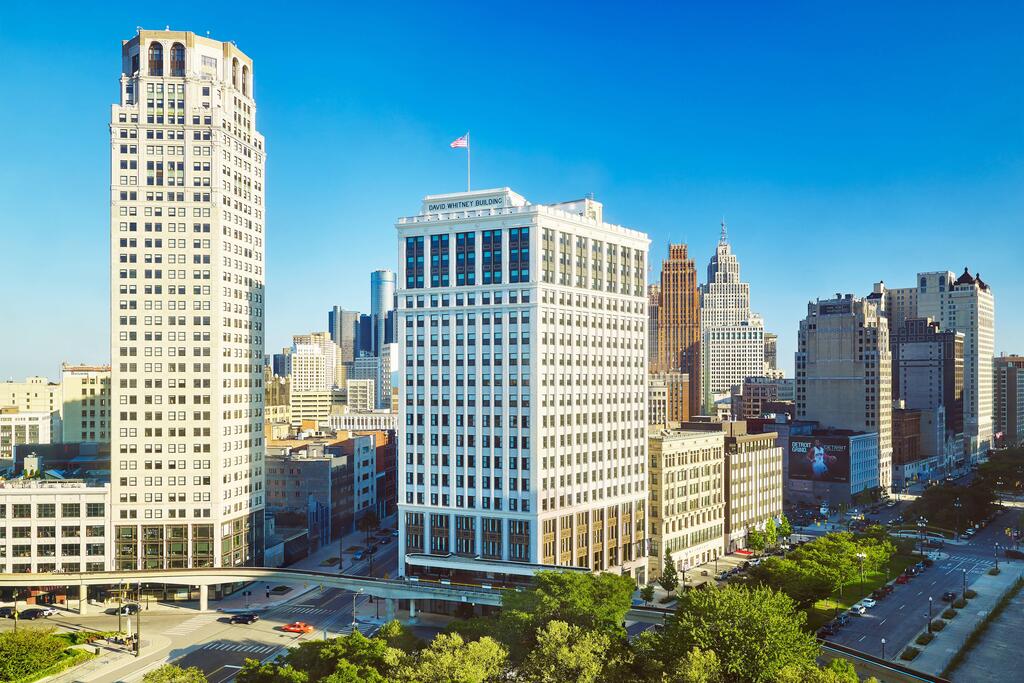 Aloft Detroit at The David Whitney

Located in the David Whitney building in downtown Detroit, this hotel features a bar and lounge for guests to relax, a fitness center, and free high-speed WiFi. The hotel is less than 311 mi from The Fillmore, Fox Theater, and General Motors Headquarters.
---
Best Location in Detroit, Michigan: A Quick Guide
Below, you'll find a list of the best areas to stay in Detroit depending on your travel style and what you may be planning to do during your trip. Keep reading below to find all the specific information you need about each particular area mentioned here.
---
Best Hotels in Detroit, MI by Theme
Something more specific in mind? Here's a list of some of the best hotels in Detroit. No matter your reason for visiting the city or style, you'll find it here!
---
The Best Areas to Stay in Detroit, Michigan
1. Recommended area: Downtown Detroit
Motor City's beating heart. Downtown Detroit's accommodation offer is extensive. Here, you can find historical properties like the Detroit Foundation Hotel or Aloft Detroit at The David Whitney; a few budget chains like Comfort Inn; and upscale attraction hotels like the MGM Grand Detroit.
Downtown Detroit is located on the Detroit River's north bank.
This lively financial, commercial and residential district is made up of smaller areas, each one with its own flavor and attractions.
Downtown Detroit is roughly centered around Campus Martius, a historic neighborhood and meeting place home to Woodward Fountain, the Michigan Soldiers' and Sailors' Monument, and a large traffic circle surrounded by high-rises.
A couple of hundred yards north, Grand Circus Park is located at the heart of Detroit's Entertainment District. This buzzing neighborhood, the best area to stay in Detroit for nightlife, sporting events, and concerts, is home to Ford Field and Comerica Park. Woodward Avenue also called "Detroit's Main Street" is lined with theaters, bars, restaurants, nightclubs, and several city landmarks.
The Bricktown Historic District is home to some of Detroit's oldest buildings including St. Peter and Paul's Catholic Church, the Wayne County Building, and The Wayne County Courthouse. This lively area is also known for its nightlife and live-music venues, including Detroit's oldest surviving pub. North of Bricktown, Greektown offers amazing greek food and three casinos.
Detroit's Financial District, bounded by Lafayette and Washington boulevards and Woodward and Jefferson avenues is home to the city's main historic skyscrapers, including the Guardian Building, the Penobscot Building, and One Woodward Avenue. This business-oriented area is located right next to Cobo Center, Detroit's main convention and events venue, making it the best area to stay in Detroit for business travelers.
Occupying the southern end of the city, you'll find Rivertown. This scenic riverfront neighborhood is home to the GM Renaissance Center; General Motor's headquarters and an expansive commercial development with shops, restaurants, and a hotel. The Detroit International RiverWalk connects restaurants, bars, and public spaces.
Downtown Detroit is by far the best-connected area of the city. The city's monorail line, the People Mover, encircles the whole district. To reach other areas, the city's light rail system connects downtown and the Amtrak station, and the bus network offers several stops all over the district.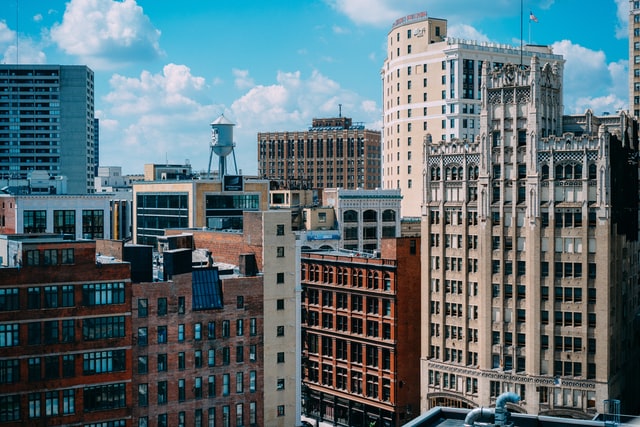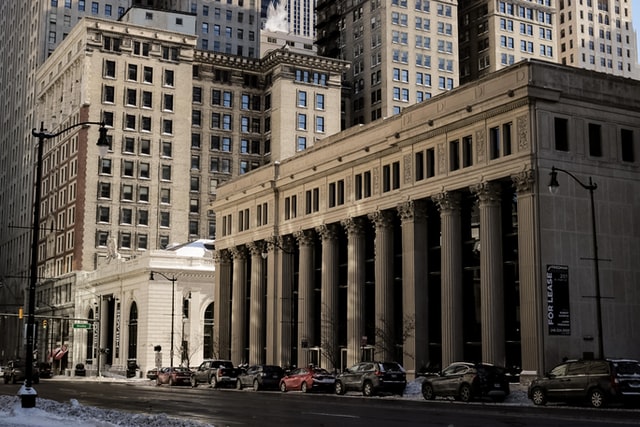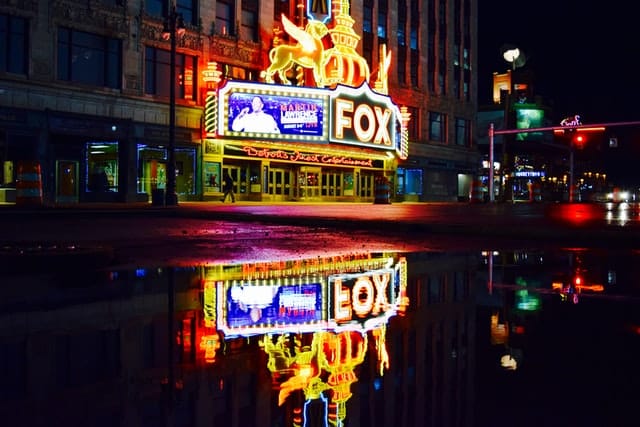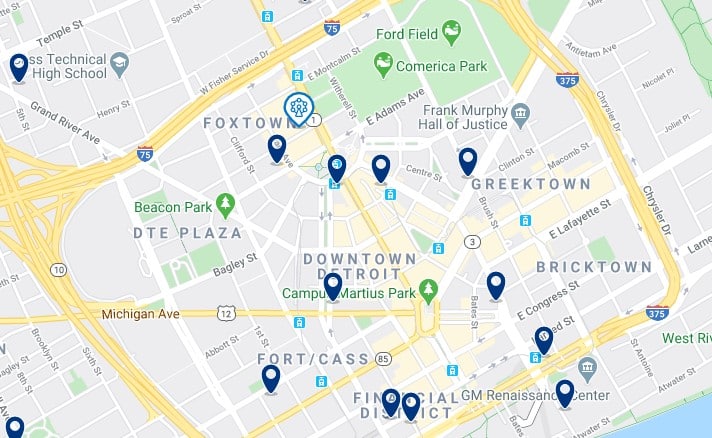 Why is this a recommended area to stay in Detroit, MI:
Best area for sightseeing
Connected by public transport
Best area for business travelers
Good area for shopping
Hotels of all kinds
Fox Theatre & Fillmore Detroit
---
2. New Center, Midtown Detroit & Art Center District
Detroit's cultural center has a surprisingly low number of accommodations. If you want to experience Detroit's world-class museums up and close, your best option is to stay at the Mint House New Center Detroit.
The districts north of Downtown Detroit are home to some of the city's best cultural attractions, museums, and galleries.
Midtown, located directly north of the city center, across the Interstate-75, is famous for being home to Wayne State University.
Its central location and large student population make this one of the best areas to stay in Detroit for nightlife. Midtown is packed with small quirky cafés, pubs, student bars, and some of the best nightclubs in town.
The Museum of Contemporary Art Detroit, situated in what used to be an auto dealership, offers a wide arrange of temporary exhibitions focusing on visual, literary, music, performing, and new media arts. Nearby, the N'Namdi Center for Contemporary Art offers an interesting collection by Black American artists.
Occupying the northeastern corner of Midtown Detroit, the Arts Center District has the highest concentration of cultural institutions in Michigan. Here, you'll find the Detroit Institute of Arts, one of the best fine-arts galleries in the US; the Hellenic Museum of Michigan, with a small but interesting display of Greek artifacts; and the Charles H. Wright Museum, focusing on Black American history and culture.
Other museums in the Arts Center District include the Michigan Science Center and the Detroit Historical Museum.
The New Center District, located directly north of Midtown Detroit is also home to landmarks and tourist attractions like the Art-Deco Fisher Building, Cadillac Place, the Ford Piquette Avenue Plant, or the Detroit Children's Museum.
Music fans shouldn't miss the nearby Motown Museum, with a collection of the label's art, memorabilia, and costumes.
New Center is also home to Detroit Station. Amtrak's intercity station and intermodal hub offers direct connections to Chicago, Pontiac, Ann Arbor, as well as Greyhound bus services.
Both New Center and Midtown are bisected by the QLine, with several stops on Woodward Avenue connecting this area directly to Downtown Detroit.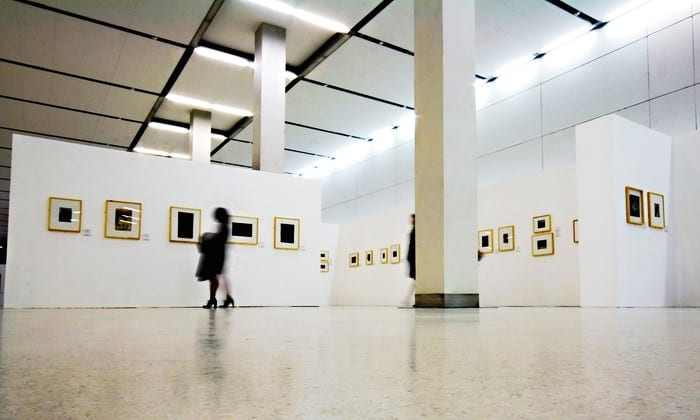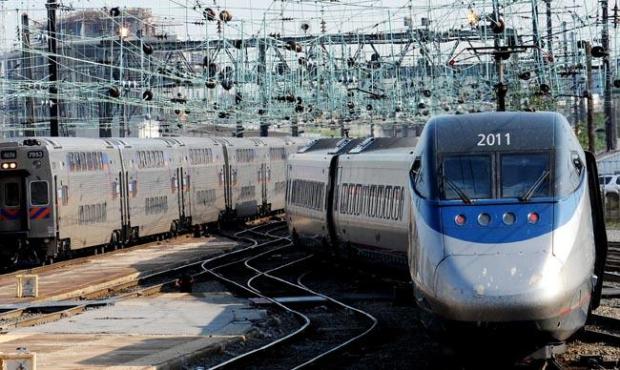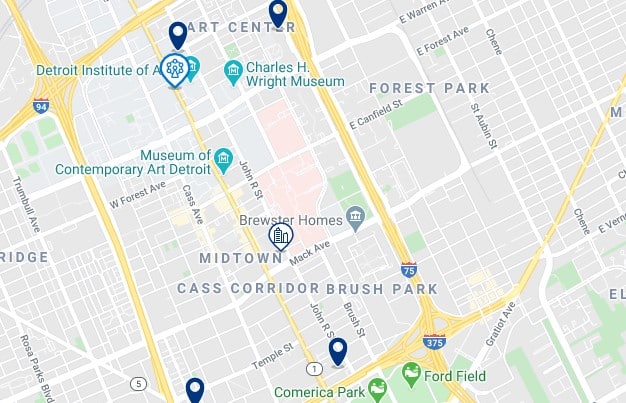 Why is this a recommended area to stay in Detroit, Michigan:
Museums and art galleries
Detroit Institute of Arts
Great nightlife
Amtrak station
---
3. Dearborn
In a town where everything seems to be named after Henry Ford, it comes as no surprise that the best hotel to stay in is The Henry, Autograph Collection. Additionally, budget chains like Courtyard and Red Roof also have properties in Dearborn.
Dearborn is an independent Detroit metropolitan area city located 7 miles west of Downtown Detroit.
This town is especially famous for being Henry Ford's birthplace and residence until his death on April 7, 1947.
The River Rouge Complex, the largest Ford automobile factory was established here in 1928. At the time of its completion, River Rouge was the largest factory in the world and Dearborn was the global headquarters of the Ford Motor Company empire.
Today, you can visit the Henry Ford Museum of American Innovation, America's largest indoor-outdoor historic museum complex, and Detroit's single most-visited tourist attraction.
Dearborn is also home to a campus of the University of Michigan and Henry Ford College.
Other attractions in this area include the Home of Clara and Henry Ford, the Arab American National Museum, the Dearborn Historical Museum, the Ford Community & Performing Arts Center, and the massive Fairlane Town Center shopping center.
Getting around Dearborn is relatively straightforward. The city is connected by urban buses. The fastest way to get from Dearborn to central Detroit by public transport is via the Wolverine commuter train.
Dearborn's wealth of kid-friendly attractions, shopping centers and budget accommodation make this city the best area to stay in Detroit for families.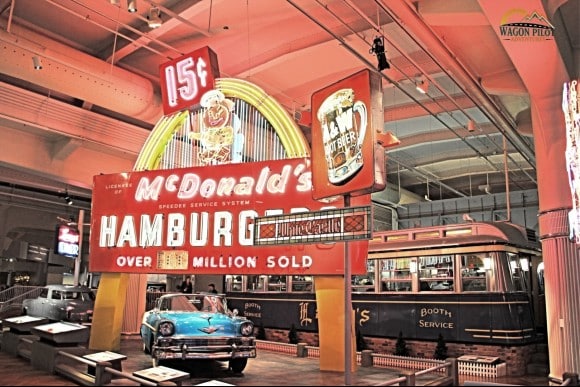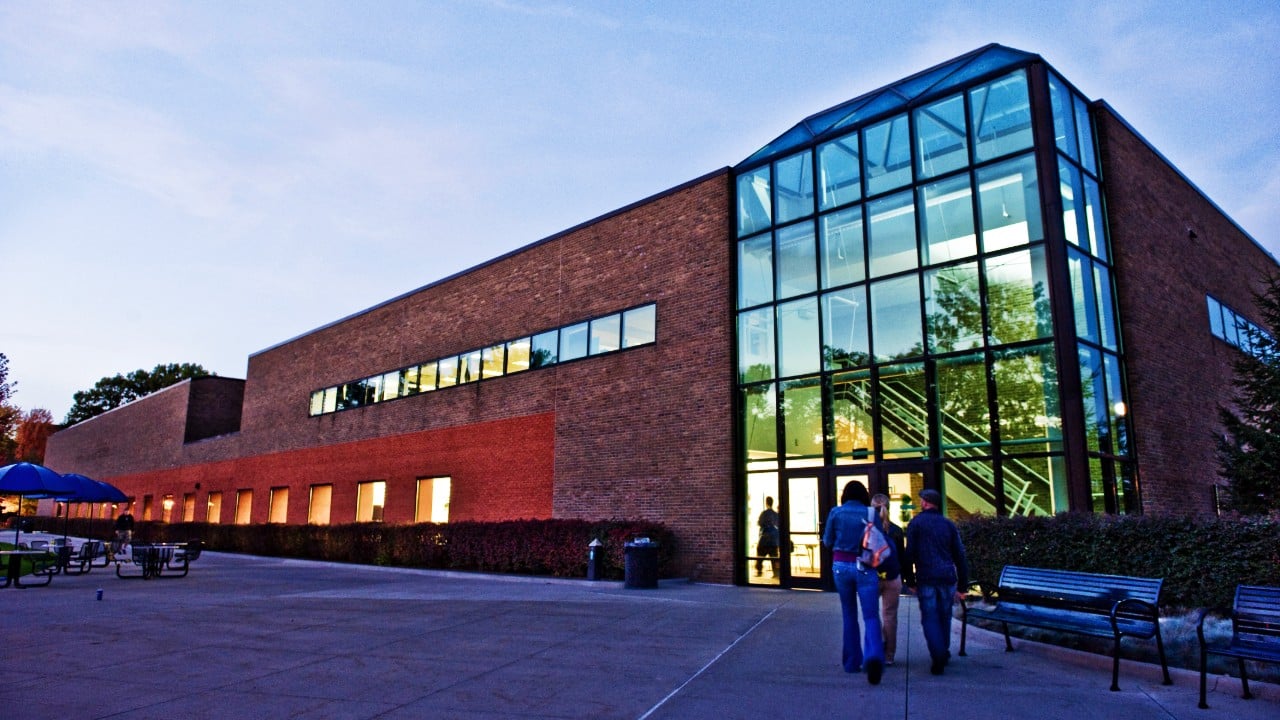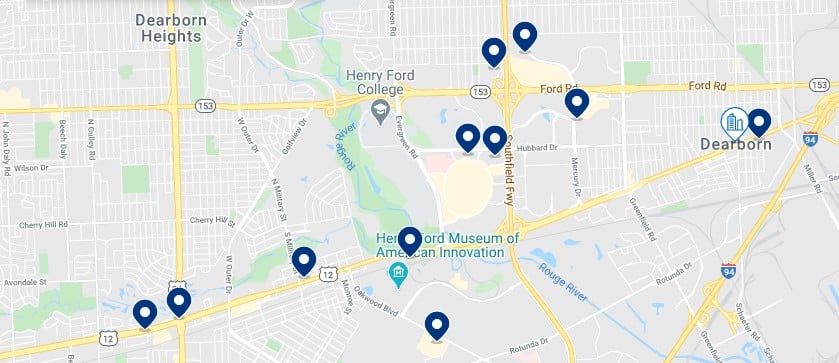 Why is this a recommended area to stay in Detroit, MI:
Henry Ford Museum of American Innovation
Home of Clara and Henry Ford
Arab American National Museum
University area
Cheap hotels to stay in Detroit
Best area to stay in Detroit for families
---
4. University District & University of Detroit Mercy
The University of Detroit Mercy is a private Catholic university. This major institution offers over one hundred academic degrees in the fields of liberal arts, clinical psychology, business, dentistry, law, engineering, architecture, and nursing.
It is located in the University District, 8 miles north of Downtown Detroit.
This area stands out for being a quiet and suburban area to stay in Detroit.
The University District's main commercial thoroughfares, Livernois Avenue and McNichols Roads are home to the area's main dining, nightlife, and shopping options.
Some attractions nearby include the Detroit Golf Club, Palmer Park, and the Bishop's Residence.
The University District is connected to the rest of Detroit via bus and taxi. In addition, it is a pedestrian-friendly area with parking available for those traveling by car.
---
5. Windsor, Ontario
Located across the Detroit River from Downtown Detroit, Windsor is the third-most populated city in Southwestern Ontario.
Windsor City Centre and Downtown Detroit are connected through the Detroit Windsor Tunnel. The 1929 Ambassador suspension bridge also connects both countries further west.
Random fact: The Detroit-Windsor border is the only crossing point outside of Alaska where you travel south to enter Canada from the US.
Windsor's main tourist attraction is no doubt is lovely Waterfront Park. This scenic open space spans 3 miles and offers breathtaking views of the Detroit skyline and a world-class casino.
Windsor Sculpture Park displays 30+ large-scale contemporary sculptures by world-renowned artists.
Ouellette Avenue, Windsor City Centre's main street, is lined with restaurants, cafés, shops, and bars.
While Windsor is an independent city and a travel destination by its own right, perhaps the main reason to stay here when visiting Detroit is its significantly cheaper accommodation, especially when compared to the hotels in Downtown Detroit.
Travel time between both cities is 10 minutes by car (using the tunnel) and about 15 minutes by bus.
Please note: If you choose to stay in Windsor for your trip to Detroit, you will need a passport to cross the border. If you don't have a passport, you can still cross with a valid government-issued photo ID and a birth certificate.
More information about the best areas to stay in Windsor, Canada.
---
Read this in other languages