Where to Stay in Detroit – A Guide to the "Motor City"
Detroit is the largest city in Michigan and is located in the southeast of the state, on the border of the United States with Canada.
This city stands out in a special way for its many entertainment options, particularly in the Downtown area, where you will find the Detroit Opera House and the Fox Theater, among other attractions.

Luxury cars, Motown music, culture, food, and fashion are some of the things that define Detroit.
Detroit earned the name "motor city" for its important role in the automotive industry, which, in the past, inspired the famous Mexican artist Diego Rivera when asked to create murals for the Detroit Institute of Arts.
When choosing the best time to travel to Detroit, it is necessary to know that, for greater comfort, while touring its neighborhoods, it is recommended to visit the city from June to September. If you travel in December or January, for example, temperatures usually drop below 32ºF (0ºC).
Options for getting around Detroit range from taking the light rail, with routes through the Central Business District, bike and buses, but cars are the most common way to move through Detroit's different areas.
Those arriving by plane have Detroit Wayne County Metropolitan Airport, located 40 minutes from Downtown.
However, it is also possible to reach this city via Amtrak train from cities such as Chicago.
The city where Henry Ford was born offers tourists the chance to attend a game at the Joe Louis and Ford Field stadiums, making it an excellent destination for sports lovers.
Detroit went from being a largely industrial city to a revitalized place, full of entertainment and with many places to see.
Among the best areas to stay in Detroit is Downtown, thanks to its luxury hotels and excellent transport connections. (See accommodation in Downtown Detroit). On the other hand, the area that includes the Art Center and Midtown is a good alternative for those who want to know the cultural movement of the city. (See hotels in Art Center & Midtown).
Here's a guide with the best areas to stay in Detroit, Michigan.
The Best Areas to Stay in Detroit, Michigan
1. Our Favorite Area: Downtown Detroit
Downtown Detroit is home to some of the largest car manufacturers, business-type hotels, office complexes and conference centers that make it one of the best areas to stay in Detroit for business travelers.
A fun way to get to know the Downtown area is by taking a cruise on the Detroit River during the warmer months since not only will you get spectacular views, but you will learn about the history of the city.
Downtown Detroit has many restaurants, bars and clubs that fill its streets with life. However, it also has the Campus Martius, parks and other options for travelers seeking tranquility during their stay, at least for a while.
Other things to do in Downtown Detroit are to walk around Woodward Avenue, lined with shops and boutiques, and go to a concert at the Fillmore Detroit or Fox Theater .
This is the best area to stay in Detroit for its good transport connections and accommodation of all kinds.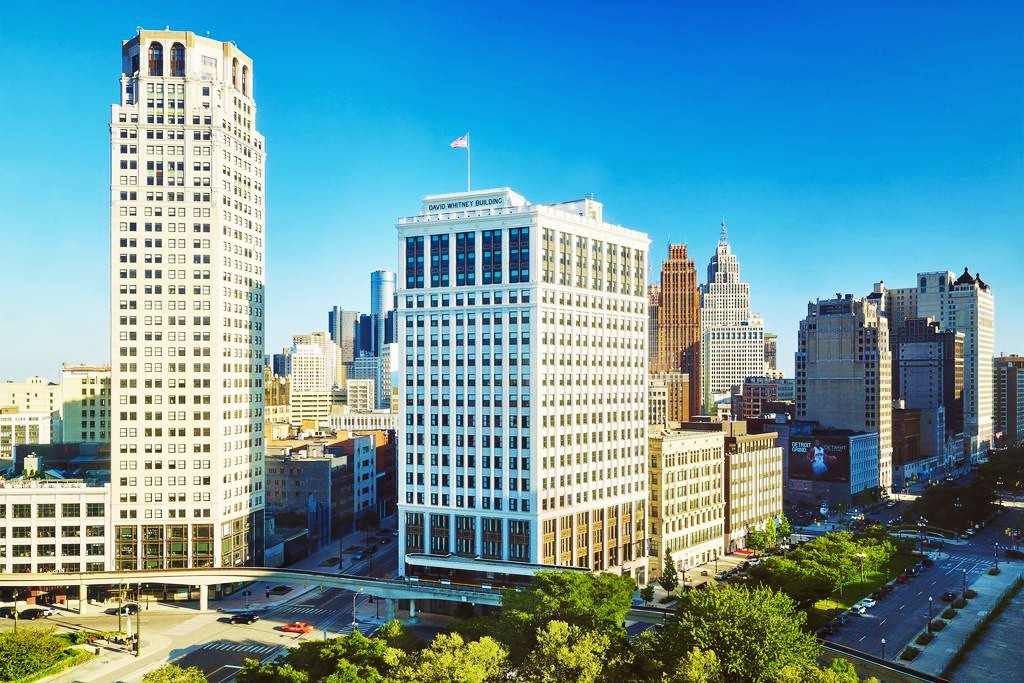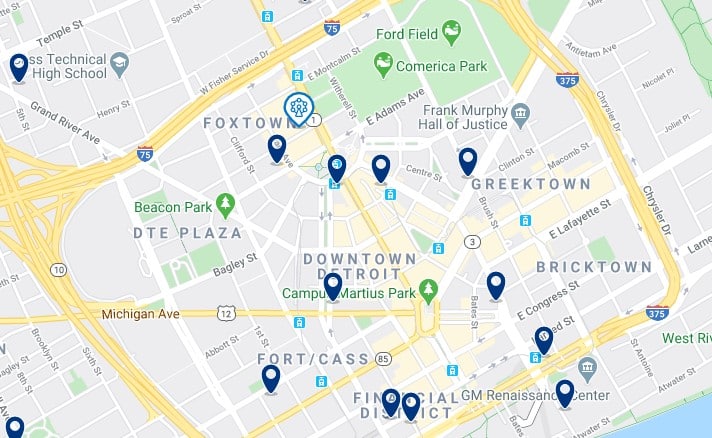 Why is this a recommended area to stay in Detroit, MI:
Best area for sightseeing
Connected by public transport
Best area for business travelers
Good area for shopping shopping
Hotels of all kinds
Fox Theatre & Fillmore Detroit
---
2. Art Center & Midtown
The Art Center district is adjacent to Midtown, which is why many refer to them as the same area.
Art Center is home to museums like the Michigan Science Center, with a planetarium and interactive exhibits, especially appealing to those visiting the city with children.
The Art Center is located in Detroit Historic District, next to the public library, the Detroit Institute of Arts and the Horace H. Education Memorial Building. Rackham.
Other places to see in this area are the art galleries and the Charles H. Wright Museum of African American History.
On the other hand, Midtown is a mixed area that brings together business, culture, art and a residential environment.
This is a recommended area to stay in Detroit for nightlife that includes many bars full of students from Wayne State University, which lies between the two districts.
This is one of the best areas to stay in Detroit because it has many parking spaces, but it also has transport connections with the rest of the city.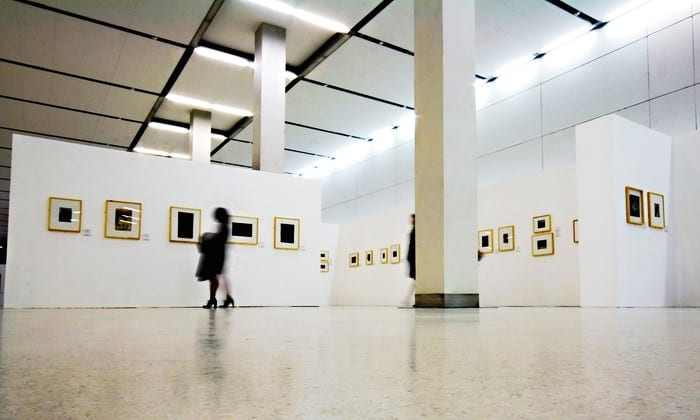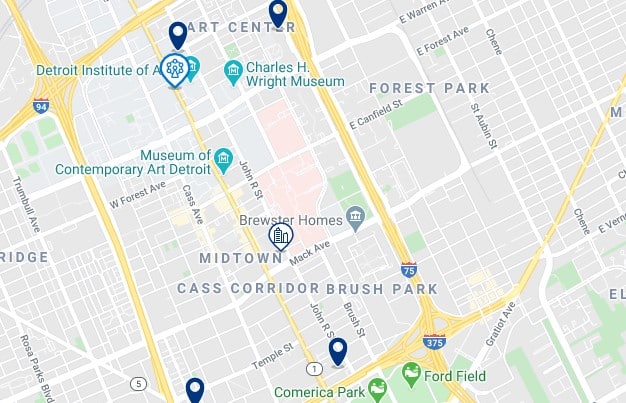 Why is this a recommended area to stay in Detroit, Michigan:
Detroit Institute of Arts
Great nightlife
Hotels of all kinds
---
3. Near the University of Detroit Mercy
The University of Detroit Mercy is in the University District, a neighborhood located near Woodward Avenue and the popular Livernois Avenue, known as the fashion avenue of the city.
This area stands out for being a good area to stay in Detroit for shopping.
The University District is also a very gay-friendly place, with bars and some clubs aimed at the LGBT community that fill the nightlife in this area with joy.
University District connects with the rest of Detroit via bus and taxi. In addition, it is a pedestrian-friendly area with parking available for those traveling by car.
Accommodation in the University District is very varied, so the traveler can choose between simple hotels, B&Bs, pensions, and hostels, for example.
University District is a recommended area to stay in Detroit because it is located near Downtown, but far enough that those who sleep here can enjoy a quieter atmosphere.
---
4. Near the University of Michigan Dearborn
Dearborn is a city located next to Detroit and, given its proximity to Motor City, it is considered a recommended area to stay in Detroit.
This area is home to the University of Michigan Dearborn, one of the largest in the United States, whose main campus is located in Ann Arbor.
Dearborn and the surroundings of the University of Michigan Dearborn have among their attractions a planetarium, major museums and other places where annual events are held.
Travelers fond of cars and the automotive industry will find Dearborn interesting, housing the Henry Ford Museum of American Innovation and the Automotive Hall of Fame.
Other activities that can be done in this area range from touring the parks to ice skating and even playing golf.
Because it is an area away from Downtown, this is one of the best areas to stay in Detroit for its low-cost accommodation and for those seeking tranquility. In addition, it has public transport connections.
---
5. Windor (Canadian side)
Considering that Detroit borders Canada, cities like Windsor are so close that they can be considered among the best areas to stay in Detroit.
Windsor is a 20-minute drive from Detroit and can be reached by crossing the Detroit Tunnel or the Ambassador Bridge.
Things to do in Windsor include going to the oceanfront sculpture park, visiting the Windsor Art Gallery and the Chizuk Museum.
The Windsor area has Sandpoint Beach which, in turn, has picnic areas and is located at the end of the Detroit River, northeast of the city.
Windsor has a different climate than Detroit, so it is a recommended area to visit during the summer when you can do outdoor activities.
Getting around Windsor is also different, although Canada has its own bus system and means of transportation, it is best to rent a car.
Windsor is one of the best areas to stay in Detroit because it is close to the city and offers tourists the opportunity to see two different places without going too far.
More information about the best areas to stay in Windsor, Canada.
---
Read this in other languages