Where to Stay in Hamilton – A Guide to This Canadian City
The city of Hamilton is a beautiful destination that combines art, nature, and historical attractions.
This Canadian city features attractions such as the Hamilton Art Gallery, with a rich collection of works from Canada and Europe.

Likewise, in this city, it is also possible to go on safaris and attend festivals such as the Supercrawl, where music and street art come together. Picturesque gardens and the Canadian Museum of the Fighter Plane Heritage, with an exhibition of aerial pieces, are must-see places in Hamilton.
The weather in Hamilton is varied, but it is recommended to visit the city from late June to mid-August for outdoor activities.
To get to the city, you have the Hamilton International Airport, located southwest of Downtown. Other options are train, bus and car.
In turn, getting around the city is not a problem, with a public transport system that is divided between bus, rail and taxi.
As for the best area to stay in Hamilton, Downtown stands out for its historic centre, shops, restaurants and entertainment venues. (See accommodation in Downtown Hamilton).
Here's a guide with the best areas to stay in Hamilton, Canada.
The Best Areas to Stay in Hamilton, Ontario
1. Our Favourite Area: Downtown Hamilton
Downtown Hamilton is the heart of the city and the epicentre of all commercial and financial activities. It is home to parks, old buildings, and entertainment venues.
One of the main attractions in this area is the Cathedral of Christ, one of the oldest buildings in the city, in Baroque style, which is also the scene of art exhibitions, concerts and recitals.
The Hamilton Theatre is part of Downtown's cultural scene, as is the First Ontario theatre and This Ain't Hollywood auditorium.
This is one of the best areas to stay in Hamilton for nightlife, with bars and clubs of different types.
Downtown Hamilton is home to Jackson Square and the Hamilton City Centre, two shopping malls with department stores and fast-food restaurants.
Another advantage of staying at Downtown Hamilton is that it houses offices and the Hamilton Convention Centre for events and conferences. Therefore, this is a recommended area to stay in Hamilton for business travellers.
The Hamilton Museum of Art and the Art Gallery on the Bay, with exhibits by Canadian artists from all eras, music evenings, and literary events, are mandatory stops here.
Furthermore, Downtown Hamilton is home to Central Park and Victoria Park, with spaces for walking, exercising, playing tennis, swimming pools and children's games.
Getting around Downtown Hamilton is easy as it is a very pedestrian-friendly area. In the same way, it has bus connections with other places in the city.
Although accommodation in this area is usually expensive, its central location and proximity to the main attractions of the city make it the best area to stay in Hamilton, Canada.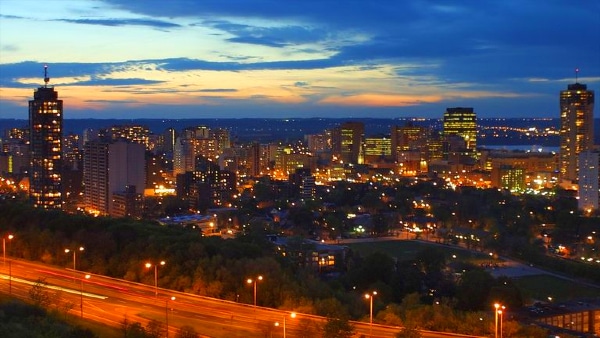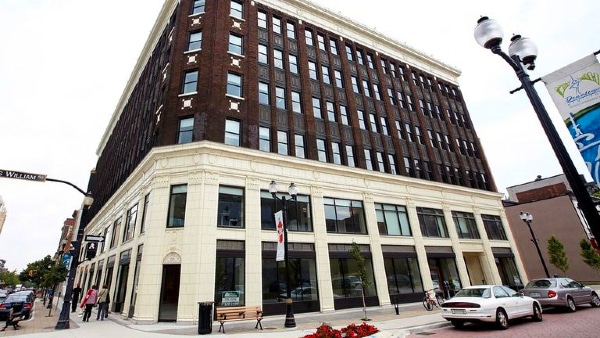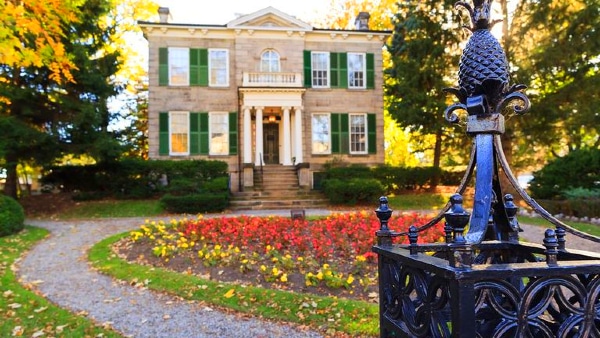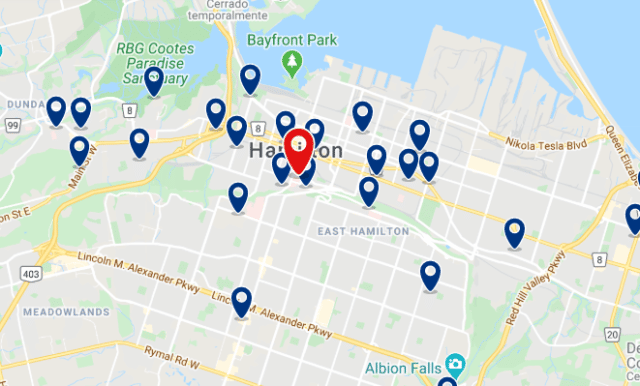 Why is this a recommended area to stay:
Heart of the city
Best area for business travellers
Best area for sightseeing
Good restaurants and hotels
Best area for nightlife
Victoria Park
---
Read this in other languages