Where to Stay in Hamilton – A Guide to the "Ambitious City"
Hamilton is a port city in Ontario. Located on the western tip of Lake Ontario, 60 km southwest of Toronto and nicknamed the "Ambitious City," Hamilton is famous for its natural backdrop and conservation areas dotted with gorges, waterfalls and marshes. In this post, we will explore the best areas to stay in Hamilton, ON.
The most popular tourist attractions in Central Hamilton include the Art Gallery of Hamilton, Christ's Church Cathedral, Gore Park, Hamilton City Hall and the Pigott Building. See accommodation in Downtown Hamilton.
Other unmissable attractions in Hamilton, ON include the Royal Botanical Gardens, Dundurn Castle and the Canadian Warplane Heritage Museum.
However, most people visiting Hamilton want to explore the incredible natural preserves. Some of the most beautiful natural attractions and conservation areas in and around Hamilton include the Devil's Punchbowl Conservation Area, Bruce Trail, Tews Falls, Albion Falls, the Dundas Valley Conservation Area, the RBG Cootes Paradise Sanctuary, Bronte Creek Provincial Park, and Binbrook Conservation Area.
Due to its location in Ontario, Hamilton has a humid continental climate. This translates into four distinct seasons with extreme variations between summer and winter temperatures. Summers are hot, with temperatures typically ranging between 16 and 27 ºC. Meanwhile, winters are snowy and icy, with temperatures around -8 and 0 ºC. The best time to visit Hamilton is from spring to mid-fall (March through November). During these months temperatures are pleasant enough to enjoy outdoor activities and the city's many natural spaces.
To get to Hamilton by air, the city is served by the John C. Munro Hamilton International Airport. Located 11 km southwest of downtown Hamilton, this small airport offers connections to some domestic destinations (including Calgary, Edmonton and Winnipeg), as well as a few seasonal international flights to holiday resorts in Mexico and the Caribbean. Much, much busier and with a wider range of connections, Toronto Pearson International Airport offers flights to virtually every corner of North America, Latin America, Europe, Asia and the Middle East.
Hamilton is also connected by train. Hamilton GO Centre, located downtown, offers direct train services to Toronto. For VIA Rail long-distance services, Aldershot Station, located 9 km from downtown Hamilton offers services on the Windsor – Toronto corridor. See train routes, schedules & fares.
Additionally, Hamilton is also well-connected through a network of long-distance buses to other cities in Ontario and the US. See bus routes, schedules & fares.
To move around town, Hamilton has a very efficient public transport system consisting of several bus routes and commuter GO train services to Toronto and other nearby cities. Hamilton also offers regular taxis and mobile apps like Uber, and you can choose to rent a car during your stay.
The best area to stay in Hamilton is the Downtown District. Hamilton's City Centre is home to the main cultural attractions and museums, the hottest nightlife venues and the best restaurants in town. The City Centre is also where the best hotels are located. See accommodation in Downtown Hamilton.
Keep reading to find out more about the best location in Hamilton, ON.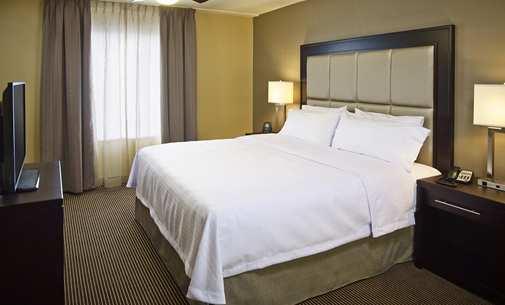 The Best Areas to Stay in Hamilton, Ontario
1. Recommended area: Downtown Hamilton
Downtown Hamilton is the heart of the city and the epicentre of all commercial and financial activities.
This area is where most city landmarks, parks, heritage buildings, and entertainment venues are located.
Attractions in this area include the city's two cathedrals, Christ's Church Cathedral, and the Cathedral Basilica of Christ the King.
The Art Gallery of Hamilton is southwestern Ontario's largest and oldest art museum. It has a permanent collection of over 10,000 works by Canadian and international artists.
Nearby, the Whitehern Historic House & Garden is a Late Classical mansion and heritage museum. The Pigott Building is an Art Deco-style building and Hamilton's first skyscraper.
Most nightlife and dining venues in Hamilton are on James, Main and King Streets.
Getting around Downtown Hamilton is easy as it is a very pedestrian-friendly area. In the same way, it has bus connections with other places in the city and GO train connections with Toronto.
Downtown Hamilton is also home to the city's main office buildings and the Hamilton Convention Centre, so it's a great area to stay in Hamilton for business travellers.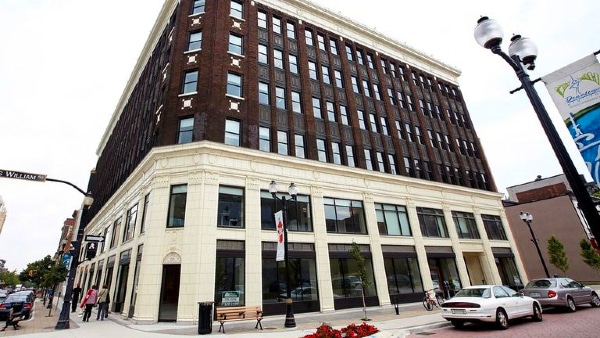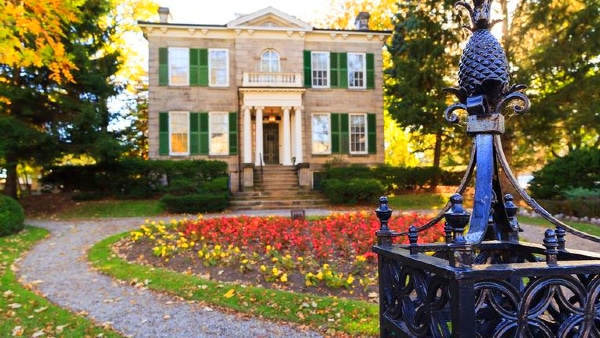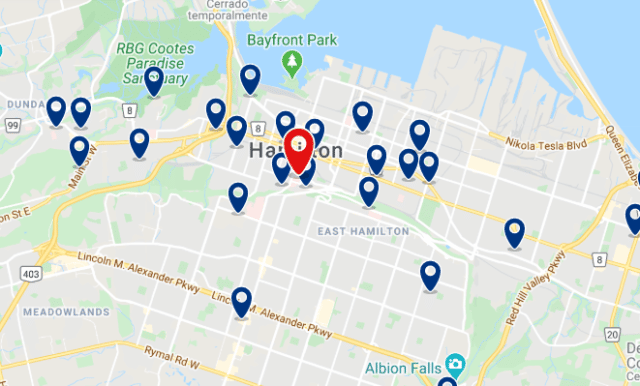 Why is this a recommended area to stay:
Heart of the city
Best area for business travellers
Best area for sightseeing
Good restaurants and hotels
Best area for nightlife
Victoria Park
---
Read this in other languages