Where to Stay in Oshawa – A Guide to this Canadian City
Oshawa is a city in Ontario. Located on the Lake Ontario shoreline, 60 km east of Toronto, Oshawa is famous for its natural backdrop, conservation areas and sporting events. In this post, we will explore the best areas to stay in Oshawa, ON.
The most popular tourist attractions in Central Oshawa include The Robert McLaughlin Gallery, the Canadian Automotive Museum, The Oshawa Valley Botanical Gardens and Memorial Park. See accommodation in Downtown Oshawa.
Other unmissable attractions in Oshawa, ON include the Parkwood Estate, the Ontario Regiment Museum and the Oshawa Zoo.
However, most people visiting Oshawa want to explore the incredible natural preserves. Some of the most beautiful natural attractions and conservation areas in and around Oshawa include the Lake Ontario Waterfront Trail, Darlington Provincial Park, the McLaughlin Bay Wildlife Reserve and Thicksons Woods.
Due to its location in Ontario, Oshawa has a humid continental climate. This translates into four distinct seasons with great variations between winter and summer temperatures and conditions. Winters are cold and snowy, with temperatures typically ranging between -8 and -1 ºC. Meanwhile, summers are hot and humid, with temperatures of between 16 and 25 ºC. The best time to visit Oshawa is from spring to mid-fall (March through November). During these months temperatures are pleasant enough to enjoy outdoor activities and the city's many natural spaces.
To get to Oshawa by air, the city is best served by the Toronto Pearson International Airport. Located 68 km west of the city, this major airport offers flights to virtually every corner of North America, Latin America, Europe, Asia and the Middle East.
Oshawa is also connected by train. Oshawa GO station, located 4 km southwest of the downtown area, offers commuter train services to Toronto and VIA Rail long-distance services on the Toronto – Ottawa and Toronto – Montreal corridors. See train routes, schedules & fares.
Additionally, Oshawa is also well-connected through a network of long-distance buses to other cities in Ontario and Quebec. See bus routes, schedules & fares.
To move around town, Oshawa has a very efficient public transport system consisting of several bus routes and commuter GO train services to Toronto and other nearby cities. Oshawa also offers regular taxis and mobile apps like Uber, and you can choose to rent a car during your stay.
The best area to stay in Oshawa is Downtown. Oshawa's City Centre is home to the city's cultural attractions and museums, nightlife venues and restaurants. The City Centre is also where the best hotels are located and is a great area to base yourself to explore the region's conservation areas. See accommodation in Downtown Oshawa.
Keep reading to find out more about the best location in Oshawa, ON.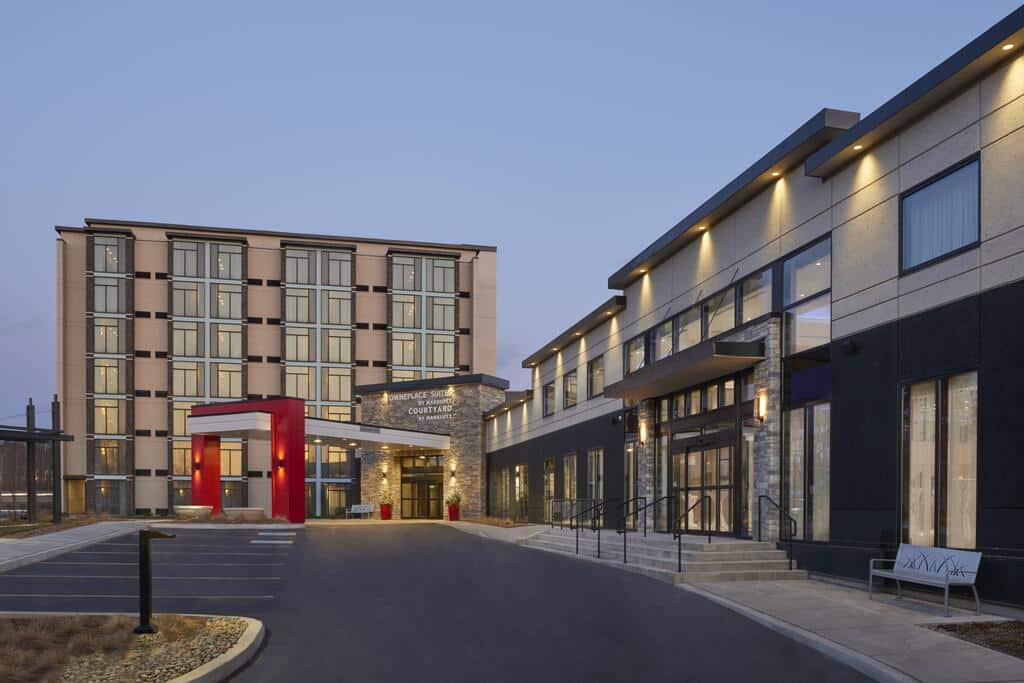 Courtyard by Marriott Oshawa

Courtyard by Marriott Oshawa in Oshawa has 3-star accommodation with a shared lounge, barbecue facilities and a terrace. Featuring a bar, the 3-star hotel has air-conditioned rooms with free WiFi. The hotel features an indoor pool, fitness centre and a 24-hour front desk.
The Best Areas to Stay in Oshawa, Ontario
1. Recommended area: Downtown Oshawa
Downtown Oshawa is located on the west side of the Oshawa River.
This area is home to numerous cafes, restaurants, and shops of all kinds.
Downtown is the best area to stay in Oshawa if you want to know the funniest face of the city.
A walk is the best way to explore the Downtown area.
This area is ideal for shopping in the malls or enjoying the different gastronomic options available in its many restaurants.
One of the most visited attractions in Downtown Oshawa is the Canadian Automobile Museum, the ideal place for fans of cars and design.
Another site well worth a visit in Downtown Oshawa is the Civic Recreation Complex, with six-lane swimming pools, a diving board, and a sauna.
In addition, this area has hotels of all kinds and excellent public transport connections with the rest of Oshawa.
---
Read this in other languages