Where to stay in Fort Pierce – A guide to the Sunrise City
Fort Pierce is a city located in St Lucie County on Florida's Treasure Coast. Named after Benjamin Pierce and nicknamed Sunrise City, this oceanfront town is famous for its beautiful white-sand beaches and its relaxed atmosphere. In this post, we will take a look at the best areas to stay in Fort Pierce, Florida.
The main tourist attractions in Fort Pierce are of course its beaches, rich in coral reefs and perfect for snorkeling, diving, fishing, and all kinds of watersports. The best beaches in Fort Pierce are located in its many natural parks and reserves such as Fort Pierce Inlet State Park, Blind Creek, Pepper Park, Frederick Douglass Memorial Park, South Beach Park, Jetty Park, and Surfside Park.
Cultural attractions in the area include the National Navy SEAL Museum, specialized in naval history, and the A.E. Backus Museum and Gallery, with a display of paintings by the 20th-century Fort Pierce native painter, as well as places such as the St Lucie County Regional History Center.
Nature lovers will most likely enjoy Heathcote Botanical Gardens, with a wide selection of tropical and subtropical flora, the Manatee Observation and Education Center, and St. Lucie County Aquarium.
Fort Pierce enjoys a humid subtropical climate with very warm summers (80-100ºF) and mild winters (55-73ºF). This means that, while you can visit the city year-round, the best time to visit Fort Pierce is from late spring to early fall, especially if you plan on visiting the beaches and practice outdoor activities and watersports.
Although the city is home to the Treasure Coast International Airport, this terminal does not offer regular passenger flights. In order to reach Fort Pierce by air, you can fly into Orlando International and make your way to Fort Pierce. The best way to get around the city is by car. You can rent a cheap car here.
When it comes to the best area to stay in the area, the best location to stay in the city is Fort Pierce, as it offers museums and parks, luxury hotels, and breathtaking views. See accommodation in Fort Pierce.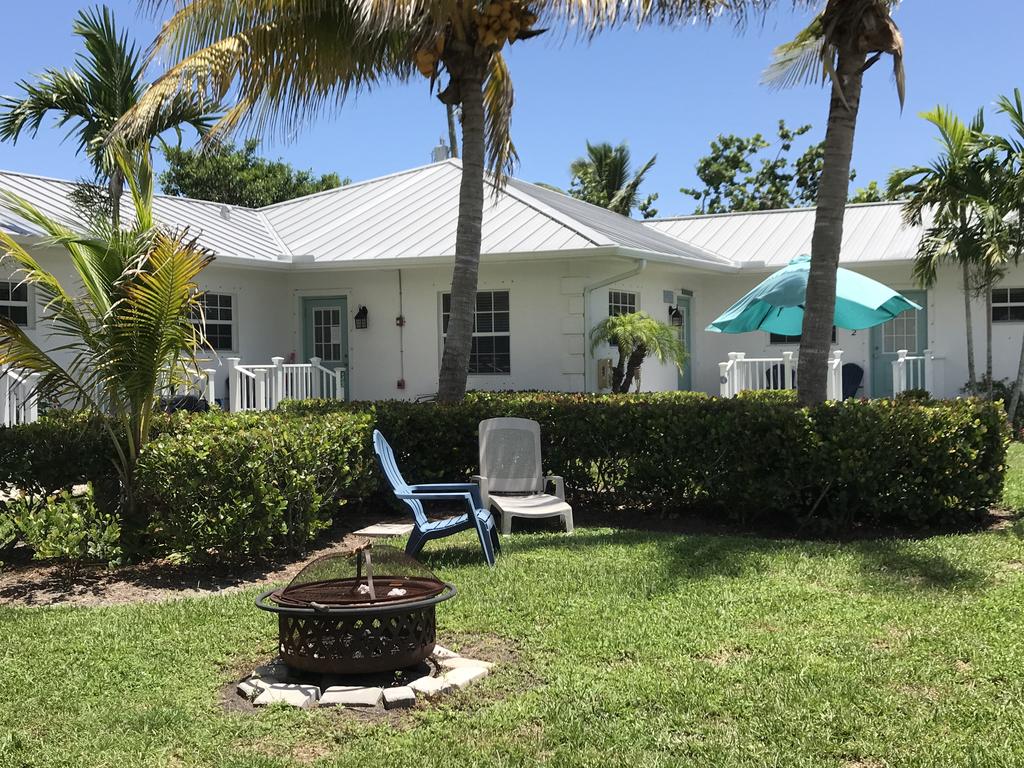 Royal Palms Resort & Spa-in the Unbound Collection by Hyatt

Set in Fort Pierce, within less than 0.6 mi of Fort Pierce Inlet State Park and 4 mi of Fort Pierce City Marina, Seahorse Beach Bungalows offers accommodation with a terrace and as well as free private parking for guests who drive.
Here's a guide with the best areas to stay in Fort Pierce, Florida.
The best areas to stay in Fort Pierce, Florida
1. Our favorite area: Fort Pierce
Fort Pierce blends its old charm with a touch of modernity.
It has variety in shops, restaurants and a wide range of entertainment during the day and night.
The main area of ​​Fort Pierce offers a mix between the southern, the lively port environment and breathtaking views of the ocean.
During the last years, the area has gained popularity thanks to its shopping streets, theater plays and live music.
Other activities to do in this area include fishing and visiting markets.
Moving around Fort Pierce is easy thanks to the bus stops distributed in its main streets
Also, other Fort Pierce attractions are the Natural History Museum and the Aquarium, with hundreds of exotic species to be observed.
In addition, events such as Friday Fest, the Sandy Shoes Festival and Sights and Sounds On Second take place on the main street of Fort Pierce.
The center of Fort Pierce is the best area to stay in Fort Pierce because it offers variety in hotels for all tastes and budgets.
---
2. Port Saint Lucie
Port Saint Lucie is a quiet area on the east coast of Florida.
The center of Saint Lucie is full of offices and small businesses, which is ideal for those travelers who visit Fort Pierce for business.
In Port Saint Lucie you will find the Tradition Field, the training ground of the famous New York Mets and, during February and March, it is possible to see them in action.
The parks distributed in the area allow picnics in the afternoon and are also great for walks and relaxation while enjoying the fresh air.
Other places to see in Port Saint Lucie include the Botanical Gardens and, during different times of the year, it is possible to attend the events that are held in them for the enjoyment of the whole family.
This area allows travelers to enjoy stunning views of the sea, ideal for photographs.
Port Saint Lucie is one of the best areas to stay in Fort Pierce and has excellent resort-type hotels.
---
Read this in other languages