Where to Stay in San Salvador – A Guide to the Capital of El Salvador
San Salvador is the capital city of El Salvador. Located in the Boquerón Volcano Valley, in the central part of the country, San Salvador is known for being a major business, industrial and educational hub in Central America. In this post, we will discover the best areas to stay in San Salvador, El Salvador.
The main cultural attractions in San Salvador's City Center, include the Metropolitan Cathedral of San Salvador, the Palacio Nacional de El Salvador, Plaza de la Libertad, and Teatro Nacional. See accommodation in San Salvador.
Other important attractions in San Salvador include the Monument to the Divine Savior of the World, Museum of Art of El Salvador, Dr. David J. Guzmán National Museum, and the Monseñor Romero Center.
If you're traveling to San Salvador with kids, this city is also home to several family-friendly attractions like the Tin Marin, Children's Museum, Furesa Zoo, Railway Museum and Theme Park, and Termos del Río water park.
The San Salvador region is also famous for being home to impressive natural attractions and volcanic landscapes. Hiking enthusiasts will likely enjoy sights like El Boquerón National Park, Lake Ilopango, Cerro Verde National Park, El Peñón de Comasagua, or Puerta del Diablo.
San Salvador is also considered the main gateway to explore El Salvador's Mayan ruins like the ones at Joya de Ceren Archaeological Site.
Due to its inland location in the heart of El Salvador, San Salvador has a tropical wet and dry climate. The city experiences an almost constant temperature (18 – 30 ºC) year-round. The rainy season lasts from May to October, while the rest of the year is much drier. The best time to travel to San Salvador is during the city's dry season (November through April). During this time, you can enjoy outdoor activities without having to worry about the humid season's torrential rains.
To get to San Salvador by air, the city is served by the El Salvador International Airport. Located 40 kilometers southeast of downtown San Salvador, this airport is the third-busiest in Central America (after Panama City and San José) and offers regional connections to several destinations in Central America, Mexico, and the Caribbean, as well as a handful of international services to cities in the US, Colombia, and Spain.
A network of long-distance buses also connects San Salvador to most cities in the country and neighboring Central American nations.
San Salvador's public transportation consists of several bus lines, taxis, and rental cars. You can rent a cheap car in San Salvador here.
The best area to stay in San Salvador, especially as a foreign tourist, is Escalón. This upscale area is home to some of the city's main shopping centers and best international hotels. Escalón is also one of the safest areas to stay in San Salvador. See accommodation in Escalón.
Another excellent option when choosing the safest areas to stay in San Salvador is Colonia San Benito.
Keep reading to find out more about the best location for tourists in San Salvador, El Salvador.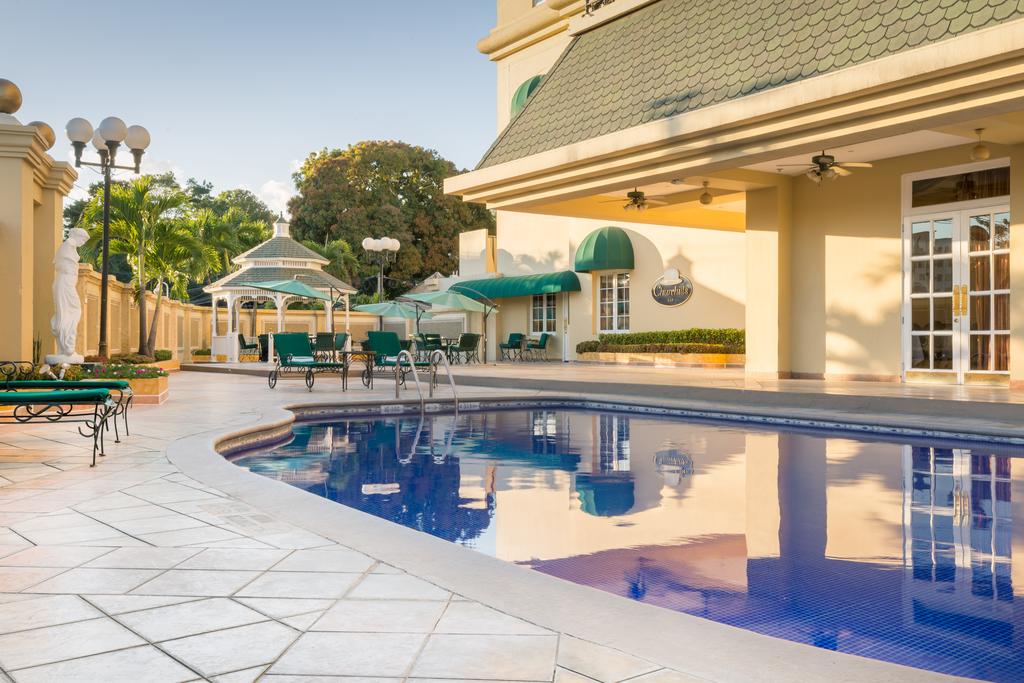 The Best Areas to Stay in San Salvador, El Salvador
1. Recommended area: West San Salvador (Escalón & around)
Escalón is located west of the Historic City Center of San Salvador.
The lively collection of neighborhoods centered around Paseo General Escalón, are upscale, safe and well-connected areas of the Salvadoran capital.
Escalón and the surrounding neighborhoods in western San Salvador are also home to some of the main shopping centers in the city, such as Galerias Shopping Center and the El Paseo Shopping Center.
In addition to Paseo Generral Escalón, the main arteries in this area, such as Avenida Masferrer or Calle El Mirador are full of shops, office towers, restaurants and nightlife venues.
The top attractions in western San Salvador include the nearby Monument to the Divine Savior of the World and Maquilishuat Park.
Being the main hotel and financial area in San Salvador, both Escalón and the surrounding neighborhoods are considered safe areas to stay in San Salvador.
Additionally, this area has various accommodation options, ranging from small local establishments to internationally recognized chains such as Crowne Plaza.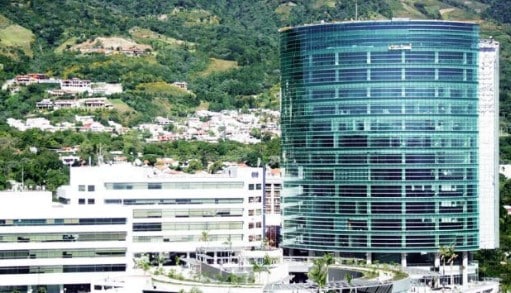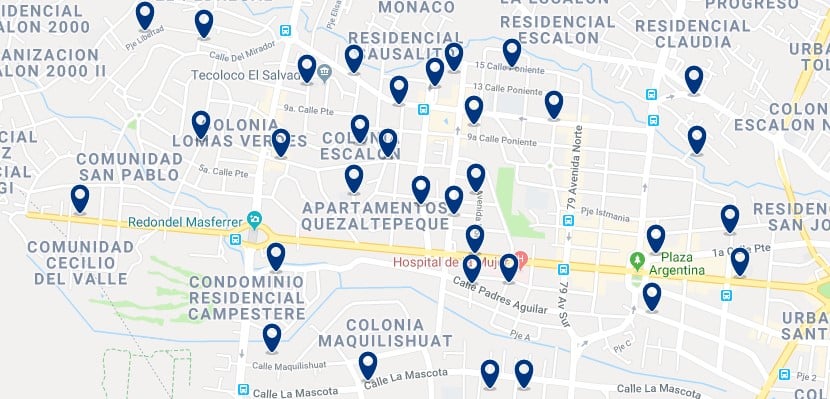 Why is this a recommended area to stay in San Salvador:
Safe area to stay in San Salvador
Luxury hotels
Best area for business travelers
Restaurants and nightlife
---
2. Colonia San Benito & Southwest San Salvador
Colonia San Benito is located in the southwestern part of San Salvador, about 7 kilometers from the city's Historic Center.
San Benito and its surrounding colonias are some of the most exclusive and developed areas of San Salvador, home to the local upper class.
This upscale area is also home to some of the main cultural and tourist attractions in the Salvadoran capital, including the Art Museum of El Salvador, the Presidente Theater and the Dr. David J. Guzmán National Museum of Anthropology.
The area around Plaza Italia, located at the intersection of Boulevard del Hipódromo and Avenida de la Revolución is considered the San Salvador's Zona Rosa , a leisure and nightlife area with a multitude of bars, restaurants, cafes and clubs.
This lively neighborhood of San Salvador is considered the safest area of the city and is where several American and European brand hotels, such as Sheraton or Barceló are located.
---
Read this in other languages