Where to Stay in Athens – A Guide to This City of Georgia
Athens is Georgia's sixth-largest city. Located 70 miles east of Atlanta, Athens, known as "Classic City," is famous for being an important college town, its antebellum mansions, and its thriving arts and music scene. In this post, we will explore the best areas to stay in Athens, GA.
The main cultural attractions in the center of Athens include the Double Barrel Cannon, the Tree That Owns Itself, Church-Waddel-Brumby House Museum, Morton Theatre, TRR Cobb House, the Athens Institute for Contemporary Art, Founders Memorial Garden, and the Georgia Museum of Natural History. See accommodation in Downtown Athens.
Other attractions in Athens include the State Botanical Garden of Georgia, the Georgia Museum of Art, and Sandy Creek Nature Center.
Because of its location, Athens has a humid subtropical climate with hot summers and cool winters. January temperatures typically range between 17°F and 53ºF (-8 – 12 °C). Meanwhile, in the summer, average temperatures hover around 61 – 97 °F (16 – 36 °C). The best time to visit Athens is during the spring and early summer (March – June) and again during the fall (September – December); during these seasons, temperatures are still pleasant enough to enjoy outdoor activities without the summertime heat.
To get to Athens, GA by air, residents of Athens use Atlanta's Hartsfield–Jackson International Airport, located 80 miles away. This major hub offers connections to every corner of the USA and has frequent non-stop flights to Canada, Mexico, Latin America, and Europe.
Additionally, Athens is connected by a network of long-distance buses to Atlanta and other cities in the US South. See bus routes, schedules & fares.
When it comes to moving around the city, the city has an urban bus system. That said, cars remain the best way to get around town. That said, downtown Athens is pedestrian and bike-friendly and also has Uber and Lyft services. You can always choose to rent a car during your stay.
The best area to stay in Athens, GA is Downtown. This central area is home to historic landmarks, the main cultural attractions, nightlife, restaurants, and accommodation. See accommodation in Downtown Athens.
Another great area to keep in mind when choosing the best location in Athens, GA, is the area around the University of Georgia.
Keep reading to find more about the best areas to stay in Athens, GA.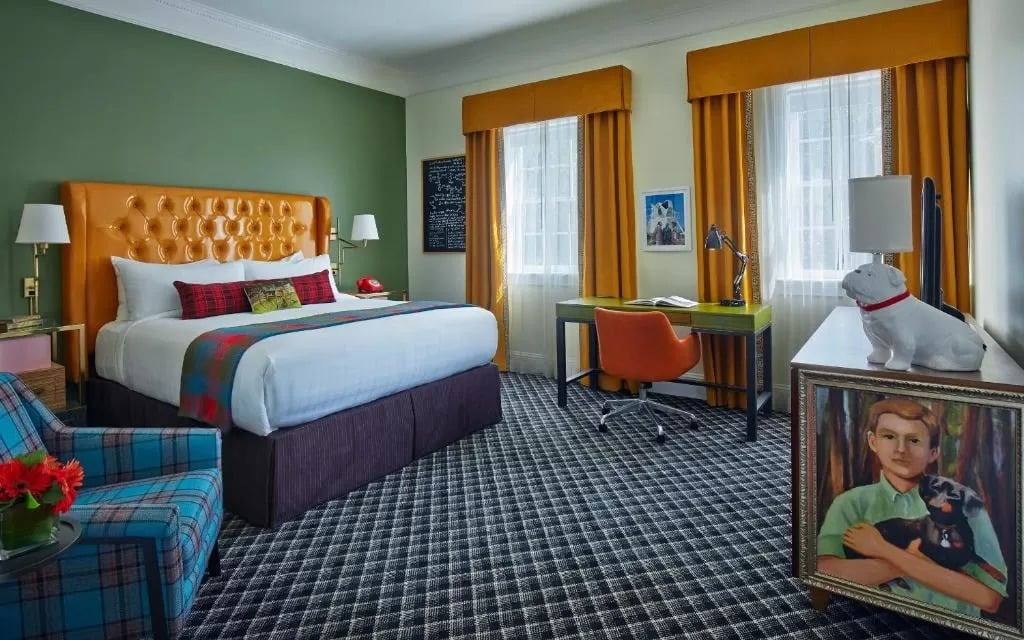 The Best Areas to Stay in Athens, Georgia
1. Recommended area: Downtown Athens
Downtown Athens is the historic heart of the city.
This lively area is full of funky shops and artisanal breweries, some of which offer tastings and tours.
Downtown Athens has an indie and bohemian atmosphere, with hipster-friendly boutiques and restaurants.
The Downtown area of Athens is close to the airport and the University of Georgia.
Public transportation is available throughout Downtown and the area is very pedestrian-friendly, making it a good area to stay in Athens without a car.
With several parks and open spaces, the city center is great for outdoor activities.
The best area to stay in Athens, GA, is Downtown, thanks to its amazing nightlife, restaurants, shops and strategic location.
---
2. Near the University of Georgia
Athens is known for being home to the University of Georgia.
This important college fuels the city's music scene and its youthful and progressive character.
The University of Georgia is close to the City Center, shops, and restaurants, so it is also a good area to stay in Athens.
This area has bus lines to move to other places in Athens, as well as intercity buses that run through certain places near the university.
Attractions for those staying here include live concerts by rock bands and musical groups.
Another site that is well worth a visit in this area is the Georgia State Botanic Garden.
The surroundings of the University of Georgia are among the best areas to stay in Athens for its lively atmosphere, cultural offer, and nightlife.
---
Read this in other languages